*This post was brought to you by the Delta Faucet Company. I received free product from Delta Faucet to write this post, but all opinions expressed are my own.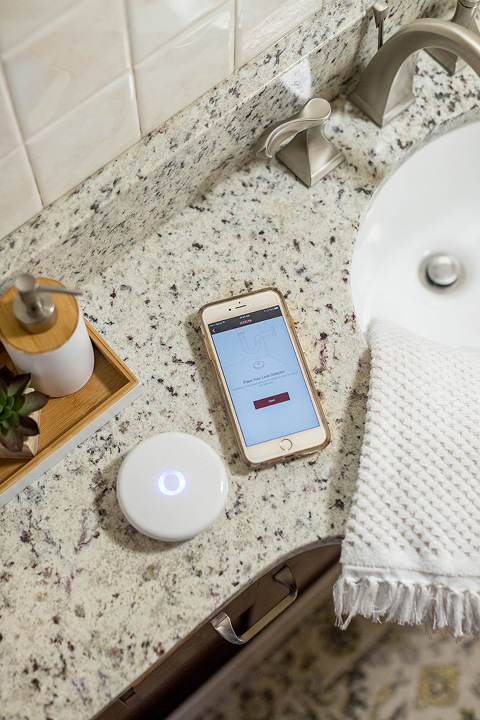 Picture this: it's 8:32 AM on a Tuesday morning, and you hear a bunch of heavy trucks idling outside your house. You walk up to the window, curiously push the curtains aside, and see an absolute crush of workmen and city vehicles in front of your home. Cue the anxiety!
This happened to me just a few short weeks ago, and it turned out to be a major problem with our neighborhood's particular section of the sewer system—major enough to cause backups and flooding in at least two nearby houses. I spent every day of that week in constant panic over our own home, worried about flooding. I Googled things like, "What to do when your sewage backs up," and even went so far as to prep our pet carriers just in case we needed to get everyone out of the house to allow for workmen to take over our system.
I'm clearly a worry wart and went way beyond the point of sanity with my prep (especially since nothing ended up happening in our house), but that week was a pretty stressful one. So, today's collaboration with the folks at Delta Faucet could not possibly have come at a better time.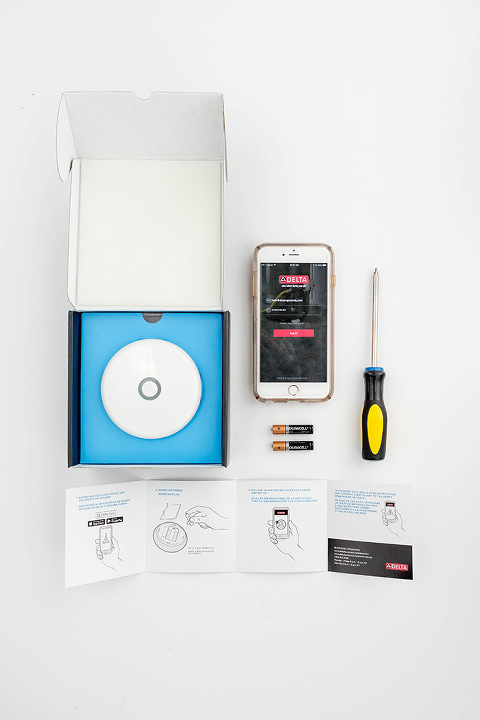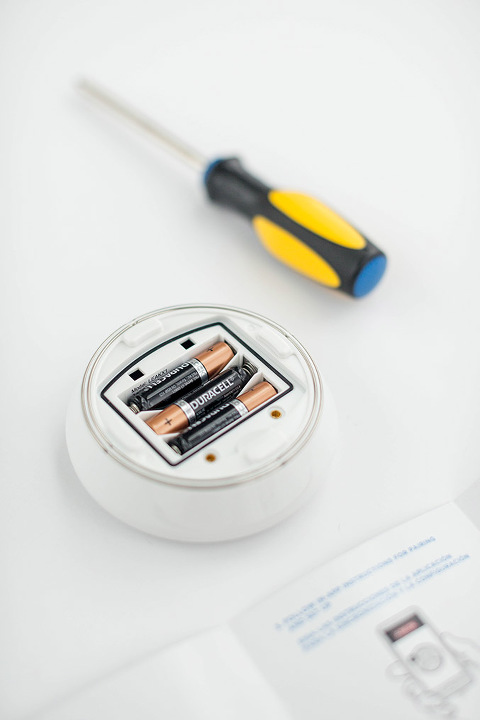 The team asked if I wouldn't mind testing out and reviewing their Delta® Leak Detector, a wireless device that (as you probably gathered) helps alert the household to water leaks. I immediately and enthusiastically agreed, thinking that I could potentially help some of you avoid the stress I went through that week battling our faulty sewer network.
Honestly, I didn't know what to expect. I had never operated a leak detector before, but the package came with instructions that sported both pictures and words to walk me through set up, so it was a breeze. I think it took about 10 minutes from start to finish to power up the detector using the included batteries, connect to our home's wifi network, and choose our device location.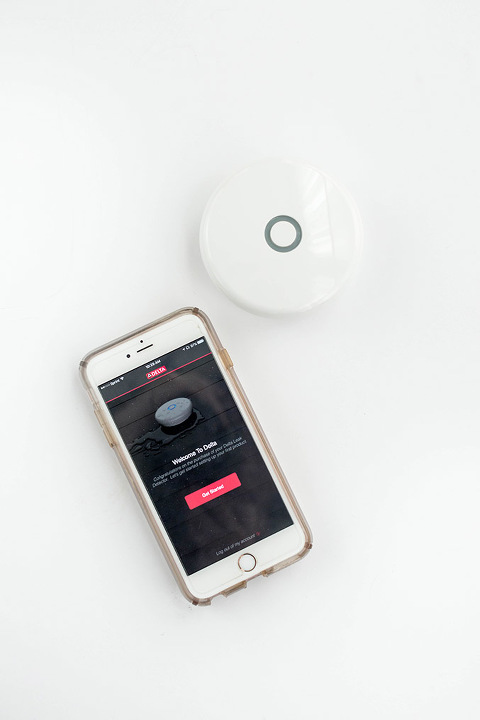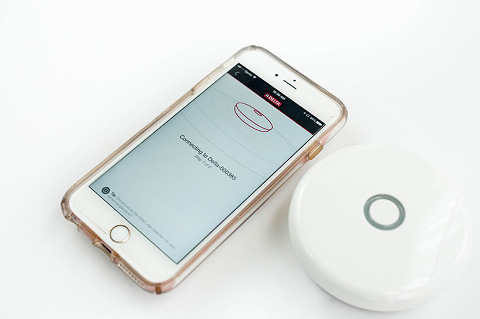 I decided to set the leak detector up in our downstairs bathroom since it sits right at ground level and would be one of the first to feel the effects of a sewer backup. We've also been working on renovating this particular space (get the scoop on those updates here), so I thought it would be nice to keep an electronic "eye" on those newly connected water pipes.
After situating the device right under the sink, I tested it out with a few drops of premeditated water. Within a minute, the device gave off a very respectable-but-not-overwhelmingly loud alert, and my phone received a notification warning me of the leak. I was able to acknowledge the leak right from my phone, and then dealt with the effects of the water. This time, that meant simply wiping the test water droplets off the device with a hand towel, and I hope that that's as much effort as I'll ever need to put into it, but I'll tell you what—it feels so good to know we're covered and that we'll be the first to know of a leak without having to stay within sight of the drain 24/7.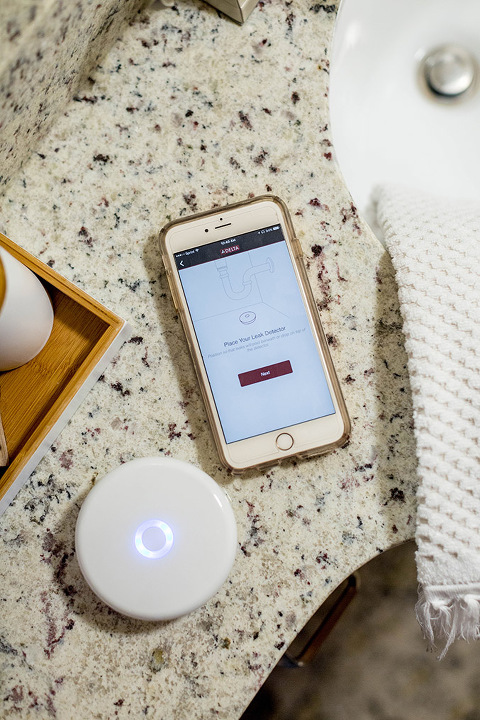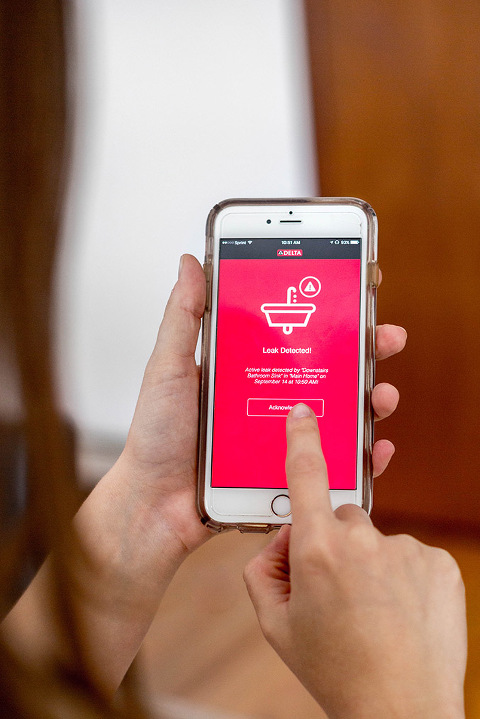 If I had had this detector set up near our drain right in the midst of our neighborhood's sewer drama, I think I would have saved myself from a ton of unnecessary stress and anxiety. I imagine that it will be a life-saver while we're away on vacation, too, and will allow me to actually relax—something you might remember that I generally struggle with. We will, most definitely, be ordering a handful of additional detectors to place in other areas of our house for extra peace of mind.
Before I go, I wanted to mention the Delta sweepstakes—the brand will be shipping free devices out to those who share their own @DeltaFaucet-tagged photos and videos on Facebook, Twitter, or Instagram with the hashtag #TheDreamGaurdian. Each week throughout November, four winners will be rewarded with a Delta leak detector, and be featured on Delta's Inspired Living blog, too—more details on how to enter here. This is such a fun way to be part of the community, and to put this cool product to the test in your own home.
So, tell me: have you ever had a water leak scare? Would a detector like this help save you from unnecessary stress and anxiety? Leave your thoughts and stories (I hope they have happy endings…) in the comments below!