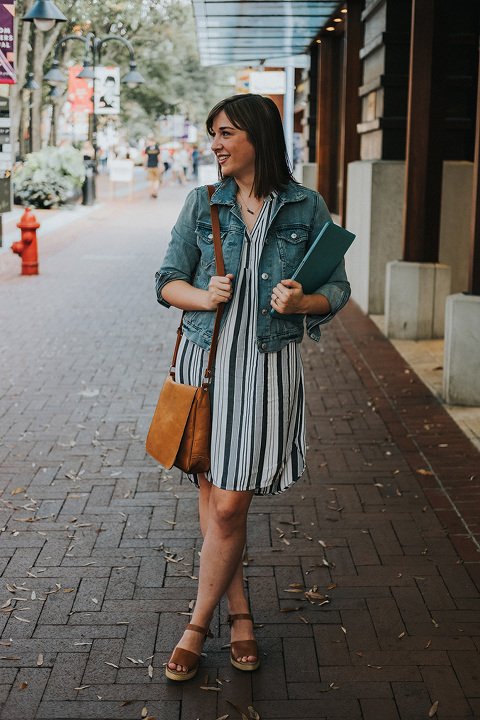 Let's talk for a moment about style! In my ongoing quest to save more money and buy fewer things, I've challenged myself to try making the most of the items I already own. These days you'll find me rearranging art in our home rather than purchasing new pieces, switching out throw pillows from room to room to change things up, and I'm even doing my best to learn how to mix and match items in my closet to get more wear out of each and every piece.
To help with the latter (since I'm anything but a style pro), I enlisted the help of Darling Boutique owner Linnea White. Back in July, I visited her shop in nearby Charlottesville, Virginia, and she helped me choose a dress and a couple of other strategic new pieces to add to my wardrobe for fall that could be worn in a few different ways. Read on for Linnea's tips for getting the day-to-night look with your own dress, featuring photos by Tristan Williams!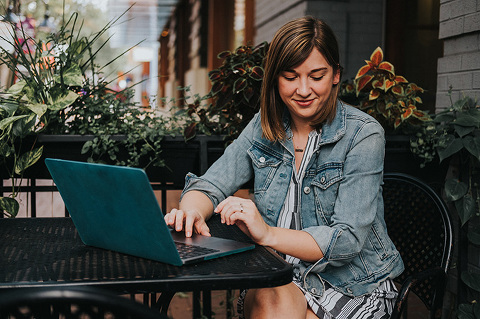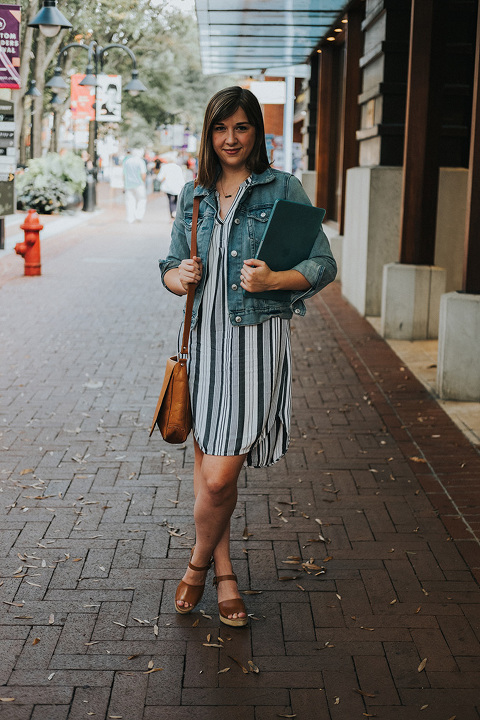 New Investments: Shoes, necklace, earrings, dress // Already Owned: Jean jacket, purse
Words From Linnea:
When Carrie and I chatted about collaborating a little while ago, we ended up deciding on the idea of styling a dress for her busy blogger life. Based on her style needs, we leaned towards pieces that she could wear from day to night—from a coffee shop meeting or work session, to drinks with friends. As with any piece you purchase, you want to imagine styling it multiple ways, and this dress made it easy to pull double-duty.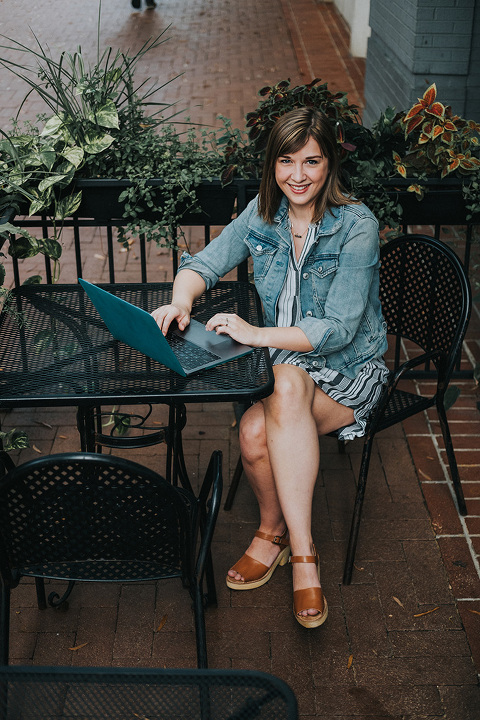 Day Look
For the blogger-by-day look, I styled the dress with a simple jean jacket and clogs. It's no secret that wood clogs are a secret style weapon (the Swedes have known this for years), and are insanely comfortable for long days on your feet. The rich cognac of this pair was the perfect contrast to the dress, adding warmth and color. We added a pair of studs and a beaded bar necklace by Virginia jeweler Emily Warden Designs for simple statement accessories.
Another casual way to style this dress would be with a pair of boots (short or tall) and a chunky cardigan. Think: jewel tones like burgundy or evergreen for an extra eye-catching look. It's the perfect layering base for Fall days ahead!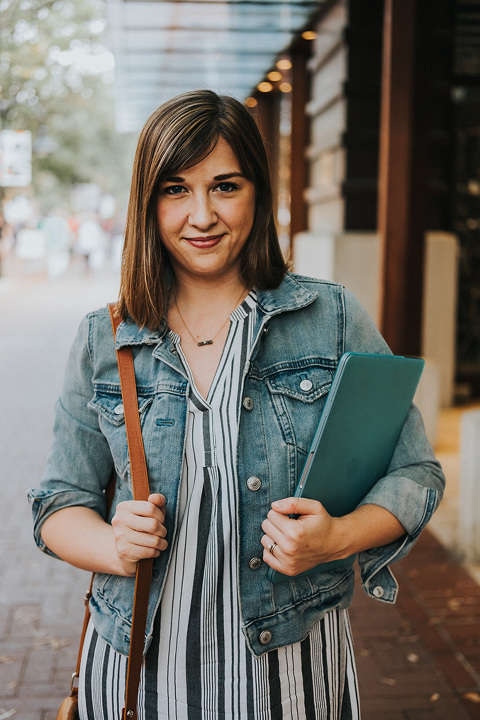 Evening Look
Sometimes all you need is a leather jacket. And that's exactly what we added to this dress for an evening option. We also switched the shoes to a pair of booties, and changed up the jewelry for a little more drama. The sunset cuff by Free Range and Feral paired with the geometric hammered brass earrings and long beaded necklace by Dinosaur Toes—all handmade in Virginia, of course.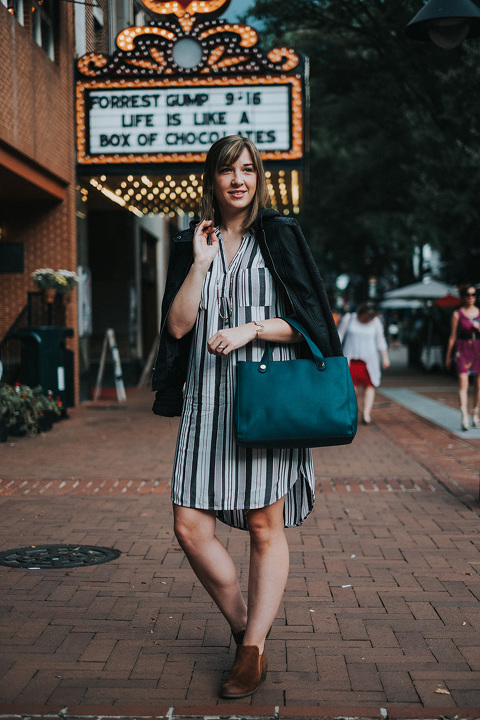 Another way to style this dress for evening would be with a pair of heels (add a pop of color!) and a statement clutch. The dolphin hem of the dress adds that needed interest to keep the rest of the look sleek and simple.
Pro Fashionista Tip: Drape your jacket over your shoulders for an instantly chic look for the evening edition of your outfit. 
How To Recreate the Look
1. Start with the base. Find that perfect dress for your body type, in a basic color or pattern—we went with stripes in a classic black and white scheme. Keep the silhouette simple, and that base becomes the perfect palette for all your styling needs, day to night.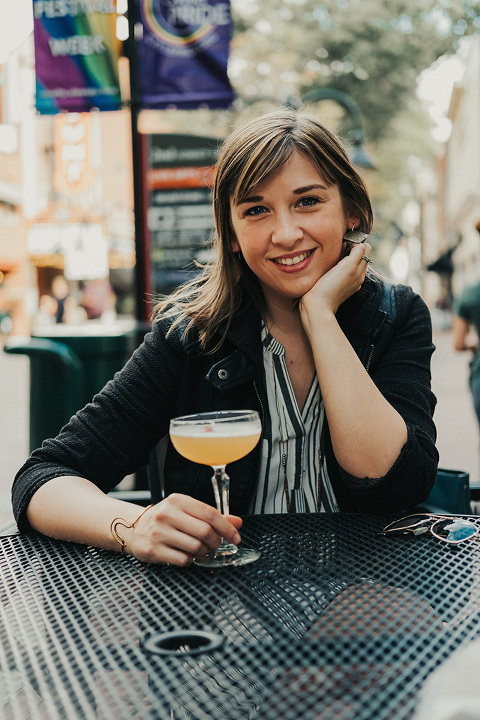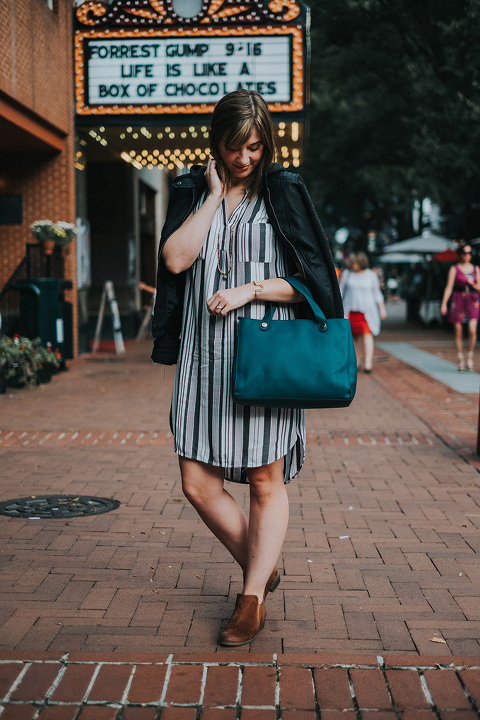 New Investments: Necklace, earrings, bracelet, dress // Already Owned: Booties, purse, jacket
2. Keep the layers lengthening, not bulky. Whether a jacket or a sweater, make sure the hem hits at a flattering point on your frame, and doesn't cut off the flow of the dress silhouette underneath. Learning your proportions is key to layering any piece!
3. Get creative with the accessories, and play with length, textures, and colors. Find necklaces that flatter the garment, creating length where needed or drawing attention to the neckline. This part is the fun part!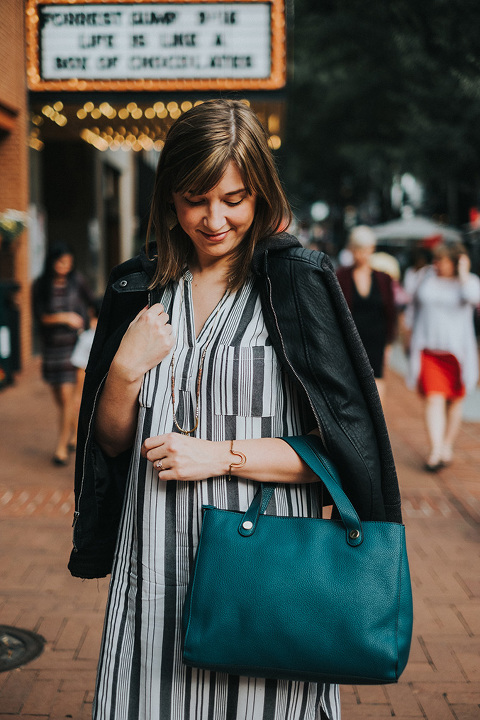 I'm excited to put Linnea's pro tips into motion all season long, and can't wait to see just how many other ways I can style this dress as we transition through more seasons. The cool thing is that I haven't shopped for clothes since that day back in July, and (with Linnea's tips in mind) I feel like I already have more than enough in my closet to keep me occupied without having to buy anything new—at least for a while! For more tips and style inspiration be sure to follow along with Linnea on the Darling Boutique blog here.
Before I sign off for the day, I just wanted to send off a BIG thank you to Linnea and Tristan for helping me feel like a million bucks throughout the process of this creative project. It was so much fun to connect with a couple of new local creatives, and to try my hand at fashion for once. It just goes to show that some of your best inspiration can come from the most unlikely of places, so take this as your challenge to step out of the box this fall and try something totally new to you in order to get those creative ideas flowing.