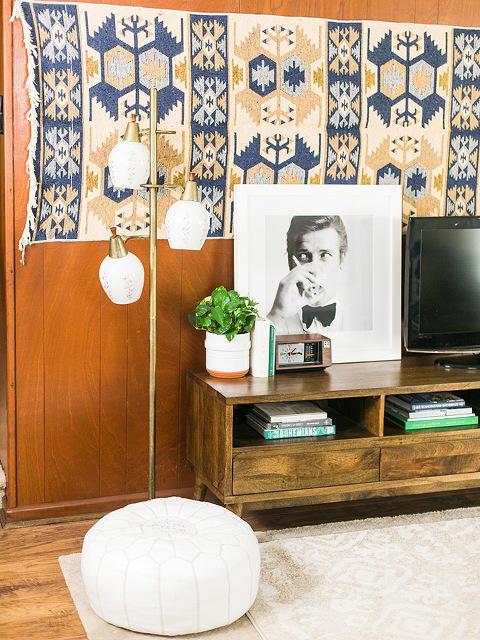 Since debuting our updated home tour earlier this week (hop to Apartment Therapy here in case you missed the full feature!), I thought it might be fun to tour each room separately. So, every Friday for the next few weeks, I'll be sharing even more photos of individual rooms, and talking about the details—what we've done to the space since moving in two years ago, our favorite ways to use the room, projects we have planned, etc.
First up? The family room. As opposed to going in order with the kitchen first—since that's the room you walk into through our main entry—I wanted to dive right into the family room. Reason being that this space has already changed pretty drastically since Carrie Coleman shot these photos for us earlier in the summer, and I wanted to show you the progress before I unveil the new, new things that we've done, which I plan to do the week after next. Let's get to it!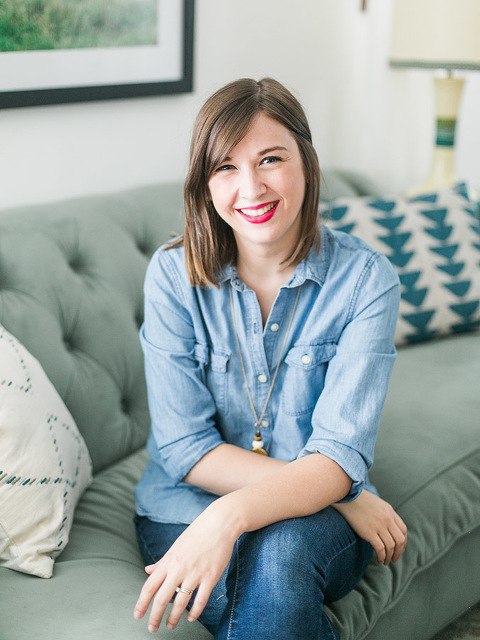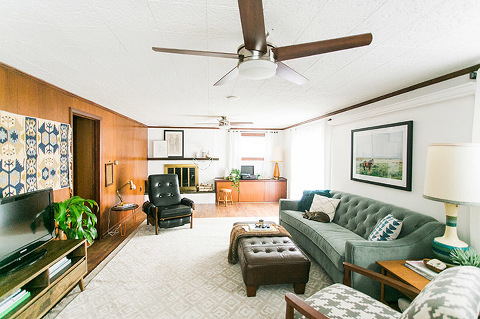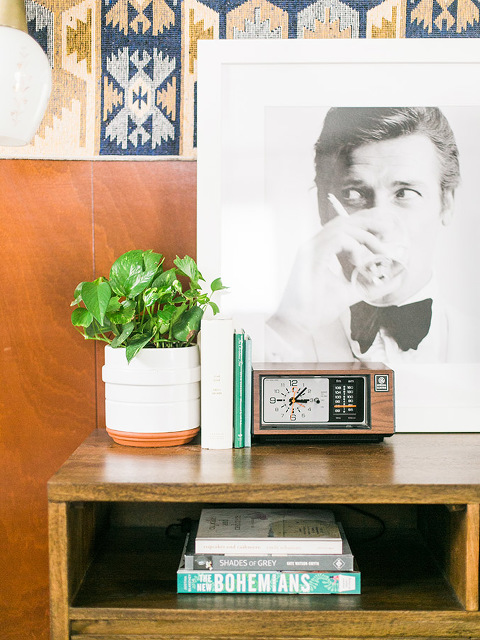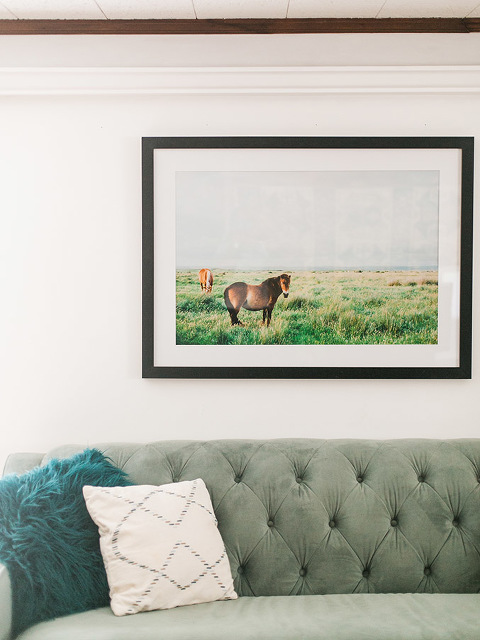 This room was one of the biggest selling points of the house when we toured it waaaaaaay back in September of 2015. It's technically in the basement of the house, but was finished off, probably a decade or two ago, by the previous owners. Because the room sports three large windows and a sliding door walk-out, it really feels like just another extension of the main living spaces on the top floor. That's why we tend to refer to it as the "family room" as opposed to the "finished basement."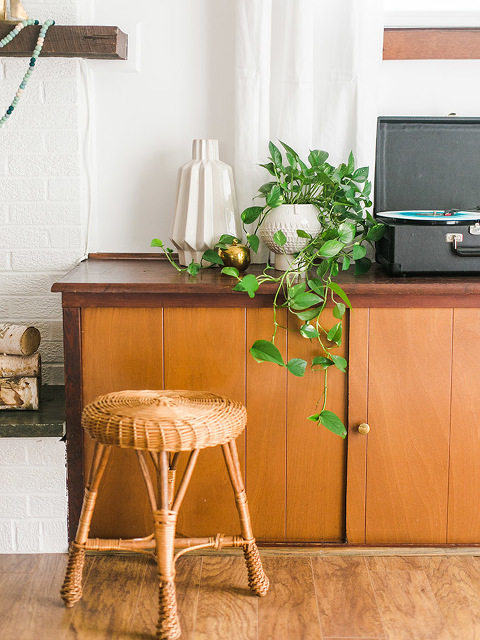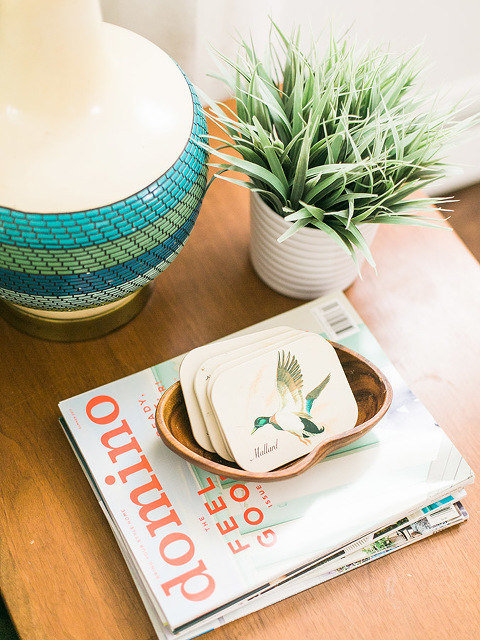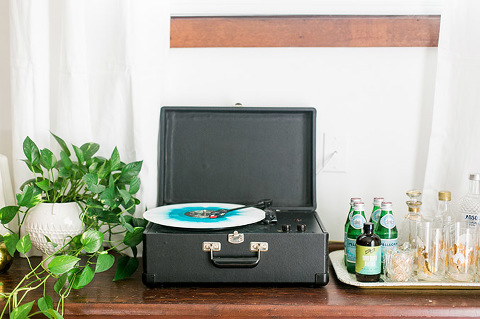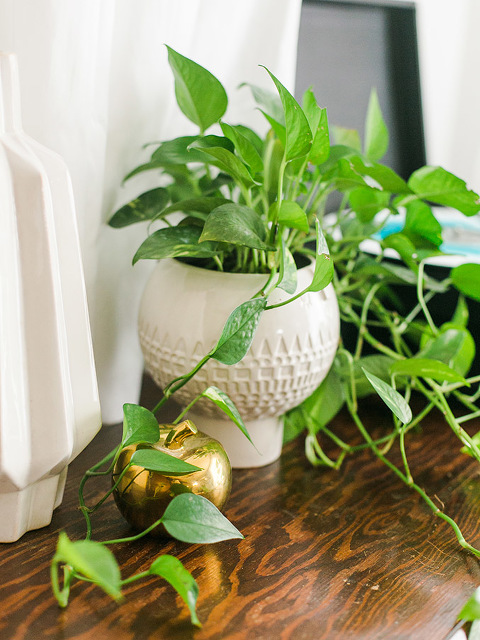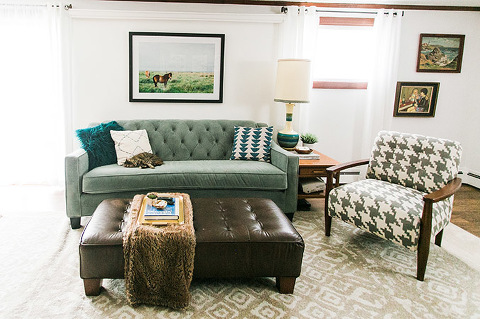 When we moved in, the room was painted a pale yellow, which I quickly freshened and brightened up with a can of white paint ("High Reflective White" by Sherwin Williams, just like every other room in the house). After finishing the walls, I decided that I couldn't stop there, and I painted over the raw brick fireplace, too. I know it's a little controversial to paint over brick, but the new white finish just helps that end of the room feel so much wider and brighter.
Speaking of the fireplace, we also had a professional plumber come in and redo the gas logs for us as they weren't to code when we moved in. Now the new logs and gas lines help heat the entire space in the colder months, making it one of the coziest rooms in the house come wintertime.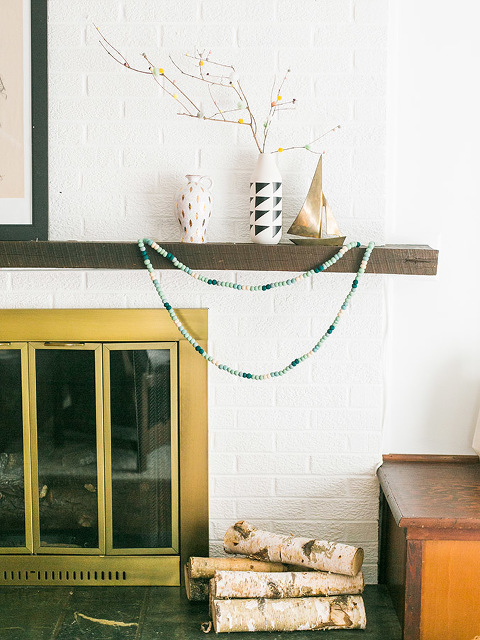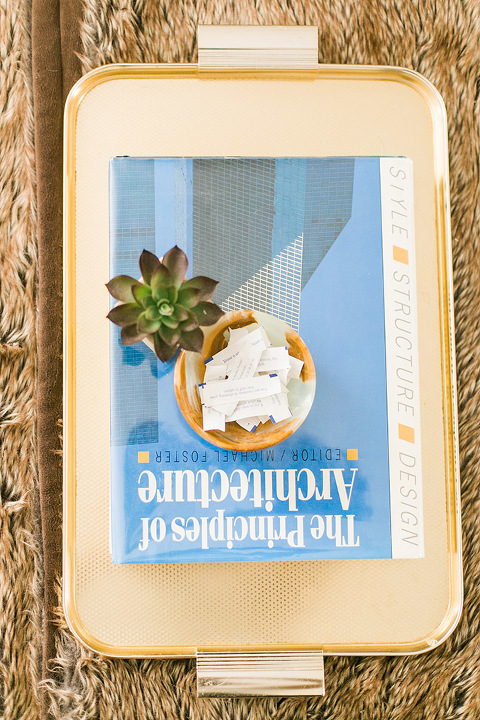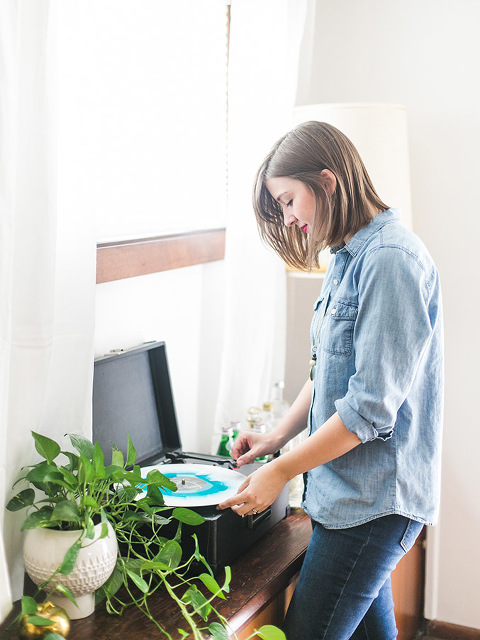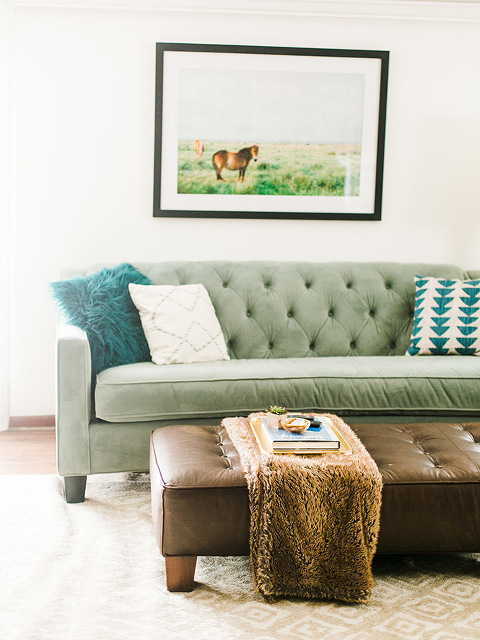 Let's talk about those floors. You can find out more about the whole debacle that led to their replacement in this post, but, in a nutshell, our cat did an absolute number on the old berber, forcing us to ditch the carpet once and for all. It was incredibly stressful and an expense we hadn't planned on investing in right away, but, in hindsight, I'm so glad that we ultimately had to do it.
I remember when we first toured the house with our realtor, and I declared that the berber would have to go before we even (hypothetically) moved in. Of course, that didn't quite happen despite "my foot going down" from the get-go, but now the room—with its updated laminate flooring—feels even more like a real living room as opposed to a finished basement.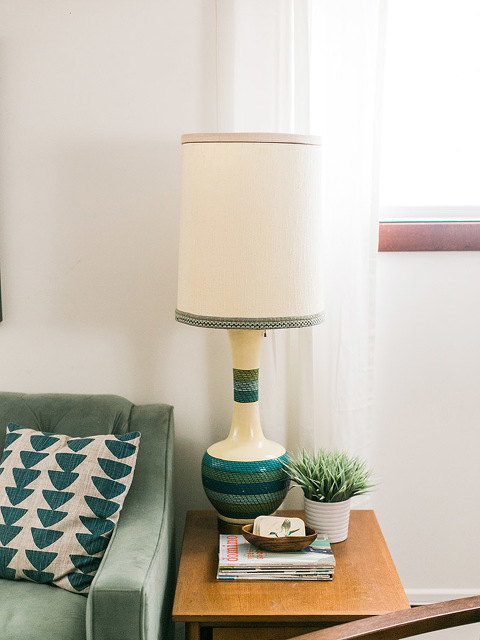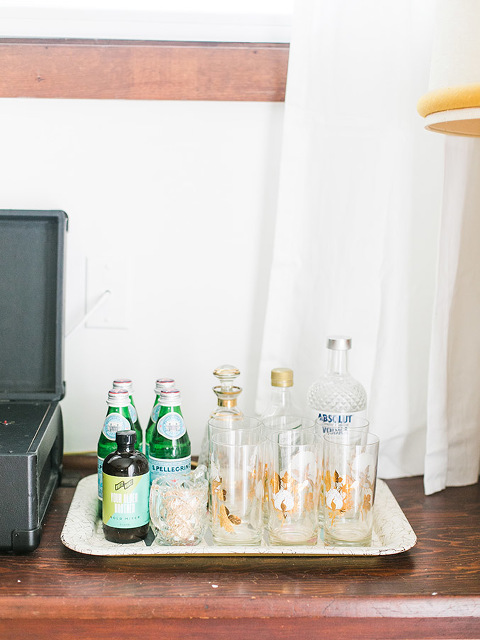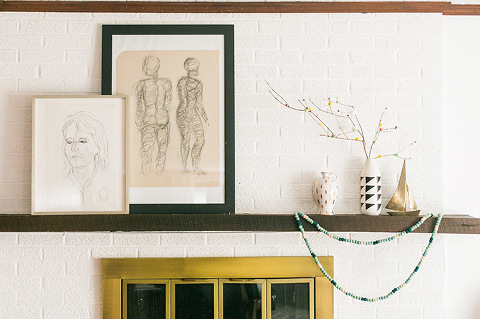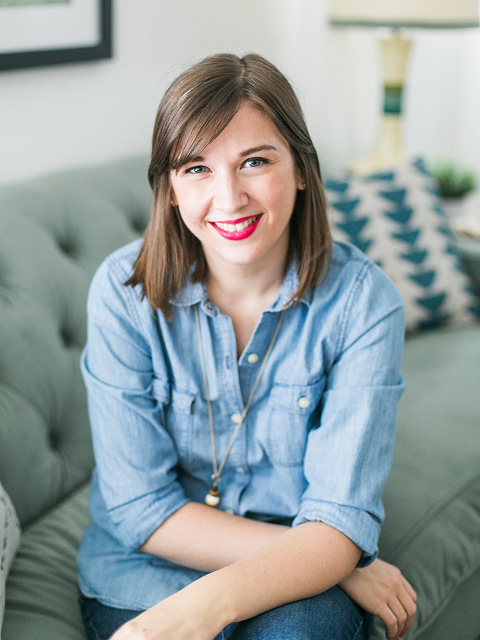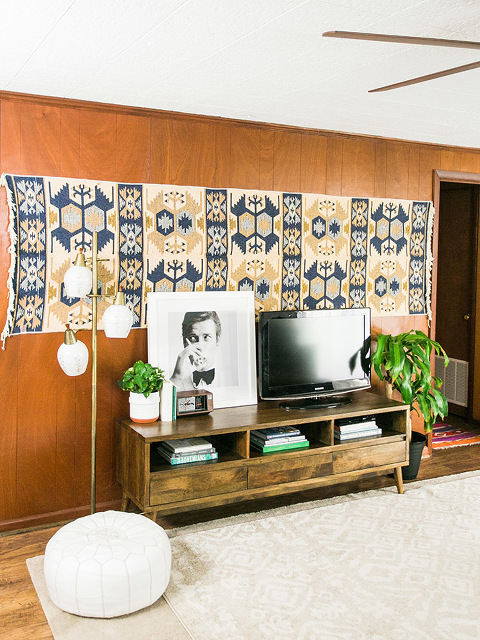 To protect our new floors, we added a couple of layered rugs for extra softness, and we filled the space with a mixture of new and mid-century furniture. One thing that you don't see in this collection of photos is the new sectional that we recently added to the room. It was delivered a couple of weeks ago, and I photographed it in place just last week, so stay tuned for that reveal at the end of the month. A sectional has been on our wish list for years now, and since we finally have a room big enough to situate one in, it was time to pull the trigger. I can't wait to share more!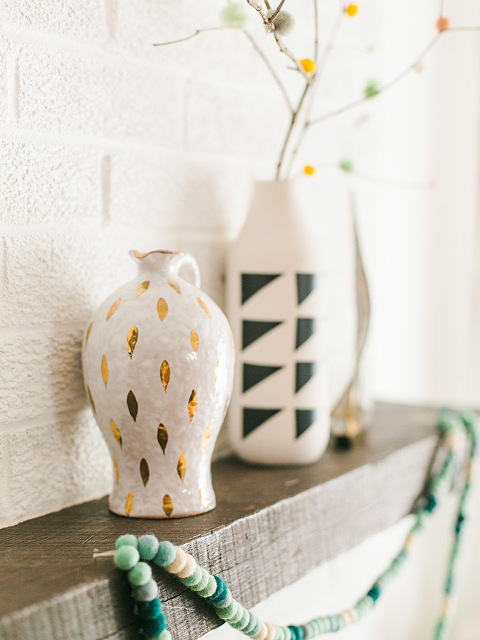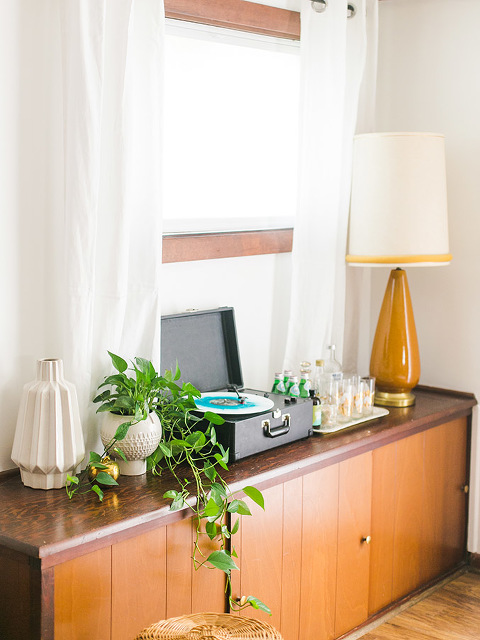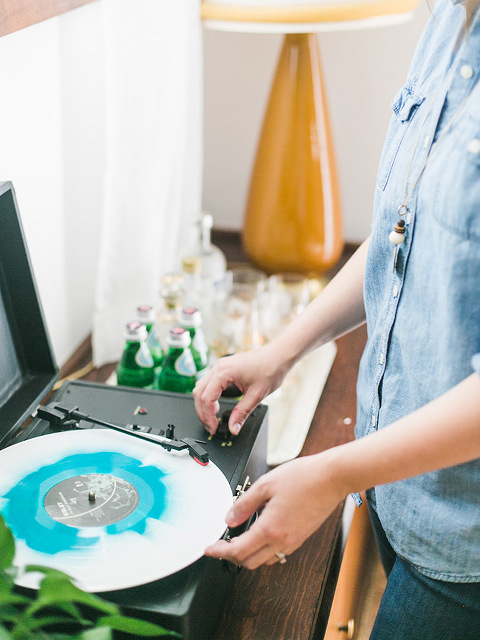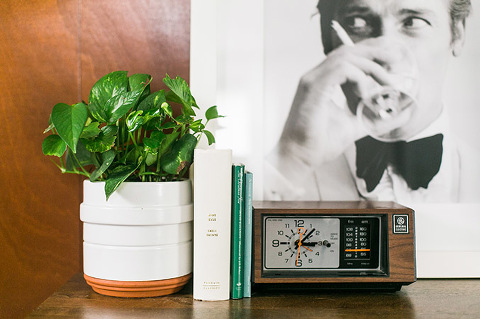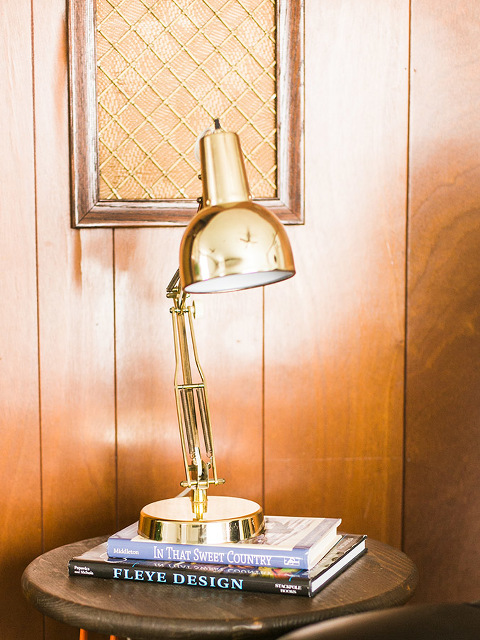 Aside from the foundational updates we've made (think: new floors, a working fireplace, fresh paint), the family room has definitely seen its fair share of new and rearranged furniture. We've tried I think 3-4 different sofas down here before we really got it right, and more chairs and tables then I can count. Not all new, by the way—I've tried my best to "shop" our home and have experimented with pieces from other rooms in the house before buying anything new.
I've never decorated a room as large as this one, so I struggled with how exactly to lay it out and had trouble finding the right types of furniture that would fit it best. I think we've finally gotten a formula down, though, and it's the one room our entire family flocks to in the evening. In fact, I'm lounging on the family room sofa right now while typing this post up!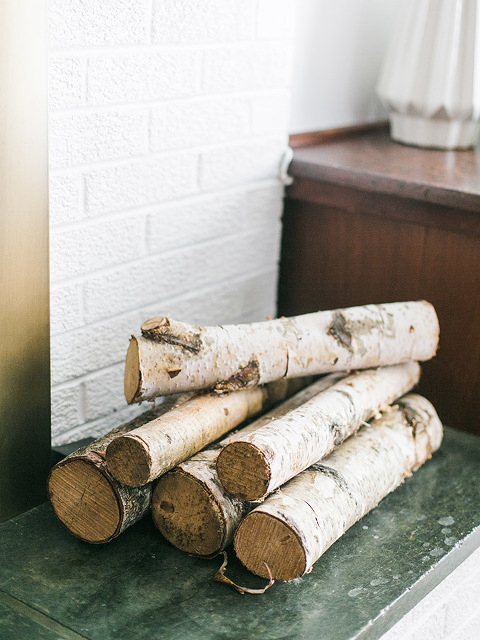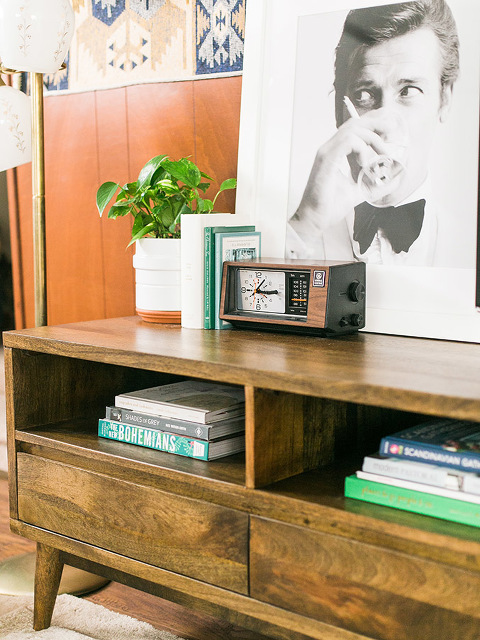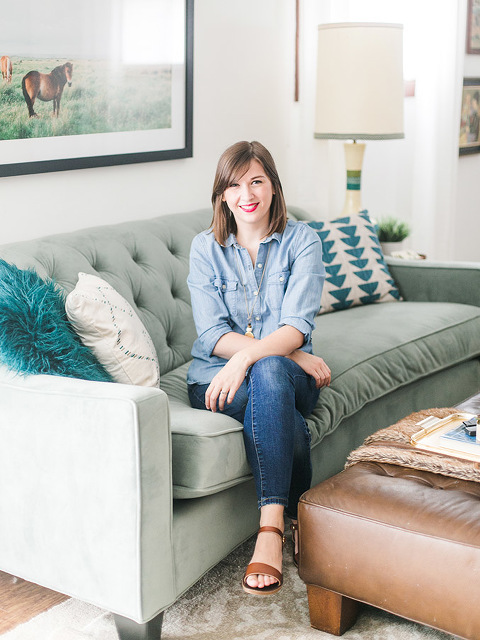 As I mentioned, I hope you'll stay tuned for the next month and a half as I share each individual room with extra home tour photos. It's so fun to reminisce about just how far we've come, and I hope that some of our experiences and decor ideas will help inspire your own home makeover, too. Keep scrolling for a full list of linked room resources!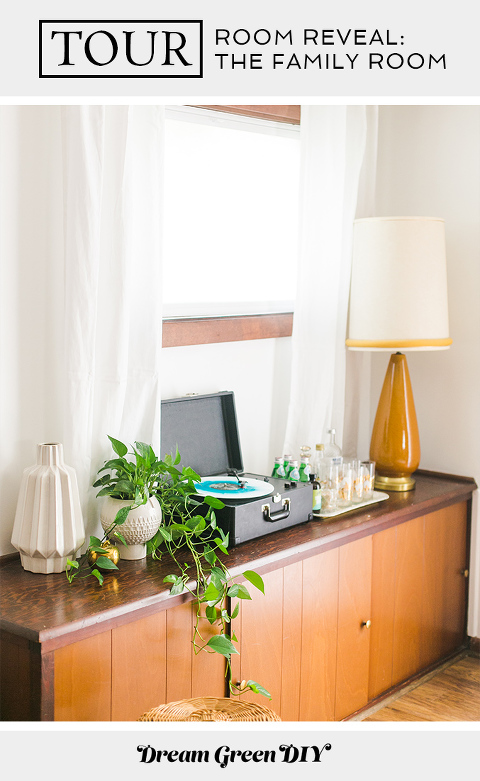 Family Room Resources:
Rug: Home Depot
Sofa: Home Depot
Side Chair: La-Z-Boy
Recliner: Galaxie Modern
TV Cabinet: Home Depot
Hairpin Leg Side Table: DIY
Framed Horse Print: Photos.com
Ceiling Fans: Home Depot
Felt Ball Garland: Minted
White Curtains: Home Depot
Sheer Curtains: Home Depot
Framed Man Portrait: Photos.com
White Pouf: Joss & Main
Black and White Vase: DIY
Tufted Ottoman: Circa
Laminate Flooring:  Home Depot
*Photos by Carrie Coleman; I earn a small percentage from purchases made by the affiliate links above. Affiliate links are not sponsored. You can rest assured that I would NEVER recommend a product that I don't use and love myself!