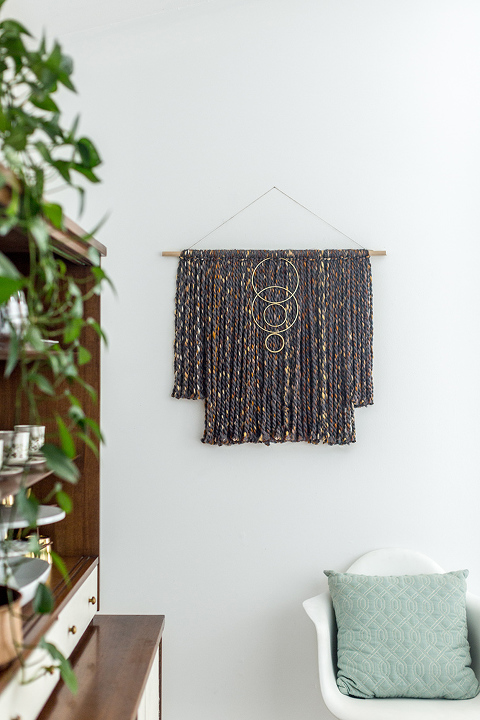 Hi, my name is Carrie, and I'm addicted to textile wall hangings. I know, I know…I should "join the club," right? Everyone in the world seems to be utterly entranced by these boho style wall decorations, so I'm certainly not being innovative by appreciating them, but I just can't get over the simple statement that wall hangings make in a home. I've probably repinned about a thousand pretty woven masterpieces in the last year alone, so I decided it was time to take things into my own hands—literally.
If you hadn't already noticed, designer wall hangings are pretty pricey, but if you learn to make them, they really only cost a few dollars a pop. To prove it, scroll on for my quick tutorial, and you'll be nailing the trend with your own handmade masterpiece in the span of just one afternoon.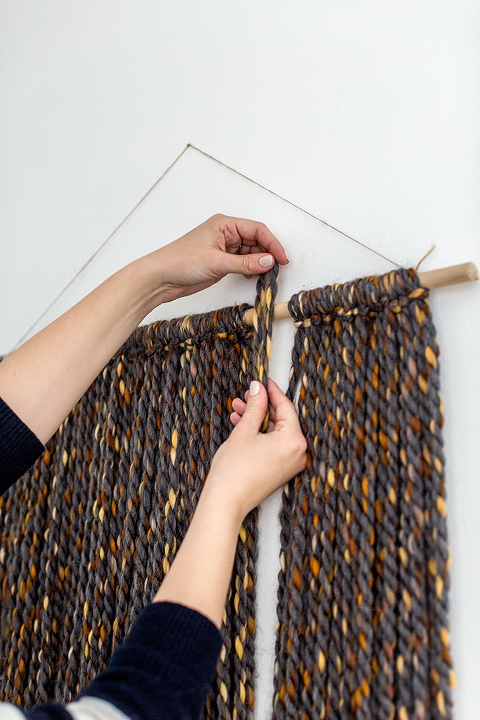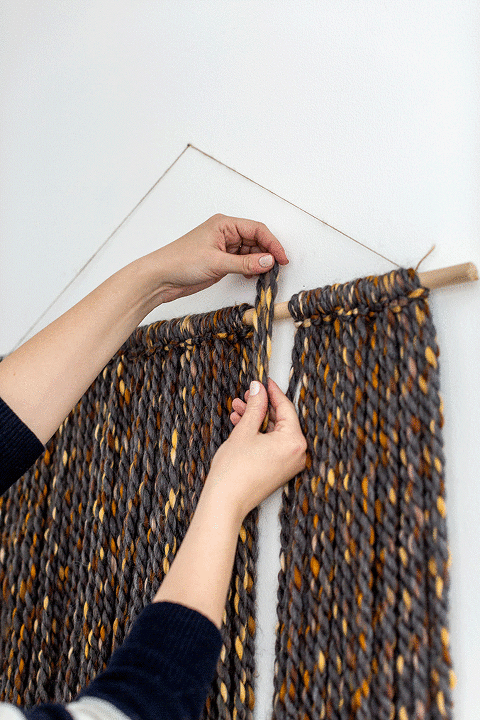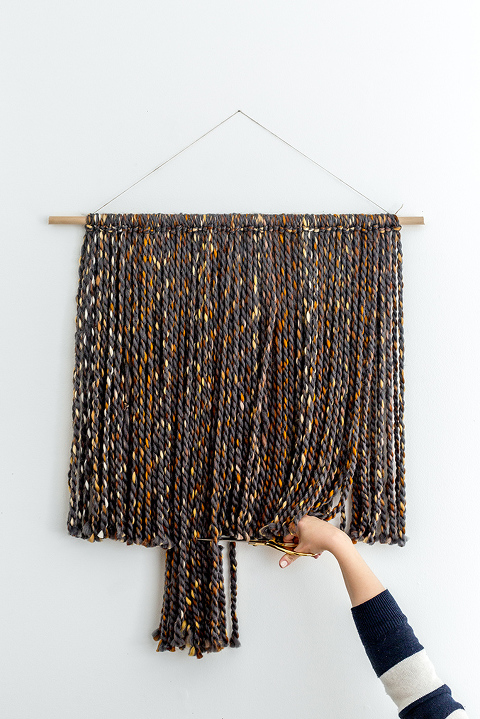 To get started, purchase a wooden dowel rod, twine, fishing line, an assortment of brass rings, and a bundle or two of yarn. The amount of yarn you'll need really depends on how large of a wall hanging you plan to make, so go ahead and plan to over-buy yarn with the intent to return whatever you don't open or use. If I remember correctly (I actually made this over Christmas break, so it was a while ago) I used one whole bundle from the craft store, and plan to return the second bundle that I bought for a "just in case" situation.
Decide how long you want your wall hanging to be, pull out double that amount from the yarn bundle, and cut it off with scissors. You'll want to double your yarn trimmings since you'll be attaching the strands at their middle point to the dowel rod. Use the first cut piece of yarn to measure and cut a whole pile of trimmings. I suggest listening to a podcast or having a movie playing in the background since this step takes a while to complete.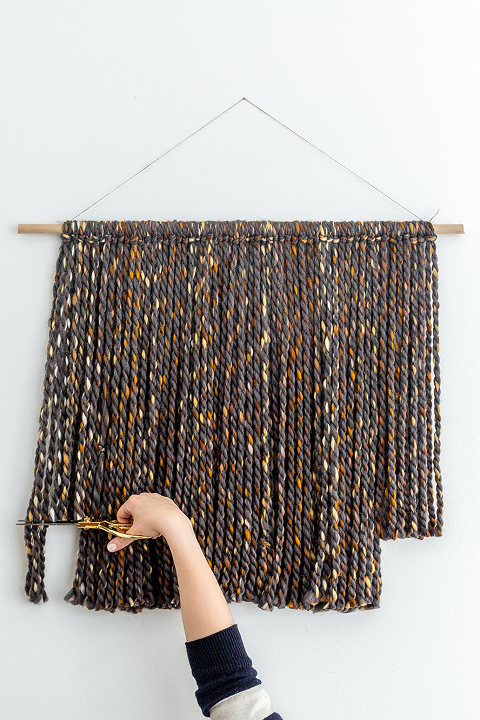 When you have your yarn strands cut to size, grab the dowel rod and place it in front of you, or go ahead and hang it on the wall with a piece of twine, as pictured above. Then, start attaching your yarn strands to the dowel one by one.
I included a GIF animation of the process a couple of images up, but essentially you pinch the strand in the middle so that equal lengths of yarn fall on each side of your pinched fingers. Hold the pinched yarn up in front of the dowel rod and use your other hand to separate the yarn strands with your fingers under the pinch. Reach through the yarn and pull the two dangling ends of yarn up behind the back of the dowel rod and through the part of the yarn strand that you have pinched. Pull the strands all the way through and tighten the knot around the rod. Here's another post where I talk about the knotting process step by step in case you're confused.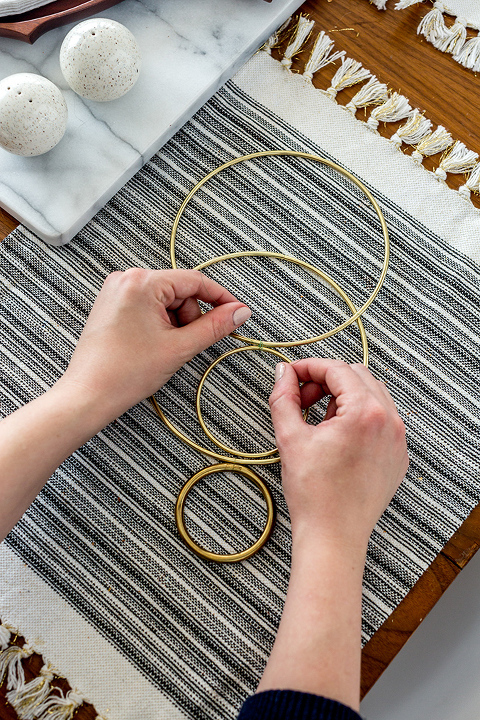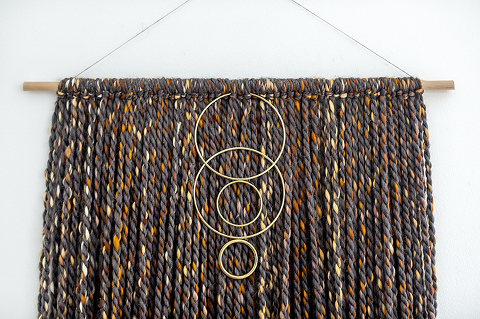 After knotting the yarn strands onto your dowel rod, use scissors to even out the bottom edge. I wanted a sort of stair-stepped look (inspired by my blogger pal, Molly), so I cut either side of my wall hanging a little shorter than the middle section.
For added interest, I wanted to include a brass ring detail in the center of the wall hanging. You can copy the look by laying your rings on a flat surface until you like the arrangement, and then attaching the rings to each other using fishing line tied in tight triple knots at each "touch point."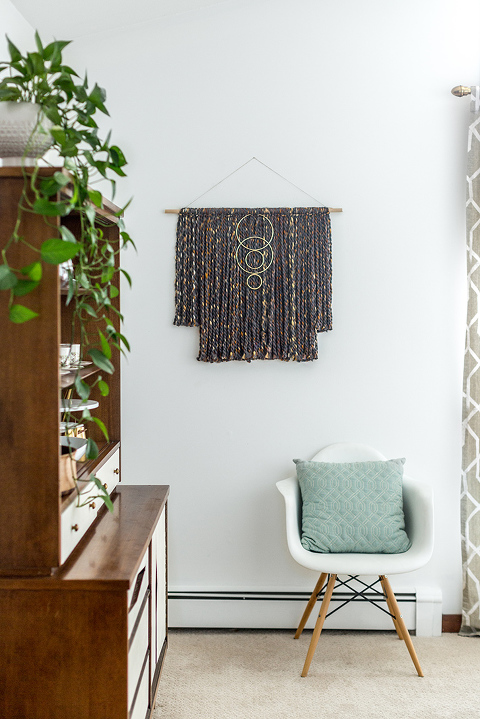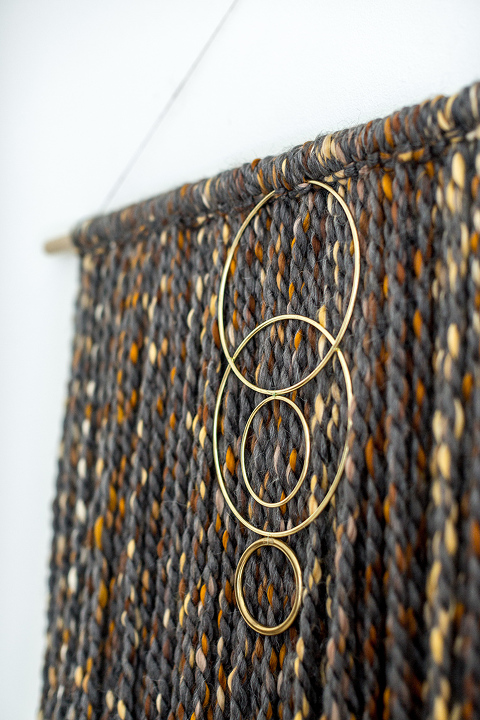 To attach the brass ring embellishment to the dowel rod, you can either use more fishing line or you can unknot 3-4 of the yarn strands in the center of the wall hanging, and reknot them around the top-most brass ring to cinch it in place. Then, you're all done!
I absolutely love how this turned out, and especially love how little it cost. I actually already had most of the supplies on hand, so all I had to pay for was the yarn (it was $5 with a coupon). If you need to buy all of the supplies outright though, you're still only looking at about $10-$15, which is well below the average cost of a ready-made version from places like West Elm or even Target.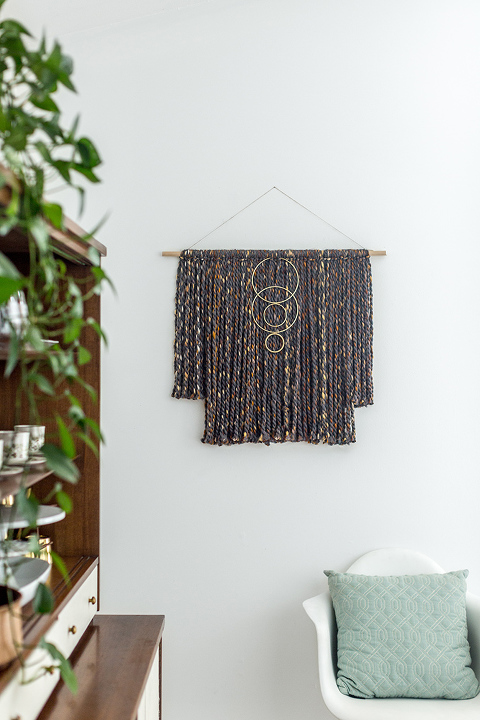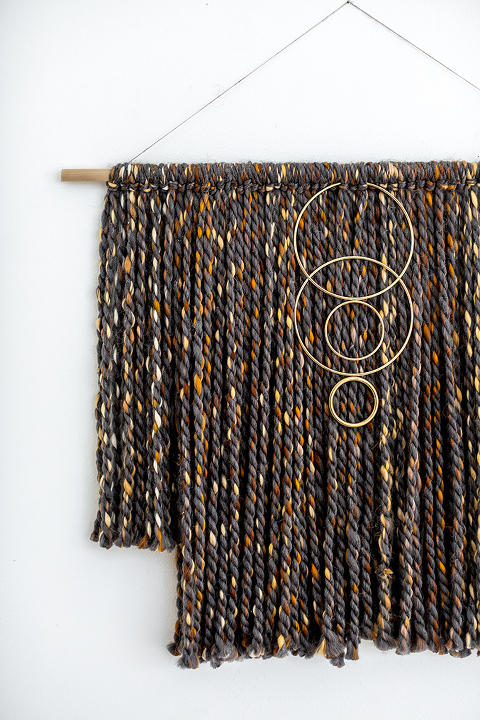 What do you think? Would you try this craft at home? John helped me put the project together while we had time off from work over the holidays, so he's just as proud of the finished product as I am. At least once a week he'll smile and point at the wall hanging, saying, "I helped make that!" Case in point, it's a really fun DIY project to do with a friend or loved one, so why not make a night of it?!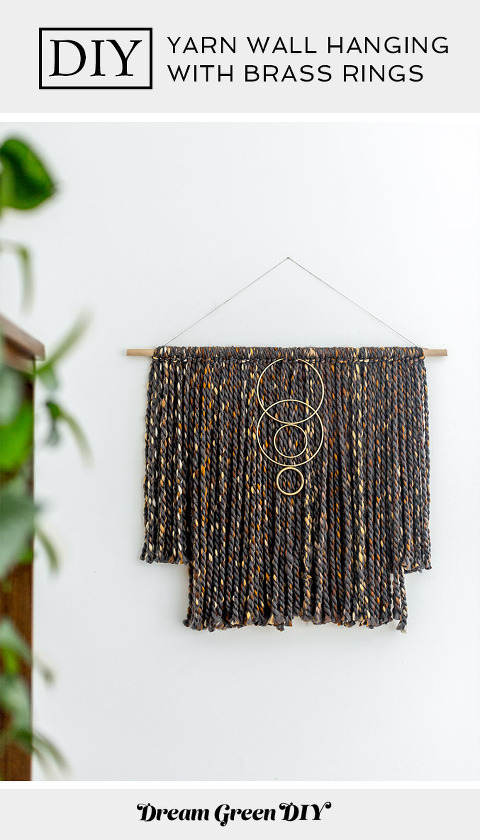 P.S. Don't forget to sign up for the Dream Green DIY newsletter! The next issue hits everyone's inboxes tomorrow, and will include an exclusive 15% off coupon code to Wise Apple Vintage, plus 6 DIY Valentine's Day projects to try. Sign up here!