Now that it has officially been more than six months since we kicked off our hall bathroom renovation, it seems only fair to share a general run-down of our latest progress and plans, as they stand today. I think the thing that has surprised me most about this project has been just how long it has taken, but, of course, seeing as this is my first demo-type renovation, I think that's just me feeling the strain of a learning curve.
As with any type of home renovation, our bathroom reno came with the expectation that things might not be all that they seemed from the outside—and they really weren't. We were ultimately slammed with issue after issue, and I'm sharing the whole sordid tale with you below, complete with tons of nasty before and progress images, plus a few hopeful halfway point photos, too.
When last we left you over the summer, I had worked with Home Depot to complete a series of quick weekend updates—things like a new faucet, new towel hooks, a fresh rug, and coordinating vintage artwork. The room, as you can see pictured above, had come a long, long way from the room it was when we first moved in (pictured just below), but it still had a long, long way to go before we could call it done.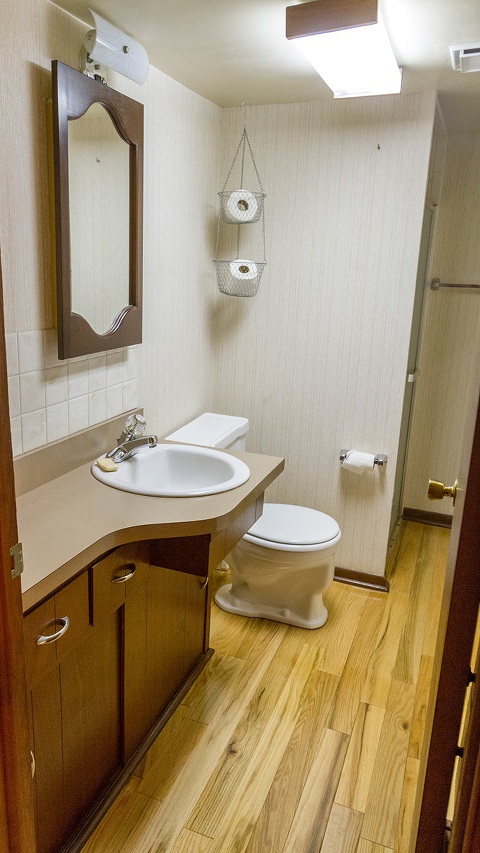 After wrapping up the weekend updates post for the team at Home Depot, I asked if they would be interested in teaming up to show how you can take a bathroom even further with a full-on renovation. Happily, they were just as excited as I was to demonstrate how a deeper demo could reveal a fully updated bathroom oasis, so we had their on-site kitchen and bath contractor come out to get things rolling.
The two of us (our contractor and I) worked together to dream up a band new glass-enclosed shower to make the tiny room feel a bit bigger and more modern. While I would have loved to take the shower all the way across the back of the room with a tiled surround and glass sliding door, it just made more sense in terms of timeline and infrastructure of the room itself to run with the existing footprint of the shower. More specifically, we didn't want to have to rope in a plumber to deal with rerouting the baseboard heaters that you see down below and to the right of the demoed shower.
A few weeks after that first consult, our contractor came to remove the old drywall, tile, and plumbing fixtures to reveal the inner workings of the bathroom walls and, as we would later find out, a whole lot of issues.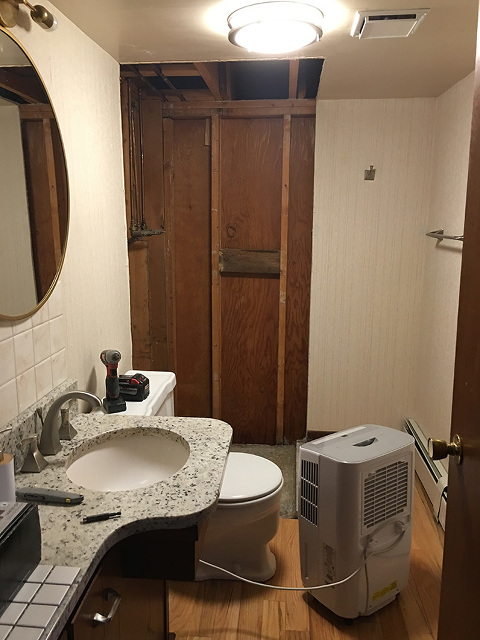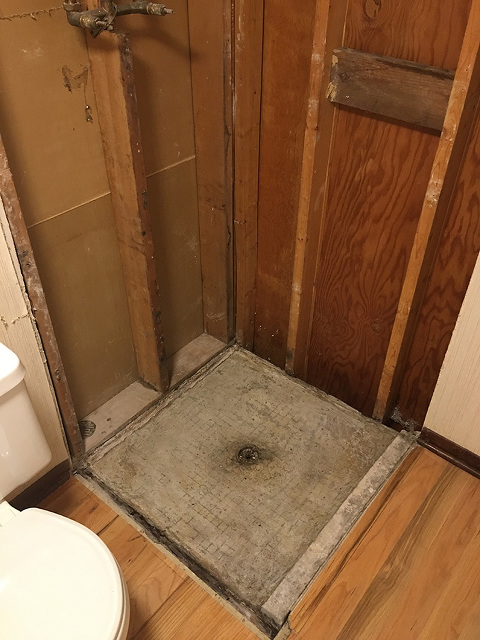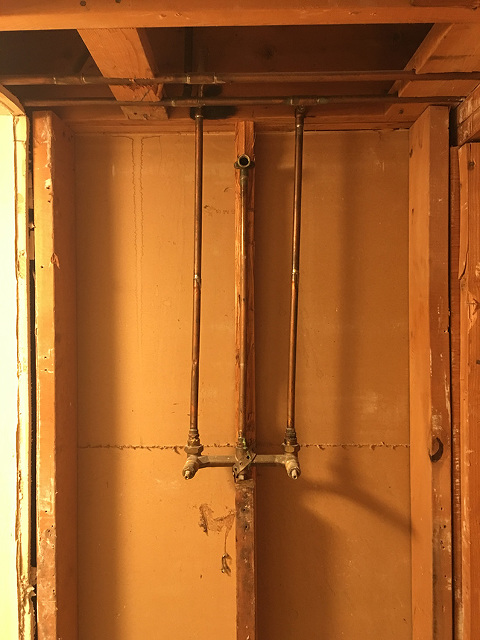 The first obvious thing they found was a bit of mold on the wood framing of the shower, as well as some wood rot on the subfloor surrounding the concrete shower pan. That quick screenshot below from my Instagram Stories last year points out the areas of interest best, but that wasn't even close to the worst of it.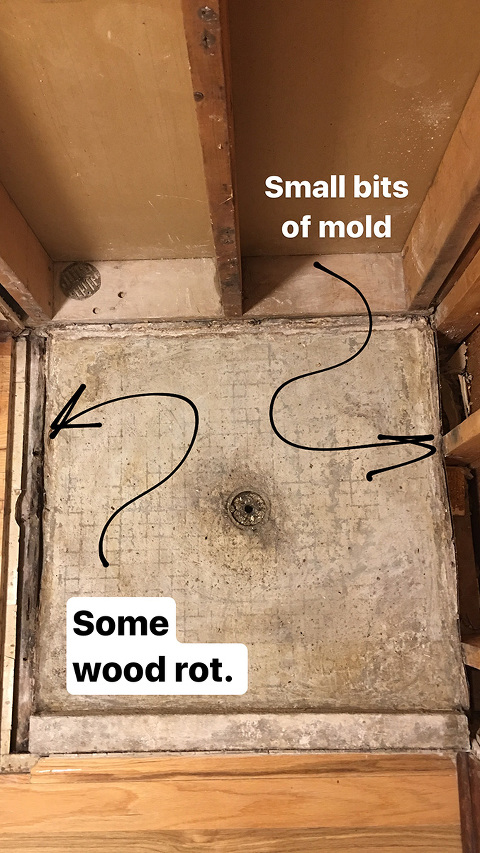 While the contractor and his crew were ripping out the shower, I happened to flush the toilet in the upstairs bathroom. Five minutes later, I heard the contractor trotting up the stairs, and he asked me to come down and take a look at what had happened when I flushed the toilet.
Not wanting to risk sharing too much information, I'll give you the abbreviated version. Basically, every time the upstairs toilet had been flushed, trap water (and possibly sewage) had backed up into the downstairs shower pan. And this had been happening since the room was added, probably in the 70s or 80s. I know this information is hardly pleasant for you to read, let alone see, but in case you want to get a better idea of what was going on, you can click to watch this video clip of the demoed shower floor when someone flushed the toilet upstairs.
After explaining that, because of store policy, they couldn't help us with the plumbing issues, the mold, or the dry rot, our Home Depot contractors were forced to pack up their supplies and left us with their heartfelt "good luck" wishes. I immediately called John to explain the issue (in tears, of course), and then I dialed our go-to local plumber. He came right out and diagnosed the problem within 20 minutes.
The issue all stemmed from a not-to-code set of pipes that had been put in place when the house was built back in the early 1960s. It's a little too complicated to explain without diagrams and dark photos of pipes, but we were looking at a full gut job of the room, with a labor price tag starting at $1,500. And that didn't include any of the demo or work that had to be done to put the room back together again.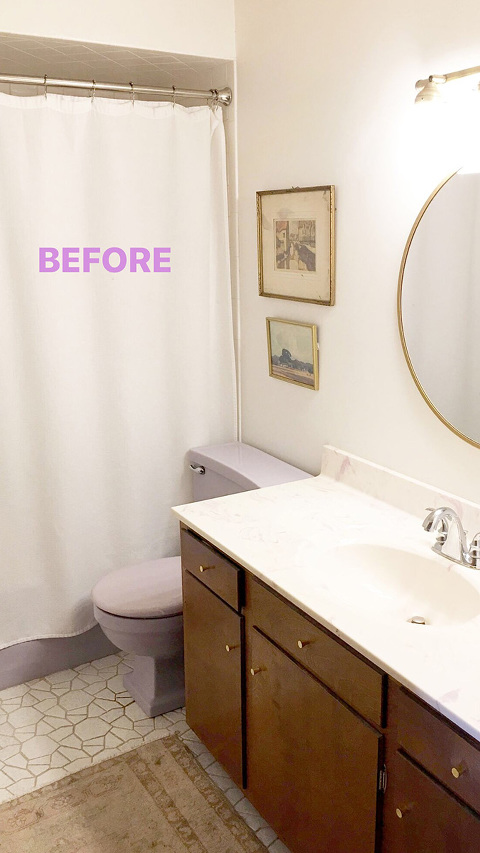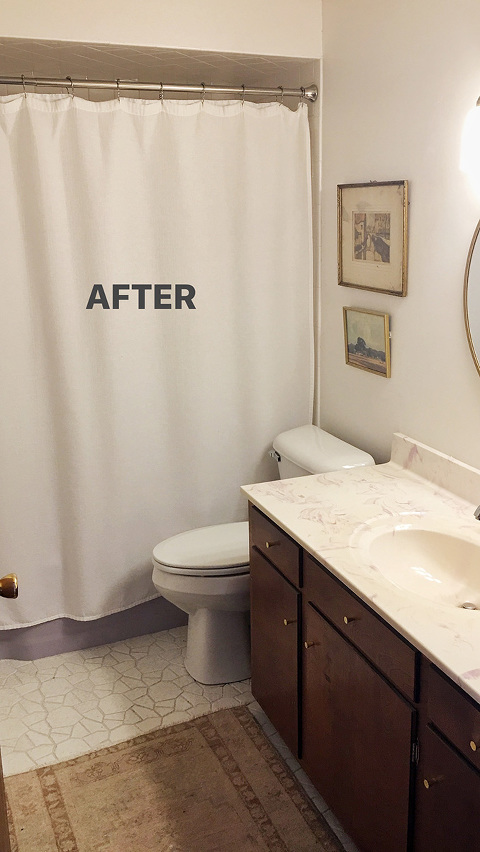 Just before our plumber packed up his own tools with more utterances of "Good luck," he thought to try one more last ditch effort. For a few hundred bucks, he and his crew replaced our old upstairs purple toilet, which pulled something like 3-4 gallons of water with each flush, with a modern white one that used only 1.6 gallons. After the toilet replacement, he and I stared with bated breath at the downstairs shower pan while his crew flushed the new toilet upstairs. A small gurgle of water did appear after the flush (as seen here in this video clip), but it was nowhere near as bad as it was before.
We were saved! By the way, if you are local to the Waynesboro or Staunton area, please (oh, PLEASE!) give Bradley's Plumbing your business. They are the absolute best of the best, and saved our butts on this project. Instead of spending thousands to tear apart a perfectly good room to get to incorrectly routed pipes, we replaced a toilet that, while charming, probably needed to be replaced anyway. AND it fixed our shower drain issue. Ha-lle-lu-JAH.
Now to refocus on the mold and dry rot. I decided it was time to call in the big guns for this second phase of remedial work: my hero (i.e. my dad). He took a day mid-week to drive the hour and a half to our house to help me chisel out and replace the water-damaged section of flooring, and then I used chemical cleaners to get rid of the small amount of mold.
The final step of the process was covering the shower drain so that we kept water from spitting up downstairs post-flush upstairs. By the way, I should mention that the new low-flow toilet eliminated all sewage backup, if there was any before. Now, the little spit of water we see comes from the stagnant amount of trap water that sits in all types of shower drains. To fix that, we picked up a $10 bathtub drain plug. It might be a little annoying to have to remove the plug every time one of us takes a shower, but it's a small price to pay if it means we can live with our convoluted (yet perfectly solid) pipes.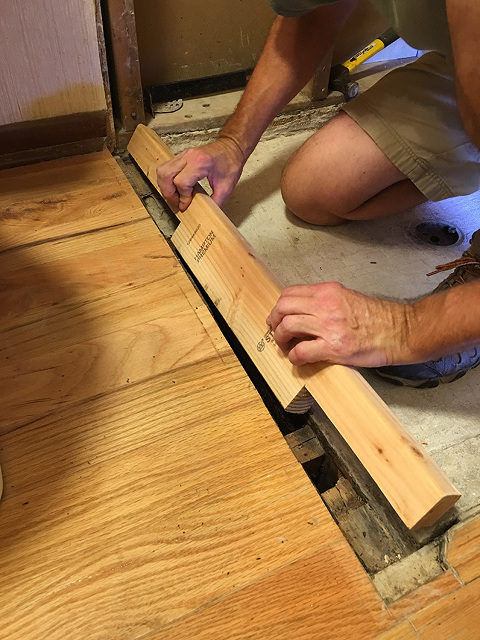 Now, we were finally ready for our Home Depot contractors to get rolling once more! But, of course, they had already moved on to other projects while we spent a week and a half dealing with our multiple set-backs, so we were forced to wait for a break in their schedule before they could help us move forward with our shower renovation. While not really a big deal since we had a functional shower in the upstairs bathroom, it was still pretty depressing to walk by that nasty demoed bathroom everyday for several weeks.
Eventually, our Home Depot crew was able to come back and they worked as often as they could between projects to get the shower looking more like a finished modern fixture. They added new drywall over the cleaned and prepped framing, as well as new waterproofing over the shower pan. They also started building up the surround my dad and I had repaired with fresh new wood that would ultimately support our glass wall and door.
Oh, and you can see in that photo below the drain cover we're still using to "plug" the hole. Five months later and it still looks good—not a drop of water to be seen beyond the drain.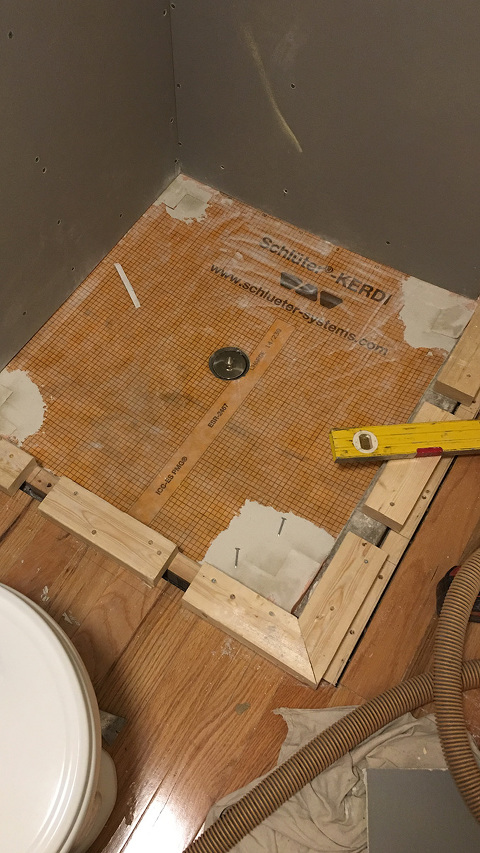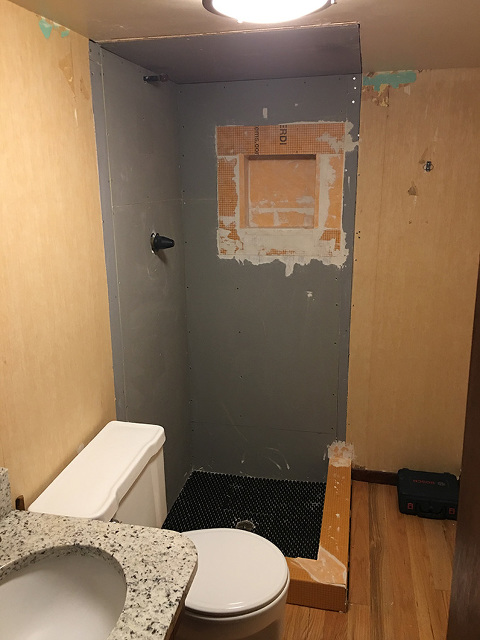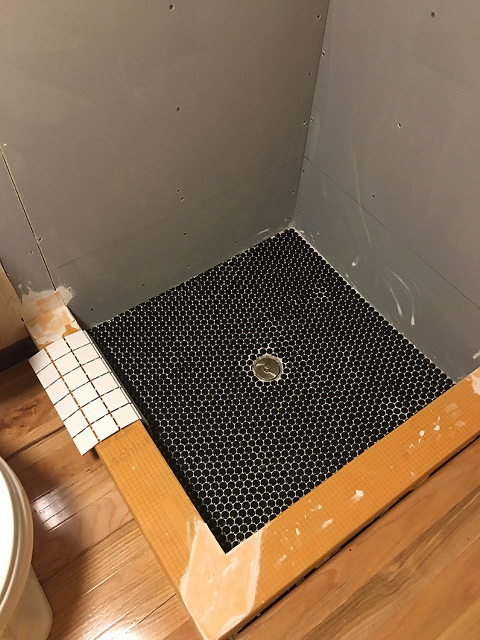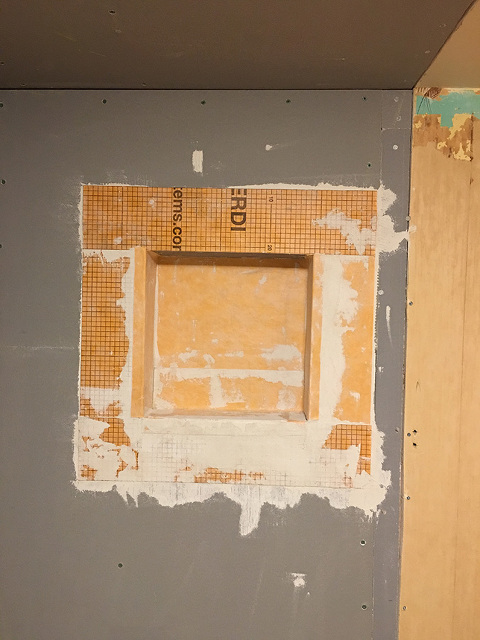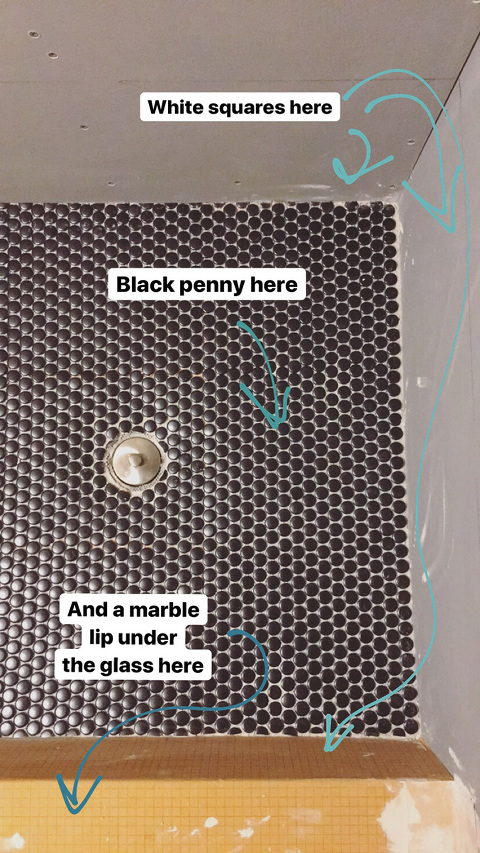 If you're still with me, I swear we're getting to some nice semi-after photos. Before we get there, though, we have to talk design. Way back in August of last year, I introduced this project with a scheme that centered around modern white square wall tile, and that concept is coming together beautifully now that we're in the tiling phase.
To add a bit of the unexpected, I ultimately decided to add black penny tile to the floor of the shower. This would serve two purposes: first, to act as a bold visual foundation for the shower, and, second, to hide any kind of water splatter we might get from the drain. I think that second reason is actually moot now that we've lived with things and haven't seen any leakage, but I think the black tile will just generally be easier to keep clean in the long run.
It was also around this time (as you'll see in the demo photos below) that I decided to take down the dated textured wallpaper. I had been adamant about leaving it up for that hint of retro character, but I eventually realized that I was being "adamant" because I didn't want to put in the effort. With weeks of silence from our contractors as they worked on other projects, I had plenty of time on my hands, so one day I just started ripping the wallpaper down. Bit by bit, (and with a lot of help from my mom) I got the job done, and I'm so glad I decided to go for it, as you'll see in a minute. P.S. Have I mentioned lately that my parents are saints? My parents are SAINTS.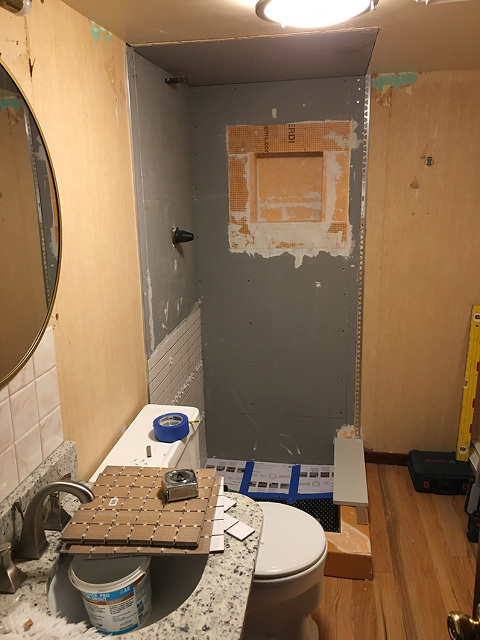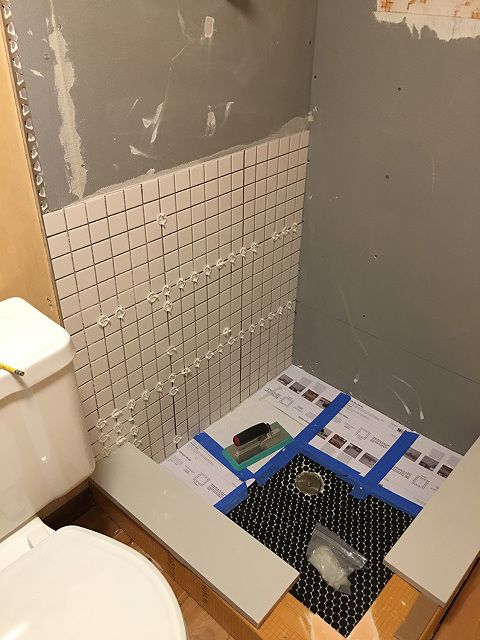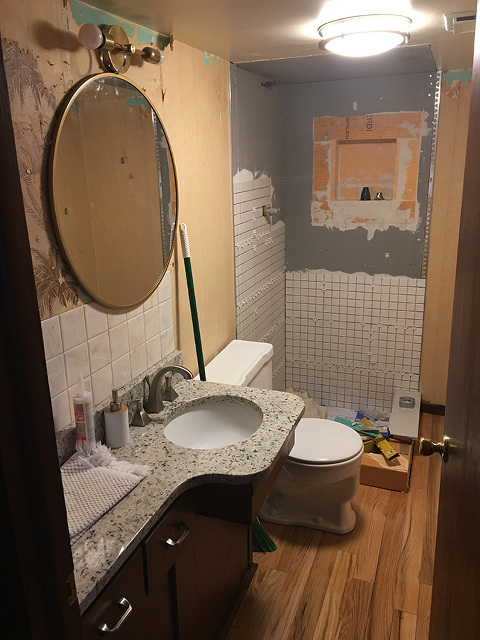 In the photo below you'll see the room after my mom came to help me take down the rest of the wallpaper. Next, John and I spent an hour scraping the last remaining bits of wallpaper paste off the bare yellow-and-blue painted drywall, and then we washed and wiped them down to finish it up. All the while, our contractors were slowly adding more tile to the walls, floor, and shower niche.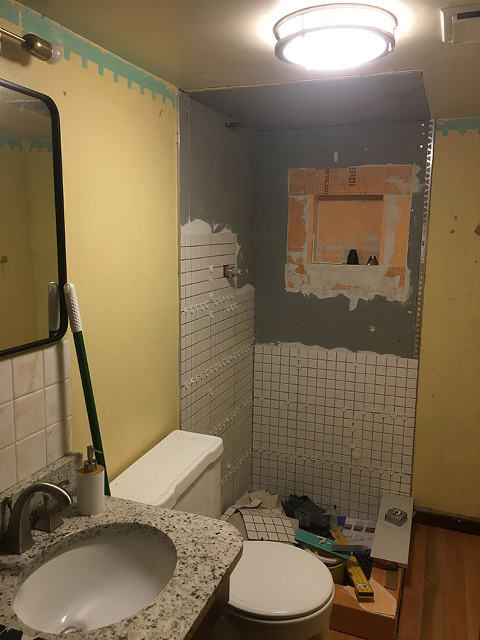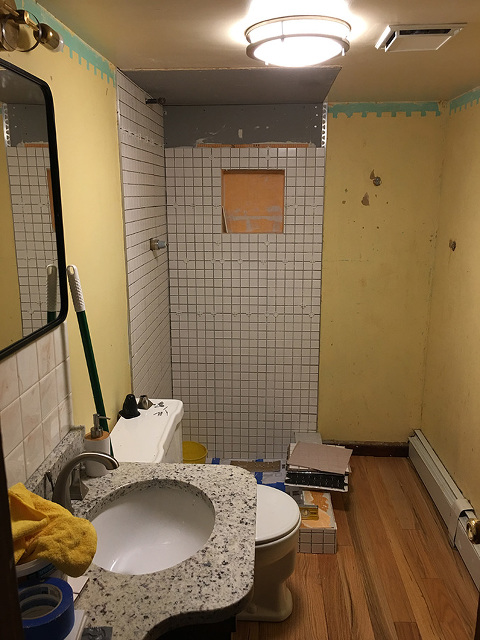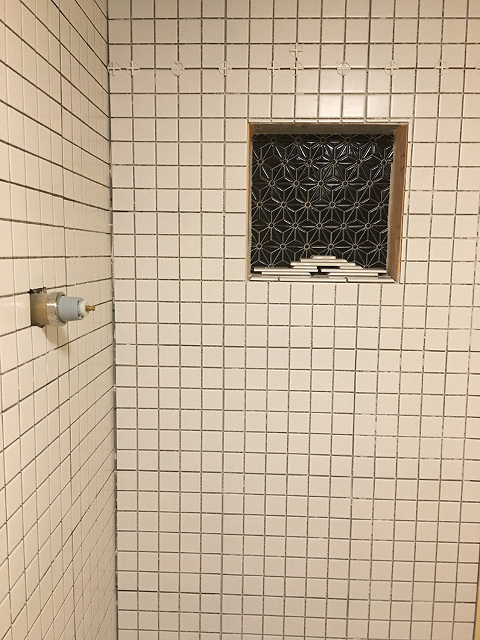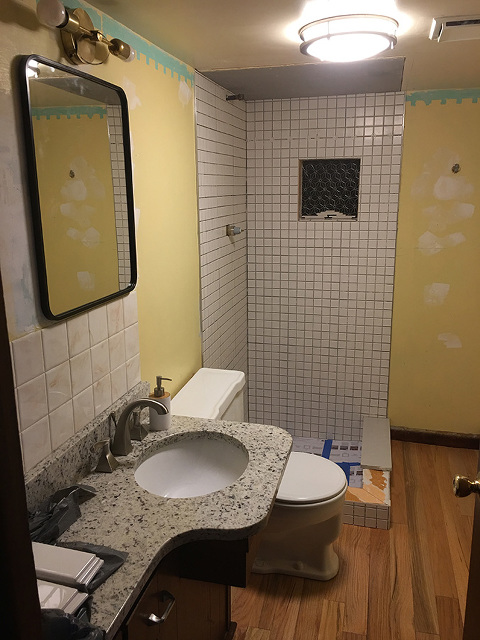 Speaking of that shower niche, this was another area of the renovation where I decided to go a little outside my comfort zone. Instead of carrying the white square tile into the niche, I decided to bring more black tile into the project to make the floor feel more intentional and less like an afterthought. I happened to have some black star-pattern tile leftover from another project, and it was the perfect finishing touch and is now the focal point I felt was missing.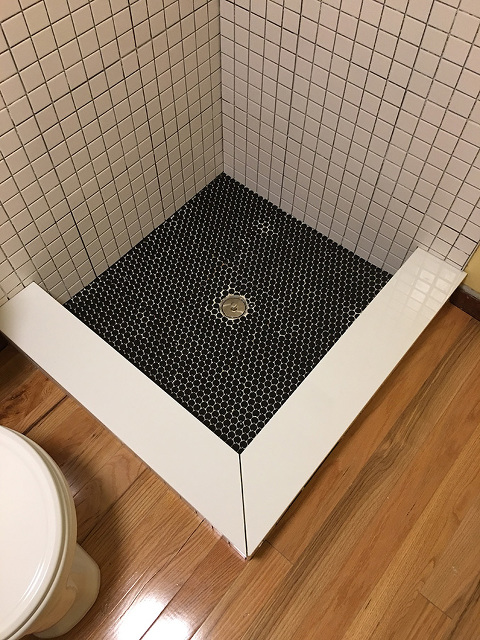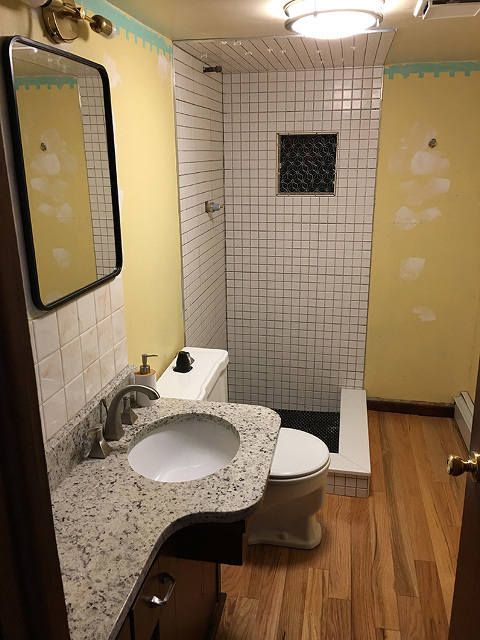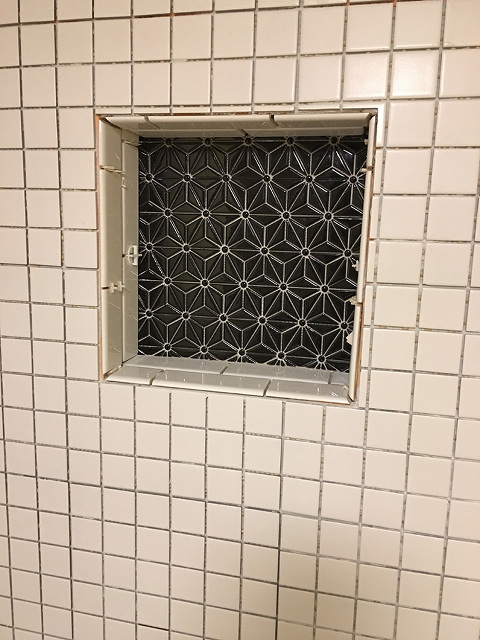 As of today, the room has been painted, top to bottom, in our favorite shade of off-white, the tile is all in place, and I've even started putting things like art, towels, and rugs back into the room. You may have noticed that I also made the last-minute decision to replace our gold vanity mirror with a black-framed one to match the black accent tile in the shower. It's all finally coming together.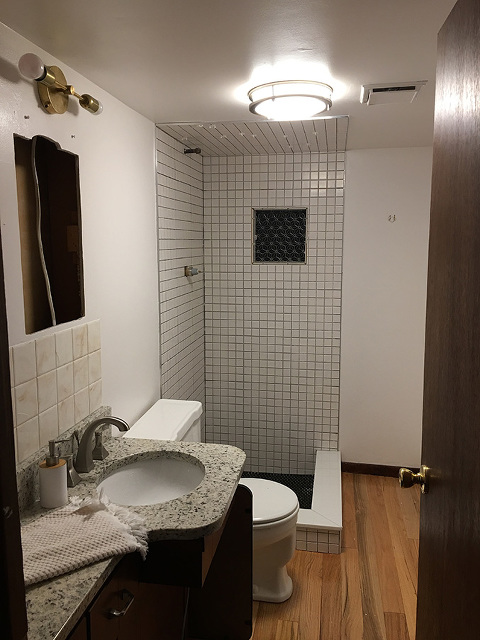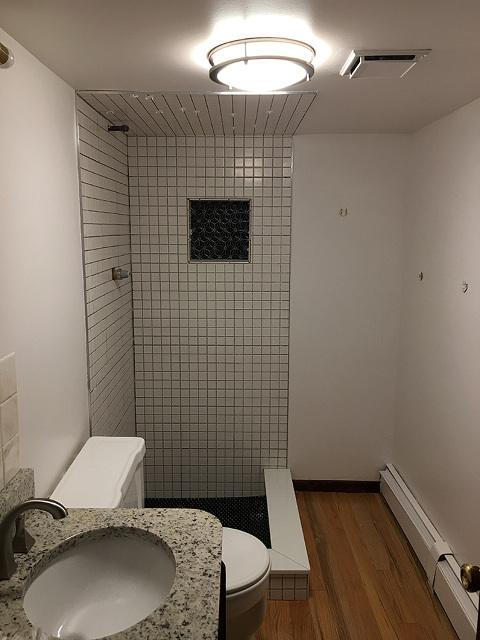 The photo you see below is probably the best representation of where we stand today, six looooooooong months after getting that first estimate. We're still waiting on our contractors to come back to grout the tile (white on the walls, gray on the floor) and put the plumbing fixtures in place, and then we have to measure and install a wall and door, but we're in the homestretch and I no longer feel the need to keep the bathroom door closed to hide the dust and debris.
So, what do you think? Do you like how the room is shaping up? Oh, and if you have any tips for holding on to your sanity during a big months-long renovation, I'm all ears! Fingers crossed that I can unveil the finished room to you by the end of next month.