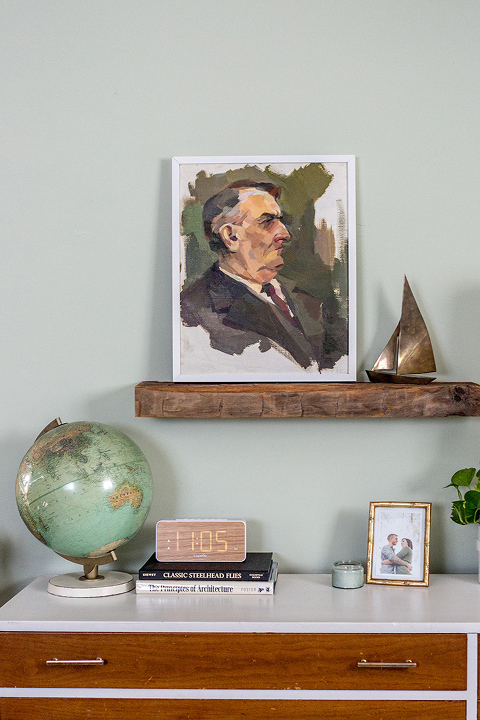 Happy President's Day! This holiday isn't typically one I celebrate in a big way (and one I don't think I've ever mentioned here on the blog), but it seemed fitting to point out the date since today's project centers on a particular past president of ours: Thomas Jefferson.
You see, my dad actually works at Jefferson's Poplar Forest estate here in Virginia as a woodworker and also as a restorer. He's currently helping the team replace the entire ceiling, and it's so incredible to hear how he and the other workers are bringing the house back to life. If I'm not mistaken, they've hired an English professional plasterer who flies back and forth to oversee the finish work. I love asking Dad for updates because he always has cool stories to tell and beautiful photos to share of the process.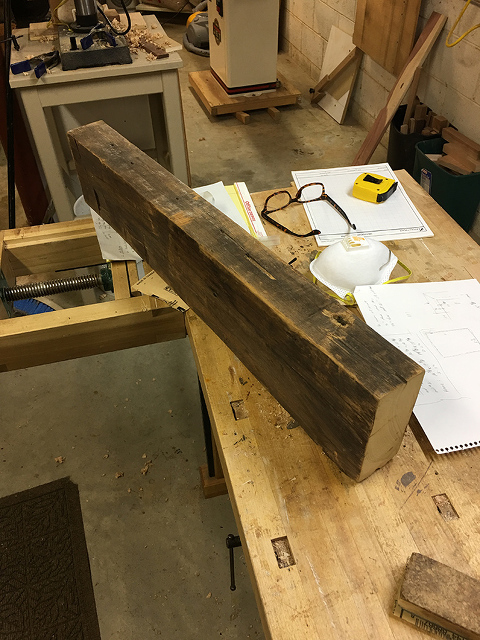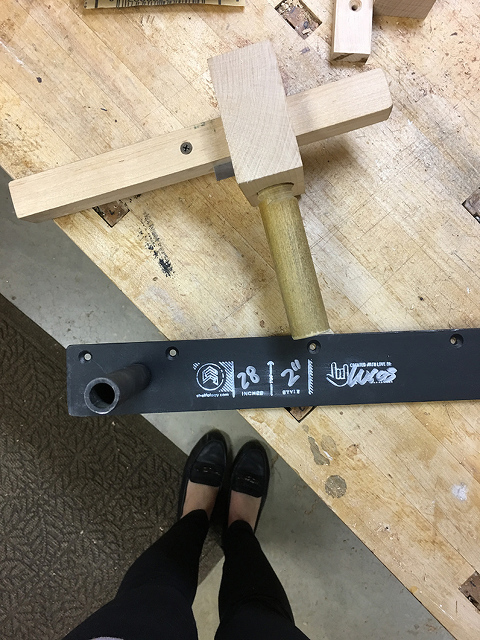 Anyway, another part of his role at Poplar Forest is supplying the gift shop with handmade boxes made from historic wood taken right from the property. We're talking really old stuff, but apparently there's quite a bit of it to be had.
Last year I was wandering through Dad's shop when I happened to spot a gorgeous piece of reclaimed wood leaning against his table saw. I asked him about it, and he said it was actually destined for the firewood pile because it wasn't suitable for his boxes. You better believe I scooped that thing up lightening fast and had it tucked away in the trunk of my car before he could protest.
My dream since first laying eyes on the piece of wood was to turn it into a floating wall shelf, but months and months passed before I actually got down to work on it. That moment ended up finding its way into my schedule over the holidays when I had a little extra downtime on my hands.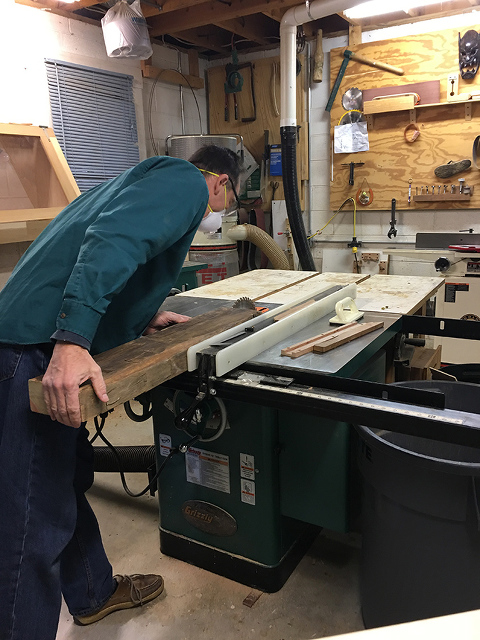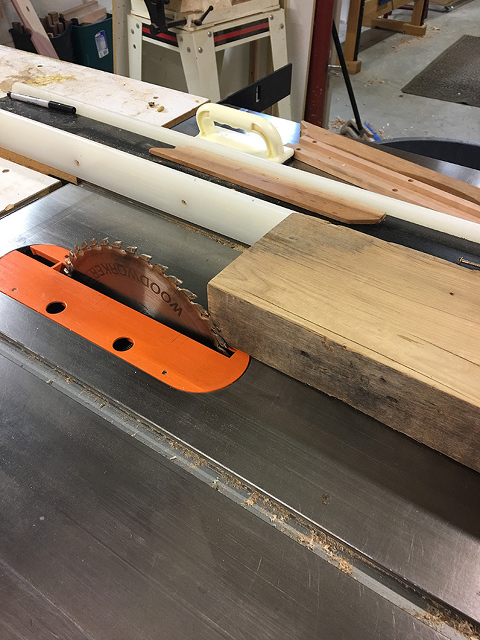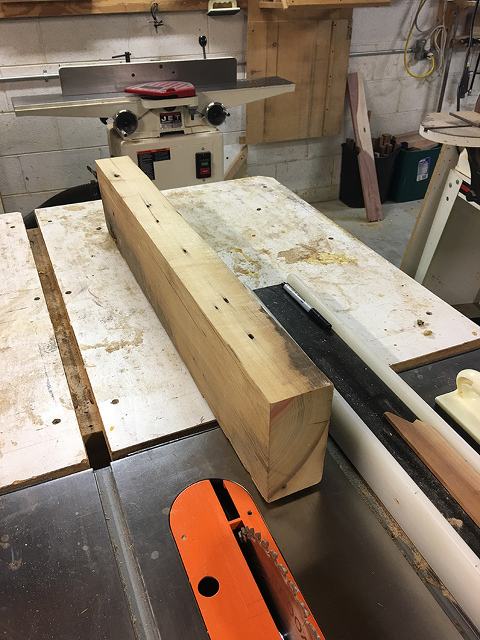 In the end, I decided to order a custom wall bracket so that I could get an ultra seamless look. Since the reclaimed wood is admittedly a little rustic for my taste, I decided that a floating silhouette would make it feel a little more modern. Happily, it came together just like I pictured, as you can see in today's post.
To prep the piece of wood to slip over the wall bracket I ordered from Shelfolgy (this post isn't sponsored, by the way), I brought the wood back over to my dad's shop. First, we used his table saw to cut the back side down to a smooth finish. After that we traced the shape of the bracket onto the back of the wood, and used a router to make room for the bracket to sit a little inside the wood for an extra seamless look.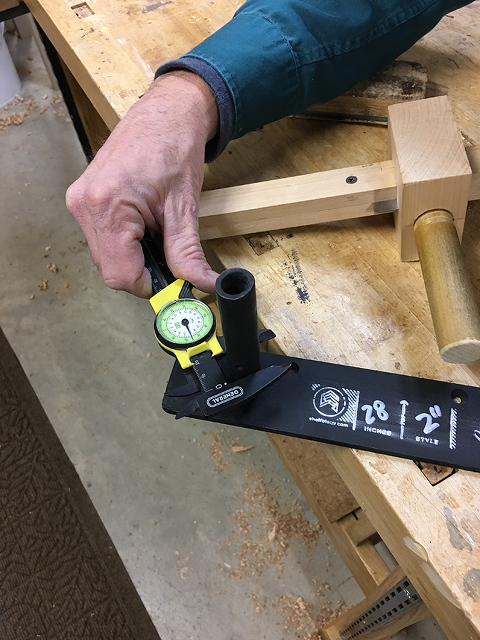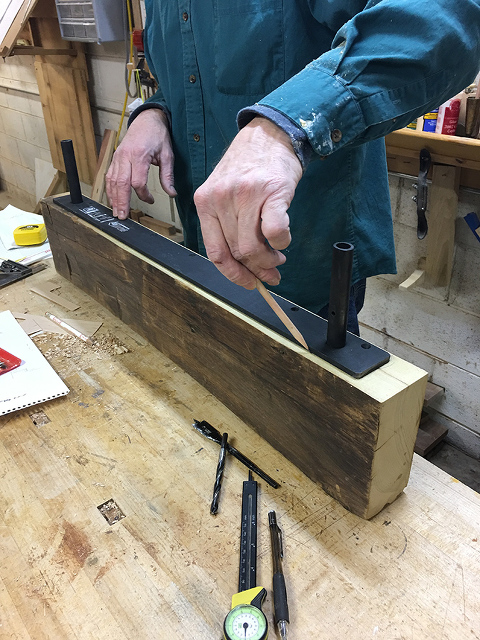 We measured the placement of the metal rods, marked, and drilled them out of the backside of the wood shelf, and then it was finally time to test our (or really, my dad's) handiwork. I found the studs on the wall, drilled my holes, and then used screws to install the bracket. All I had left to do was slip the wood shelf over the bracket and step back to survey the results.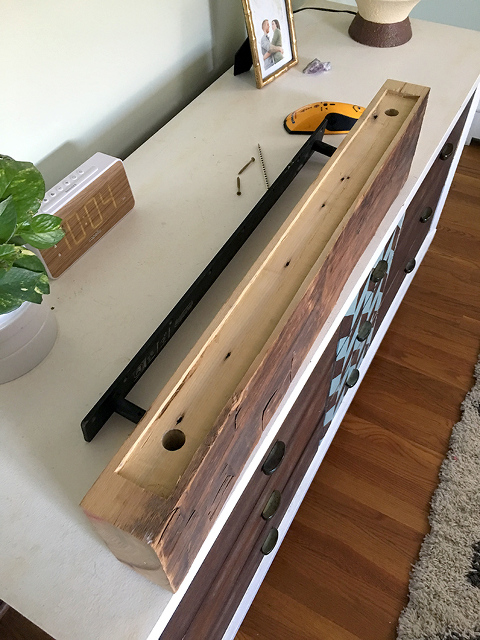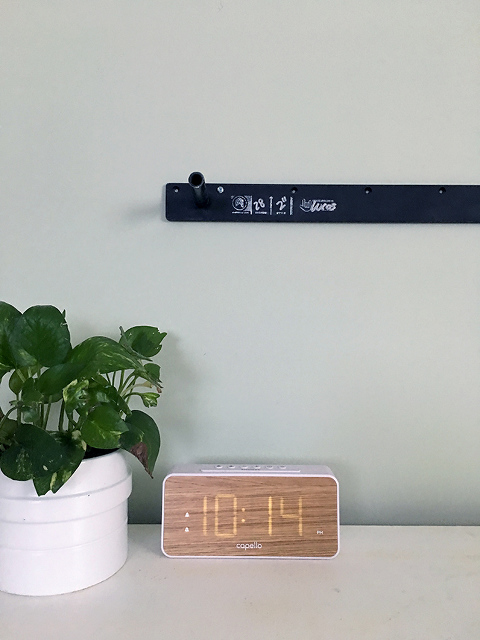 And what mighty fine "results" they were! As you may have picked up, I rarely keep art in the same spots on our walls, so I'm really into the idea of leaning pieces on this new-to-me shelf instead of hammering more nails into the drywall. For now I have a favorite vintage portrait leaning in place on the shelf, but who knows what'll end up there in the next few months.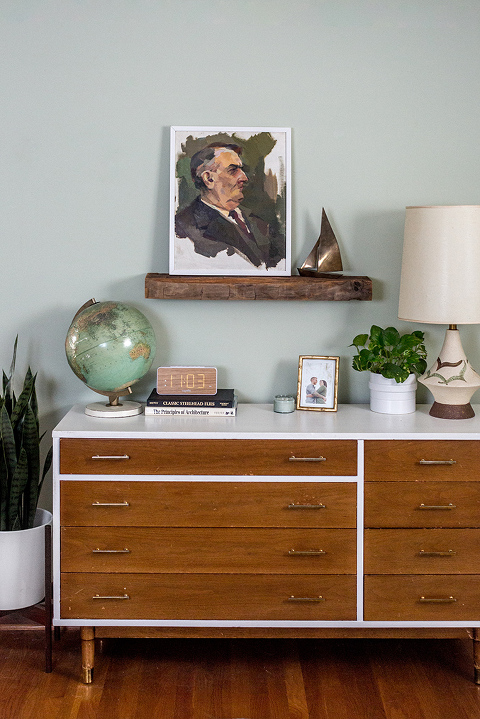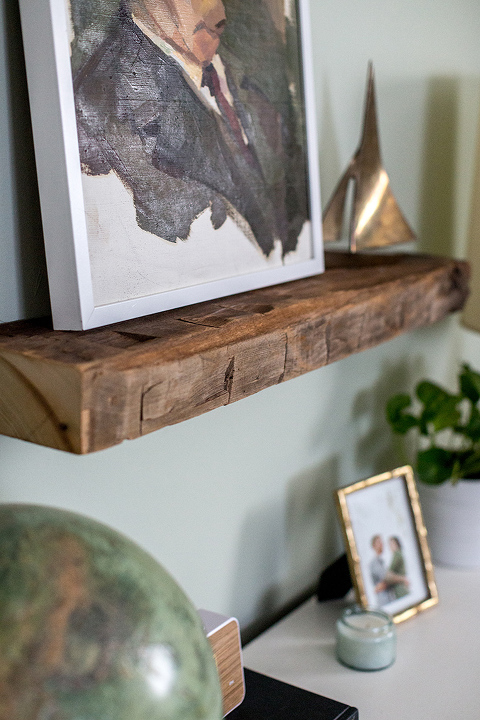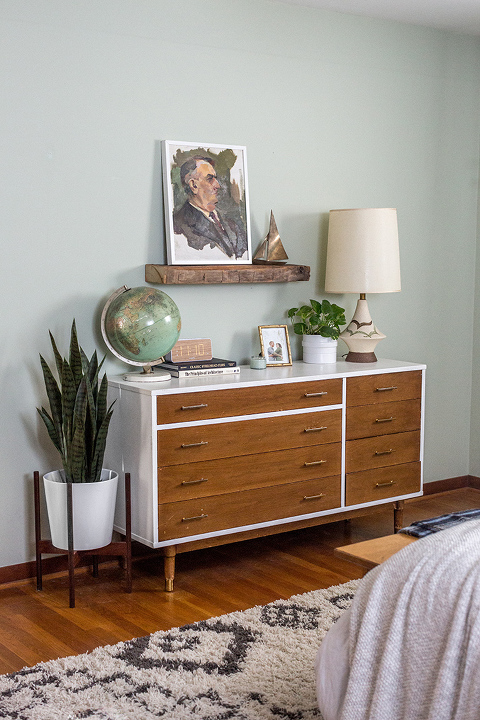 My favorite thing, of course, is the history behind the piece. I love that you can see the ancient nail holes, and where the piece of wood was roughly hand-planed. It has so much character that other types of wood just don't have. The shelf is practically a piece of art all on its own, and I'm always leaning in close to see what new details I can find.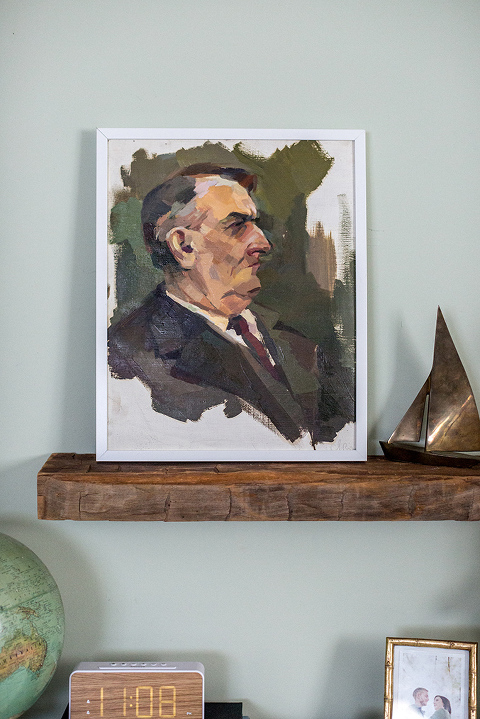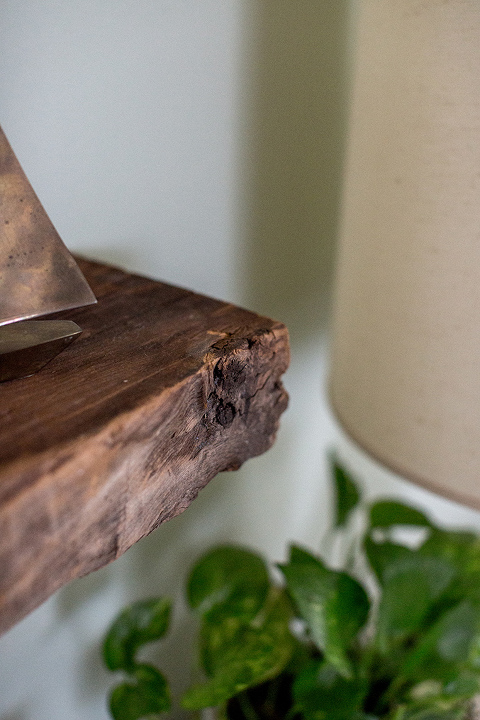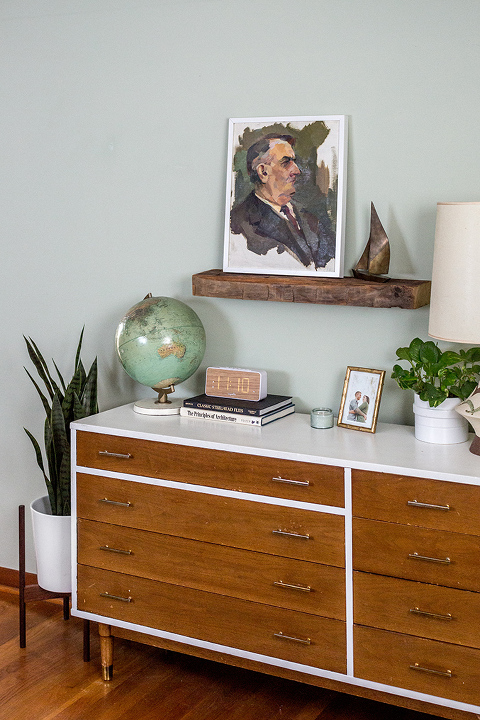 I'm also really into the fact that this rustic shelf is a little unexpected when it comes to our mostly-modern aesthetic at home. I think it's good to step out of the décor box every now and then, and try a look that's a little beyond our comfort zone. What do you think? Is this type of farmhouse style too far-fetched in our mid-century home? Leave your thoughts and reactions below, and, in the meantime, I hope you have a wonderful President's Day holiday. Do something historic today!