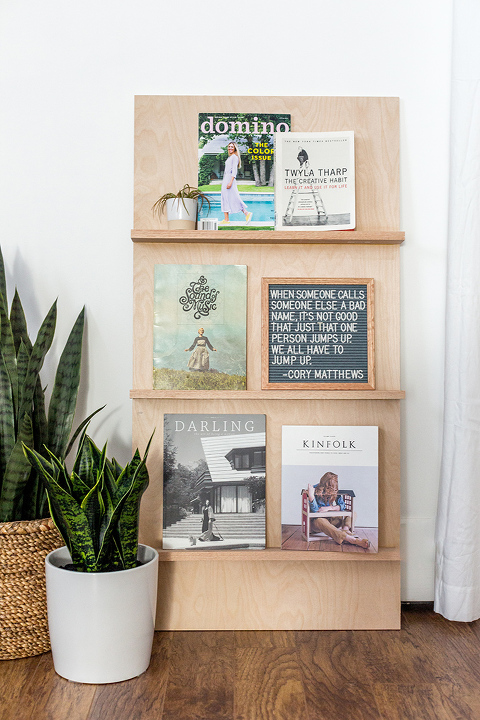 As a person who loves to constantly change things around at home, I'm always drawn to décor that can be classified as "free-standing." Anything that doesn't have to be nailed, bolted, or screwed into the wall is my favorite thing because I know that, without fail, I'll get the sudden urge to move it from one room to the next in order to keep things feeling fresh. Let's just say that I pretty much keep the drywall patching industry in business with how often I have to fill holes in our walls.
So, when I pitched an idea for a free-standing plywood shelf to my editor at Hunker, I had my fingers (and toes) crossed that she would be into the idea, too. My vision was for a rack that, first of all, was super simple to build whether you have woodworking skills or not, but also was easy to move from spot to spot within any home. As I'm sure you guessed from the existence of this post, my editor was all for it, and today I have the happy task of launching the official tutorial over on the Hunker website.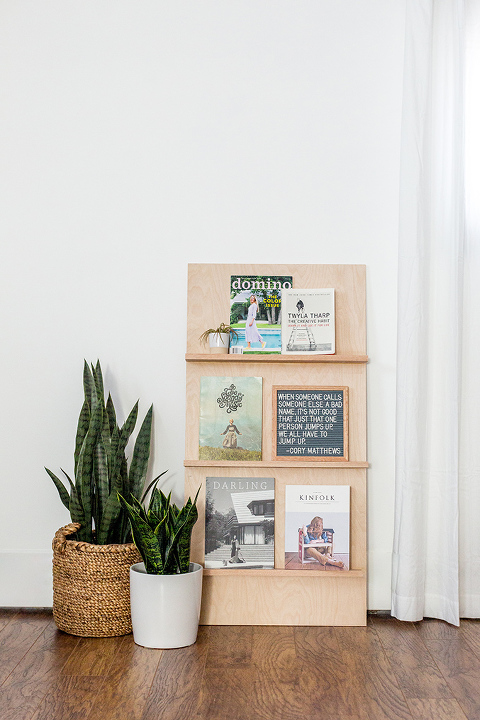 I've already had the shelf situated in our family room and, later, our bedroom, but I have an inkling that it might just end up in my office soon enough. It's just so simple to grab and go, and the display possibilities are pretty wide open, too. I didn't intend for there to be room on the shelf for anything other than pretty magazines, but when I leaned it in place after the glue had dried, I realized there was just enough room for things like framed art and even a small bud vase or two.
Hop over to Hunker now to get all of the DIY design details and know that this is one woodworking project that even the most beginner of crafters can build at home—no saw required!