*This post was sponsored by Fancy Feast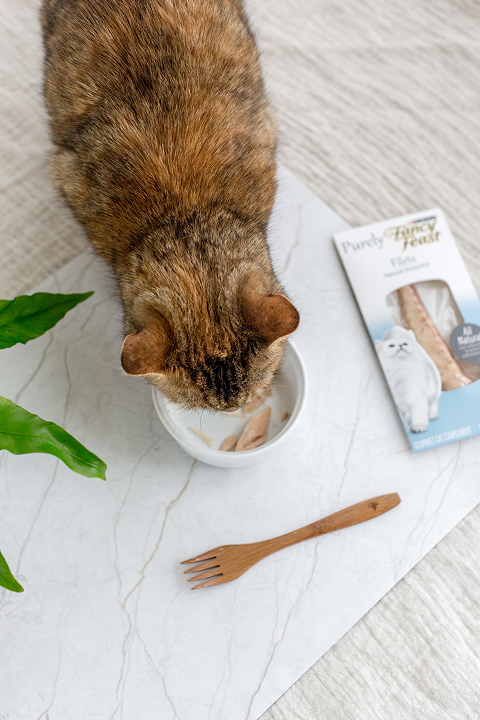 One of my very favorite roles in life has been getting to play "Pet Mom" to our four fur babies. I love our three cats and hound dog to the moon and back, and would do pretty much anything for them—right on down to crafting an extra fancy DIY faux marble placemat, perfect for topping with a bowl full of Purely Fancy Feast Filets. Scroll on for the full tutorial to make your own marble mat, which can really be used whether you're two-legged or four-pawed!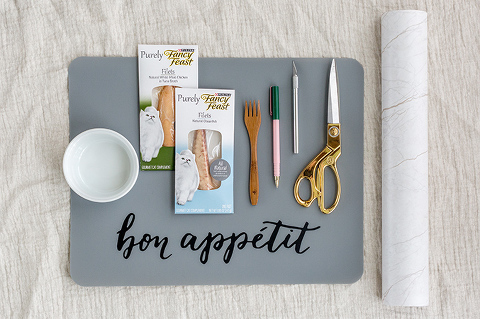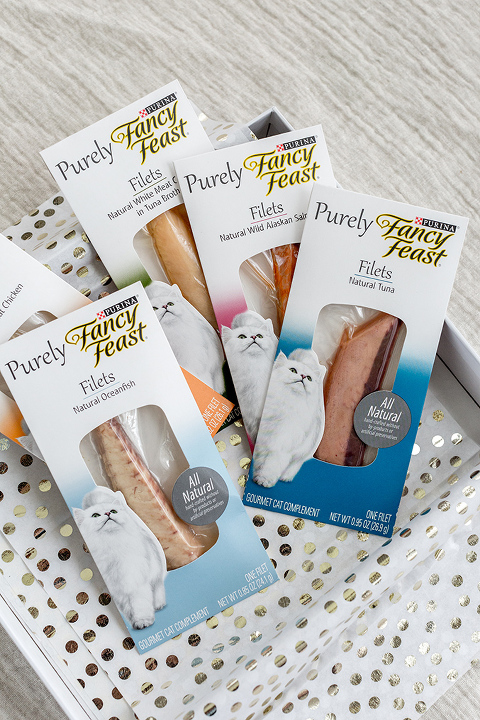 Here's What You'll Need:
Plastic placemat (use one you already have if you can!)
Marble adhesive contact paper
Pen
Scissors
Credit card or ruler
Scrap cardboard
Razor blade
Food bowl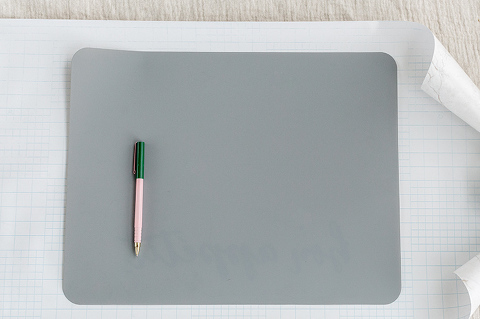 Step One
Unroll the marble contact paper backside up on a flat work surface. Hold it in place with something heavy, like a stack of books or ceramic bowl. Place your plastic mat on top of the contact paper, and trace the outside edges using a pen.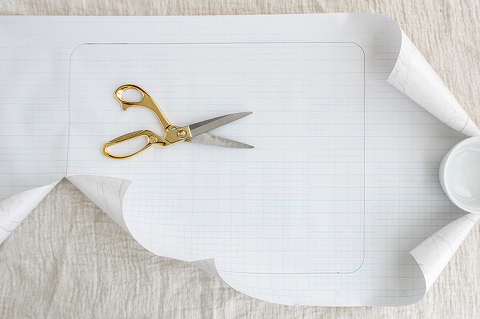 Step Two
Set the plastic mat off to the side and cut out the contact paper along the traced lines. Discard any excess trimmings, and re-roll the leftover paper up to be used for a future project.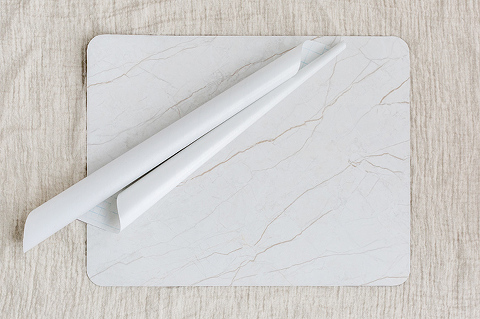 Step Three
Peel the backing off the cut marble contact paper, and line up the two topmost corners with those of the plastic mat. I actually adhered the contact paper to the back of my placemat to make it reversible—in other words, if I want to change things up, I can lay the mat down with its original "bon appétit" saying frontside up!
Smooth out the contact paper across the entire surface of the mat. Note that, since most types of contact paper are removable, you can gently peel it back and try again if the edges don't line up quite right. Use a credit card or ruler to push out any bubbles that may form under the paper.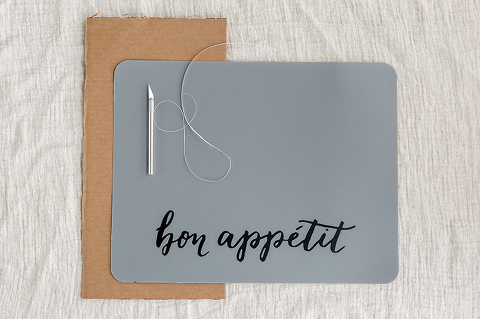 Step Four
Flip the placemat over once more and set it on top of a piece of scrap cardboard. Use a sharp razor blade to trim off any excess contact paper that shows along the edges. Discard the trimmings, flip the placemat back over, and set it down wherever you feed your cats. We serve cat food in white ramekin bowls in our house, so I added one of those here to demonstrate our routine, along with a few forkfuls of their favorite Fancy Feast Filets.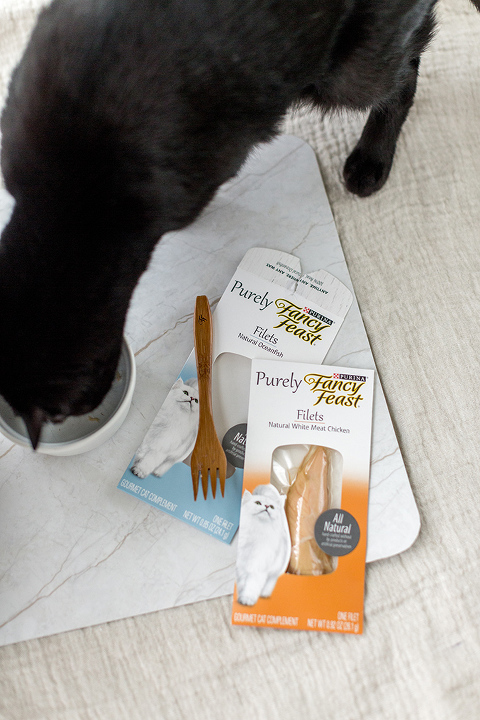 Click 'Play' on that video above (or hop over to YouTube here) to see the full tutorial in action. I hope you don't miss the very happy cameo made by our youngest feline, Tonks, who was all too happy to oblige a real-life demo of how much she's been enjoying her new marble mat.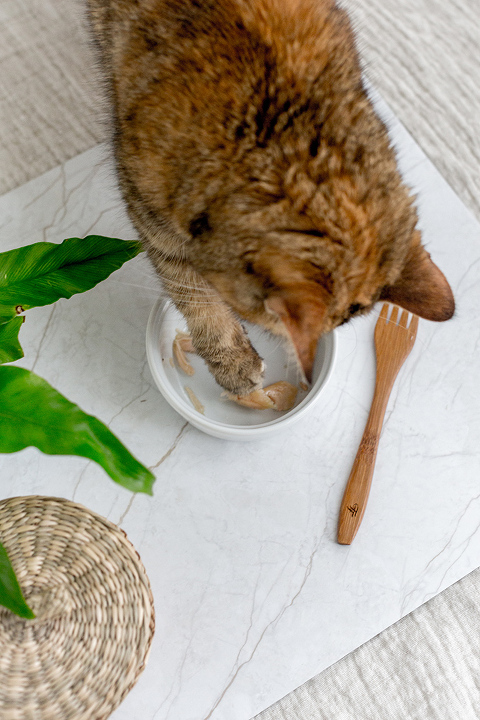 While on the subject of mealtime and our trio of cats, I wanted to mention a few quick tips for how we make the process as successful as it can be. With so many animals roaming through our house every day, a plan is absolutely key to making sure everyone is well-fed and happy (read: non-territorial).
First, we always try to get our girls moving and running around right before their mealtimes (which we do once in the morning, and once in the evening). Encouraging lots of playtime with toys, of course, helps them exercise a bit, but it also gets all those extra wiggles out so that they aren't zooming up and down the hallway with full bellies after eating. Instead, they're much more inclined to take cat naps, which helps with digestion.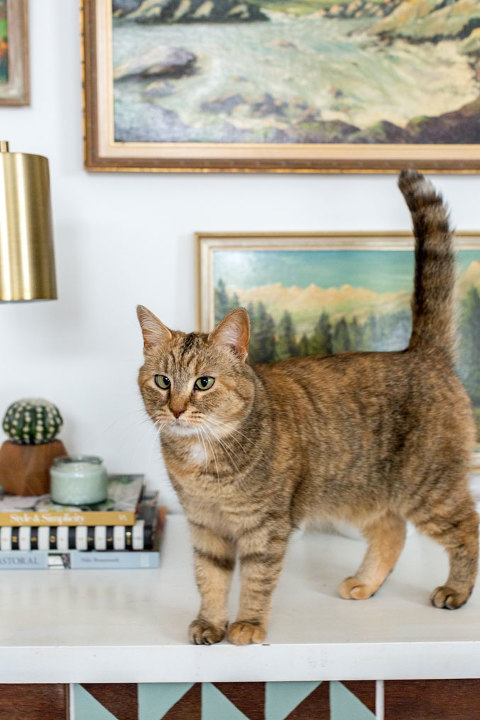 Our next tip is to make sure you have a dedicated station for their food. We keep our cats' food up on a storage cabinet in my office so that the dog can't get into it, and now that we've outfitted the spot with a new handmade marble mat, it's looking extra fancy and fit for a feast.
Finally, make sure you're prioritizing all-natural pet food. John and I are really proactive about making sure that we plan our own meals around natural, healthy ingredients, so we're more than happy to do the same for our pets. We love treating them to flaky bites of fish a couple times a week, and even sometimes top their regular dry food with an all-natural Filet to add a little extra flavor to their regular meal.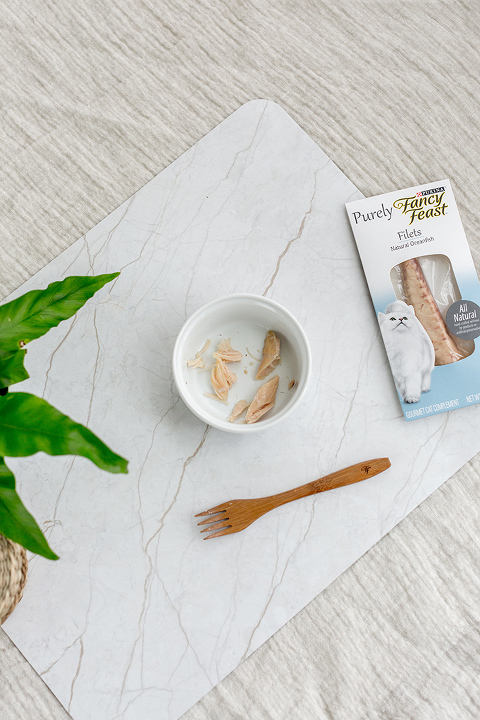 Click 'Play' on the bonus video above to see all of these tips in action with a little help from Fancy Feast, and to get a brand new introduction to our three kitties if you're just getting acquainted with our family. So, tell me: what's your favorite way to treat your pet?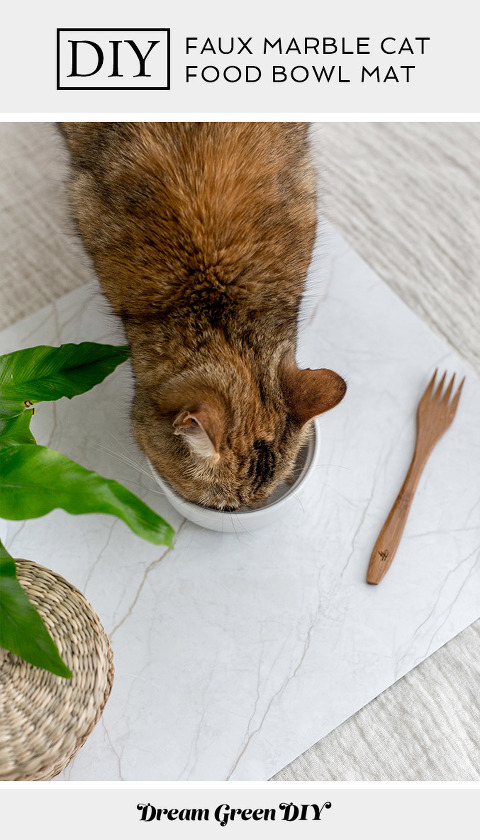 *This post was brought to you by the makers of Fancy Feast. I received compensation to write this post from Fancy Feast. All opinions expressed are my own.