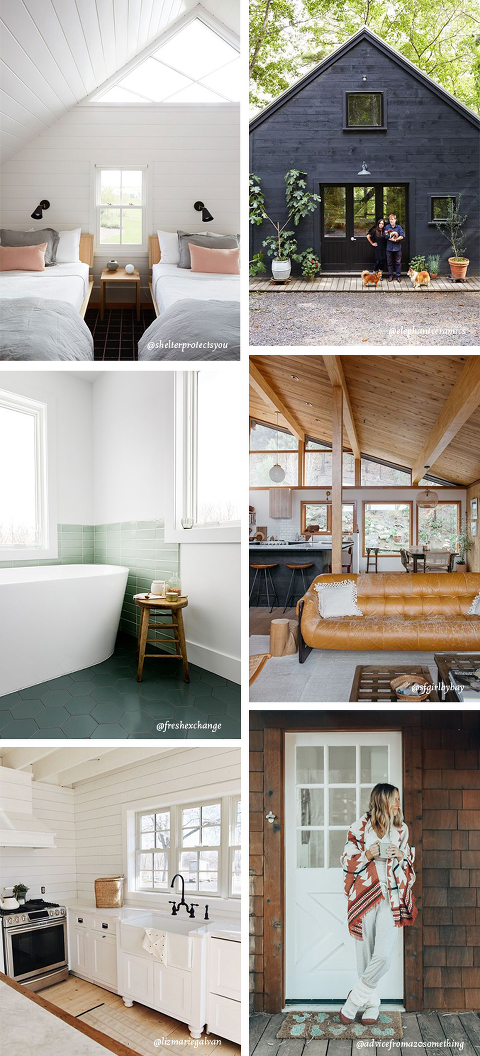 Okay, guys. It's finally time to say out loud the thing that John and I have been dreaming about since we moved to Waynesboro, Virginia: we want a second home! It's, frankly, kinda scary to make that statement to the world, especially since we're no where near reaching that goal, but it's a subject that we talk about constantly in our house, so I thought it might be nice to share it with all of you in the hopes that it will motivate us to make it happen.
Essentially, John and I have been seriously considering the purchase of land that we can either build on or that already comes with a home on it that we can then renovate. This area that we moved to two and a half years ago is surrounded by some of the most incredible mountains and rivers, and with John's obsession with fly fishing at an all-time high, it just makes sense that we would set our sights on expanding into a bonus property away from the city.
Since we started dreaming about our little mountain oasis, I've naturally started thinking about the weekend home that would be central to it. Scroll on for my thoughts on the design of our second space, and feel free to see all of my dream inspiration over on Pinterest here.
Our Dreams For A Mountain Oasis
Do you have a secret dream you've been pining away for silently behind the scenes? Tell us all about it in the comments below! I'm firmly of the mind that the simple act of saying something out loud makes us feel more empowered to turn it into reality. Here's hoping we can all get one step closer to making it happen this year!
**One "quick" housekeeping note about the newsletter before I sign off for the day. You may have heard about the new General Data Protection Regulation ("GDPR"), that comes into effect May 25, 2018. To help comply with GDPR consent requirements, we need to confirm that you would like to continue receiving content from us.
Don't worry! Nothing is changing, and you can still count on us for all the exclusive creative email content you're used to. This opt-in notice simply ensures that Dream Green DIY remains in compliance with updated laws. As before (and always), we will never sell or misuse your email or information. We hope that our content is useful to you! If you'd like to continue hearing from us, please update your subscription settings by clicking here.
If we don't receive your updated preferences for email before May 25, 2018, we will be forced to remove you from the Dream Green DIY email 'Tribe,' so please be sure to update your preference here before that deadline to stay in the know!