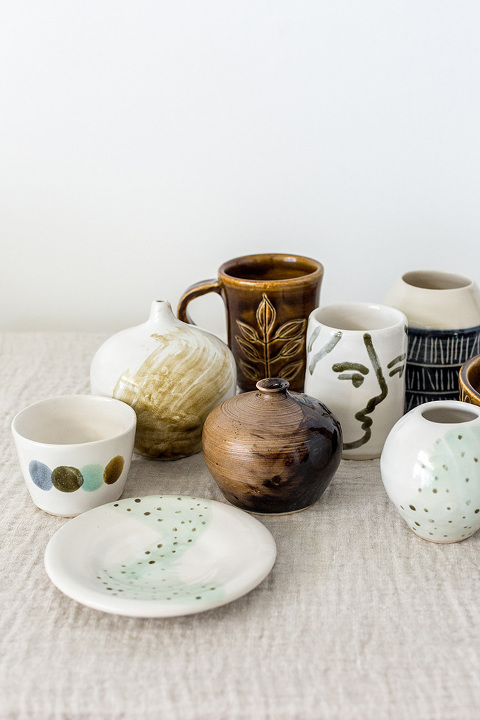 Yup, I did it again! I signed up for yet another wheel-throwing pottery class at Make Waynesboro Clay Studio with Sherri Raffaele, and today I'm debuting photos of my new ceramics collection. You can see pieces from my very first collection here, and those from my second batch by clicking this link. Then, of course, you're invited to scroll on to see all 14 pieces in the latest bunch.
Suffice to say I feel like I've gotten a little more adventurous with my techniques with this most recent collection of plates, bowls, cups, and mugs. My eyes have pretty much been glued to pottery videos and inspiration photos since I first started this (very random) adventure into pottery back in February, and this was the first class where I feel like I was finally able to put those design ideas to the test. Before, I was so focused on just learning how to create forms, but now I'm finding myself refocusing on the decorative aspects—things like etching, carving, glaze color combinations, and even painterly details.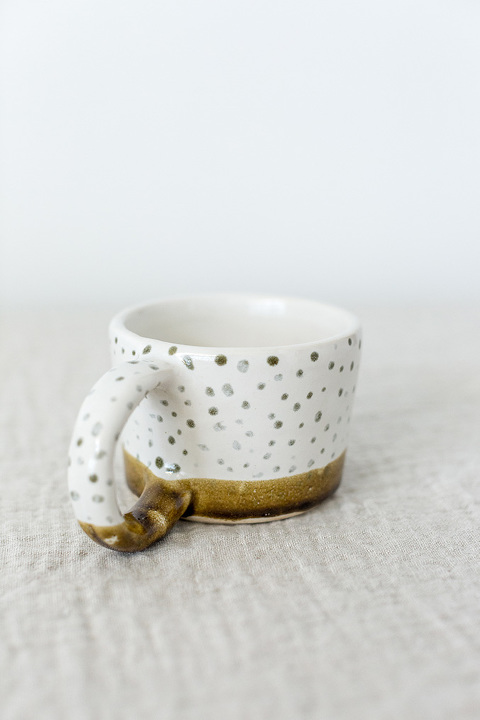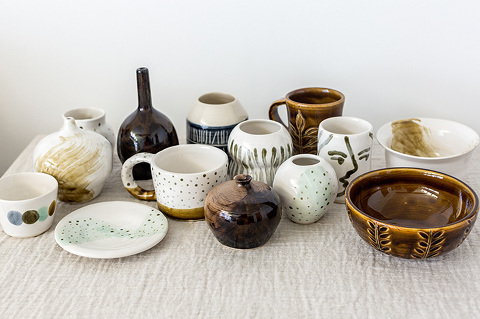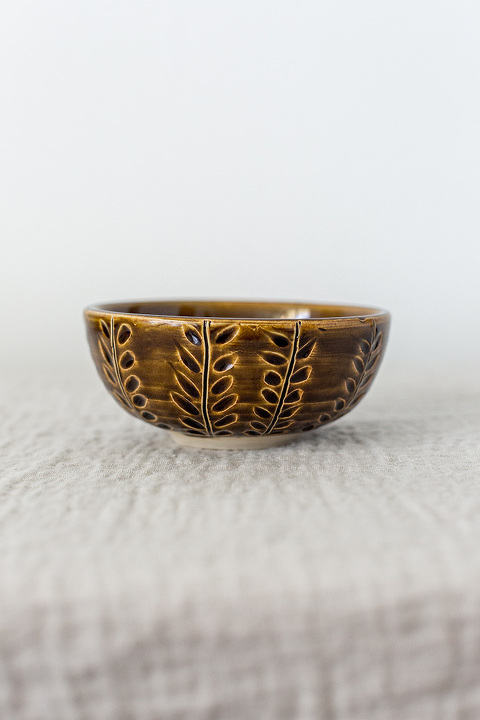 Instead of explaining my thought process behind each piece in the collection, I thought it might be fun to chat through a few of those broader design elements I mentioned before. Below, I'm sharing close-ups of all 14 pieces broken up into categories based on the techniques I used. If you don't care to know about these details, feel free to scroll through quickly or just look at the photos!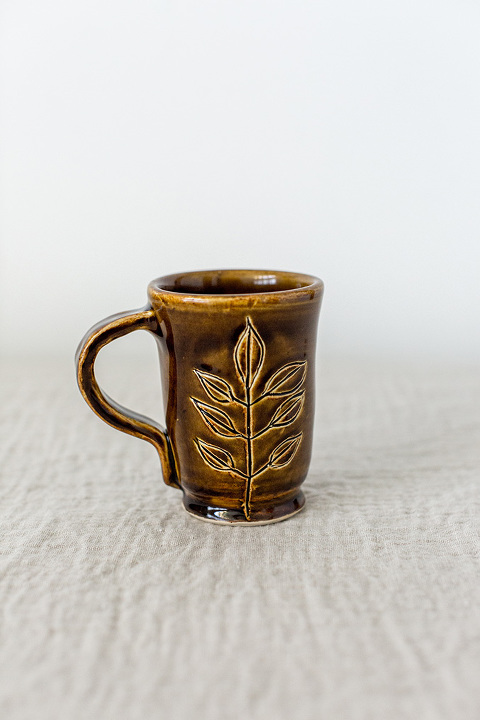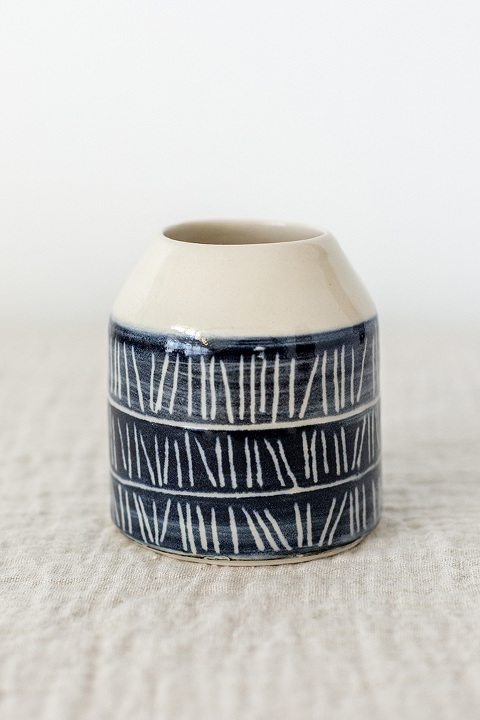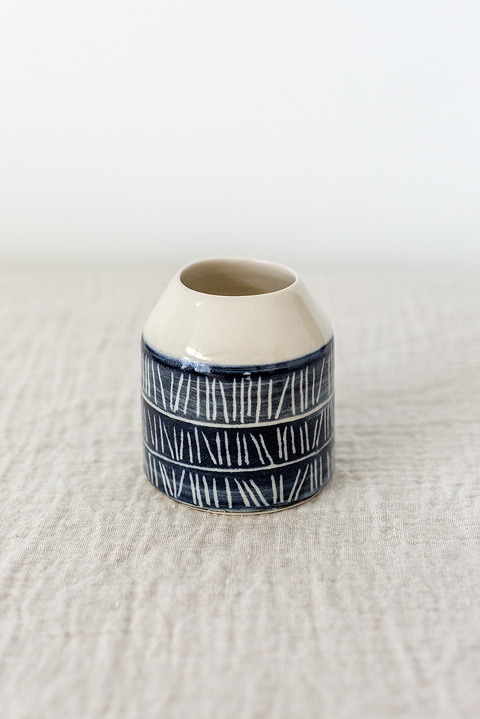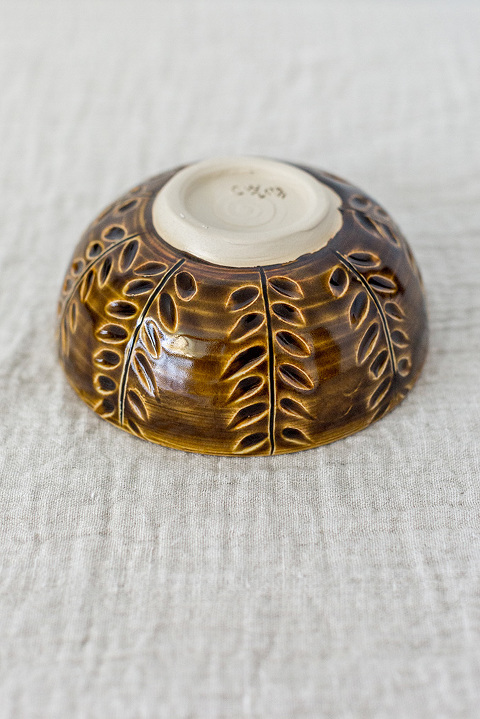 Etched and carved
First up, the carved pieces. If you're just tuning in, my college degree is in art with a focus on drawing, so it's probably not all that surprising to see at least a few pieces with designs drawn into them.
As I mentioned before, I've been busy gathering inspiration images of pretty pottery online, so I kept a lot of those images on hand in the studio to inspire the shapes and designs I translated into clay—things like the leafy mug, dashed vase, and bowl covered with vines. I think my favorite one from this category is the bowl you see just above.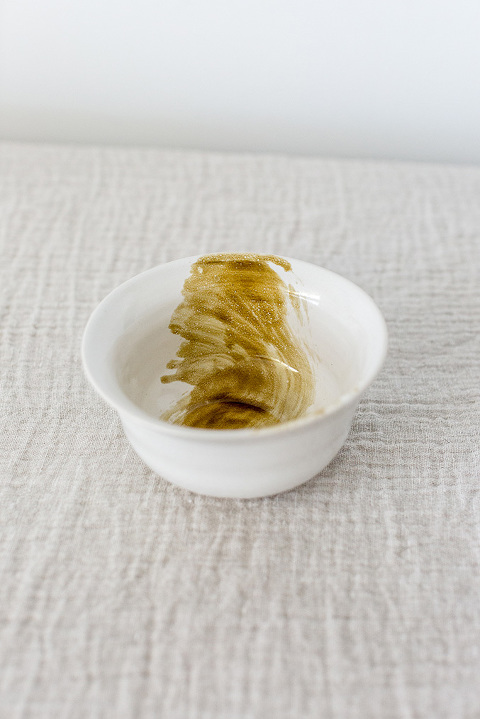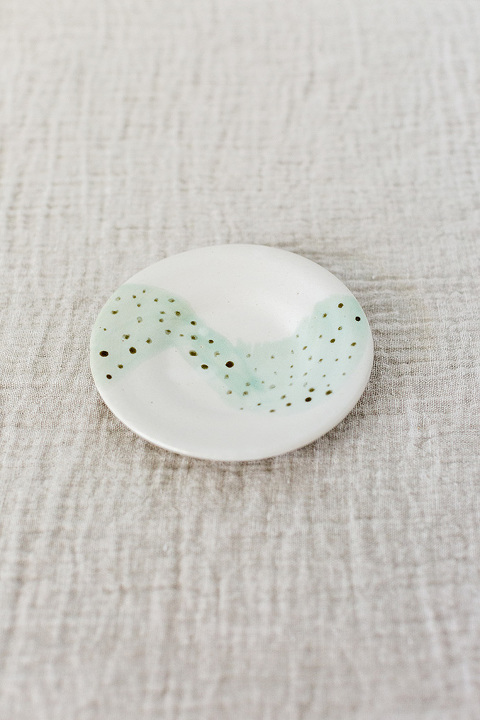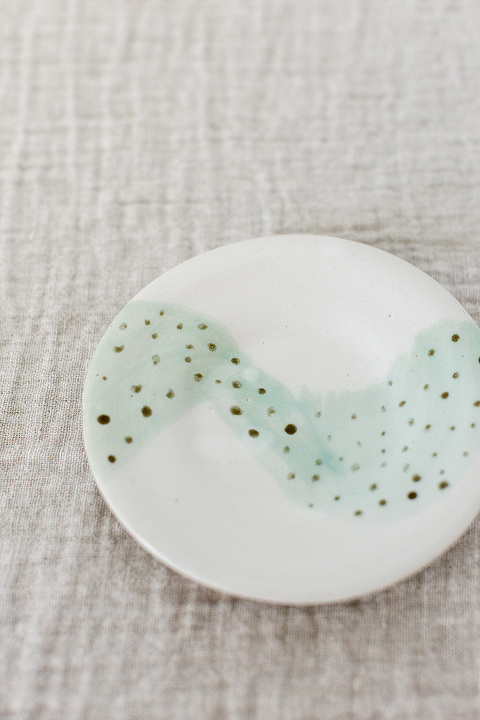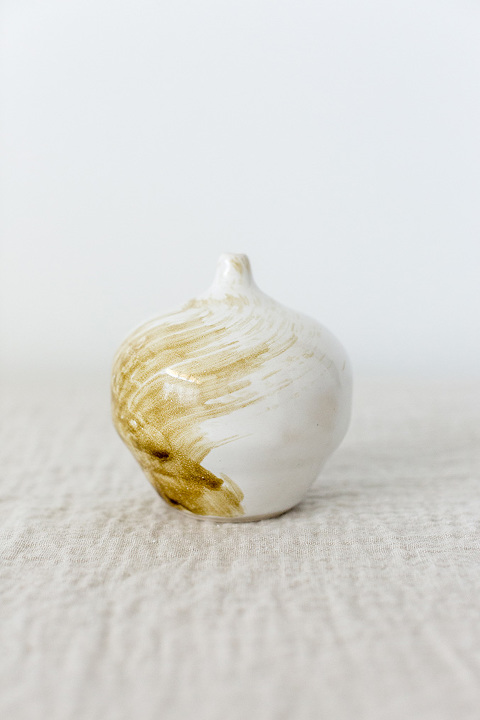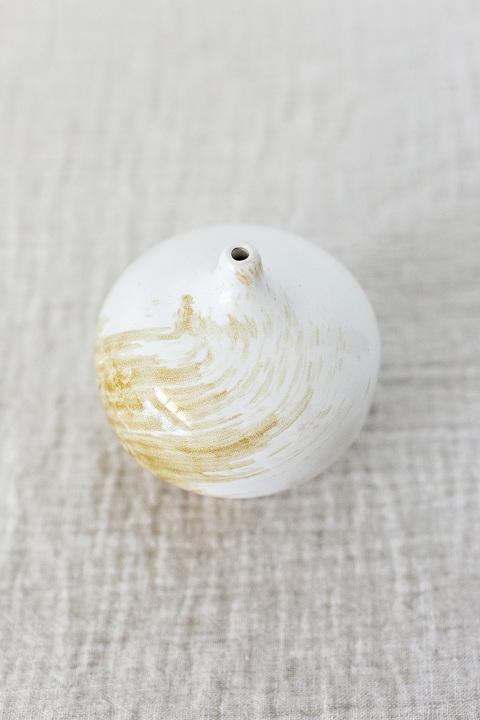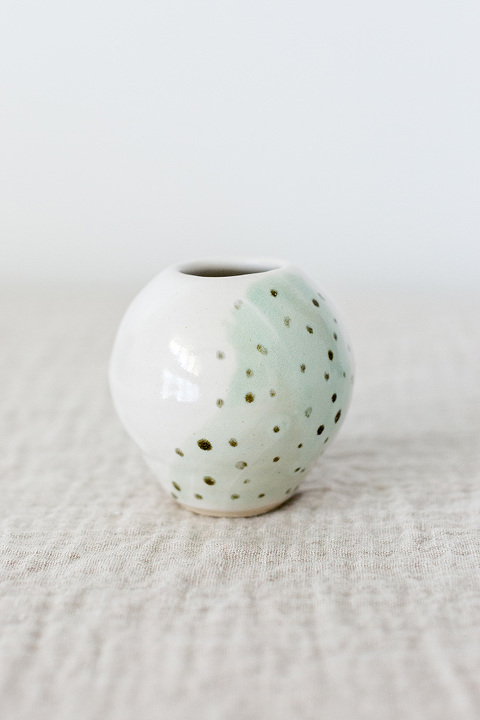 Brush strokes
Another design idea that really caught my eye while looking at other potters' work is the concept of visible strokes. The pieces you see above were all first glazed in white, and then I chose a few accent glaze colors to lightly brush on top. The most successful one based on the vision I had in my head is the rimmed bowl. I was really hoping to see where the paint bristles left the surface of the bowl, and it worked!
The funny thing is that I actually threw that bowl away after I finished making it on the wheel but saved it from the trash just in the nick of time. I'm glad I decided to use it as an experiment because it worked out in the end.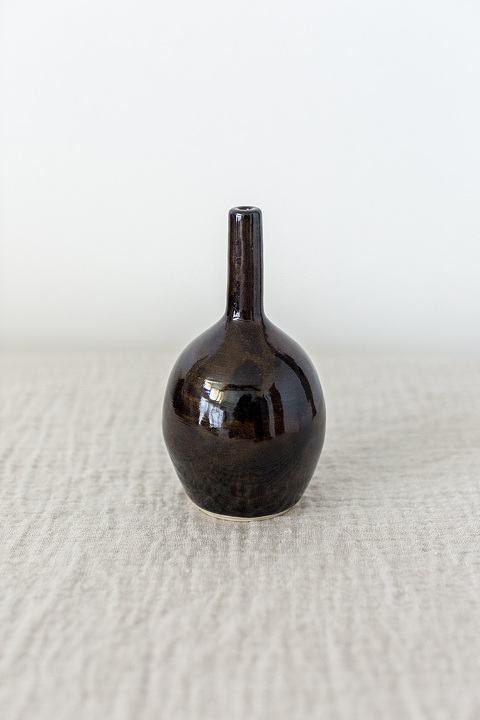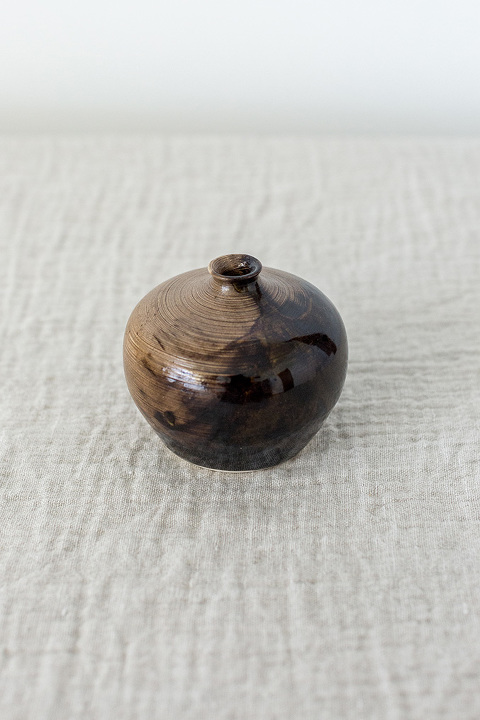 All "black"
Those two above were supposed to be all black, but they came out more brown. I must not have mixed the glaze for long enough before dipping my pots in, or maybe I need to do more than one coat. At any rate, I still like how they turned out, especially the smaller, rounder vase. I actually love how the glaze only "took" to half of the form, leaving one side matte and the other glossy. If I ever get around to opening an Etsy shop for my pottery, that one might just be the hardest to let go of.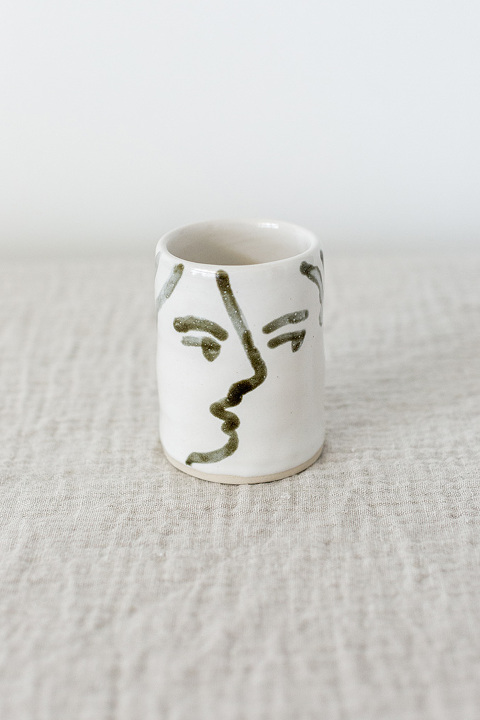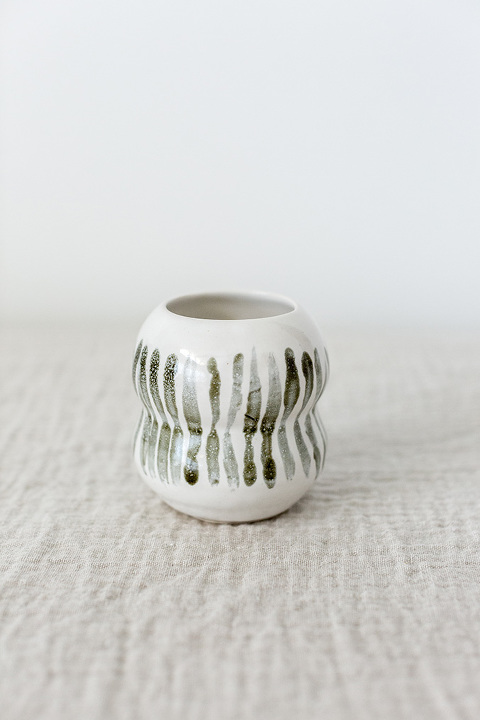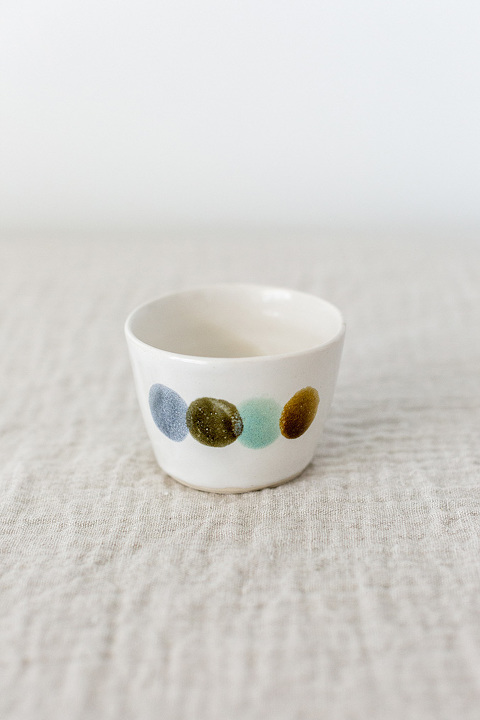 Glaze drawing
The trio you see above is the result of some ideas I gathered for drawing on the pottery with glaze instead of a carving tool. I saw someone with a cool face mug on Instagram, so I took a screenshot of it to use later on in the pottery studio for inspiration. The other two—the dashed double belly vase, and the polka dot tea cup—are two more of my favorites from the entire collection.
It was really fun to play around with color and learn more about how different shades of glaze react with each other. Black over white, for example, comes out almost green after firing, but I love the final shade even more than my initial vision of true black over white.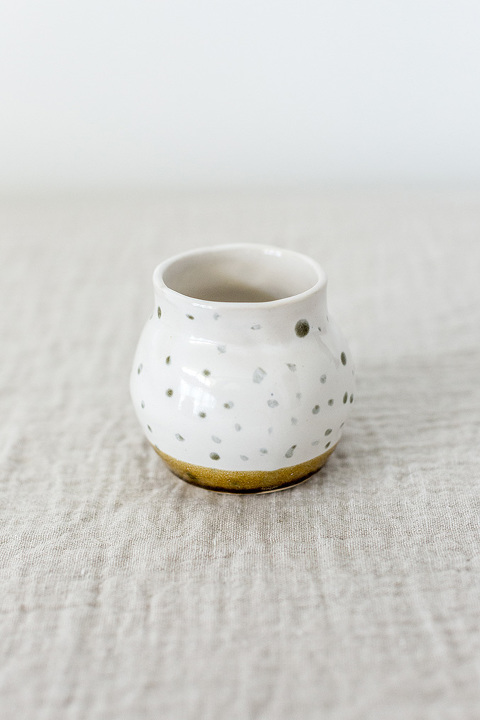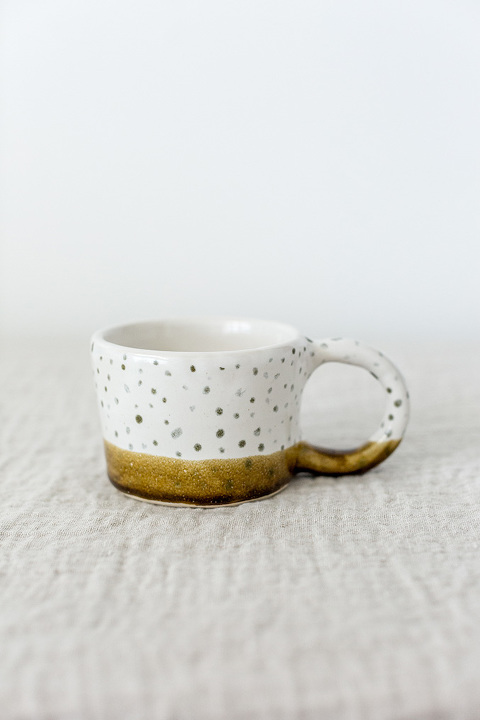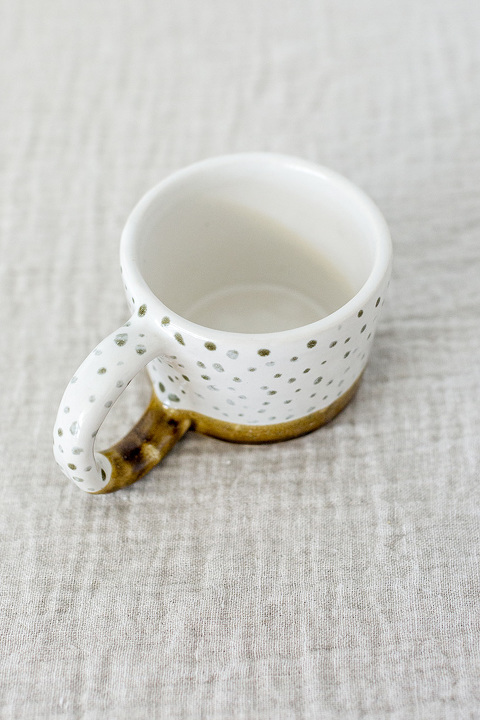 Spots and specks
To wrap things up, here are two cups I made with a spotted vibe. If you remember from my first collection, I used a bristle paint brush to splatter dots on the pieces, but the spots were pretty hard to control that way. This time around, I used a detail paint brush to literally place my specks. I don't hate the final look of those pictured above, but I think I actually like the random splatters from collection one a little more. Which do you prefer?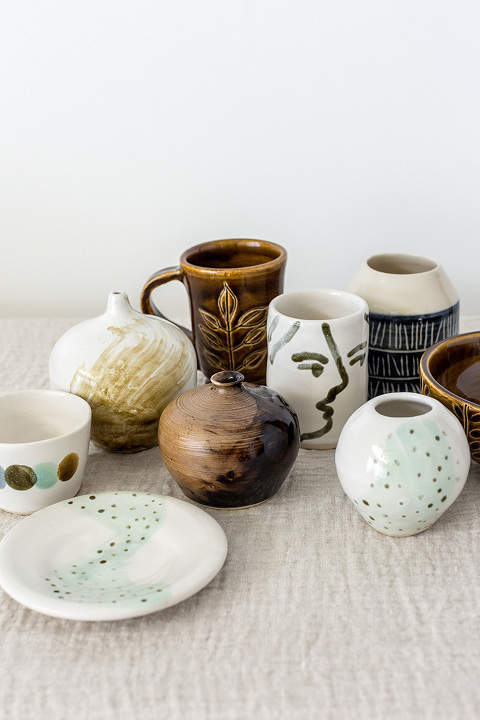 If you can't tell, I'm positively smitten with making pottery, which is saying something because I came home practically in tears after my first class. John still tells me how surprised he is that I even went back after that first day, but now I'm onto my fourth class and have plans to become a studio member so I can go whenever I want.
Are you enjoying these roundups, or have they lost their appeal? I totally get it if you're not interested since it's not exactly a DIY craft, but I think my main goal in sharing my results after each class is to encourage all of you to consider taking a local creative class. Learning a new skill is so empowering and really pushes a person to come up with new ideas. I also think creative classes or workshops help a person appreciate the artisans who make these things day in and day out. At least I know I'll never look at professional pottery the same ever again. What type of skill would you like to learn this summer?