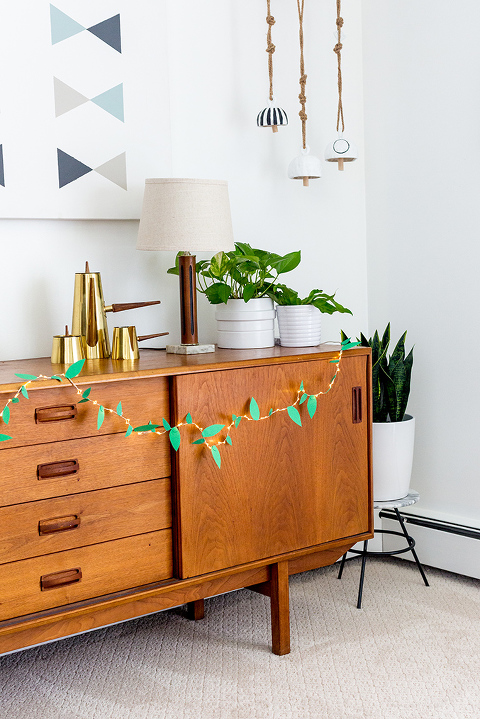 I have a feeling that today's crafty reveal is just the beginning of a new obsession with paper greenery and flowers. I used to think that paper plants needed to look as realistic as possible and pass for the real deal, so I never even attempted it. Although I know that I could never get to this kind of level, I'm absolutely infatuated with the work (really, it's art!) of paper plant makers like Rebecca Thuss and Patrick Farrell and Tiffanie Turner. Lately, though, I've shifted my perspective on this DIY because paper greenery can be just as simple and sweet as the casual crafts I actually can do.
Long story short long, that's exactly how my DIY Paper Leaf String Light Garland project for Oriental Trading came to be. This couldn't-be-simpler craft takes just an hour or so to put together (grab all of the craft supplies in one fell swoop here first), and lasts forever, so no more scrambling for fresh flowers or cut branches come party time.
John and I are actually hosting his family for the Fourth of July holiday next week, and I think it's the perfect occasion to pull out my dainty green garland. I might love the look of those hand-cut green leaves, but my favorite part might just be the battery-operated string lights. Did I mention that this one couldn't be simpler?! See for yourself by perusing the step-by-step tutorial on OTC's Fun365 website here.
*For a full list of all the quick crafts I've produced for Oriental Trading, click here!