*This post was sponsored by OfferUp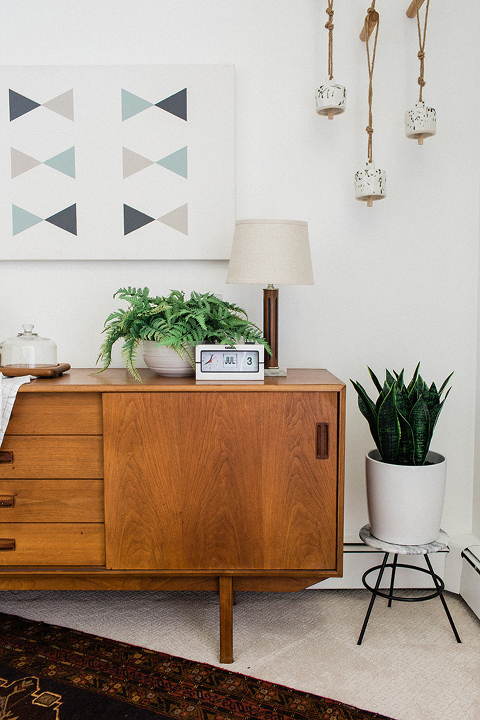 I couldn't be more excited to share the scoop behind that secondhand milking stool you see pictured above—especially because it doesn't look much like a milking stool anymore, does it?! That's because I was able to completely transform it into a plant stand with nothing but a bit of spontaneous inspiration and a few unlikely DIY materials.
Scroll on for the whole story (which might as well be a 1,300-word love story written specifically for all my fellow vintage lovers out there), plus an introduction to my new favorite "Thrift Store" scores resource: OfferUp.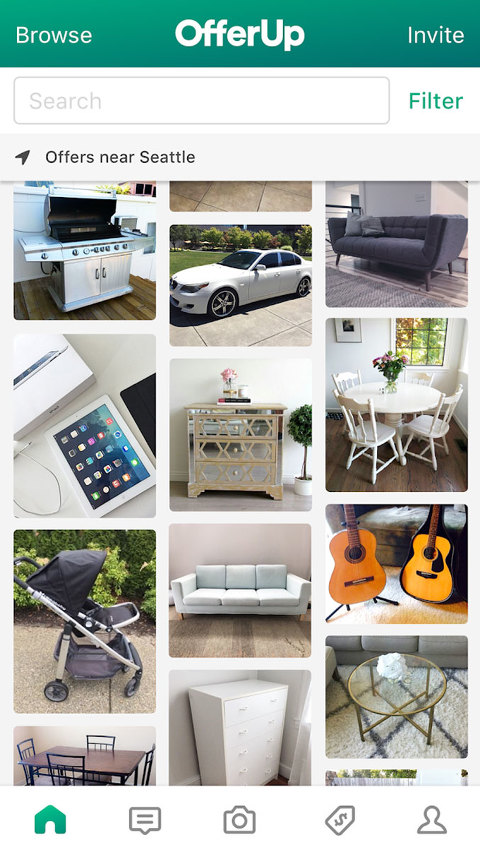 Let's start with that introduction, shall we? If you're just now hearing about OfferUp, it's an app that allows you to scroll through secondhand offerings from people nearby, and (now with their shipping option) all over the nation, too. Our house is in a pretty small town here in Virginia, so I always have a lot of trouble finding high quality vintage pieces to purchase from local sellers. Because of that, I wanted to test out OfferUp's shipping option to take advantage of cool secondhand items both near and far.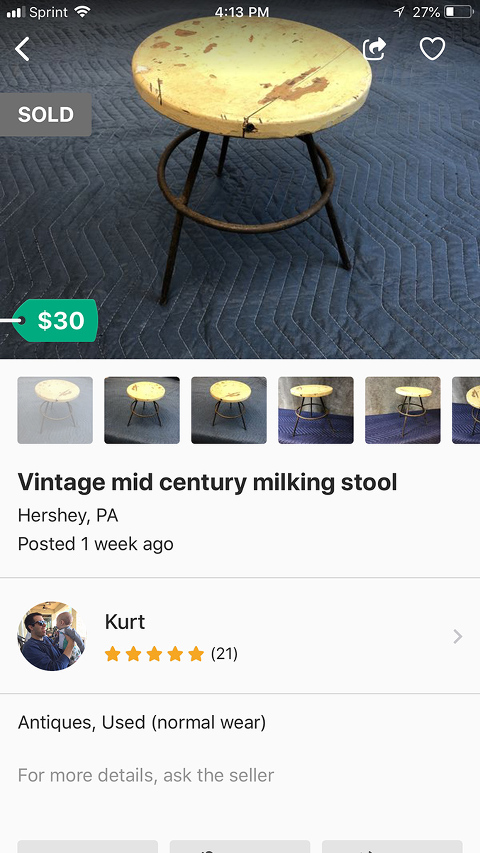 That screenshot above shows exactly what I saw on my phone when I purchased my first item through the app: my new-to-me vintage milking stool. The item immediately updated with a thrilling "SOLD" banner after I submitted my offer and it was accepted, then I was able to keep track of the shipment a couple days later via a button that showed up right in the messages section of the app.
You'll also notice in that screenshot that you can learn a little more about each item and also each seller. Kurt, by the way, was an awesome seller! His ratings were all perfect, and he shipped the stool super fast. Being able to see how many items and stars each seller has to his or her name through the app gave me, as a buyer, lots of peace of mind.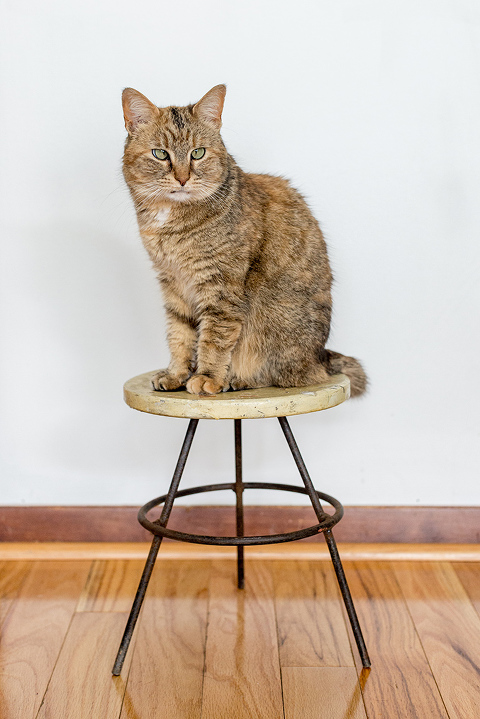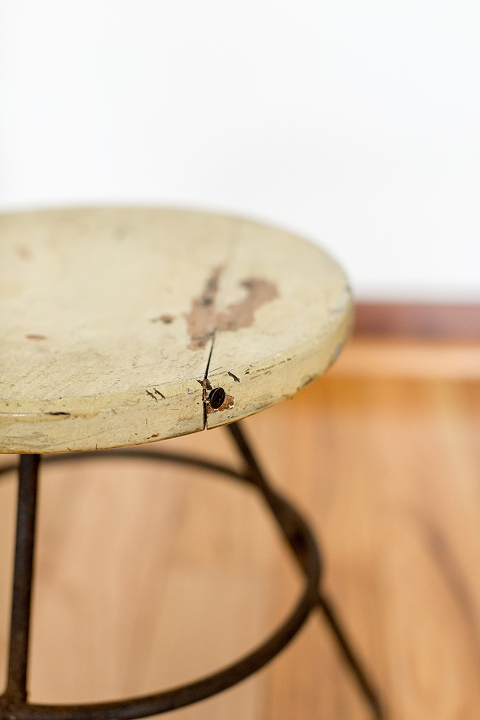 So, now let's talk more about that stool. The piece arrived within a week, and I was finally able to inspect it closely. The photos Kurt had posted in the app listing were a great depiction of the piece, but I could spot a few extra details once I could handle and hold it in person—good ones, like the quaint size (cute kitty above for scale!), and not-so-good ones like a spotty screw repair job. Of course, I knew it was going to be a restoration job from the moment I laid eyes on the stool, so it was nothing a little bit of elbow grease couldn't fix.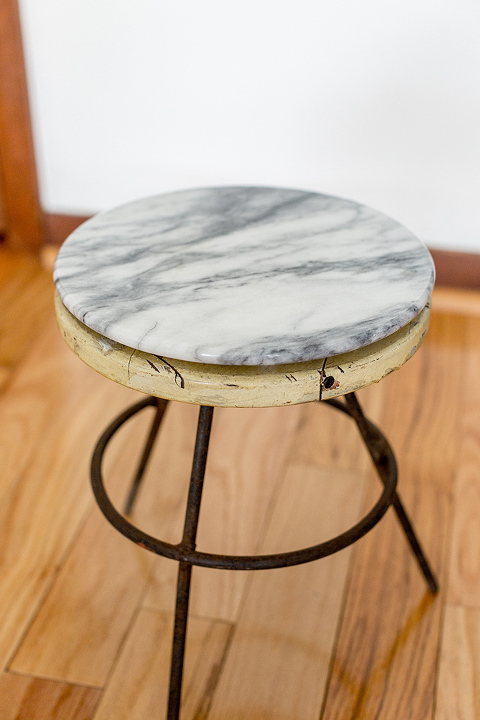 After unwrapping it and giving the stool a thorough inspection, I stepped back to consider those DIY possibilities. Should I try stripping the flaking paint away and give it a fresh paint color, or maybe stain it once I got it down to raw wood? Should I ditch the original seat and build a new one from fresh wood? I started thinking about the scale of the round seat and if I already had some wood that might work, and that's when inspiration struck.
I remembered seeing a marble cutting board in our stash that might be the perfect size, and a quick test proved the theory. The round marble board was spot-on the exact size of the old wooden seat, making me feel like it was fate. The marble probably wouldn't be strong enough to work as a seat, but I had actually been planning on using the vintage stool as a plant stand all along. Marble could definitely support the little potted plant that I had in mind!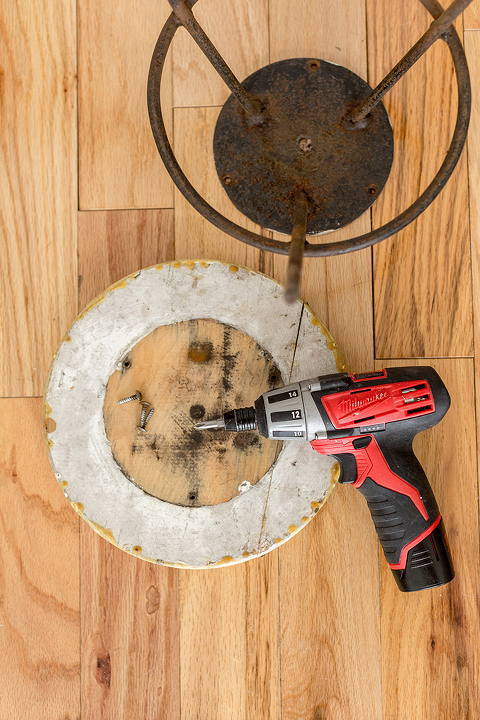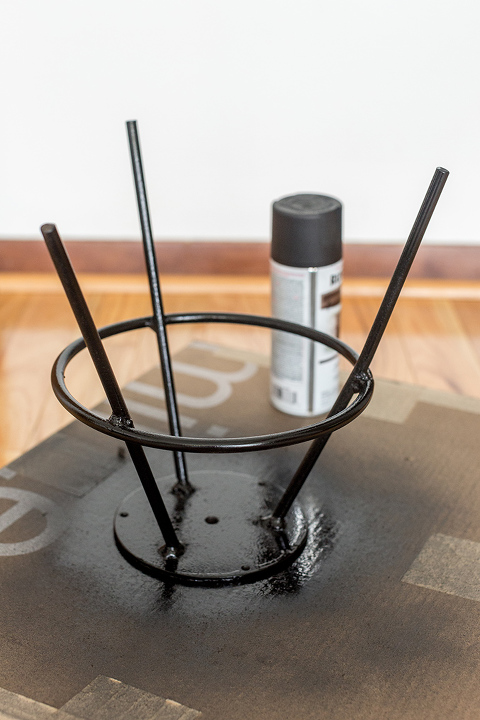 After coming up with my plan, I quickly unscrewed and discarded the old wood seat, then gave the rusty frame a fresh coat of satin black spray paint. As for the marble, a couple of quick scrapes with a metal tool removed the old price tag and three rubber feet to leave me with a flat surface.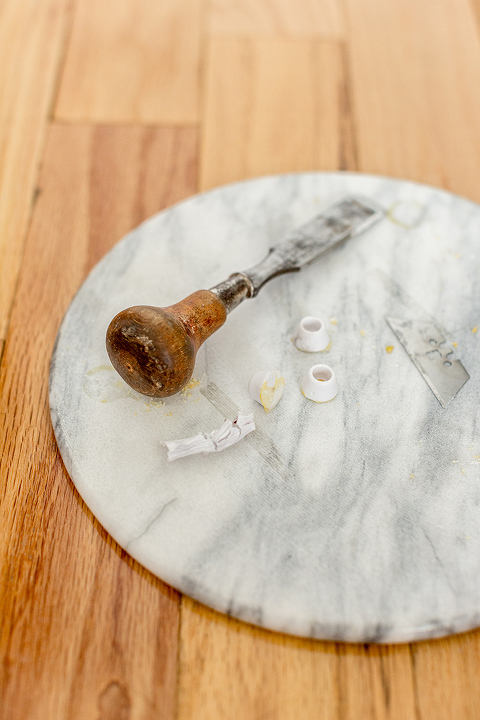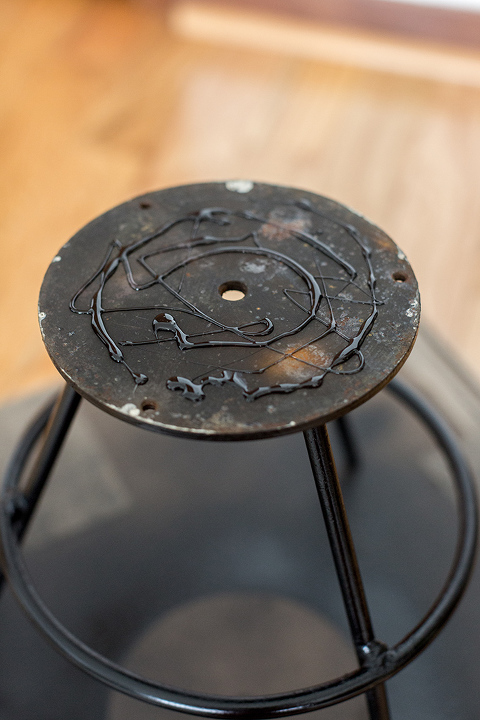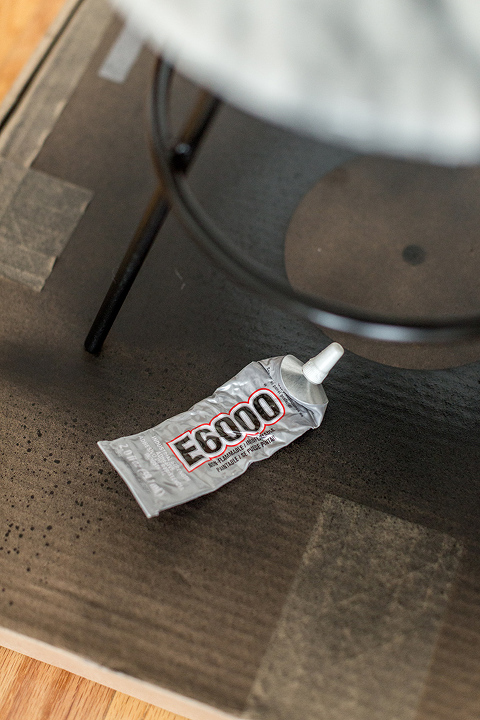 Next, I covered the top side of the plain metal stand with lines of E6000 glue, and centered the marble board on top. Twenty-four hours later, the stool was finished and looking much more modern than its original rusted, beaten-up look.
With the stool-turned-plant-stand complete, I turned my attention to where I could put it in the house. I'm not sure that I mentioned it here on the blog yet, but we swapped the china hutch in the dining room with a long, low console that used to be in the living room. The scale of the extra long cabinet fit the dining room better, and actually offers a lot more storage than the china hutch did.
One corner, though, had been left blank after the swap because it was too small for the extra chair that used to sit beneath the clay wall bells I made (see the old set-up here). It might not have been a good fit for the chair, but that little corner was perfect for my newly refreshed plant stand.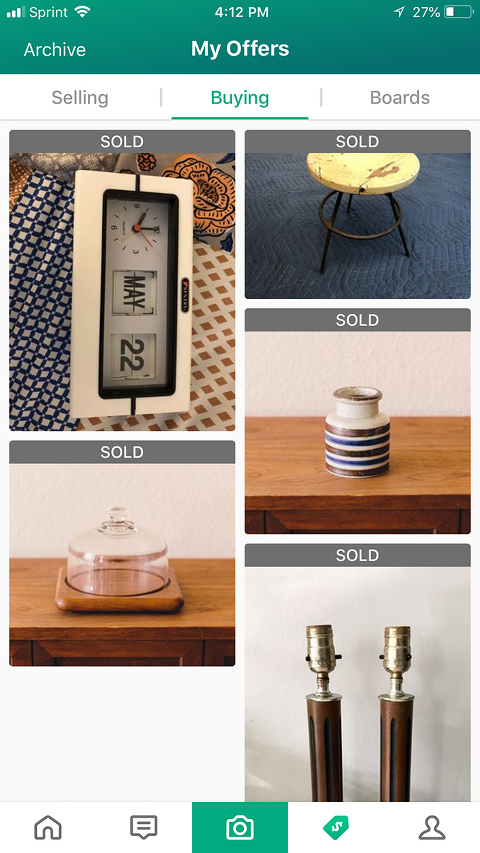 As you know, I'm rarely able to leave "well enough" alone, and with a brand new console tabletop available to fill, I popped right back on the OfferUp app to buy more vintage goodies to style alongside the plant stand. My collection of secondhand lamps, serving dishes, pottery, and a clock, too, were all on their way to our door within a couple of days, and you can keep scrolling to finally see the full reveal.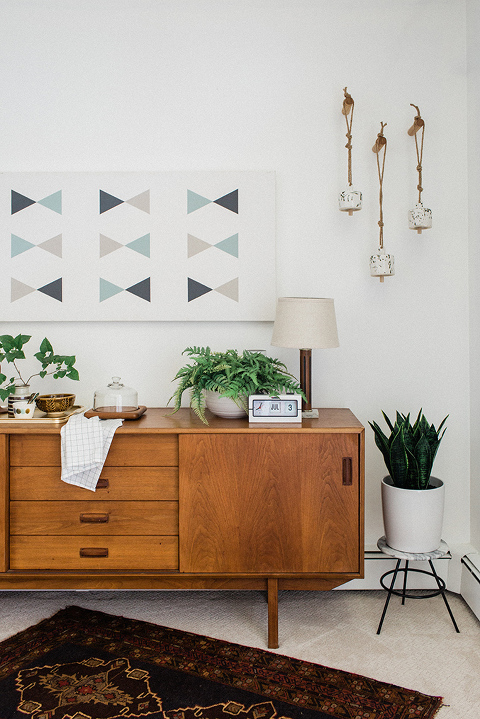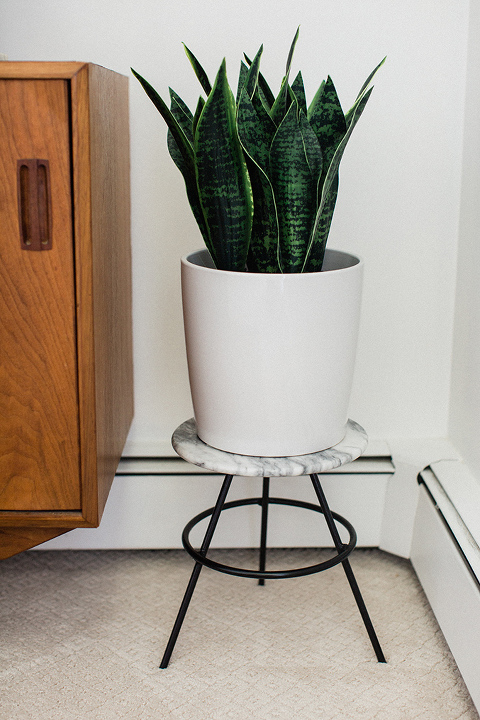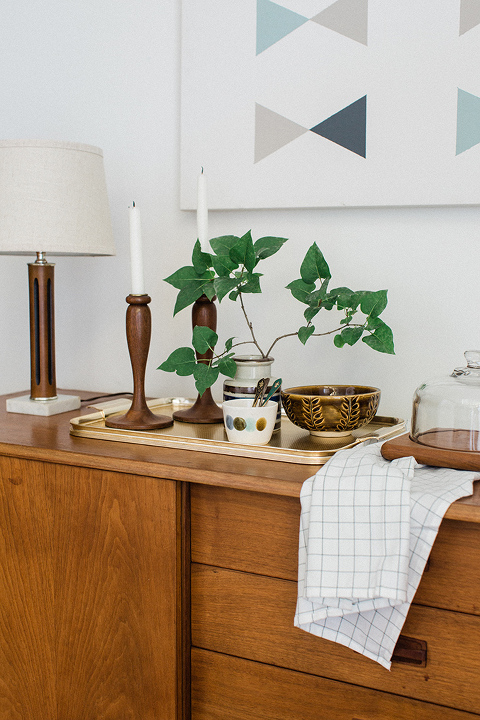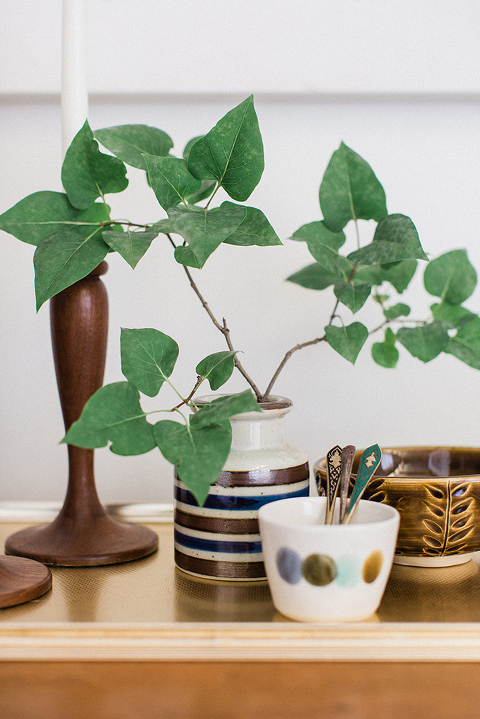 I ordered a pair of mid-century wood and marble lamps to flank either side of the console, and I thought they also sort of play homage to the wood-turned-marble plant stand project. As for the striped Japanese vase you see above, I thought it was such a unique, cool piece when I spotted it while scrolling in the app. I now keep it out in the dining room all the time, and fill it weekly with fresh cut branches from the yard for an extra dose of greenery.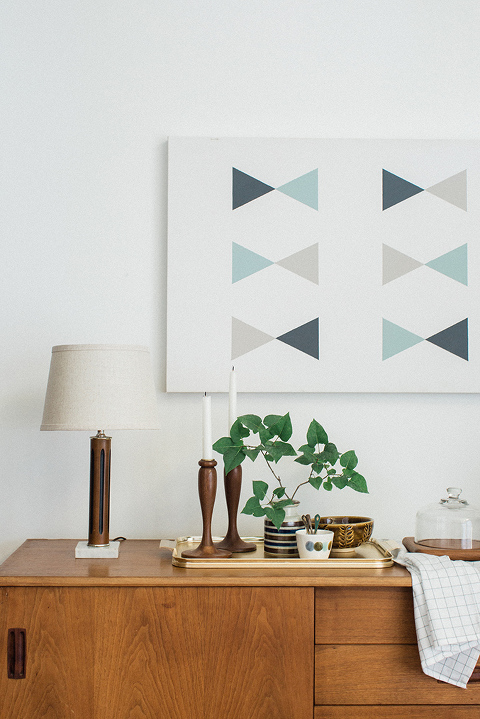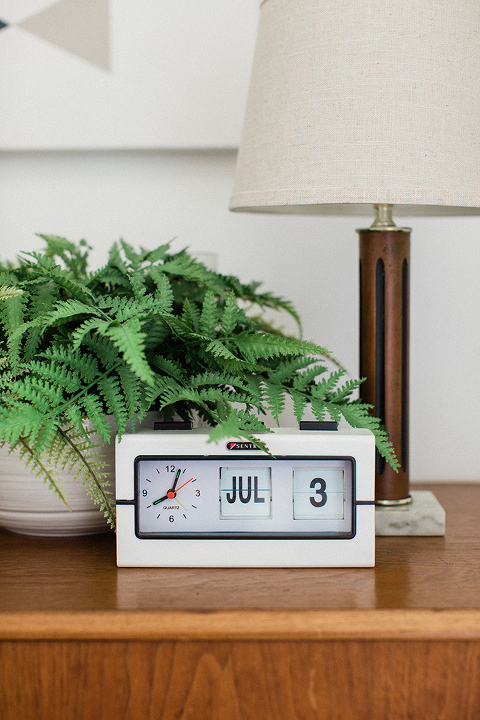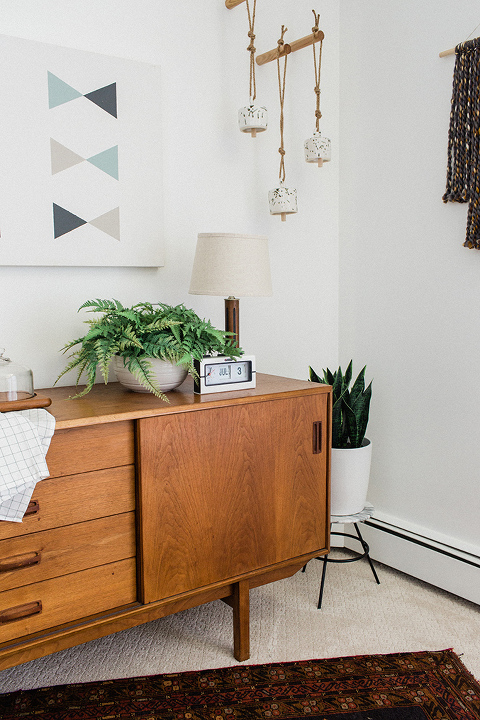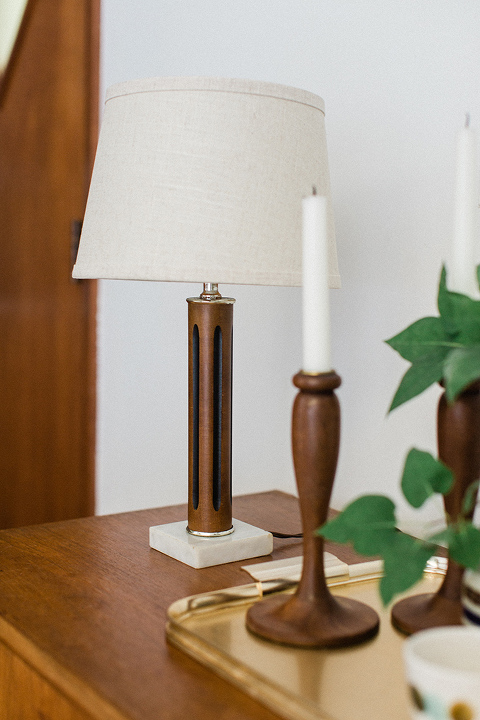 The clock was a last-minute addition for a bit of graphic flair. It doesn't work (which made it super affordable through the app—less than $10!), but you can still change the date every day using buttons on top that operate the flip numbers.
Another last-minute score was that rug you see below. I adore the super saturated color palette and have moved it from the dining room to the kitchen to the bedroom, and back again. It suits pretty much every room in our house and I wish I could have bought multiples, I love it so much!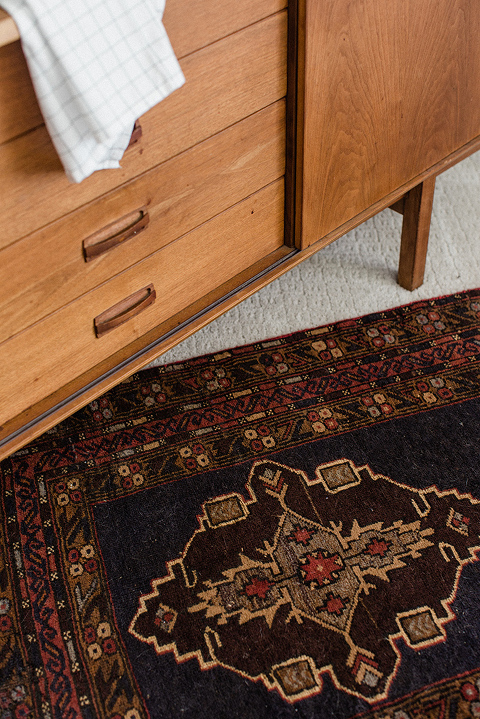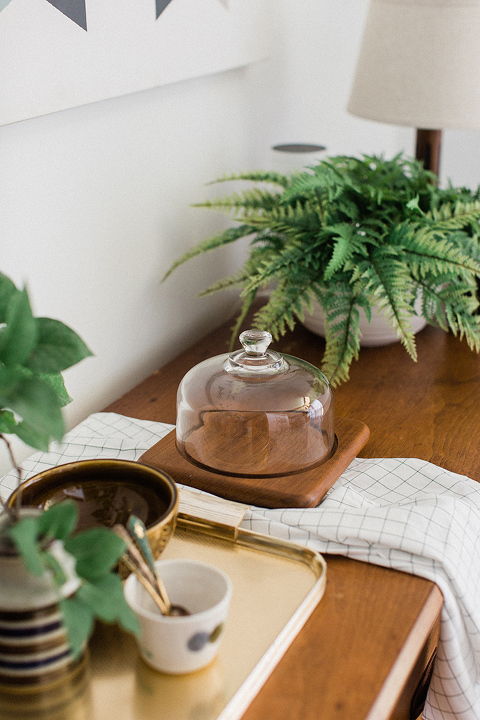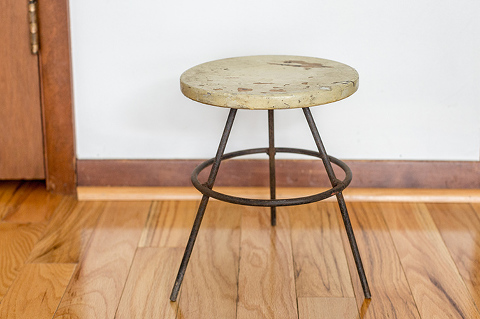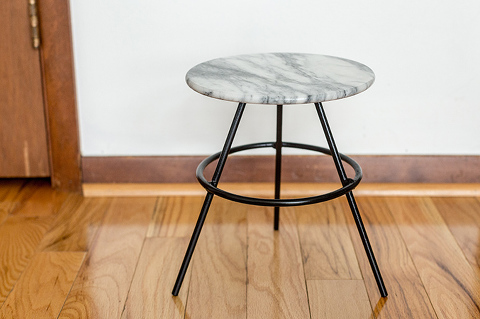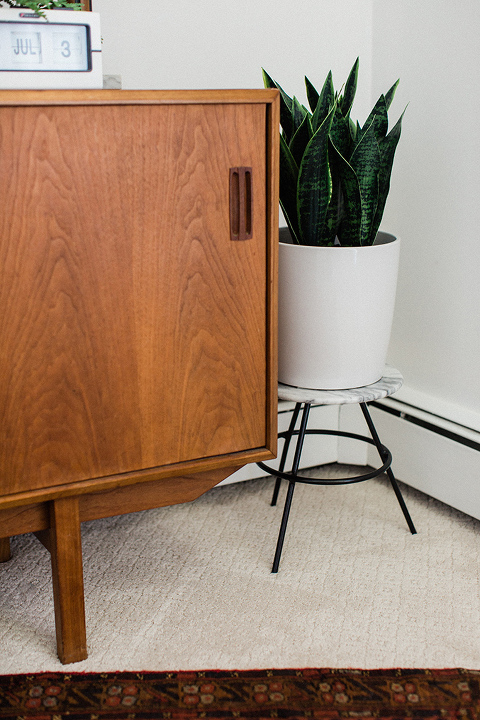 Overall, my experience on the OfferUp app (specifically the shippable section) was great, and I love the items I was able to purchase. The best thing you can do when on the hunt for items through OfferUp is to be quick and open with seller communication. Don't be afraid to ask them to specify right from the start just how far they're willing to ship an item.
Because the app is used by mostly independent sellers, you might find yourself in an instance where the person isn't quite sure about shipping a larger item all the way across the country. Be patient and understanding, and make sure you respond to seller questions or feedback quickly, too. Respect everyone's time and resources, and you'll undoubtedly end up with a collection of vintage treasures that you can be proud of—like we did!