How on earth am I just finding out about plug-in lights?! I mean, sure, I knew they existed before, but I don't think I had really considered them until very recently. I had always been pretty resistant to the idea of doing electrical on my own in the past, but I've gotten enough lighting projects under my belt this past year to feel confident handling tools and wires in order to get just the right lighting look in certain rooms of our home.
Turns out, though, that you don't even need electrical know-how to install a plug-in pendant light. All you really have to have is a drill to install a sturdy hook in either the wall or ceiling near an outlet, and you can pretty much enjoy any type of plug-in light that strikes your fancy. Here's a quick list of the 12 fixtures I currently have on my wish list.
12 Plug-In Pendants Lights I Love
Alrai Wire Swag 1-Light LED Geometric Pendant
Industrial Edison Vintage Swag Pendant Lamp
Cornelia Industrial Warehouse 1-Light Bowl Pendant
Turned Plug-in Pendant Ceiling Light
Edison 1-Light Chrome and Red Pendant
Alshain Transitional Beaded Swag 1-light Mini Pendant
Kiven Plug-In Industrial Factory Pendant
Conduit Avenue Swag 1-Light Mini Pendant
Undercliff 1-Light Plug-In Pendant
Edison 1-Light Matte Bronze and Black Pendant
Hanging Swag Lamp With Textured Oatmeal Shade
Just the other day I discovered a fluorescent light fixture that I didn't even know existed in our kitchen (it was hidden way up in the ceiling behind the cabinetry over our sink), so I'm pondering a new plug-in light to bypass it. I think it'll just be easier to snake the cord down along the cabinetry to a nearby outlet than trying to deal with ditching the fluorescent altogether, but that's up for debate. What would you do? And which pendant from the list above is your favorite? Do tell in the comments below.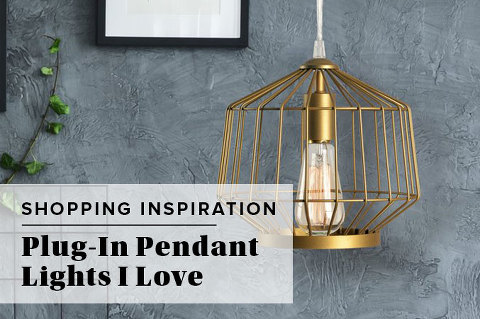 *I earn a small percentage from purchases made by the affiliate links above. Affiliate links are not sponsored. You can rest assured that I would never recommend a product that we don't use and love ourselves.