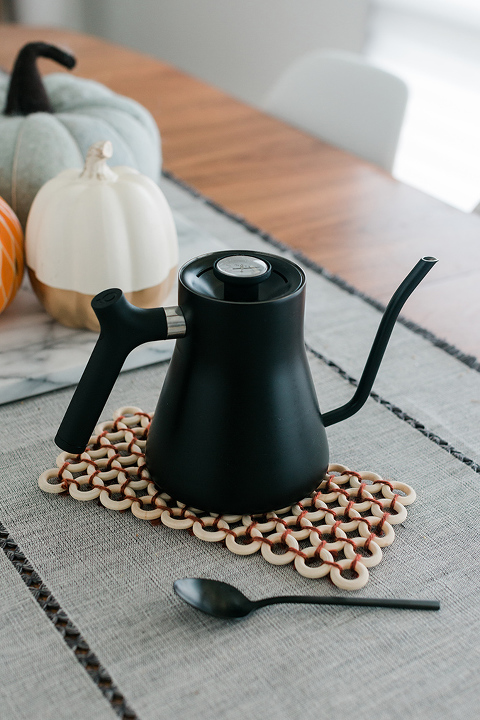 Is it too early to talk about (let alone think about) Thanksgiving? I can't decide, but the holiday is right there looming just one month away on the calendar, so I'm taking it as a sign that you guys have started making plans for the big event. The good news is that today's quick craft project can really be used any time of year—Thanksgiving and beyond—so I promise you'll feel extra productive while putting it together this month. Scroll on for the step-by-step tutorial to make your own DIY Wood Ring Trivet Mat!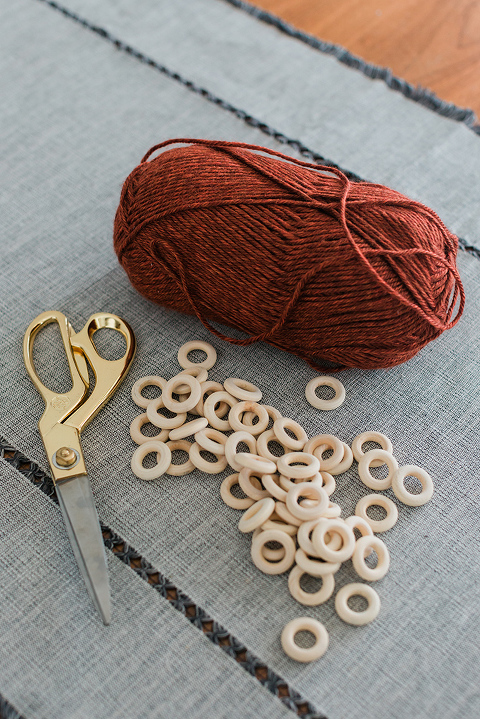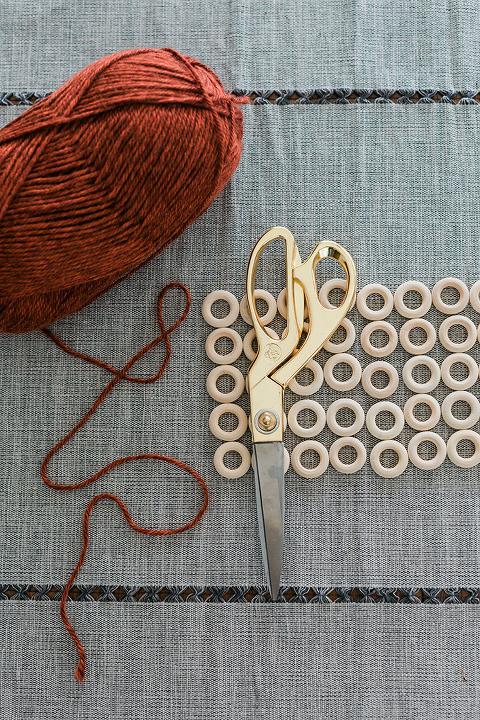 Here's What You'll Need:
Not only is this project super easy to make—it's also super cheap. The 1-inch wooden rings I used cost just $6, and the yarn was on sale for a few bucks. Since I used only a handful of feet from the spool of yarn for my DIY trivet mat, that figure could even be knocked down to a few pennies to be totally accurate. Other than those two main supplies, you need to grab a pair of scissors, some clear tacky glue, and maybe your phone to crank up the tunes or a podcast while you work.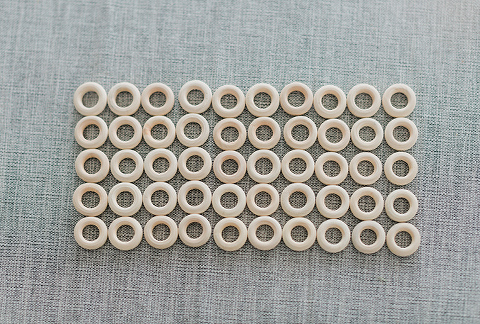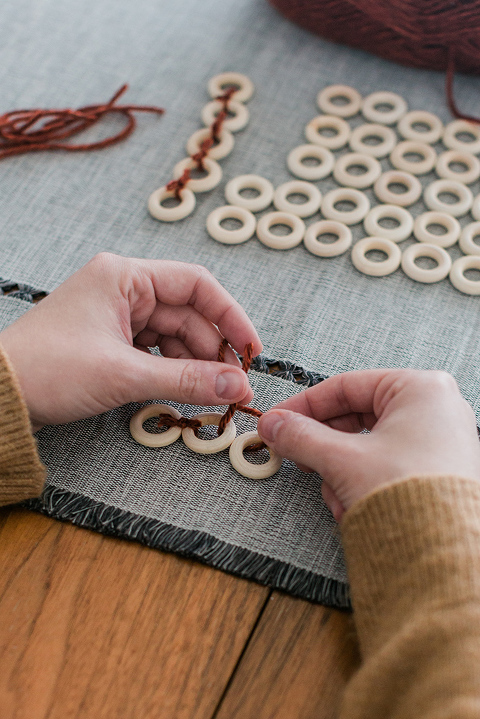 Step One
Open your bag of wooden rings, and lay them out on the table so you can play around with different designs. My ultimate plan for this trivet mat is to use it under my favorite rectangular casserole dish come Thanksgiving, so I decided to follow suit with the same shape for my mat. You, of course, can run with any kind of shape you want, though—a square, a semi-circle, anything!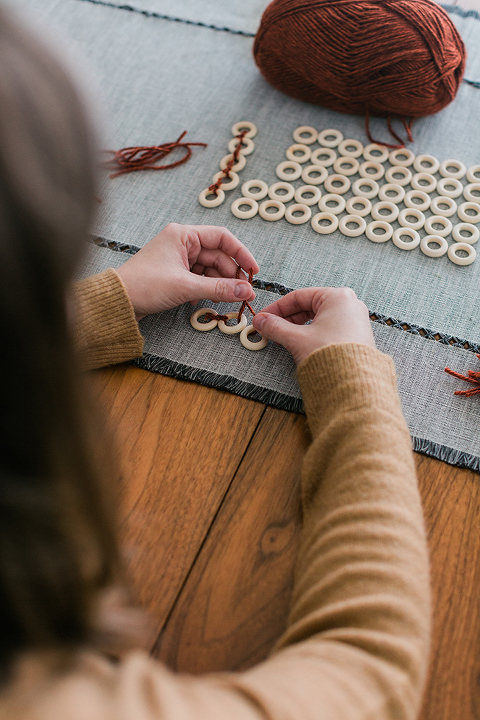 Step Two
Once you have your shape laid out, start connecting the rings to each other using small lengths of cut yarn. I would suggest cutting your yarn pieces a little longer than you actually need them to be, just to save you some headache while tying knots between the rings. The longer your yarn, the easier it will be to grip and tie a knot. I went with a triple knot on each, by the way, and my yarn pieces were each roughly five inches long.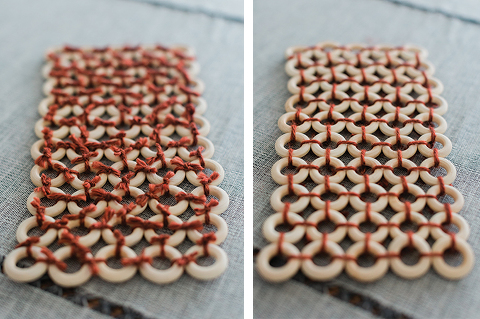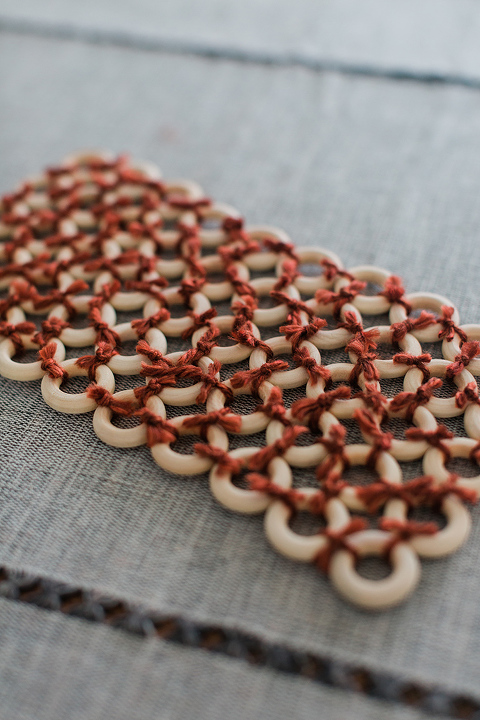 Step Three
Even though I used triple knots between each ring, I still felt like my mat could stand to have a little more strength, so I dabbed a bit of tacky glue over each knot. I was careful not to get the glue on the rings, though, because I wanted the rings to twist under the yarn knots for easy folding and storing. Just dab the glue right on top of the knot to keep it from unraveling. Since it dries clear, you'll never see it.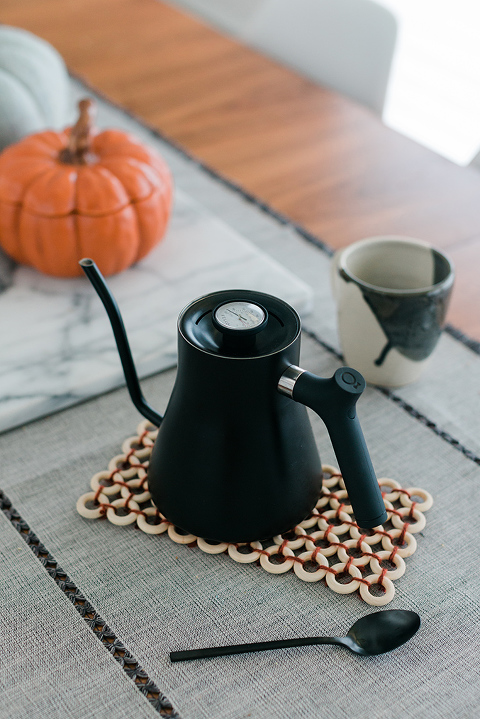 A Quick Note
You might have noticed that side-by-side image a couple photos up. I included that so you can see the difference between the knotted underside and the top of the mat. It's much cleaner and less chaotic when you flip it right side up, which I was relieved to see. If you want an even more minimalist look, choose a colored yarn that matches the wood tone of your rings.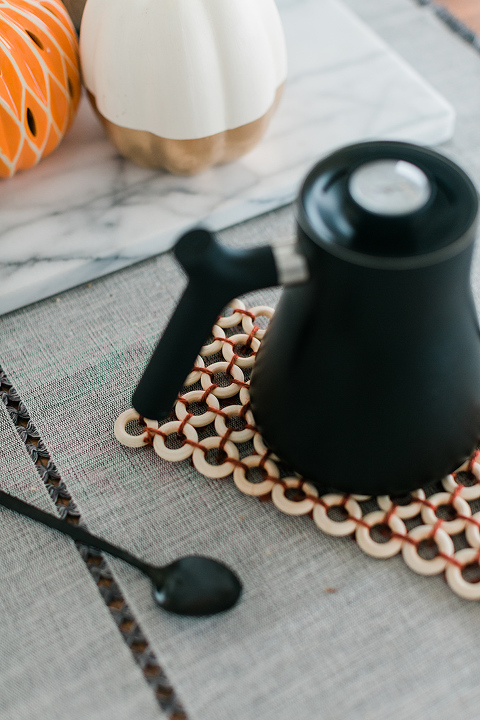 After the glue dots have dried, you're ready to flip the finished DIY Wood Ring Trivet Mat over and use it under anything hot you might serve this season. I personally love using it under my kettle now that I'm craving afternoon cups of coffee and tea (it's so cold here already in Virginia). Tell me what you think of our little heatproof trivet mat in the comments below, or, better yet, tell me what you'd like to serve on top of it this Thanksgiving!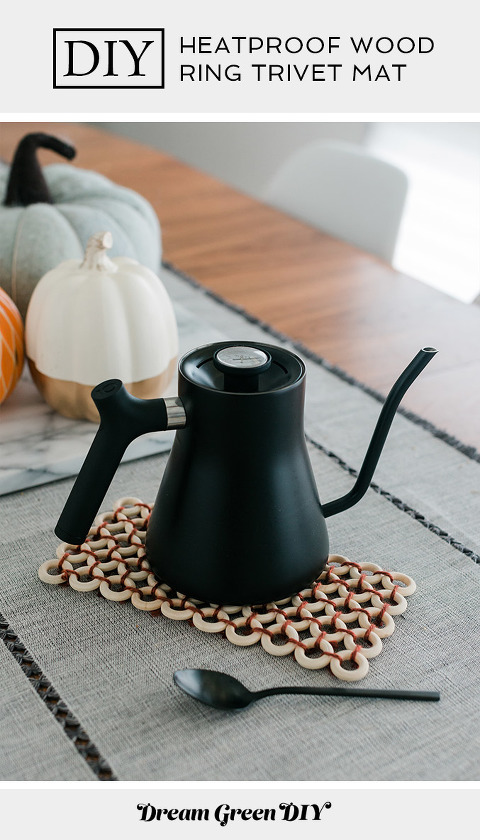 P.S. Click back here to take our fall dining room tour for even MORE Thanksgiving-themed inspiration!