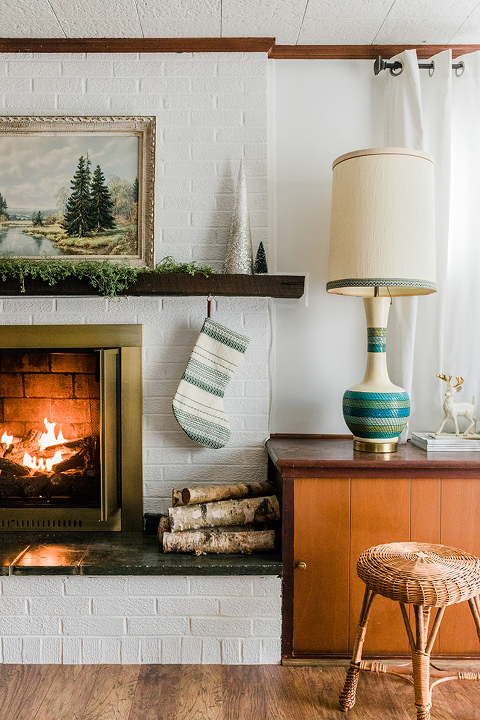 First, I want to thank you guys for your patience with me last week while I was sick. I'm finally starting to feel like myself, and am longing to get back into the blogging groove with longer, meatier posts once again. I thought I'd kick things off with a big roundup of all my favorite Christmas decorating hacks.
This topic was actually one that was requested by name over on the DGD Instagram feed, and it really got me thinking: do I have any valuable perspective to share? I kept the thought in the back of my mind as I worked to decorate our home for the season, and it turns out that I really do have quite a bit to say. With 32 years of holidays under my belt, it turns out that I've managed to collect a handful of habits that, I think, make the process of decorating a festive home much less stressful. Scroll on to hear how I do it!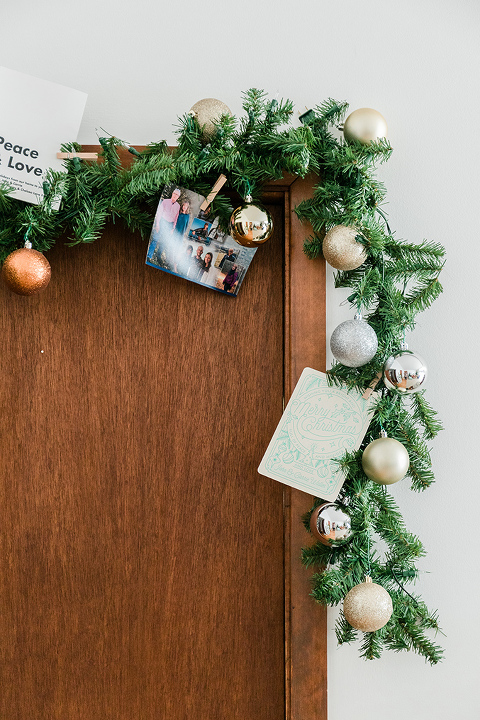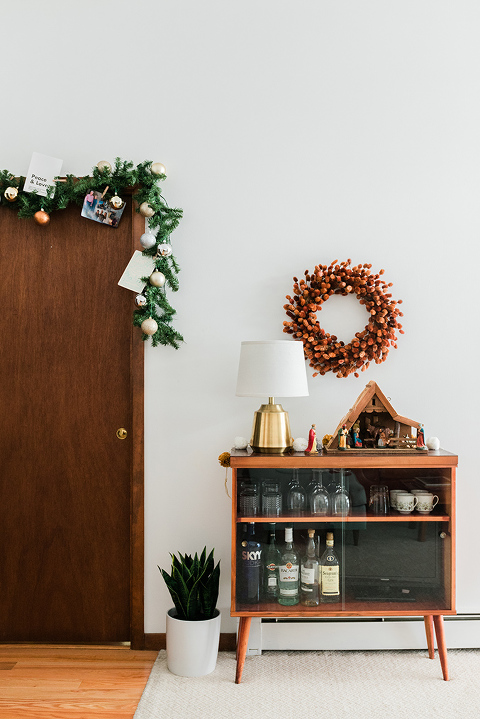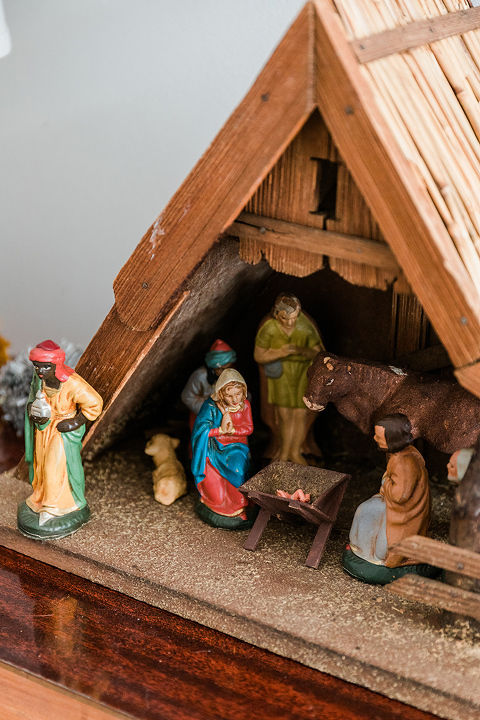 Box Things Up By Room
Instead of keeping one or two giant boxes of holiday decorations in storage, consider boxing items in smaller containers by section or vignette. What I mean by this is, for those of you who tend to put out your Christmas (or whatever holiday it may be!) décor in the same places each year, box those pieces up together and label the container with that specific spot.
For example, I always set out our hand-me-down nativity set, ceramic Christmas tree, and sleigh in the living room, so all three pieces are carefully wrapped and boxed together with the label "Living Room" on it. The garland I hang in the same room also goes in that box, as does the stack of collectible Christmas books I keep on the living room coffee table. By boxing things according to the room or piece of furniture they traditionally go on each year, I'm able to avoid having to schlep unnecessary boxes upstairs, and I don't have quite as much digging to do once I finally have those boxes out of storage.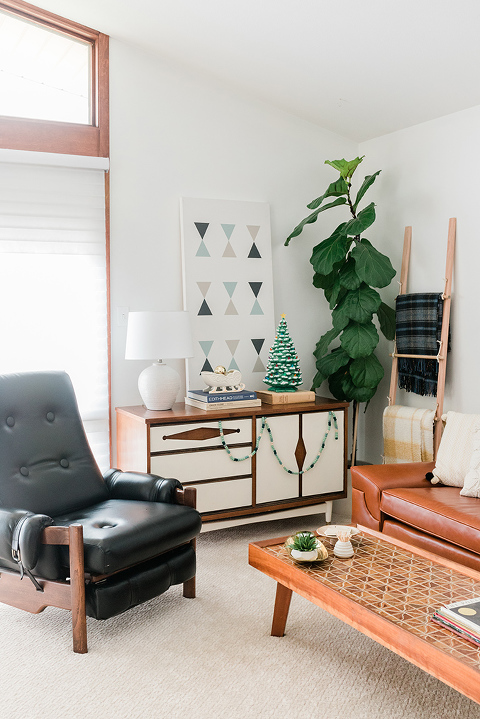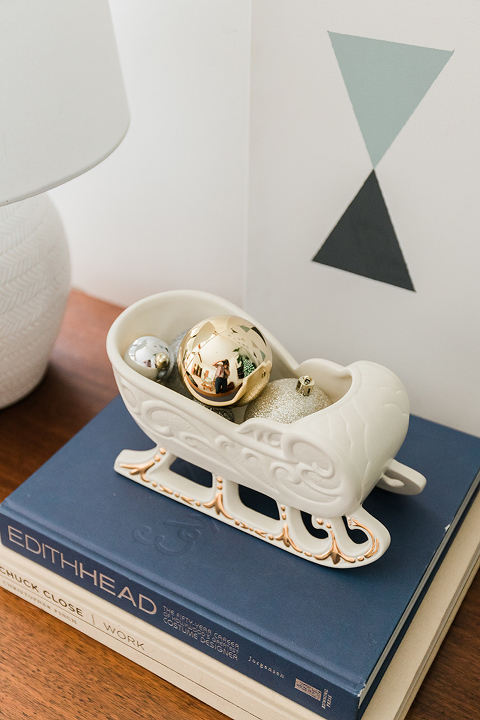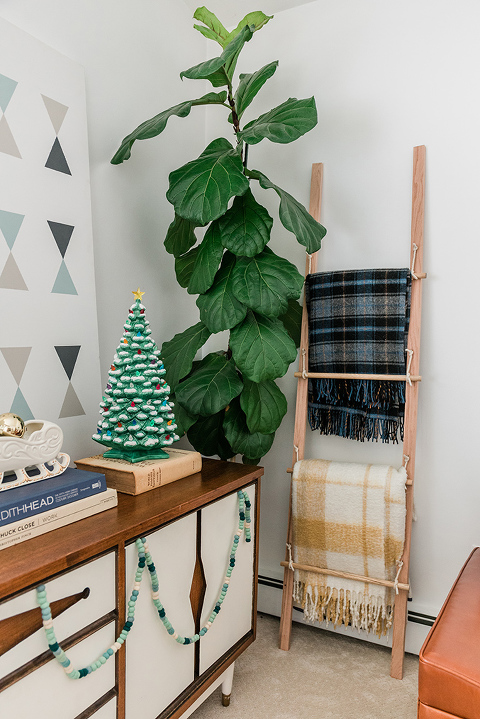 Make "Like For Like" Swaps
I know I've said this over and over here on the blog, but I'm actually not a huge fan of holiday decorating. I spend so much time and effort decorating for every other day of the year, I hate the idea of undoing all that hard work for seasonal items. That said, I'm Christmas's number one fan, so I tend to grit my teeth a little bit and go through the motions in order to live amongst all that happy Christmas cheer for the month of December.
One of the easiest ways I've found to simplify the process is to make "Like For Like" swaps with my styling. In other words, if I generally keep a ceramic bowl out on the dining room console to hold things like linen napkins or pretty serving spoons, I'll temporarily switch those out for a similarly sized Christmas-themed bowl filled with ornaments. That way I'm not having to start from scratch with my styling and tabletop arranging, but I still get the holiday vibes across.
A few other swaps I make every year: our stack of everyday coffee table books gets changed over to Christmas books, the hanging art in the dining room is swapped out for a faux evergreen wreath, and a tabletop Christmas tree takes the place of the tall tapered vase in our family room.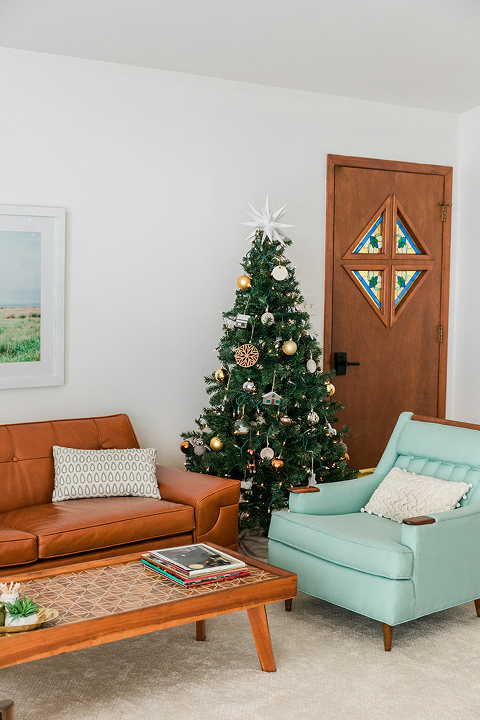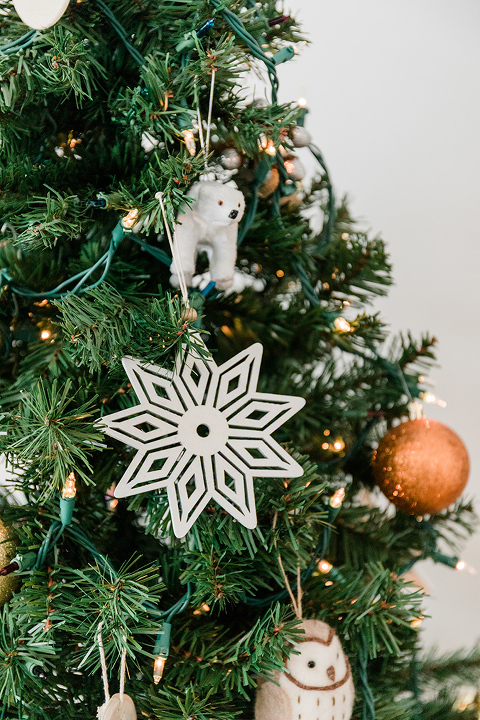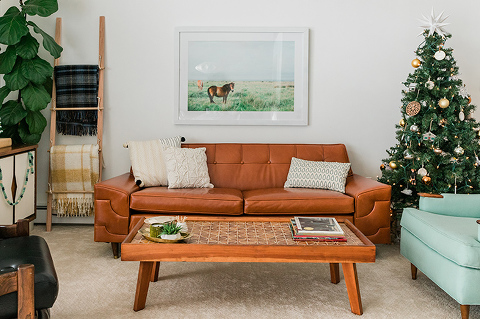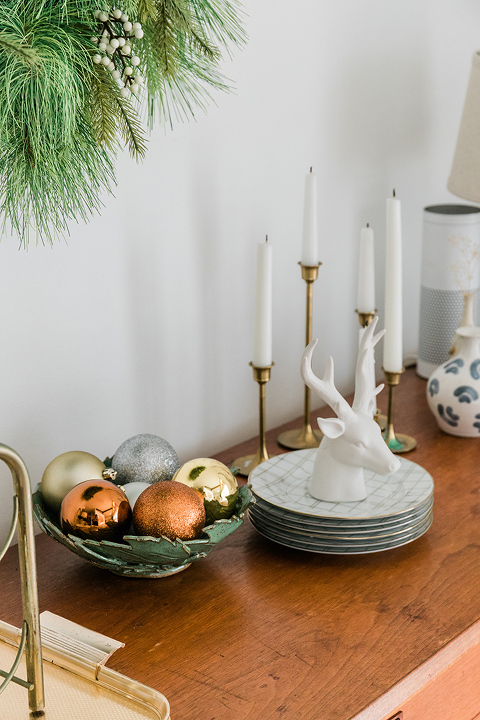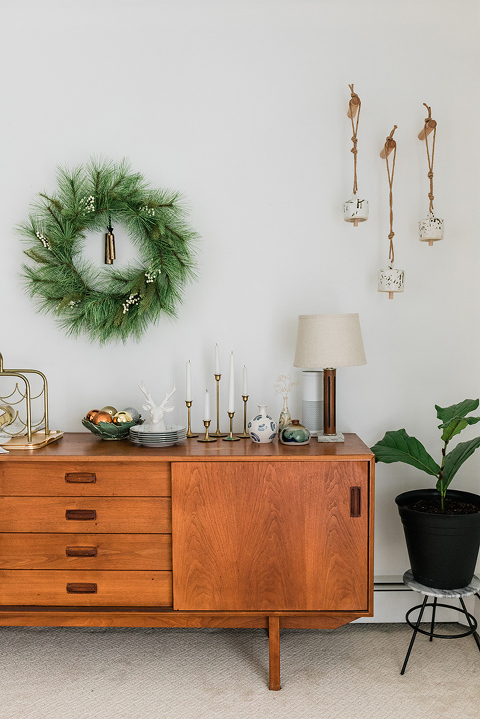 Reuse Storage Containers
One inevitability of Christmas decorating is that you do end up displacing a lot of your everyday items. In years past, I've always struggled with finding places to temporarily put all of our non-seasonal accents while we had our Christmas décor out, but this year I finally figured out the solution.
As I took down our everyday décor to make room for holiday items, I wrapped those everyday pieces up and put them right into the box that the Christmas pieces had just come from. That way, I'm not putting empty boxes away, and I don't have to worry about finding spots for our year-round décor in storage.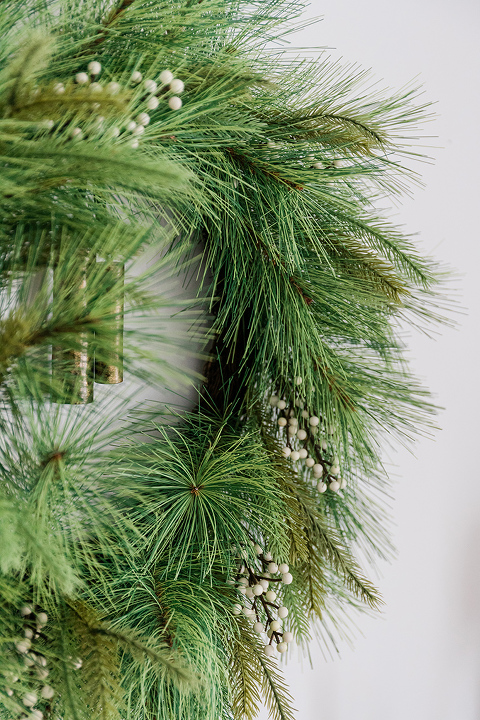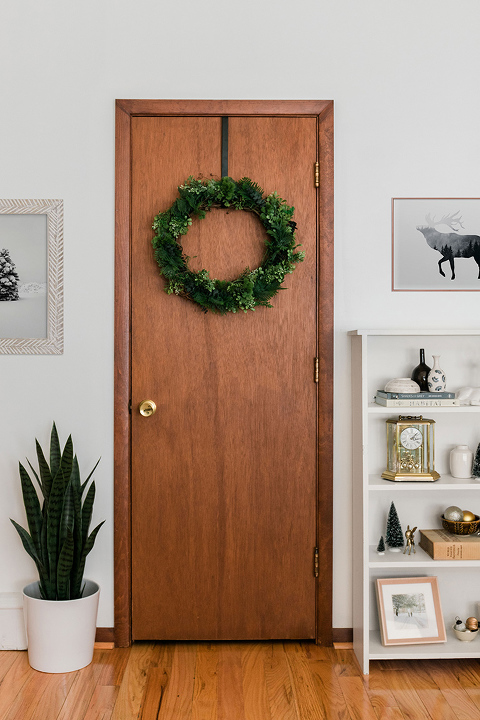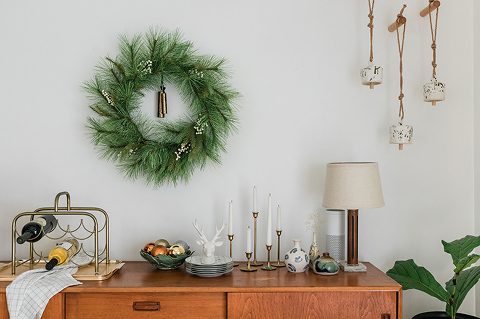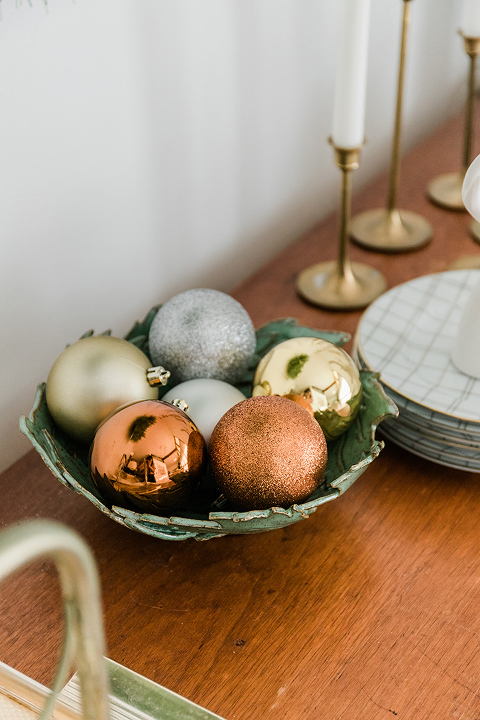 Box It Up Whole
A few year ago, I started a new tradition of hanging a garland over the doorway to our kitchen. It's a faux garland, so we can reuse it every year, and it's now where we display all of the holiday cards that came in the mail from friends and family. I use wooden clothespins to clip up the cards as they arrive in our mailbox, and I also filled the rest of the garland in with shatterproof ornaments.
I almost hesitated to admit this, but instead of bagging up the clothespins and removing each ornament from the garland after the holidays were over last year, I gently took the whole thing down off the wall and put it into the box whole—clothespins and ornaments still attached! Being able to lift that pre-decorated garland out of the box to hang on the nails (that we discreetly keep in the doorway year-round) saved me so much time this year. Yes, it's a little tacky, but the time it saves me is worth it.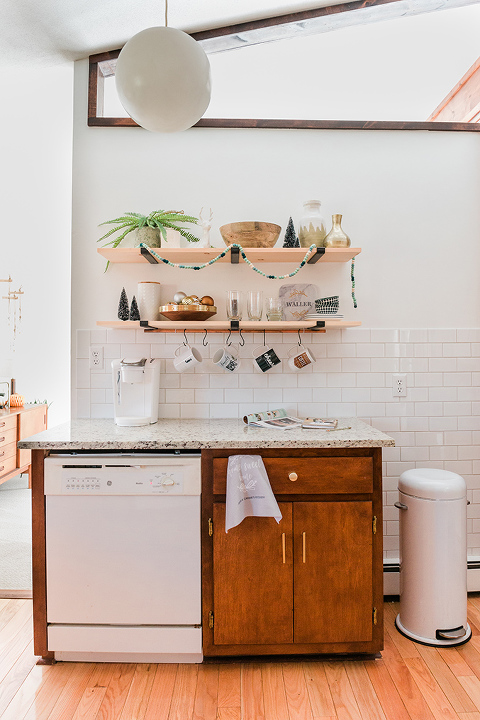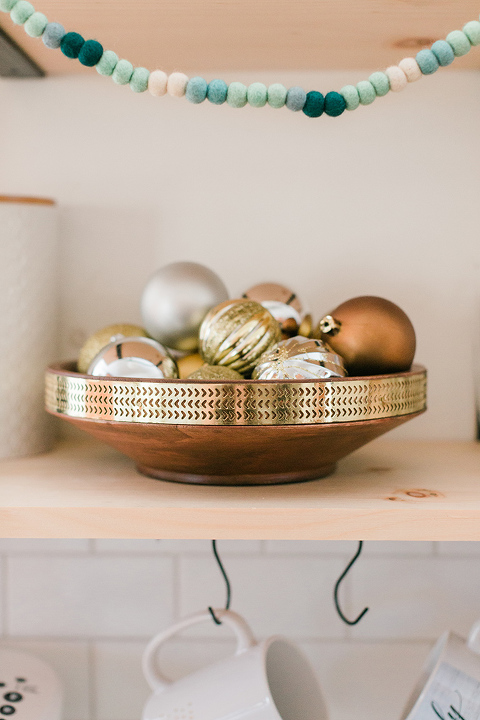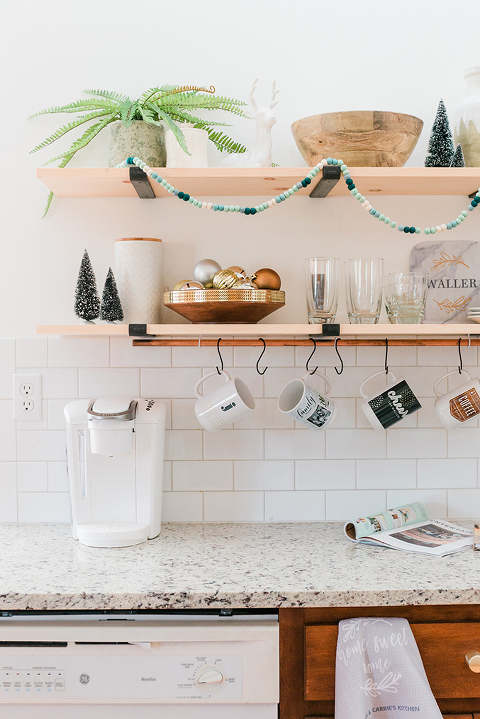 Time It Just Right
I think we can all agree that there's a right and a wrong time to decorate for the holidays. The right time is when you're feeling energetic and motivated, when you've got plenty of time on your hands, and maybe even when you happen to have an extra set of hands nearby to help with those hard-to-reach areas or heavy items.
On the other hand, the wrong time to decorate for the holidays is when you're hours away from hosting a Christmas party, you're wiped out from a full day of work, or when you're feeling a little stressed by other things going on in your life. Even if it means you don't get around to it until mid-December, commit to choosing your moment extra wisely this year. As cheesy as it might sound, a good attitude could be the difference between a really chaotic Christmas decorating day and a simplified, enjoyable one.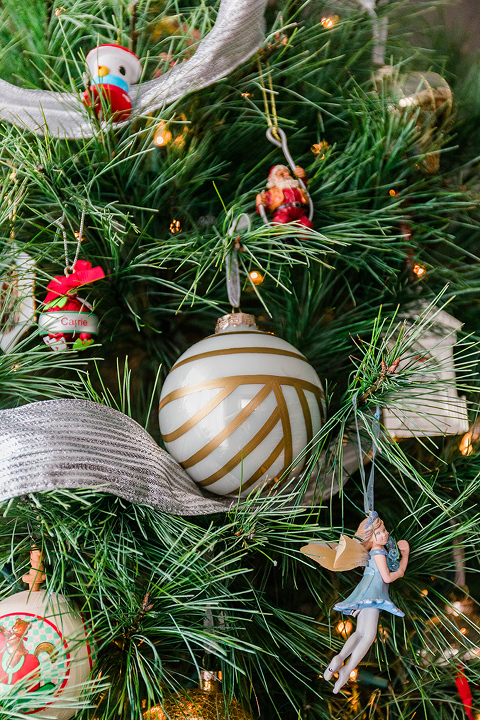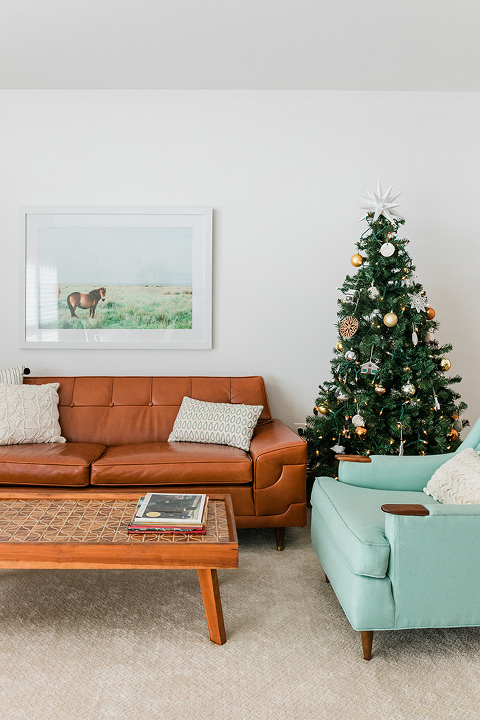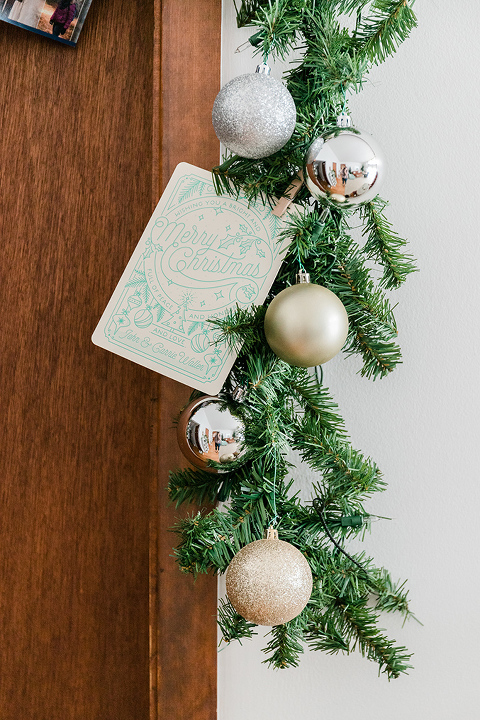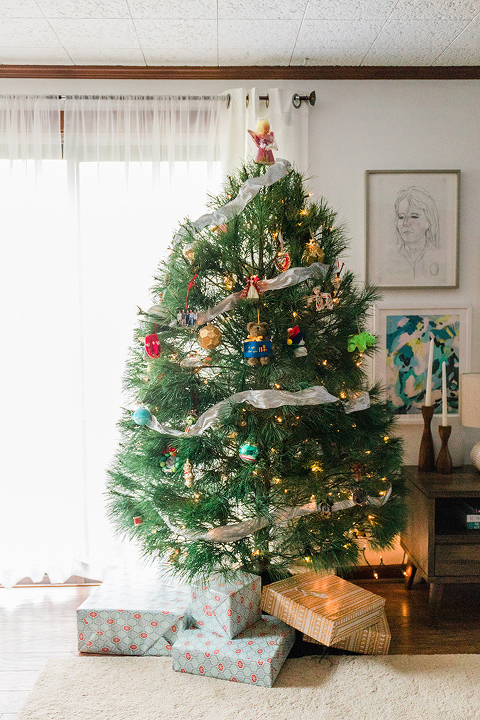 I know that a lot of these tips might already be key parts of your seasonal routine, and seem like common knowledge, but I still thought it was worth talking through just in case one of you hadn't thought to try these methods before. And, of course, I'm sure there's still so much more that I could be doing to simplify our holiday decorating routine, so if you have ideas of your own, please tell us about them in the comments below!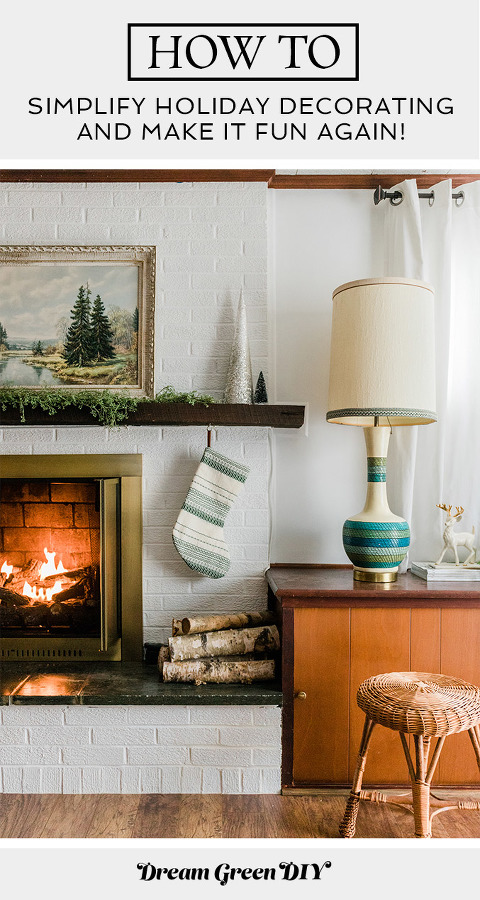 P.S. There's still plenty of time to grab a handmade ornament for Christmas from the DGD Pottery shop! See what's left of the collection here.