In years past, I've been really strict about the ornaments we put on our Christmas trees. I had this idea in my head that the tree needed to be color coordinated from top to trunk, and while I really do like that look, this year I'm feeling a little more casual and free. As you may have seen yesterday in the reveal of our 2018 holiday decorations, our two Christmas trees are currently playing host to a whole range of ornaments—from white cut-out snowflakes and stuffed owls, to handmade clay ornaments that have my own unique stamp on them (literally!).
One of my favorite ornament themes this Christmas is retro. I love anything that looks like it came straight out of the 1950s or '60s, especially mini bottlebrush trees or reflector style ornaments. One thing I'm glad for in these modernized versions? That they're shatterproof! I love having authentic mid-century ornaments (like those passed down from family), but I always have to be so careful with these types of glass baubles. I love that I can be a little more relaxed around many of the 12 reproduction retro ornaments that I rounded up below.
Retro-Inspired Christmas Ornaments
1. Rudolf's Misfit Friend Ornament
4. Silver Retro Reflector Christmas Finials
6. Northlight Green and White Retro Style Bus with Christmas Tree
7. Round 'Holly Jolly' Christmas Ornament
8. Vintage Television Ornament
9. Retro Reflector Christmas Ornament (this one already sold out, but click that link to shop the list of similar options—this one, in particular, caught my eye!)
11. Songbird 5-Piece Christmas Ornament Set
What types of ornaments are you leaning toward this year? Or do you stick to one set bunch year after year? I don't know why I tend to pick a new favorite every single year. It's not a terribly economical way of doing things since I almost always buy new ornaments each time a new holiday season rolls around. But I'm not going to be too hard on myself for the habit. Christmas seems like the perfect time to be a little overindulgent, so I'm giving myself a free pass to spoil myself in this tiny little way. Use the comments section below to tell me what's on your Christmas tree this year!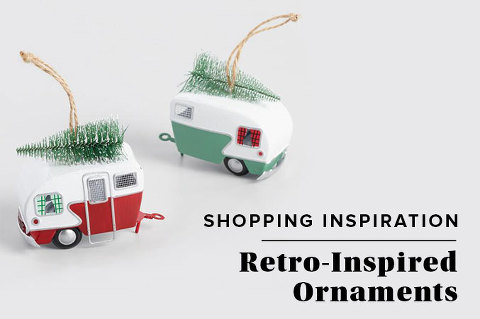 *I earn a small percentage from purchases made using the affiliate links above. Affiliate links are not sponsored. Rest assured that I never recommend products we wouldn't use or don't already love ourselves.