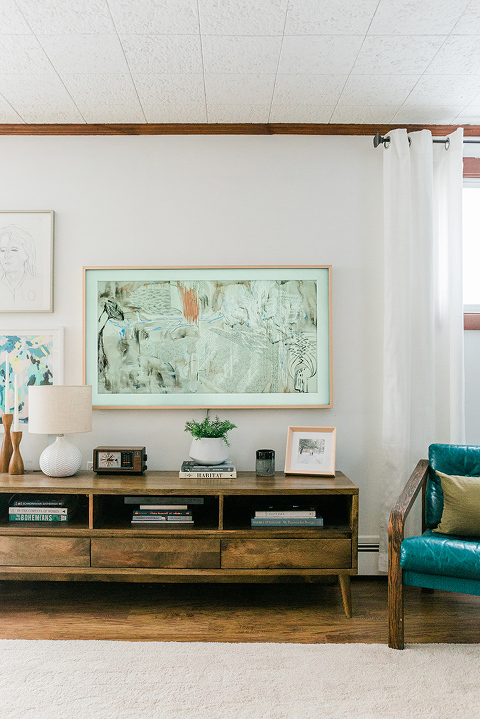 There's nothing quite like a new year (or, in this case, the end of one) to inspire the notion of finally crossing something that's been lingering off your list. That project for us was getting rid of the random, odd, definitely-dated fluorescent light box that had been up in our family room long before we moved in.
See it there between the window and sliding glass doors in the photos below? Those images were snapped during our inspection before we had even finalized the purchase of our 1960s home. There was so much that I wanted to change about the space (think: the window treatments, wall color, carpet, etc.) that I almost didn't even notice the light box. But I have to emphasize the word "almost" there because it definitely didn't escape my inspection entirely.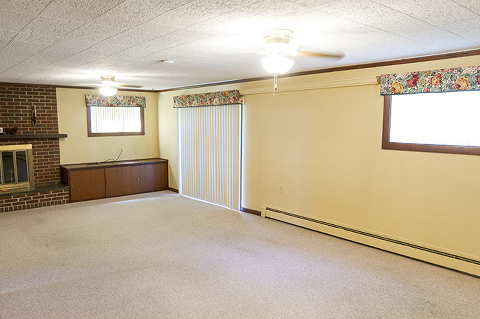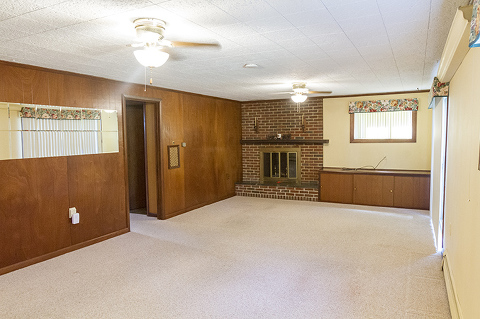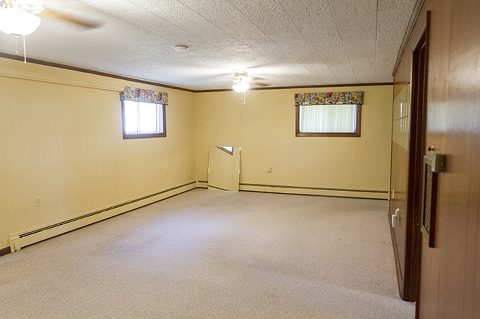 Fast forward three years later, and we had managed to transform the space so that it felt almost unrecognizable in comparison to those original "Before" shots. We hung new drapery panels in place of the old window treatments, painted the walls and fireplace bright white, switched out the fans for modern ones, and we even managed to find the time and budget to replace that old stained carpet with brand new laminate flooring.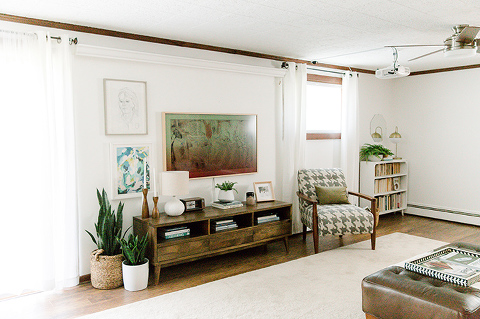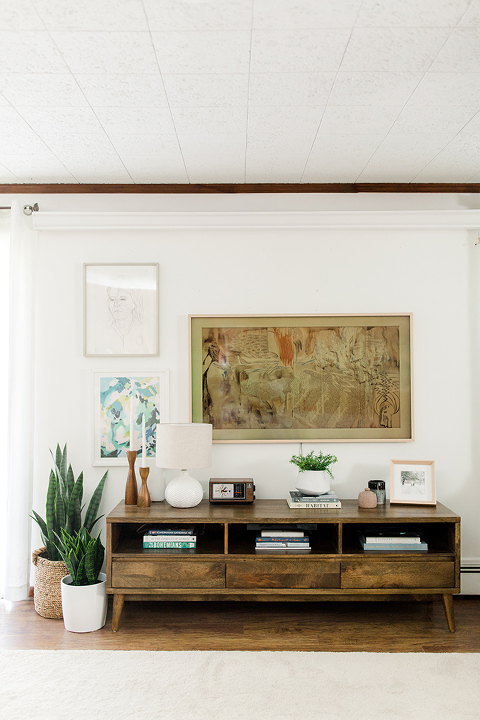 Those two photos above (taken by my friend and fellow creative entrepreneur Meredith Sledge!) show what the room looked like before John and I finally decided to investigate the weird fluorescent light once and for all late last year.
Upon closer inspection, it looked like the previous homeowners had actually retrofitted a run-of-the-mill gutter into a DIY wall lamp, complete with wiring to a custom fluorescent fixture. It blended pretty well into the wall after I had painted it white way back when, but we still never used it to actually light the space, and I felt like the exposed gutter made the ceiling look a little lower than it actually was because it made your eye stop at that level instead of the true top of the wall.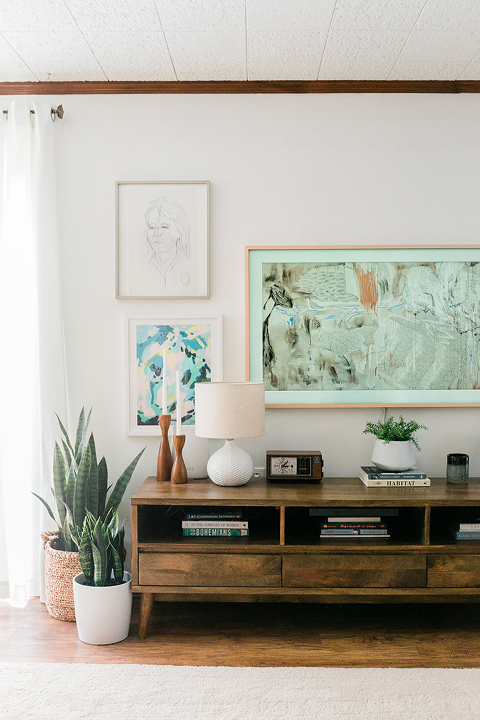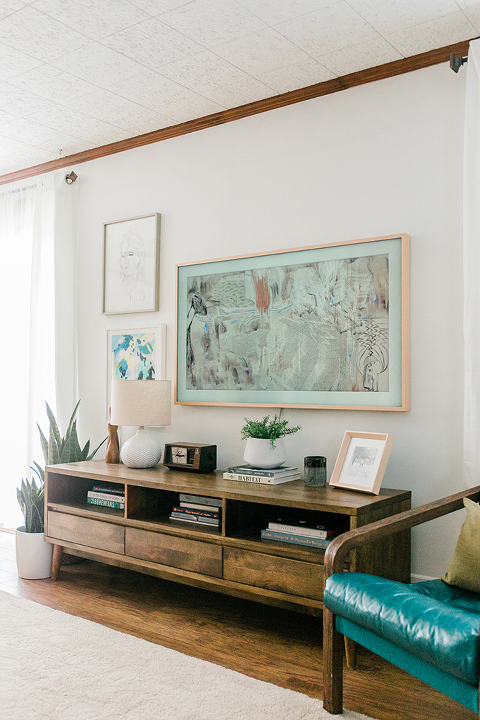 I was so worried that we would end up finding all sorts of complicated electrical wiring behind the light when we took it down, but we were pleasantly surprised to find that the wall was left largely untouched by the original DIY installation, whenever that was. My dad actually came to help with the removal, and even though we had prepped for an hours-long ordeal, it took practically no time at all to wrap up.
First, we cut the power to the fixture and removed the bulbs, then we carefully pulled out the screws and nails holding the gutter to the wall. After that, I held the dangling light away from the electrical output while my dad snipped the wires.
Thankfully, the wiring was kept all to one side over by the window, so we were able to cover the protected wires with a simple plastic cap, and we were able to hide that by scooting the nearby window drapery in front of it. We decided to leave the wiring accessible as opposed to digging deep into full removal just in case we ever decide to add a wall sconce or something.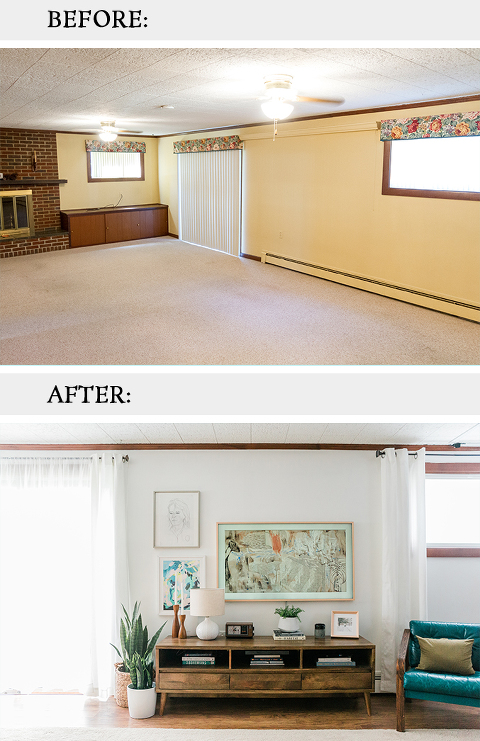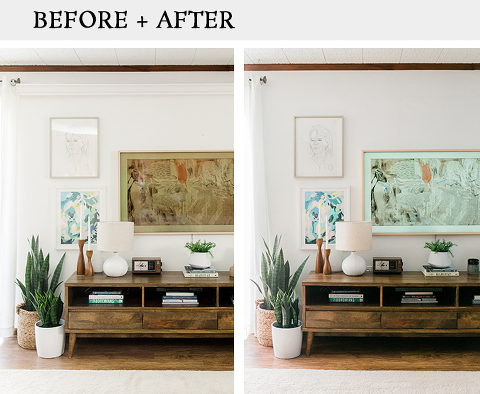 The difference may look subtle in these photos, but it's a major upgrade when you see it in person. At any rate it's nice to finally have open white space above the TV now, and I feel good knowing a little bit more about our retro home, too. I never like turning a blind eye to fixtures I don't understand, so having this one conquered feels like a job well done.
Oh, and, in case you noticed the different lighting of our TV in that Before/After image, don't worry! That's just a decent representation of the power-saving mode of our Samsung Frame television. It changes the cast of the idle digital artwork depending on the time of day, as you can see really well in the side-by-side photo above.
You can learn more about our TV here, and feel free to let me know in the comments what you think about our quick fixture removal project! Would you have even bothered to take it down? Let me know below.