Okay, so I can't really claim to know my stuff when it comes to designing a minimalist home (just one look at our home tour will prove that we're not great at simplifying), but as someone who at least appreciates minimalist décor, I've picked up on the fact that these spaces celebrate form meeting function.
In other words, since minimalism is based on the idea of having less, that often means that decorative accents play double duty as functional pieces, too. Take, for example, clocks. Minimalist pros seem to have cracked the code that these ultra functional devices can also act as beautiful art in a space.
To see what I mean, all you have to do is picture any one of these 12 neutral clocks sitting pretty in an all-white space with nothing more than maybe a potted plant to complete the look. So simple, right?!
Minimalist Clocks For A Neutral Home
1. Wood LED Digital Desk Clock
2. Carlo Marble And Brass Wall Clock
3. Flip Clock
4. Driini Wooden Analog Minimalist Desk Clock
5. Oslo Radial Brushed Brass Wall Clock
6. Extra Large Display Digital Alarm Clock
10. JENSEN Digital Alarm Clock Radio
11. Desi White Marble Desk Clock
12. Project 62 Black Wall Clock
Tell me: do you consider yourself a minimalist? Are you good at parring things down to just the bare (albeit beautiful) necessities? I'm trying to get better at it, but I do love pretty things—and lots of them. I'm going to try my best this year to get rid of even more, though, and swap our busier-looking functional items out for more neutral options.
Maybe our clocks collection is a great place to start! We already have #6 in our master bedroom, but I'm also eyeing that Marble Desk Clock for my office. Which minimalist clock is your favorite from the list above?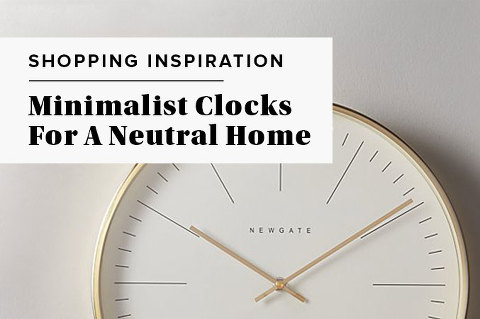 *I earn a small percentage from purchases made using the affiliate links above. Affiliate links are not sponsored. Rest assured that I never recommend products we wouldn't use or don't already love ourselves.