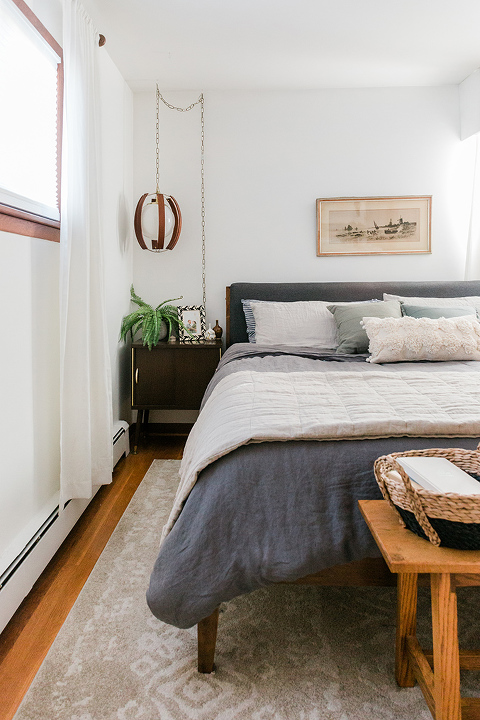 Happy Monday! Quick question for you: have you watched this video on my YouTube channel yet? It's the one where I take you room by room through our house talking through all of our very favorite secondhand furniture finds. In keeping with the tradition set by my #ThriftStoreScore series here on the blog (the first of which went live all the way back in 2012!), I instinctively called the furniture throughout my video "thrifted."
While most people in the comments let my careless wording slide, a few did call me out for naming some of our more expensive antique finds "thrifty." And, honestly, they were so right! The $500 dining room table we funded thanks to a generous wedding gift, for example, can hardly be placed in the same category as some of the retro tables that you guys score for just a handful of bucks at your own local charity shops.
So, essentially, I wanted to make sure I started this post with the tiny disclaimer that our latest #ThriftStoreScore isn't so much on the "thrifty" side as it is the "SCORE!" side. I still consider it an incredible, once-in-a-lifetime find, even if it did cost quite a bit more than most truly thrifty artwork. Maybe it's time for a series title change? At any rate, let's get down to the story behind this pretty secondhand print.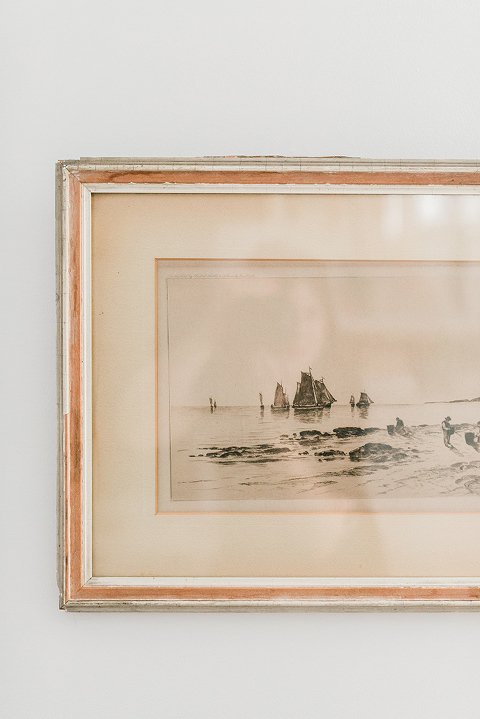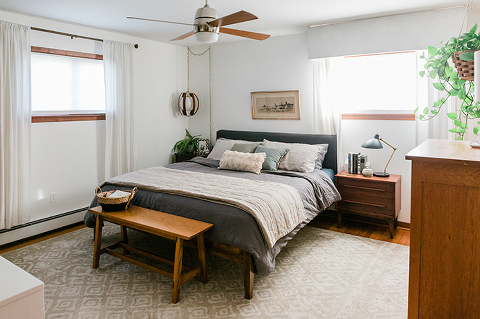 The piece of art was found at one of my favorite antique stores in nearby Stuarts Draft, Virginia (for anyone local, it's this one). I can't remember if I've talked about it here on the blog or not, but I'm slowly working to replace the mass produced pieces I've gotten from Target and Minted over the years with new and vintage original art. While I love both of those brands so much, I'm excited to start curating an art collection that's completely unique to our home and 30-something adult tastes. Is anyone else feeling the urge to do the same?
Anyway, I wanted to mention it because one of the first pieces I chose with that concept in mind was the vintage seaside etching I'm talking about in today's post. The print is original and signed (see it faintly written out there in the corner above?), which made the $50 price tag seem reasonable to me. The old custom frame and mat are both very worn and discolored from age, so I think I'll eventually have the art piece reframed, but it's fine for now. The frame definitely adds to the character of the art!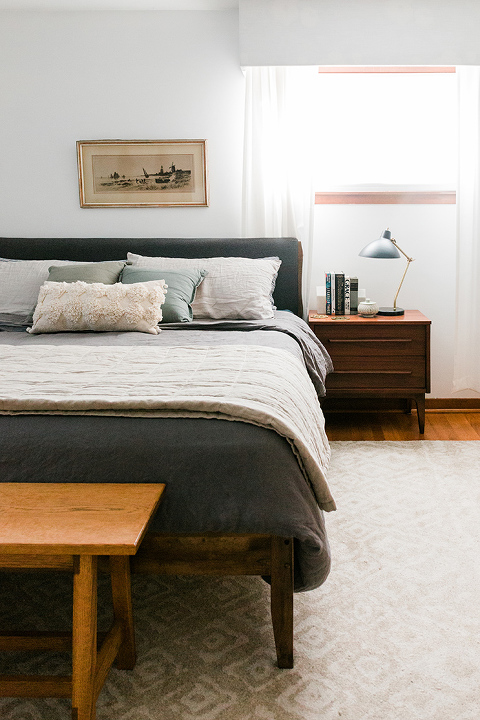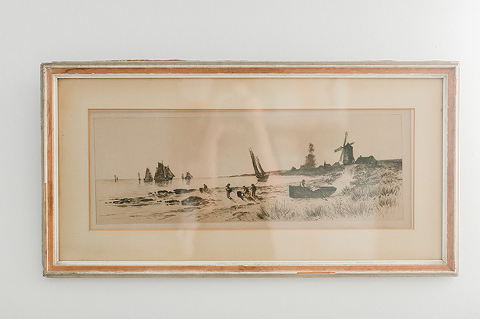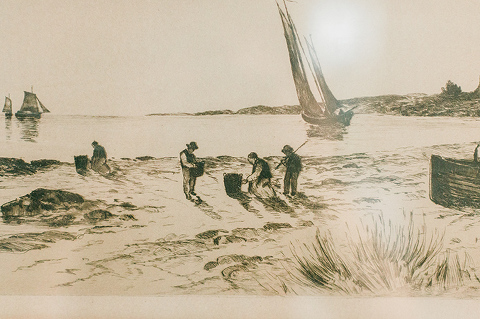 One of the main motivations behind my purchase of the piece was actually this photo of a bedroom designed by Studio McGee. I'm a big, big fan of that design duo, and ever since picking up on how they tend to fill the walls above client beds with long, thin framed art I've kept my eye out for something similar to go over our own bed.
This seaside piece feels just right. It's exactly the silhouette I was hoping to find for that awkward, slightly-squashed space above our headboard, and I also can't help but think that the traditional look is the perfect counterpoint to our modern bedroom furniture, too.
What's your immediate reaction? Was $50 too much to spend on it, or are you in support of the idea of investing in original art when it feels right for a particular space? Let me know in the comments!