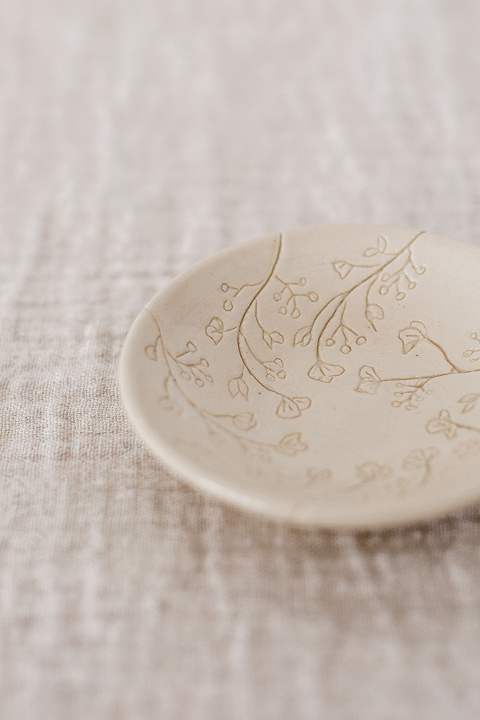 I just love pottery launch days…They're filled with so much anticipation and excitement because I finally get to ship these handmade pieces off to the homes they were always meant to be in. It's so thrilling to me as a small business owner to picture you guys enjoying your DGD Pottery pieces all across the country. So, where will today's collection of six new cups, dishes, and bowls end up? Let's find out! But before we get to all that, keep scrolling to learn just a little more about the pieces in this latest batch.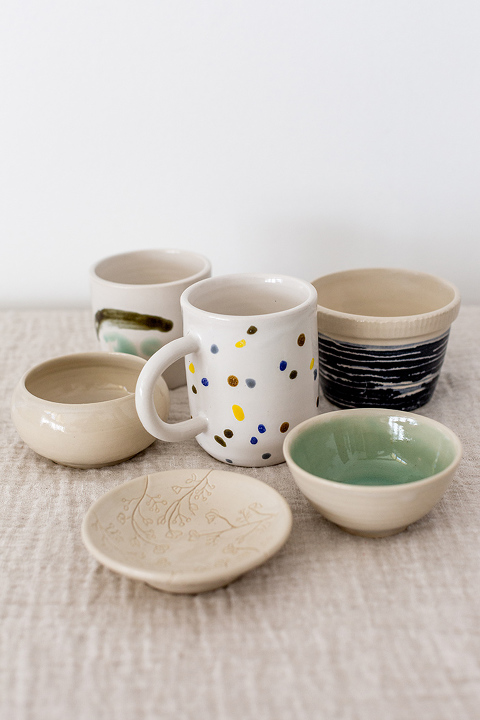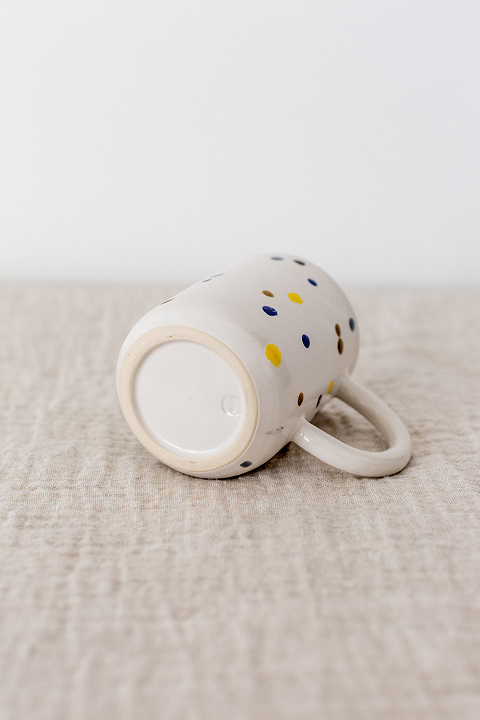 One of my main goals this year with my pottery is to find a few shapes and forms that I'd like to repeat. In other words, consistency is something I'm still trying to master. I'm really eager to start honing in on the types of silhouettes that feel right for me, and the mug in today's collection is a top contender for something I'd love to recreate. So, if it speaks to you, too, definitely keep an eye out for many more like it in lots of different colors and patterns. Maybe oversized circles next?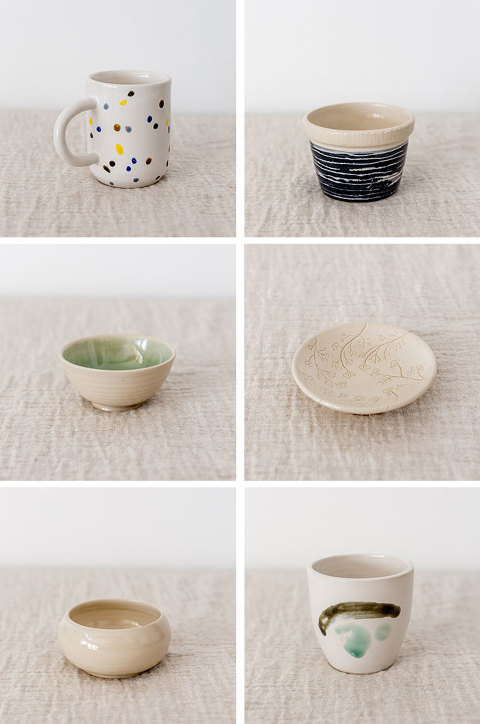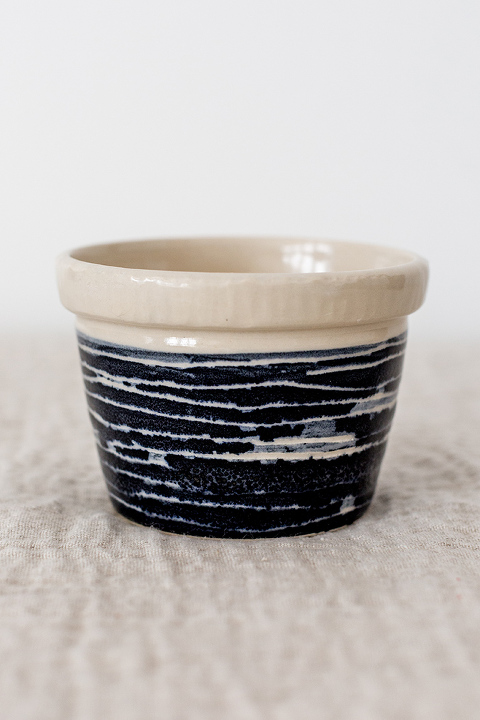 Like most gals in the age of Pinterest, I'm a sucker for green succulents and small house plants, so I'm also really excited to release my first-ever flower pot. I tried to be really intentional with the garden-inspired shape on this little abstract striped pot, and can see it sitting pretty on a nightstand or kitchen window sill playing host to live greenery. Can you picture it?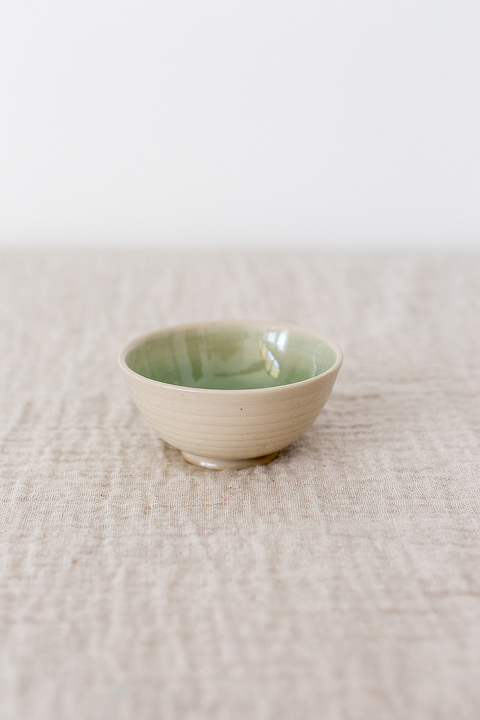 I hate to play favorites, but if I had to choose just one from today's launch, it would be this mini bowl. As you've probably noticed over the past year, I've been really drawn to Japanese ceramic design, and this little dish speaks to that love with its ultra thin walls, angular foot, and the subtle ribbing on the sides. Make sure you click through to the listing here to see all of the intricate details, including that punch of minty green on the inside of the bowl!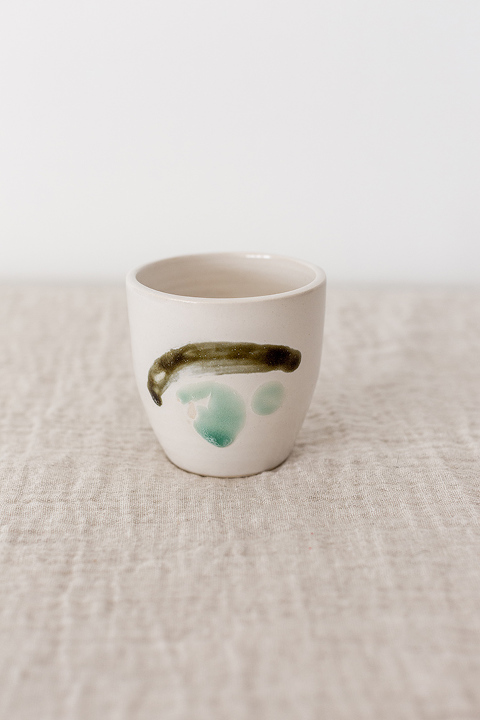 While some pieces are on the more precise side, like that mini minty bowl, others are a little more abstract and free-form. Take that cup above for example. I wanted to give the simple shape a bit of pizazz, so I took a paint brush and went a little crazy with black and blue glaze on top of the white. The imperfect brush strokes give this one extra personality that makes it stand out from the crowd.
For some reason, I love, love, love the idea of using this one to hold makeup brushes or cotton balls in a minimalist bathroom. I may be biased, but I feel like that subtle pop of color is all you need to dress up a vanity or set of open bathroom shelves.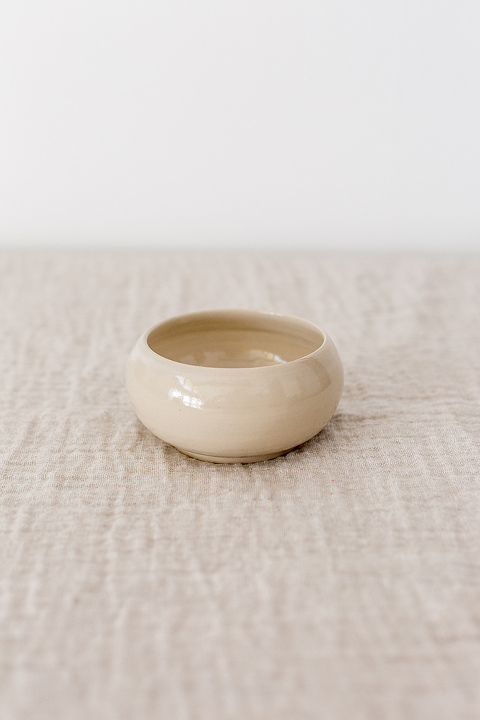 Speaking of minimalism, how about this rounded tea cup? I keep a small journal of pottery ideas within easy reach when I'm at the studio, and this design was one of the first I sketched out on my "must-make" list. Somehow it turned out pretty darn close to what I had pictured, with a tiny squared-off foot and exaggerated curved sides. My next (admittedly lofty) goal is to make a set of four with a matching tea pot, too.
You already know all about the mug above, but I'm so excited to chat for a minute about the carved dish you see below. This piece was actually sold before I even had a chance to list the collection on Etsy, which is just so humbling to me. Have I mentioned how grateful I am for the support you show my tiny little shop?! Well, if I haven't conveyed that quite enough today, just know that it makes me feel on top of the world.
Anyway, I can't wait to try recreating this mini dish in the coming months now that I know just how popular it is. Even though it's sold, you should still be able to hop through to the listing on Etsy to see a few detail shots of the Asian-inspired floral carving along the sides. It actually goes all the way around the piece!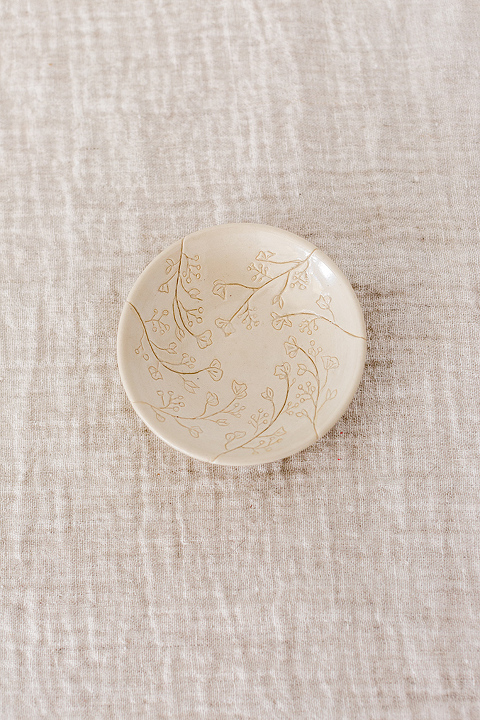 Well, there you have it. That's everything! Click over to Etsy here to shop Collection No. 4 now. Whether you decide to invest in a piece or not, I hope you spotted something special in today's set of six. Feel free to tell me what you favorite dish is in the comments below!