I've said it year after year, and my tune hasn't changed—Valentine's Day still isn't a holiday I get all that excited about. I know, I know…I must sound pretty heartless, but I tend to be of the mind that love should be celebrated every day of the year, and that Valentine's Day, in general, has gotten pretty commercialized—which is a shame!
Please don't get me wrong. If you love Valentine's Day, by all means, do it up! My own sister, in fact, has always been a gigantic fan of the February 14th holiday, so I know I'm probably in the minority here. Despite my feelings about Valentine's Day, I do look forward to seeing all those warm, fuzzy declarations of love pop up across social media the day of the big event.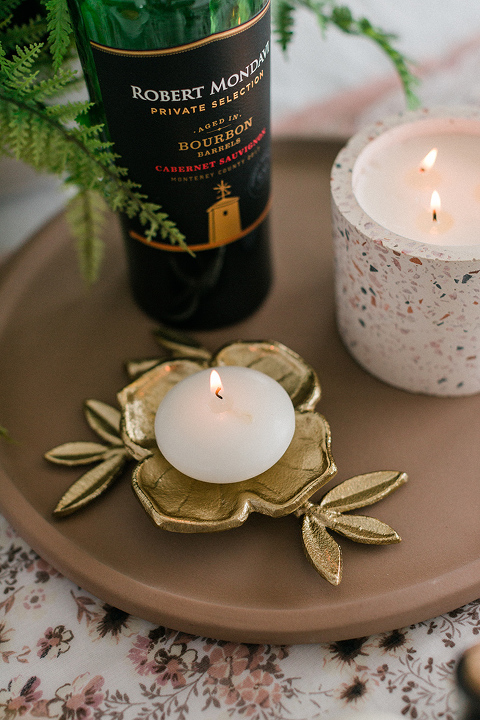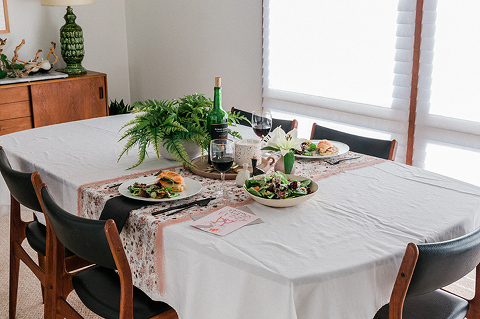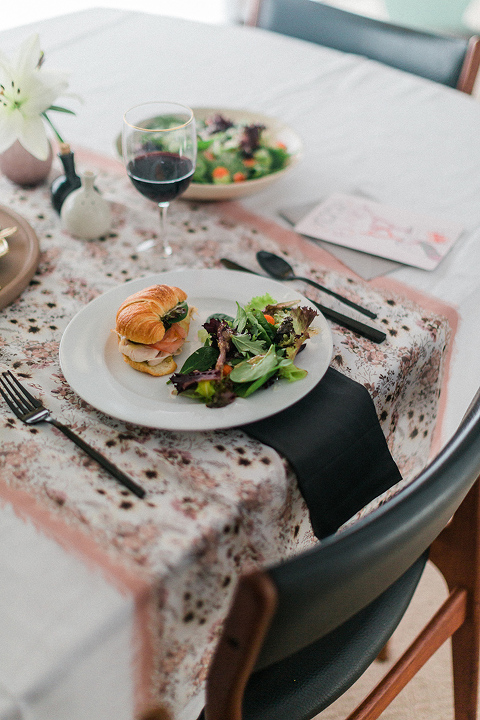 Knowing all of this, it should come as no surprise that John and I won't be making a big deal out of Valentine's Day this week. There will be the exchanging of cards and "I love you"s, of course, but we'll skip elaborate gifts and probably won't be going out to a big fancy dinner to celebrate.
Instead, I thought it would be fun to challenge us to make the holiday feel special this year just by amping up our homemade dinner at home. I experimented with a few tricks in a little trial run one afternoon last week, and it turns out that you really only need to gather a few small pieces to make Valentine's Day feel grand around your very own dining room table. Keep scrolling for the tips I plan to put to good use this Thursday for our real holiday dinner.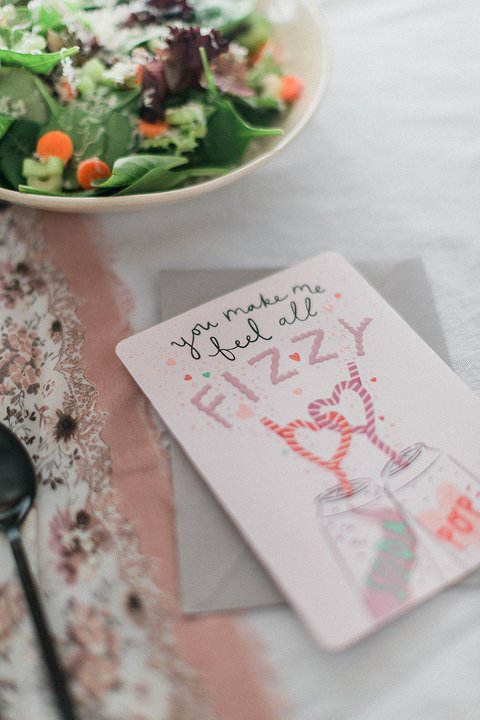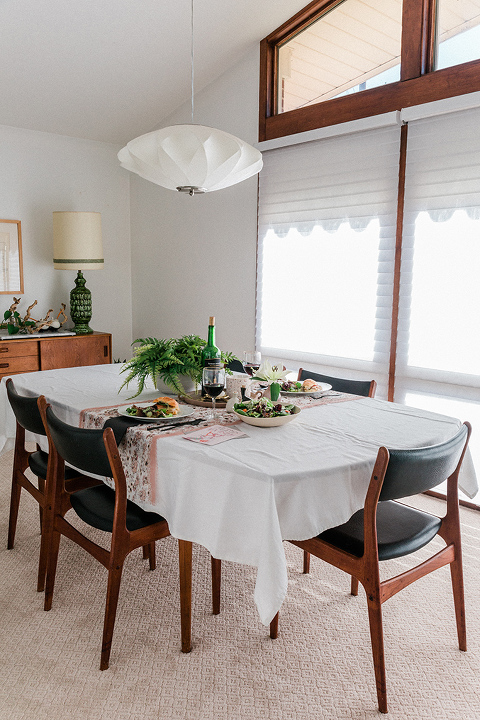 Break Out The Linens
Most days we just use everyday placemats on our dinner table, but for Valentine's Day I wanted to make the table look restaurant-inspired. To get that vibe, I plan to lay down a white tablecloth that billows down the sides for an elegant look. Luckily, this type of "elegance" doesn't require any money spent if you already have the cloth on hand!
To create a sense of intimacy between the two place settings I'll spread a pink runner across the space of the table between our seats. The runner you see pictured in today's test-run set-up is actually a floral scarf that I already owned but repurposed as a table linen.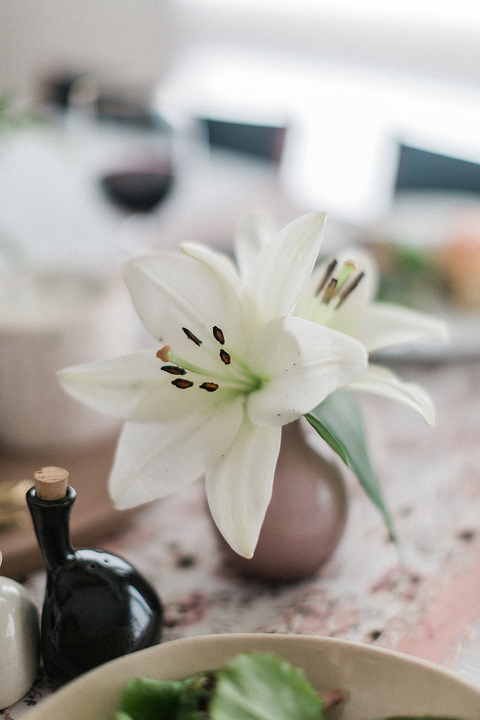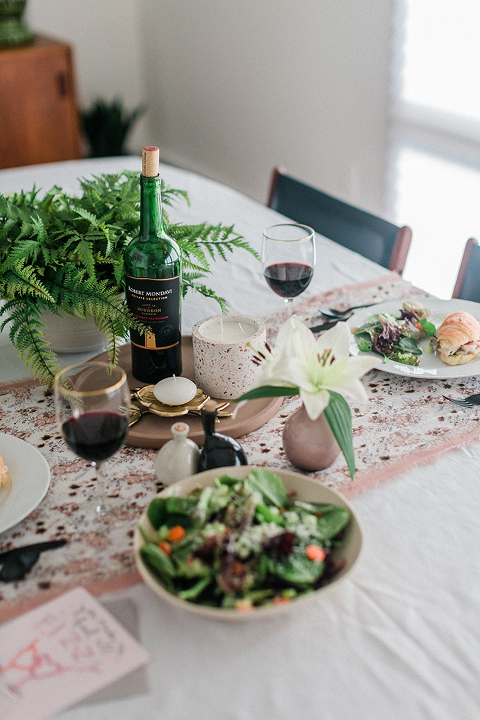 Never Forget Flowers
One of the few things I plan to purchase fresh for our Valentine's Day dinner at home is flowers. Even a tiny bunch of flowers from the clearance section at the grocery store will do. To make them look extra special and restaurant-worthy, just pop a few stems into bud vases and arrange them in the middle of your table.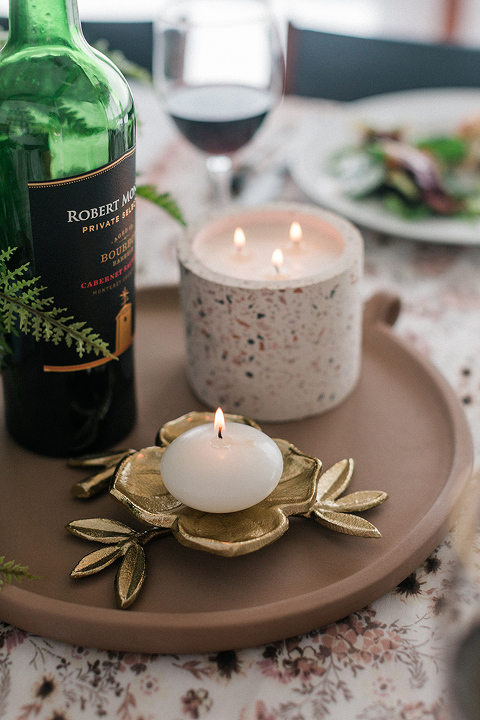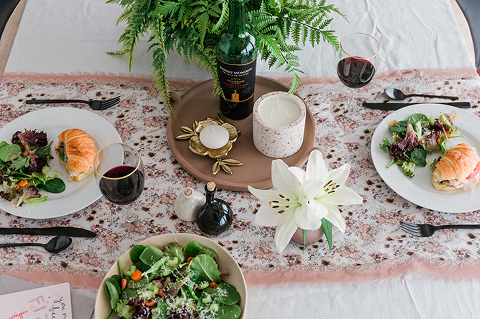 **Resources: Floral Runner/Scarf, Gold Floral Dish, Bud Vase, Tray, Terrazzo Jar Candle, Salad Bowl, Black Cutlery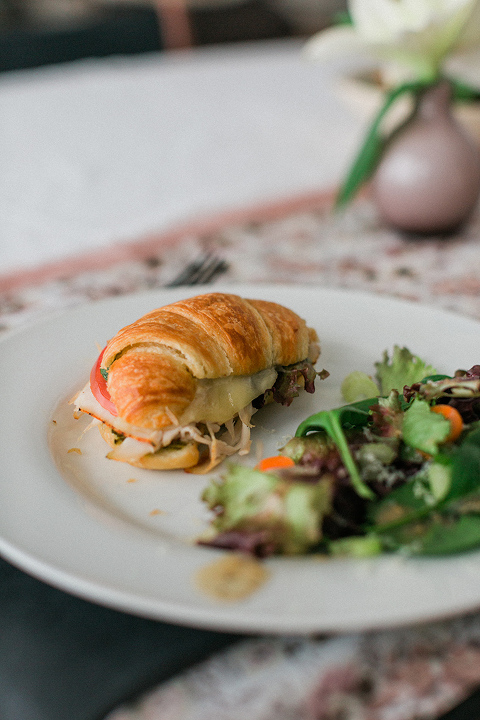 Candles Are A Must
Of course, it wouldn't be Valentine's Day without ambiance, so make sure to pull out a candle or two to light up come dinner time. Most of us keep these types of accents around for special occasions, so it's another way to save money this holiday. Corral a few lit candles in the center of your tabletop on a nice tray to create a centerpiece.
One trick to make a plain votive feel worthy of the special occasion is to place it on a metallic plate, like the floral dish you see on our own table. By itself the little white candle would have felt lost and unimportant, but setting it on a gold dish instantly made it feel grand.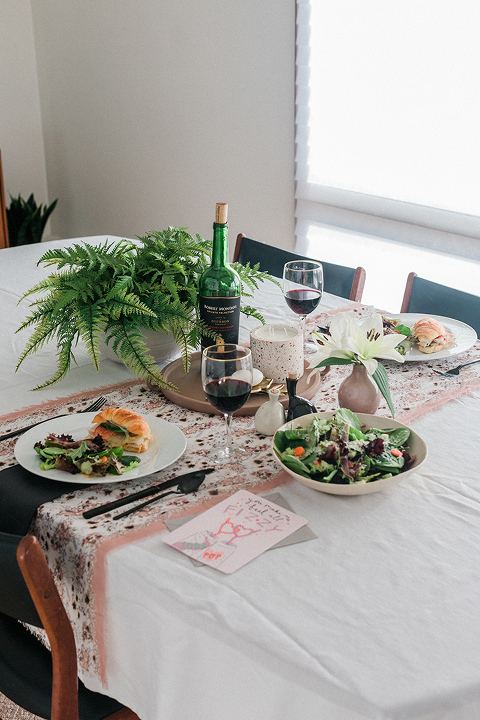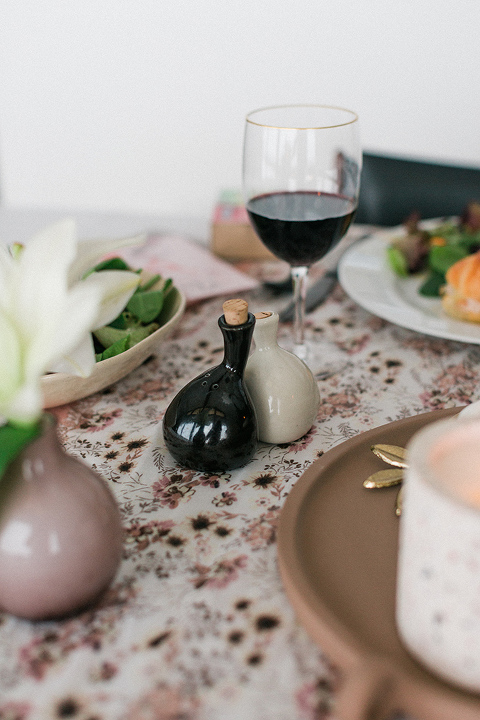 As for food, I say don't feel the need to go overboard! If you try out a few of the decorative tips I shared above, your everyday dinner table will feel anything but ordinary—so much so that even simple chicken salad sandwiches could make you feel like you're out at a five-star dinner on the town. Cheers!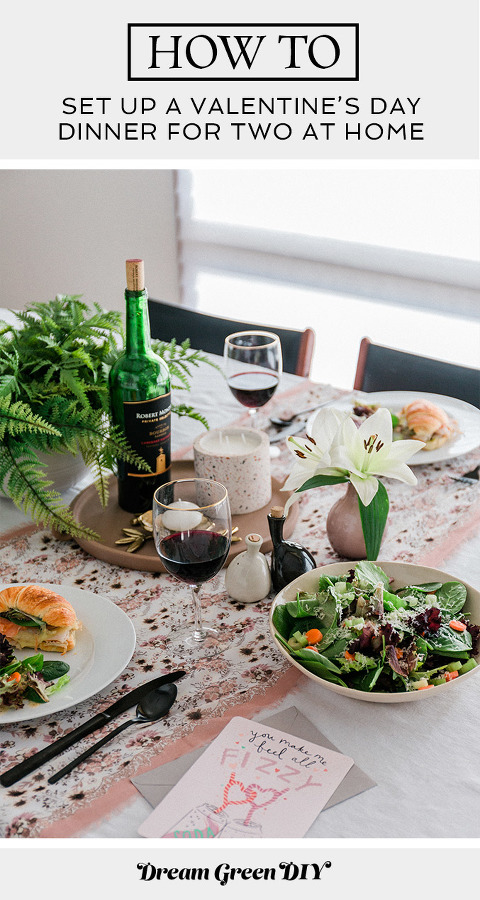 *I earn a small percentage from purchases made using the affiliate links above. Affiliate links are not sponsored. Rest assured that I never recommend products we wouldn't use or don't already love ourselves.