*This post has been sponsored by Behr Paint Company. All thoughts and opinions are my own.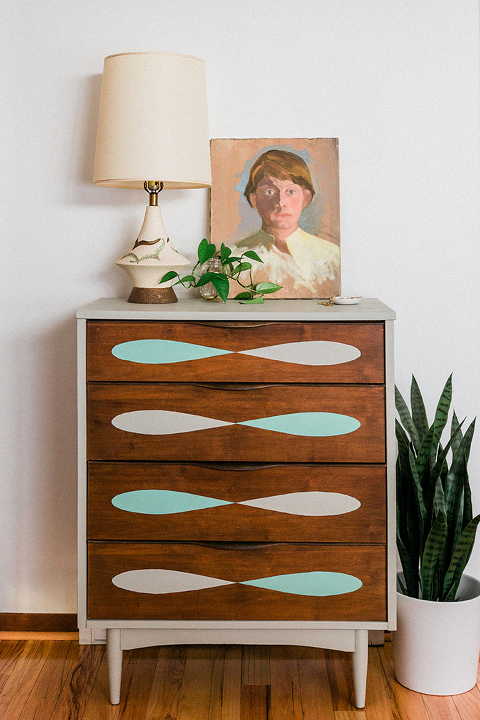 It's finally time to reveal that big furniture project I've been hinting at for the last several weeks! Slip into a fuzzy robe, grab a second cup of coffee, and settle in, folks, because today's DIY tale in partnership with Behr Paint Company is a meaty one.
It all started with an extra beat-up old dresser. I had spotted it toward the beginning of the year at a local thrift store with the price tag of $79. I don't mind admitting that I sort of balked at that price because the dresser was clearly not solid wood (the dated wood veneer on the outside edges had seen better days) and it was wobbly, too. I ended up walking away from it that day but just couldn't get it out of my mind. So, I went back a week later to give it a closer look.
I got down on my hands and knees in the store to inspect the legs and found that a few quick twists of the tapered legs helped get rid of most of the wobble. Even still, I wasn't totally sold on the price, so I asked the woman at the cash register if there was any room for negotiation. She went back to ask the manager, and we ended up settling on $60. Still not quite a steal in my book, but I was excited to shave off nearly $20 from the original list price.
After getting the piece home and giving it an even more thorough inspection, I decided that the dresser still needed extra TLC beyond a simple tightening of the legs—namely, it needed paint. So, with a little help from you guys on Instagram, I chose a retro-inspired teardrop shape for the drawer fronts and got to work making my vision come to life using the Two-Part BEHR® Chalk Decorative Paint System—all the supplies for which I purchased from the paint department at Home Depot.
Scroll on to learn how to get the same look on a tired vintage dresser of your own using my shopping list and printable teardrop template.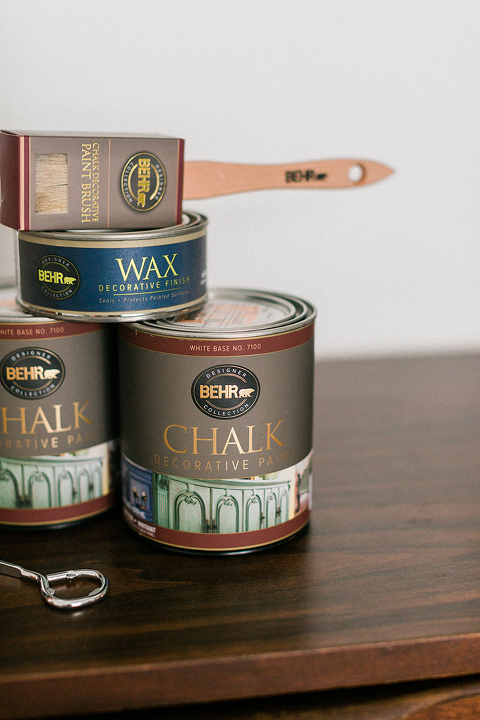 Here's What You'll Need
1. BEHR® Chalk Decorative Paint (I used Picnic Table BCP29 and Silver Celadon BCP40 for this project)
2. BEHR® Wax Decorative Finish (I used 'Clear')
3. 1.75 in. Chalk Decorative Paint Brush
4. 1.875 in. Chalk Decorative Wax Brush
5. Printable teardrop shape template (click here for the free download)
6. Cardstock
7. Scissors
8. Standard clear office tape
9. Level
10. Measuring tape
11. Pencil
12. Painter's tape
13. Drop cloth or scrap cardboard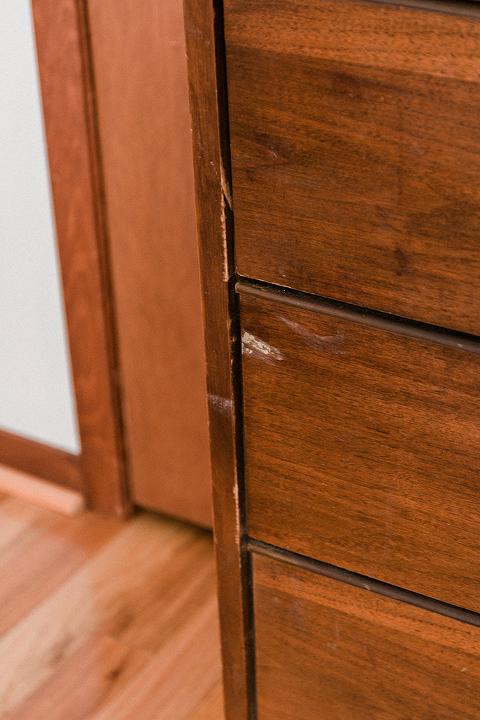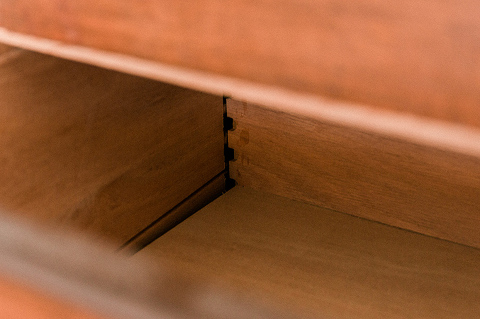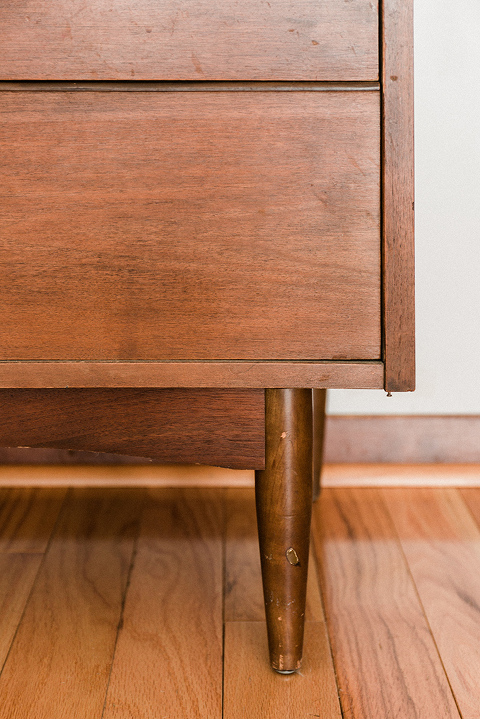 Step One
As I mentioned before, my vintage dresser came with a whole bunch of vintage scuffs and scars (including a dresser drawer that had actually come undone). If your piece of mid-century furniture is looking a little worse for wear, too, go ahead and take some time to clean things up. Use a damp sponge or plastic scraper tool to gently remove old dirt and grime, and you may want to spritz the inside of the drawers with a water and vinegar mixture to help get rid of any lingering musty smells.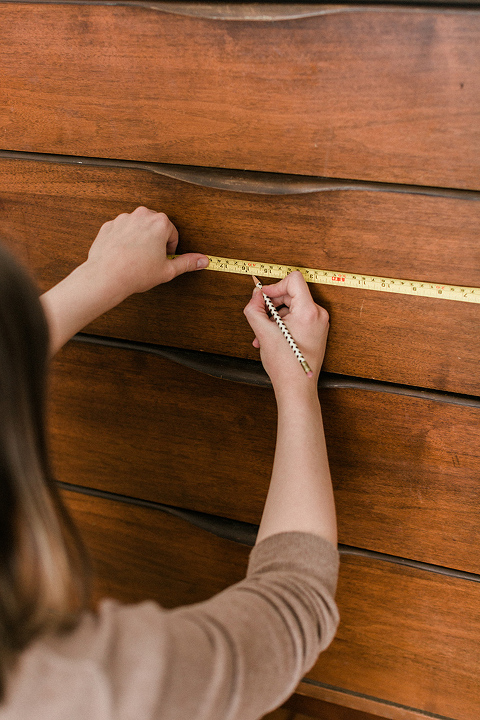 Step Two
Use a measuring tape to find the center of each drawer front. You'll want to measure side-to-side and top-to-bottom to get the most accurate center point. Mark this lightly with a pencil, and repeat on all of your drawers.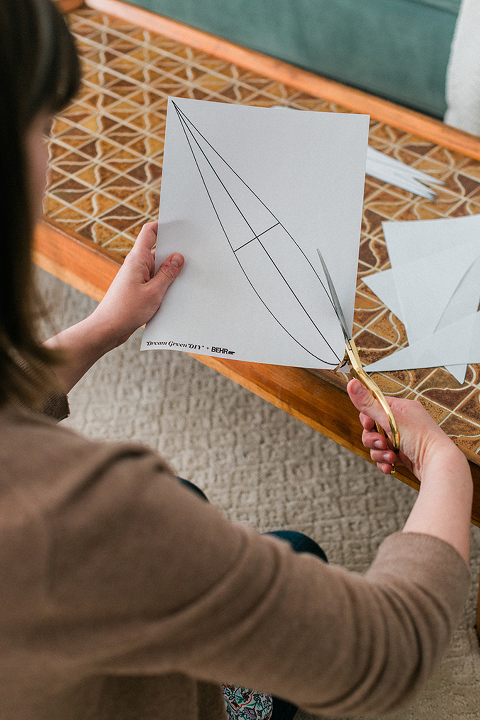 Step Three
Download the free teardrop shape template that I created for you, and print it onto cardstock as many times as you'll need. Note that this design calls for two teardrops per drawer front, so I printed eight shapes for my 4-drawer dresser. Cut out the shapes along the lines using scissors.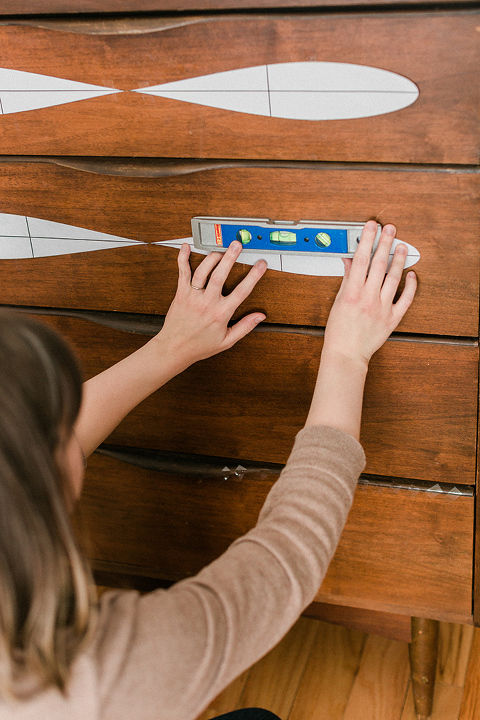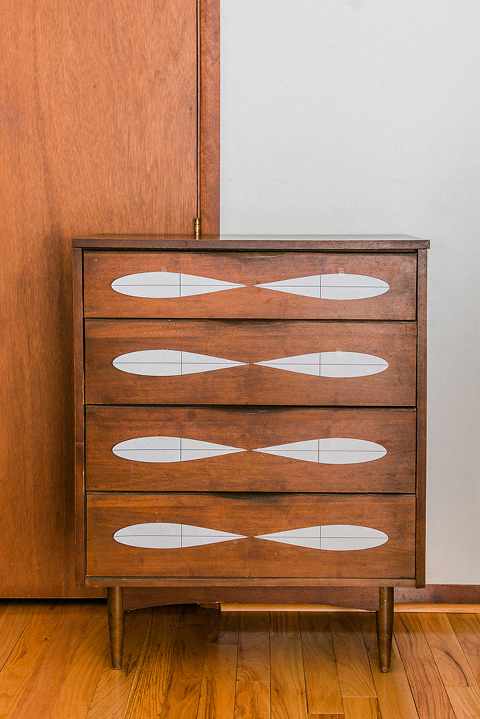 Step Four
Use standard clear office tape to attach the cut teardrop shapes to your dresser drawer fronts, with their points touching in the center. I included handy cross section lines on the template so that you can use a level to make sure the shapes are nice and straight.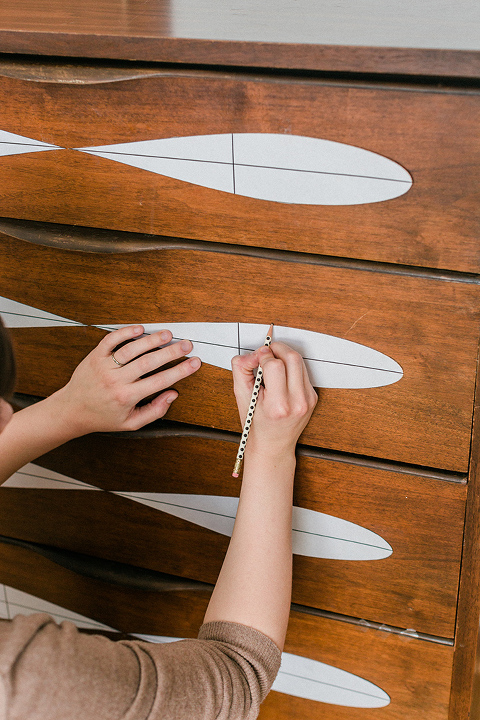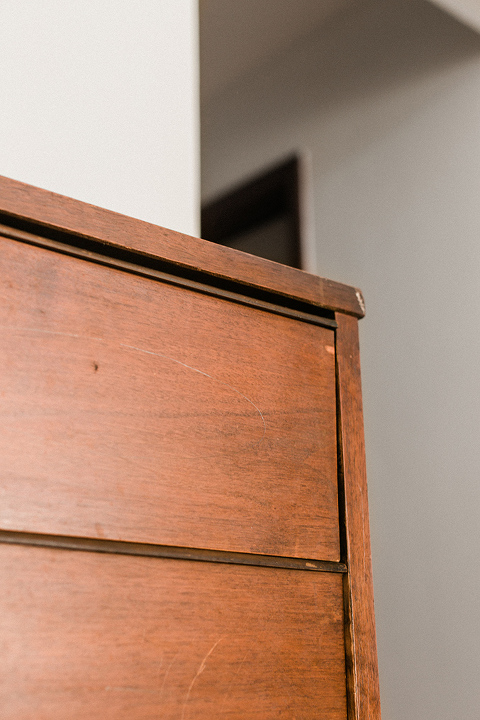 Step Five
Gently trace the teardrop shapes onto your drawer fronts using a pencil. Then, you can peel away and discard the shapes. You should now be able to see faint pencil lines marking where to tape in the next step to follow.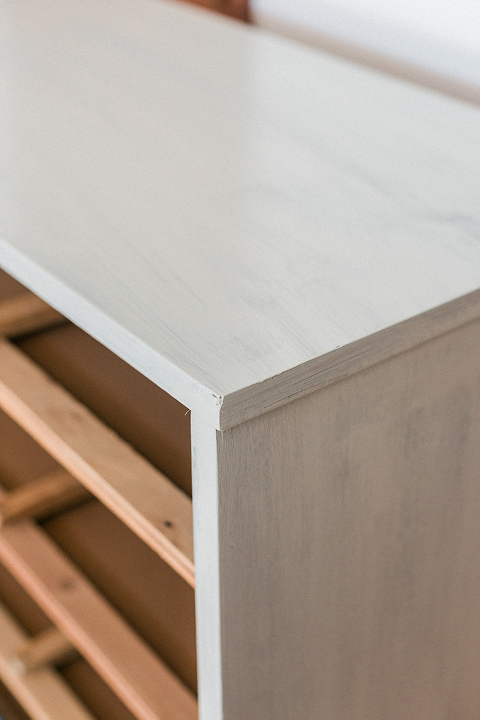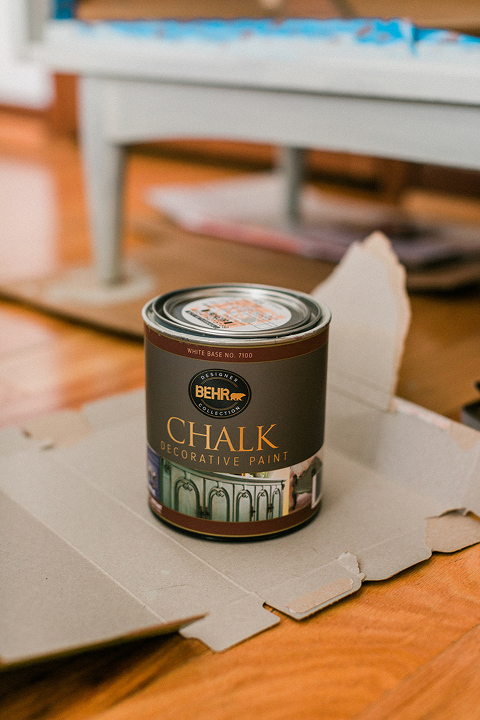 Step Six
Pull out the drawers from the dresser and set them aside. Then, paint the entire exterior of your dresser using your BEHR Chalk Decorative Paint color of choice. In the example you see here, I used Silver Celadon BCP40 on the outside, painted on in three coats with a 1.75 in. Chalk Decorative Paint Brush. Make sure you allow the paint to dry for a couple of hours between coats.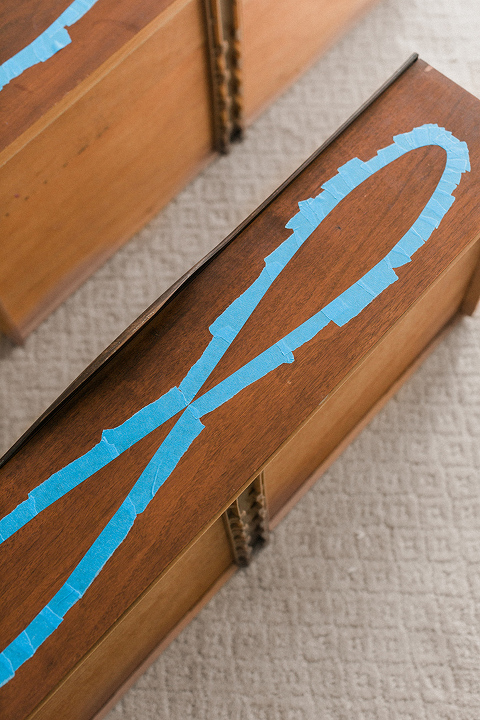 Step Seven
Meanwhile, in between the paint drying on the outside of your dresser, you can move on to taping off the teardrop shapes. Use small individual lengths of painter's tape to make your way around the curves. I expected this step to take a really long time, but it only ended up costing me about 15 minutes per drawer! Put on some music or a podcast, and this step will fly by.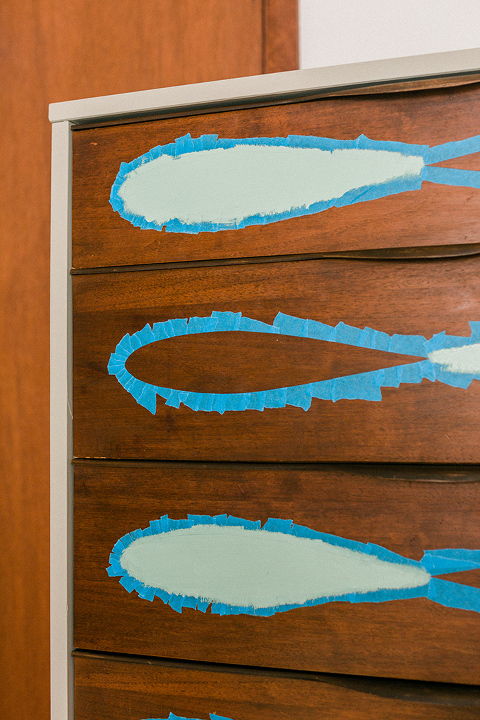 Step Eight
When the paint on the outer edges of your dresser is completely dry, go ahead and gently push the drawers back in place. Use the same 1.75 in. Chalk Decorative Paint Brush to paint the teardrops in alternating colors; I used Picnic Table BCP29 and Silver Celadon BCP40 for this project.
Keep painting until you can't see the wood drawer fronts beneath. Allow the paint to dry between coats as you did before. It's easier to paint the teardrop shapes while the drawers are pushed into the dresser like normal, and they can dry easily there, too, since they'll be up and out of the way.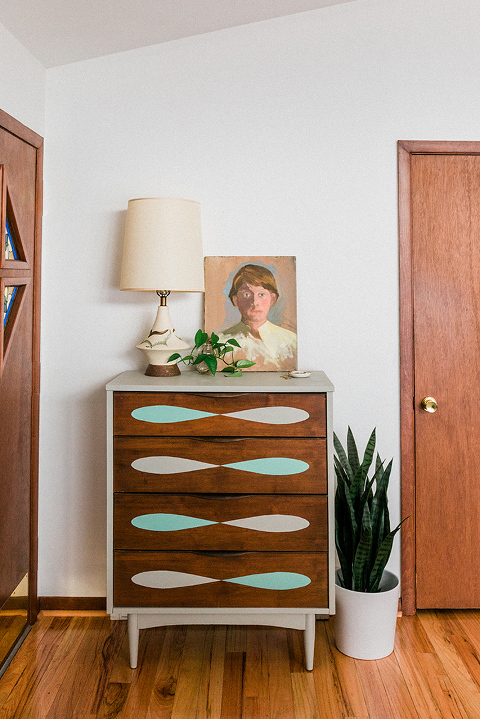 Step Nine
Wait at least two hours for the paint to fully dry, then give the entire dresser—outside edges, legs, painted teardrops, and exposed wood surfaces—a few thin and even coats of BEHR Wax Decorative Finish using a 1.875 in. Chalk Decorative Wax Brush. Give the wax plenty of time to cure before styling it with everyday bedroom essentials—things like a lamp, art, a plant, and a dish for jewelry.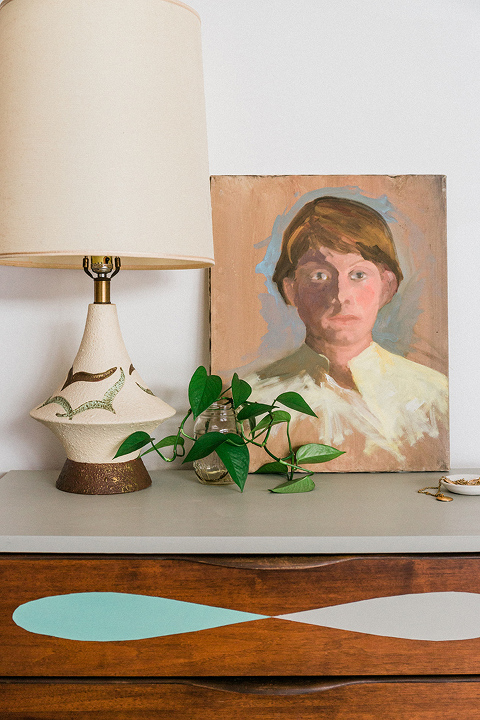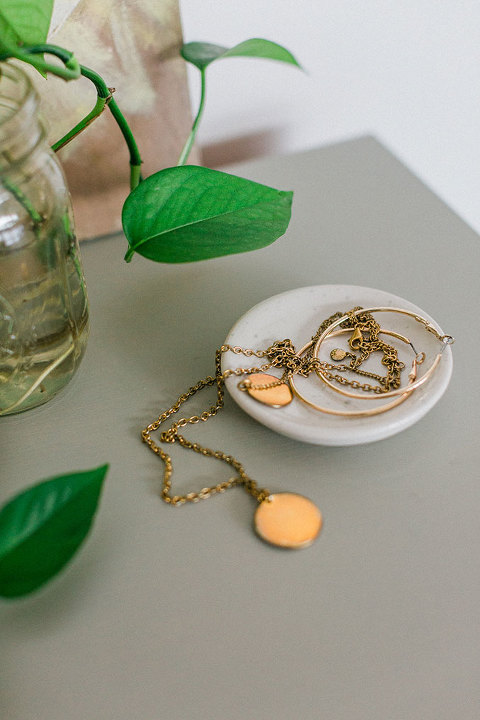 Although the dresser had a nice shape before, it just felt so plain. Plus, the dinged-up surface looked really tired. It needed a refresh. The updated painted exterior helped hide years of wear and tear, and the teardrop shapes on the drawer fronts makes the piece pop. You can visit BEHR's color detail page here to see the full collection of color names and numbers in case you'd love to try a different combination on your own dresser—maybe Carousel Red BCP04 and Vintage Mustard BCP13?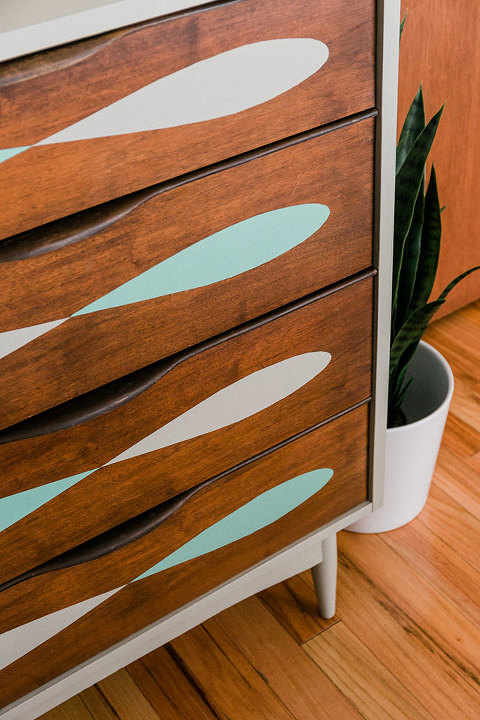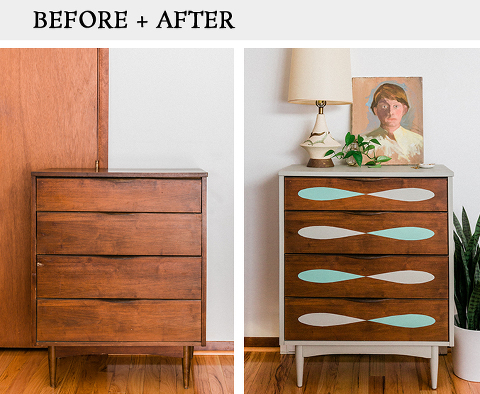 One thing I didn't anticipate having such a big impact on the makeover was the BEHR Wax Decorative Finish. After finishing up the painting steps, I walked backward to check out the overall look and loved it exactly as it was. Not wanting to skip a step, though, I followed through with the directions and layered the wax over the entire dresser, too. That moment turned out to be a complete game-changer!
If you look at the before/after graphic a couple images up, you can probably see how the wax really brought out the grain detail and color of the wood drawer fronts. The BEHR Wax Decorative Finish will also help protect the paint job I worked so hard on. Our cats are always jumping up on the furniture, leaving claw marks behind on unfinished pieces in our house. The wax on this dresser has already helped prevent visible damage from their paws.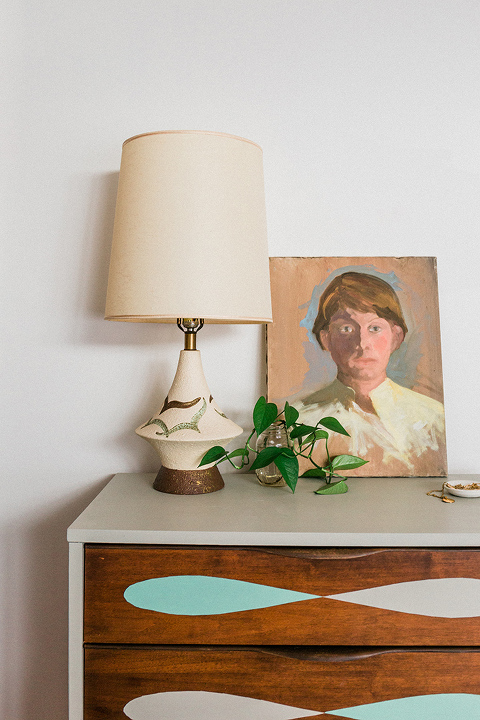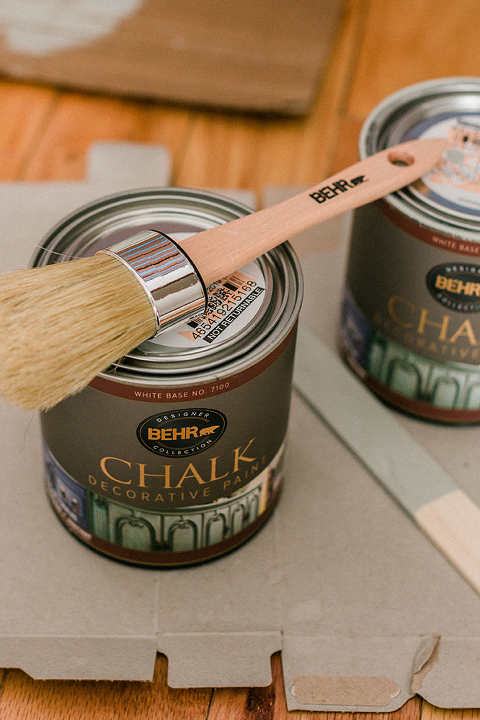 So, what do you think? Are you as excited by this as I am? The best part of all is that I have a ton of paint left over, so picture me wandering around our house looking for other pieces of retro furniture to make over. In the meantime, let me know in the comments below what type of piece you would make over with BEHR Chalk Decorative Paint. Find your nearest Home Depot for supplies by clicking here.