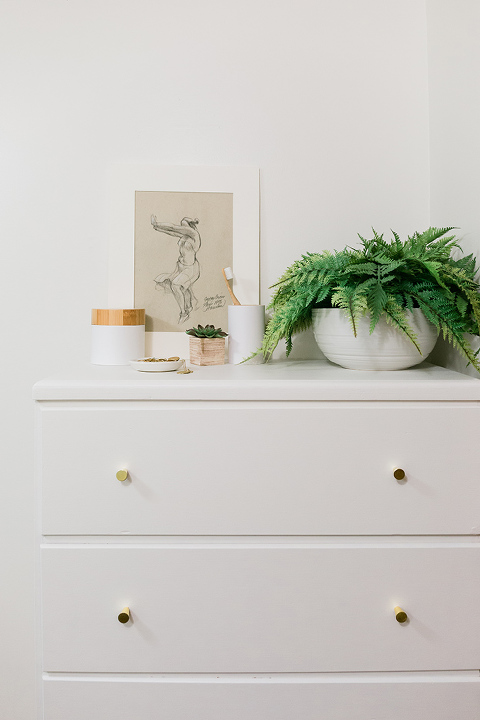 Last year was a bit of a doozy in terms of projects for the house. We had our chimney overhauled, the AC wall units deep cleaned, we renovated our hall bathroom with Home Depot, got the boiler inspected and tuned up, and we also had a brand new roof put on the house. It was awesome to cross so many major projects off our list, but, as I'm sure you can imagine, our house budget took a major hit because of it.
For that reason, John and I are doing our best to turn a (responsible) blind eye to any big renovations in 2019—at least we're hoping to. Our landscaping could stand to be addressed and there are a couple of large-scale organization projects we'd like to tackle in our basement, but those types of things are going to have to be put on the back-burner until next year so we can build our savings back up.
At any rate, instead of thinking BIG lately, I've had to shift my attention to the smaller, more budget-friendly things that have been on my list since we moved into the house three and a half years ago. The first thing to get tackled? The dated built-in wood dresser in our hall bathroom.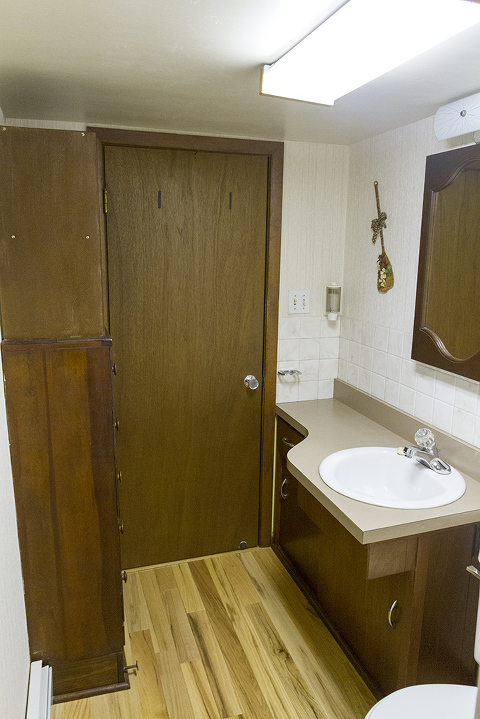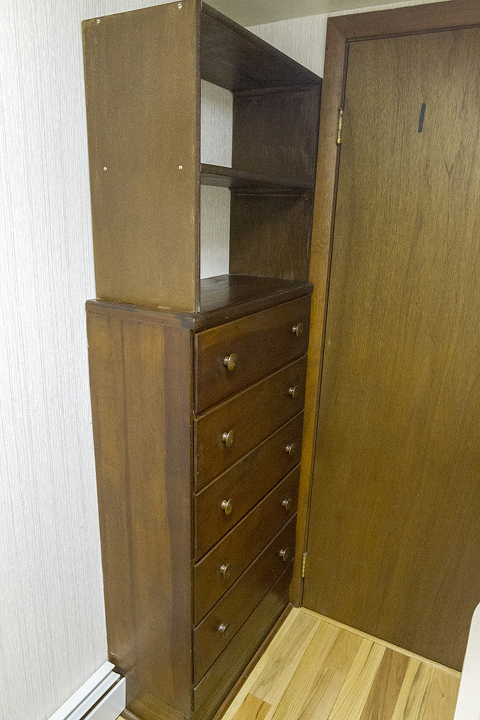 You saw when we unveiled our totally made-over bathroom last summer, complete with a brand spankin' new custom shower and fresh new hardware throughout, but one part of the makeover that didn't quite get done in time for the tour was the dresser you see pictured above.
We love having all of those drawers built right into the room, but the piece of furniture was looking dated, even after we switched out the hardware, as you saw here. I figured the best way to live with the dresser but also make it disappear visually was to paint it to match the walls surrounding it. And that's exactly what I did.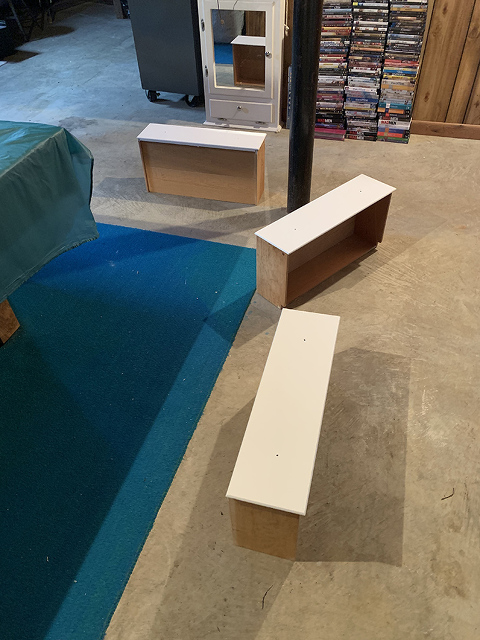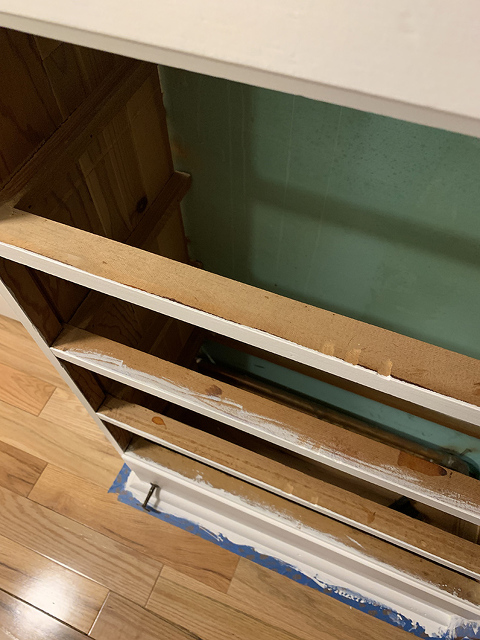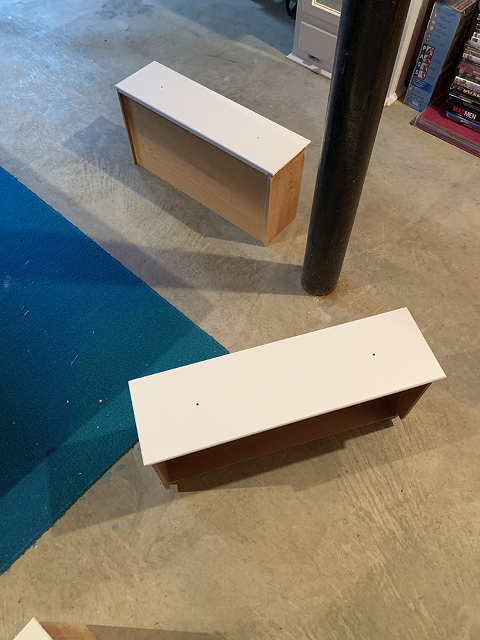 (Please forgive my iPhone photos here!)
I removed the hardware, laid some painter's tape down, then gave the dresser drawer fronts and body three coats of white primer, letting each coat dry for about an hour in between. Then, I went back over everything with another three coats of white topcoat paint to match the bathroom walls. In case you're curious, the white paint is called Snowbound from Sherwin Williams, and is my very favorite warm white paint. We used it in both our upstairs and downstairs bathrooms.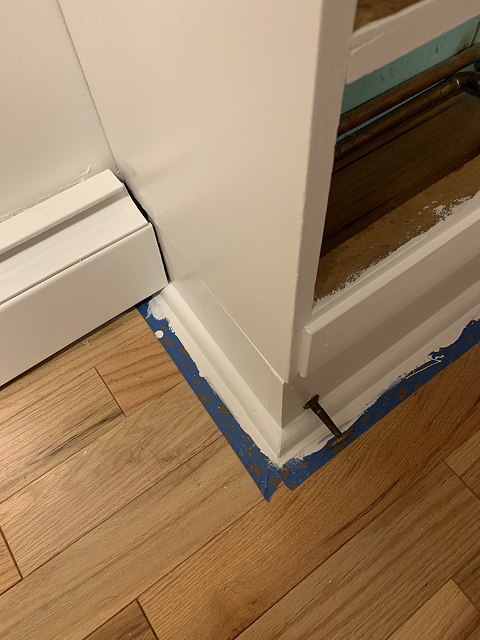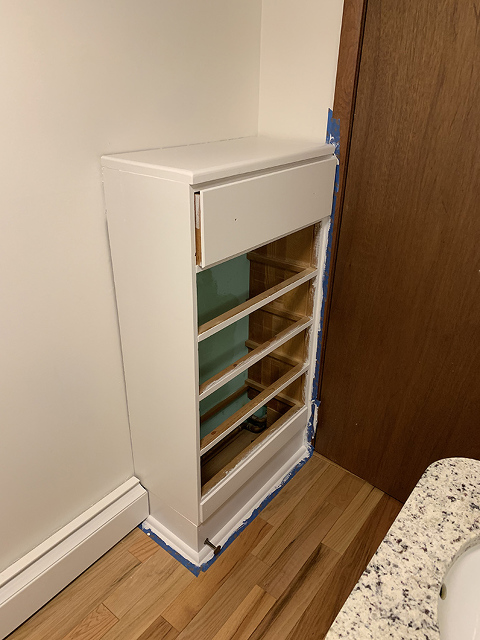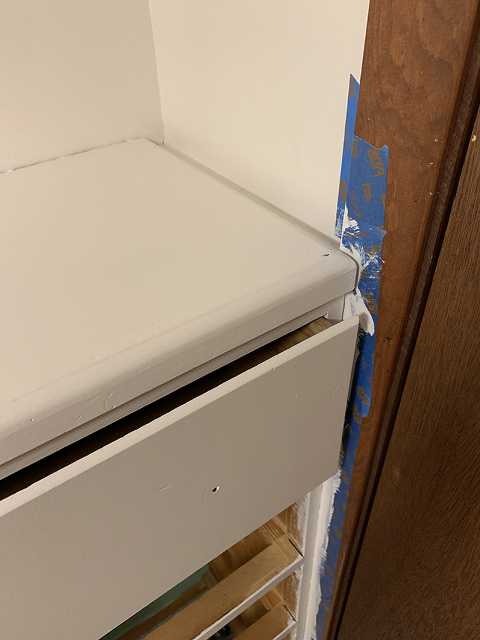 After the final coat of paint was finished and had fully cured overnight, I added new gold hardware and then put everything back together again. I may be biased, but I think the difference is pretty remarkable! I love it, and definitely wish that I hadn't put this "someday" project off for so long.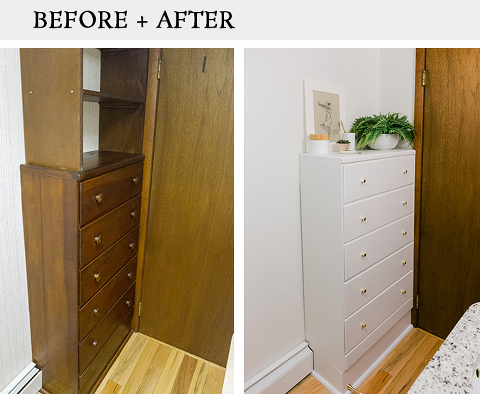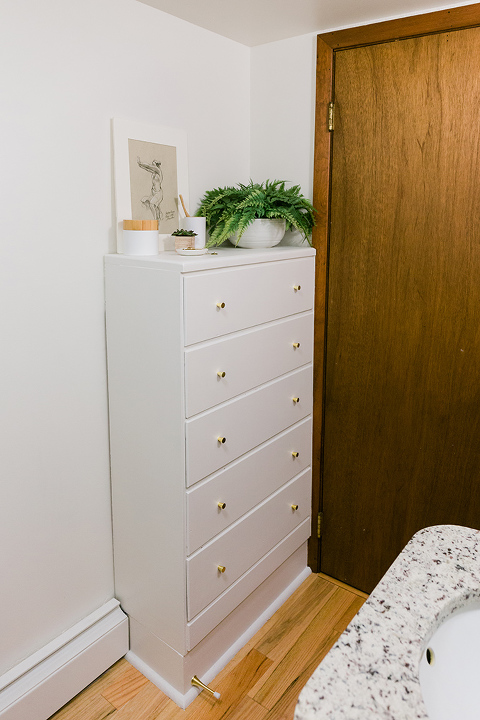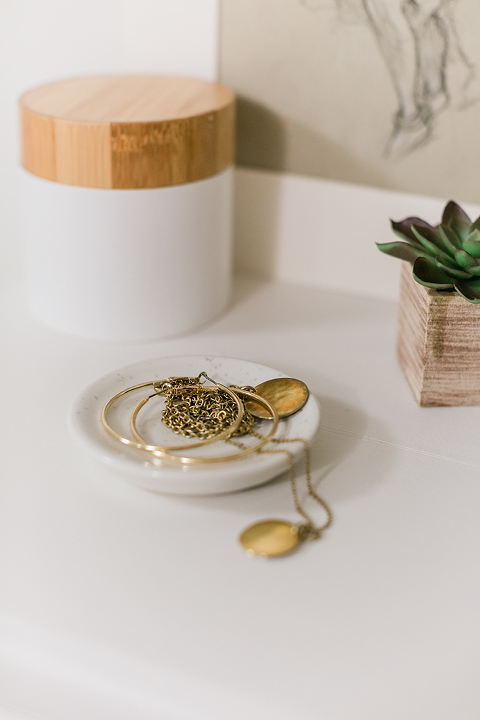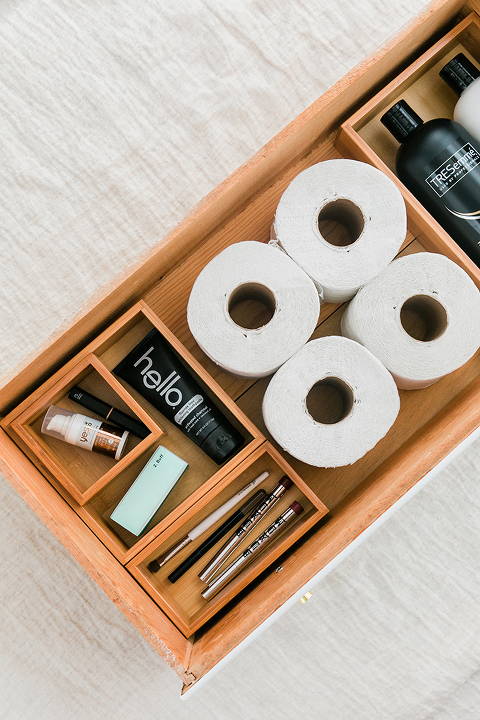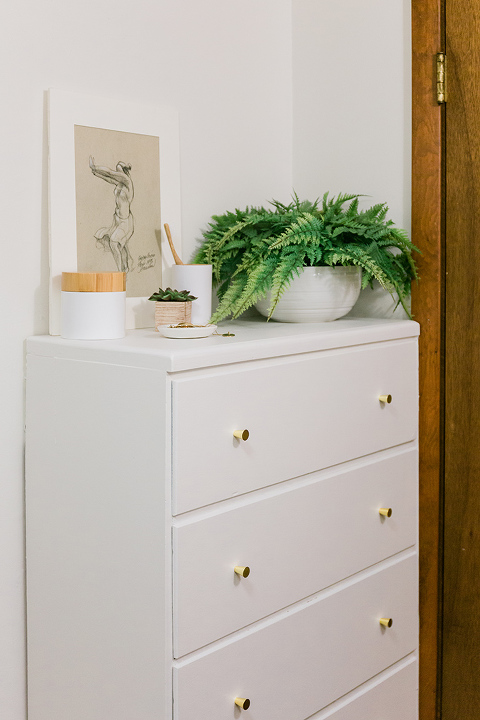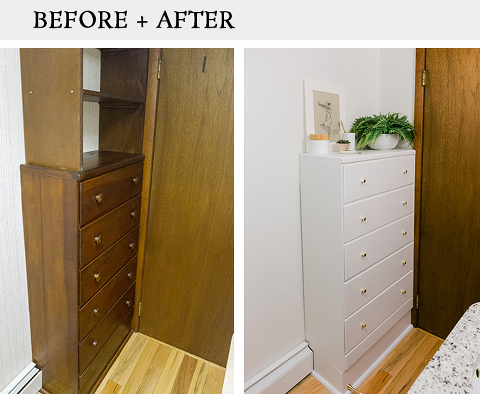 Looking at that side-by-side "Before/After" image above, doesn't the new white dresser make the room look so much bigger? Aside from removing the upper shelving unit from the top of the dresser, nothing else has changed but the color, and I can't help but think that the paint completely transformed the look and feel of the space as a whole.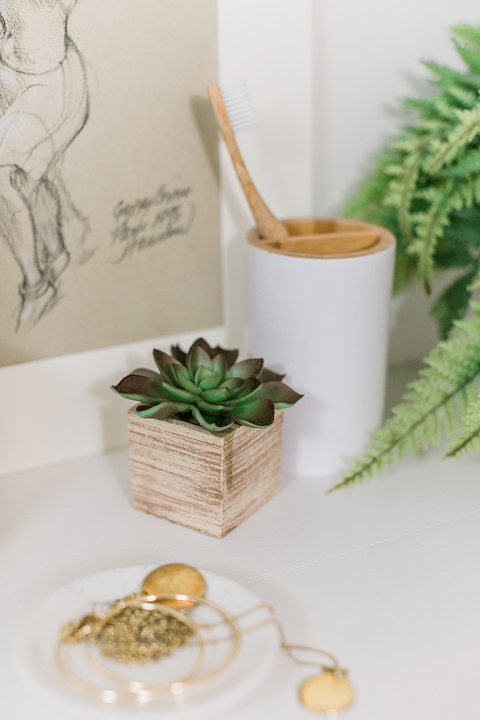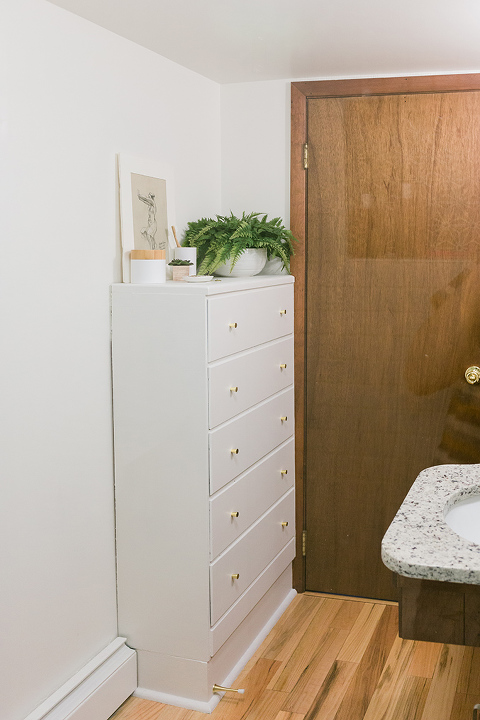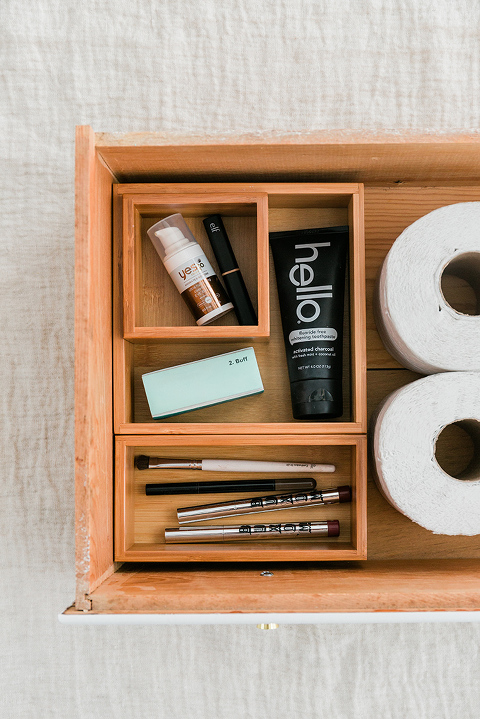 To celebrate our fresh "new" white dresser, I wrote a big story for Hunker with five ways to organize your bathroom drawers. Over there I'll teach you how to use everything from travel packing cubes and bamboo trays to whip your vanity or dresser drawers into shape. See the post here, but before you go, make sure to share your thoughts about our dresser makeover in the comments right here!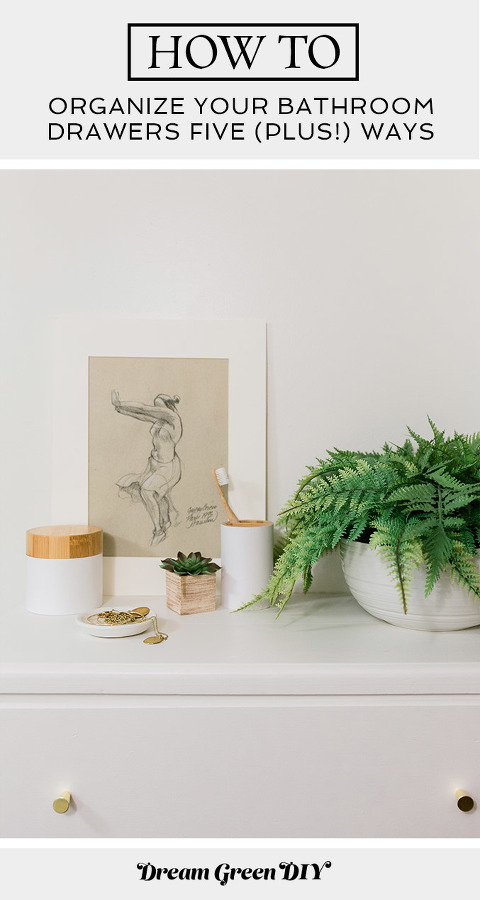 *I earn a small percentage from purchases made using the affiliate links above. Affiliate links are not sponsored. Rest assured that I never recommend products we wouldn't use or don't already love ourselves.