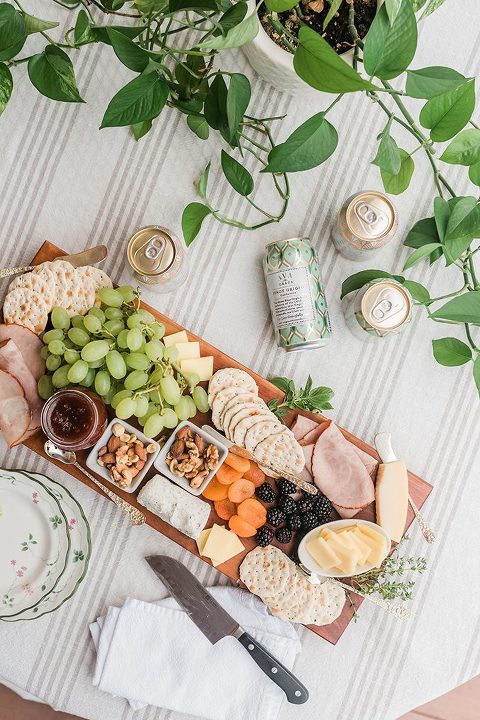 Ahhhhh, summer…Is there anything sweeter than the beginning of this lazy, hot season?! Truth be told, fall is my absolute favorite time of year, but even still I'll always have a soft spot for summer. I'm sure it's all thanks to my memories as a kid, getting to enjoy those three blissful months off from school, with nothing to do but play on the swing set, go to the pool with my friends, and do summery crafts at the kitchen table with my mom and little sister.
I'm pretty notorious for letting summertime fly by, though, without getting to the things I love to do now as an adult. I start June off with big plans for spontaneous picnics at the winery, grilling out while the sun sets, lighting up the fire pit, and so on and so forth. Sounds dreamy, right? The problem is I usually tell myself I'll get to it when work slows down, or maybe not this weekend but the next. Excuses, excuses. By the time fall gets here, I realize that I never even broke out my bathing suit!
All this to say that I'm hoping summer 2019 will be a different story. I want to embrace the free-spirited vibes of summer, and live my very best life under the sun. To kick things off, I set up a quick summer lunch over at my parents' new house with delicious varietals (in cans!) from AVA Grace Vineyards and meats and cheeses to boot. Keep scrolling to find out how to recreate the spread for yourself this summer.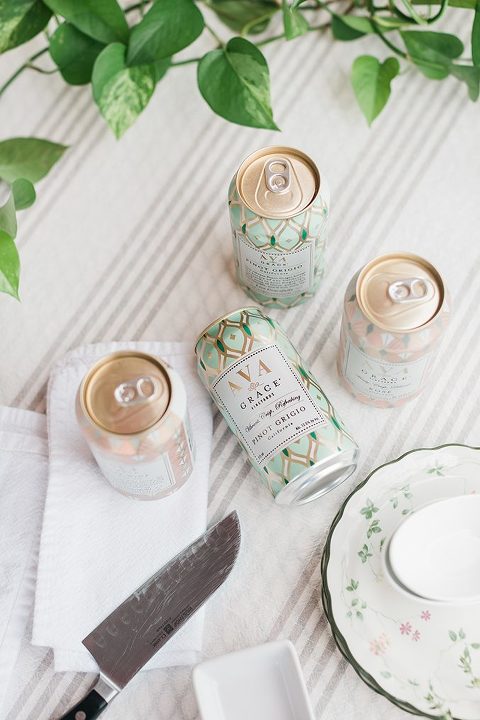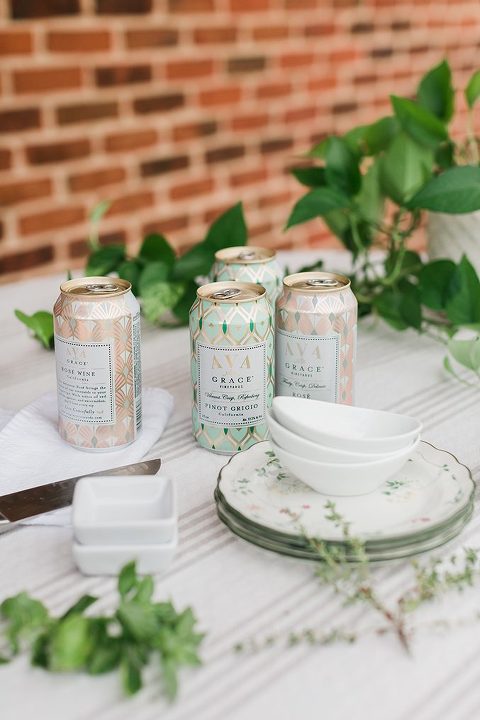 One of my favorite things about having my parents here in town now is the fact that, if I happen to have a slow afternoon, I'm able to shut down my computer early and head over there to hang out on their back deck (usually with wine in hand). It's become something of a routine, but I wanted to mix things up and make it feel just a little fancier than an "everyday" type of hang out.
Taking inspiration from their massive back deck—complete with views of both the golf course and the mountains off in the distance—I went with sort of a garden party theme. That might sound overly complicated, but it really wasn't! All I did was throw a tablecloth (that Mom already had) over their outdoor bistro table, then I situated a potted plant in the background to serve as a makeshift centerpiece to elevate the mood. For the finishing touch I plopped down a pile of plates, cutlery, and a huge cutting board laden down with nuts, cheeses, crackers, fruit, and sweet spreads, too.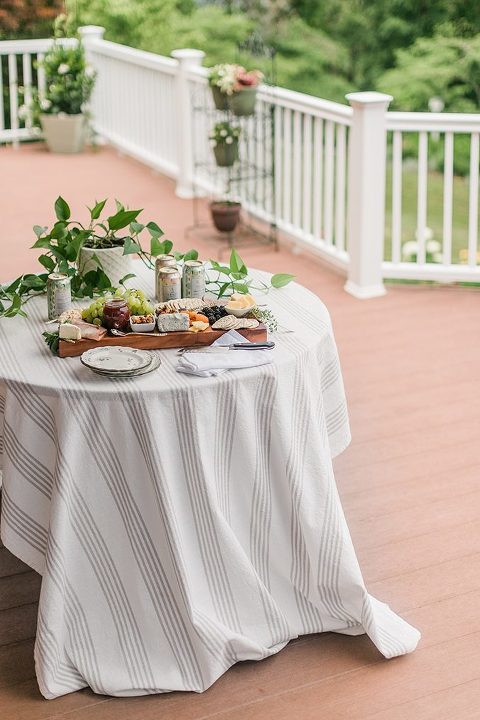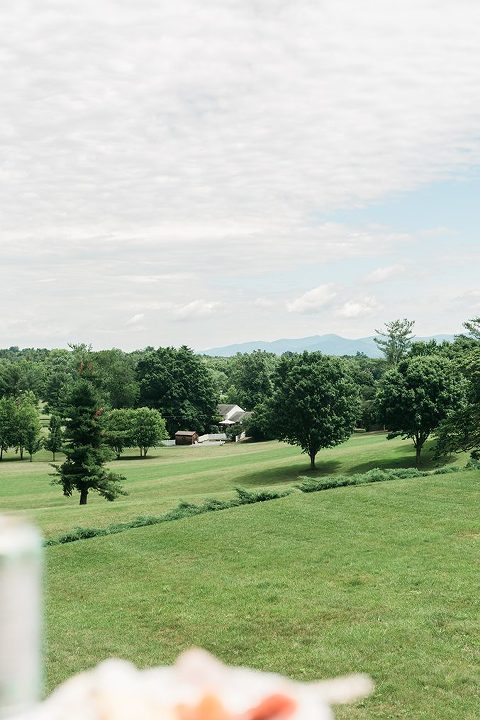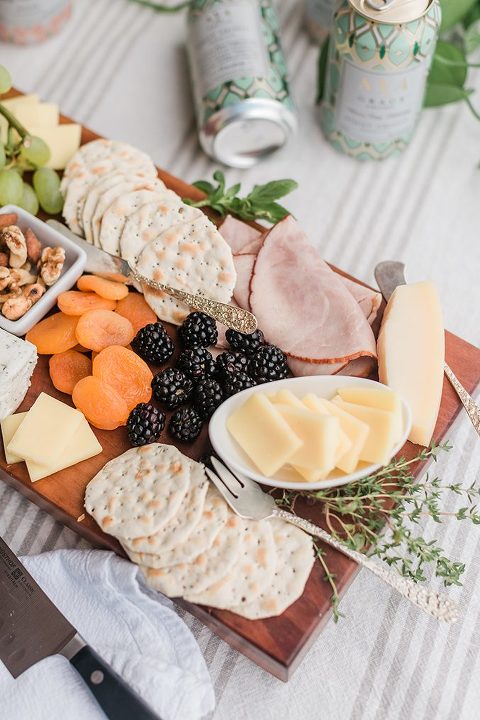 Right before everyone dug into the lunch spread, I pulled some chilled AVA Grace wine out of the fridge for all of us to choose from. This was our first time enjoying wine in a can, and I don't mind admitting that we're converts to the concept. It kept the wine colder, plus the mostly-closed top helped keep bees and other winged critters out of our drinks. I love the approachable price point behind AVA Grace wines, too, and the gorgeous metallic labels we've come to love and appreciate on the brand's wine bottles translate so well to their cans. The soft pink and jewel-toned cans will make just about any type of summer lunch spread look picture (read: Instagram) perfect.
But the pretty label definitely isn't the main reason I love serving this wine at family gatherings—it's the taste. For this particular afternoon, I chose the Pinot Grigio and Rosé. Both are absolutely brimming with summer-appropriate flavor. The Pinot Grigio, for starters, has hints of citrus, peach, and honeysuckle with every sip, and the Rosé brings to mind the flavors of berries, apricots, and watermelon. Are you thirsty yet? I know I am. Both feel really elegant and pair perfectly with a cheese board, like the one you see pictured in today's post.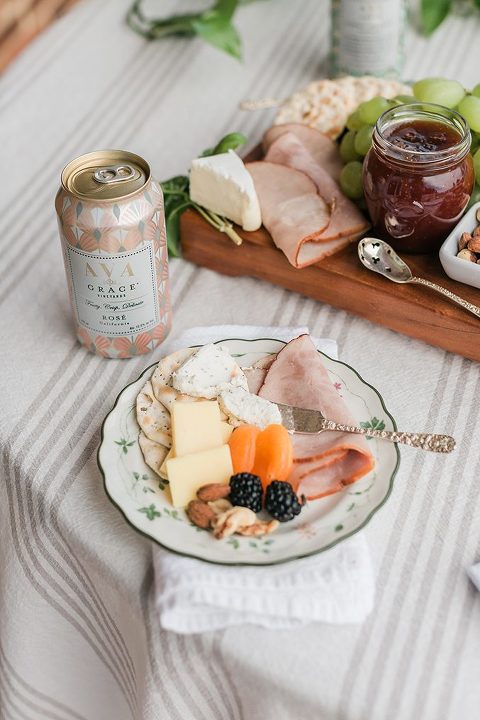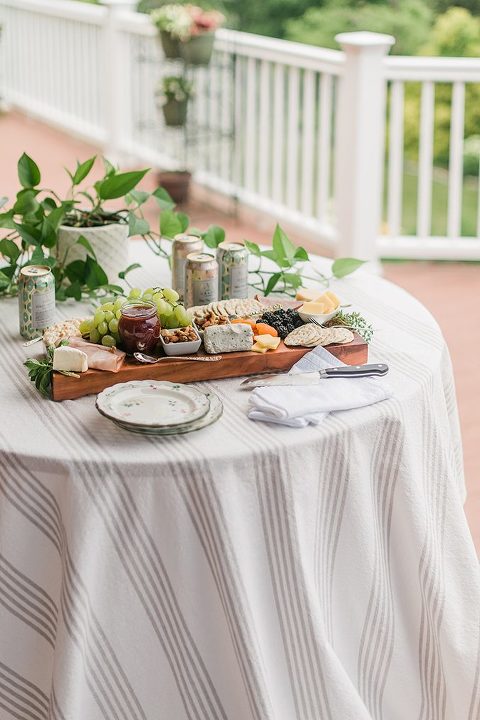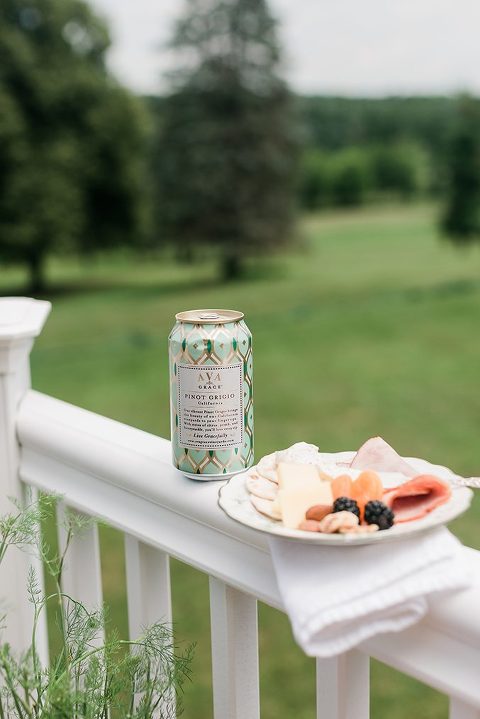 I set things up buffet style on the bistro table, so that we could grab what we wanted, and then find a spot on the back deck to enjoy the view. I personally loaded up on the dried apricots and fresh blackberries, plus slices of cheddar cheese, a handful of crackers, and a spoon filled with strawberry jam. I also love herb-infused goat cheese, so that was my main focus on my return trip to the buffet. Having a lot of different options available means that everyone's able to find something they'll love.
We ended up spending more than an hour on the back deck around the bistro table, laughing it up, sipping our AVA Grace wine, and going back to the cheese board for seconds, and maybe even thirds.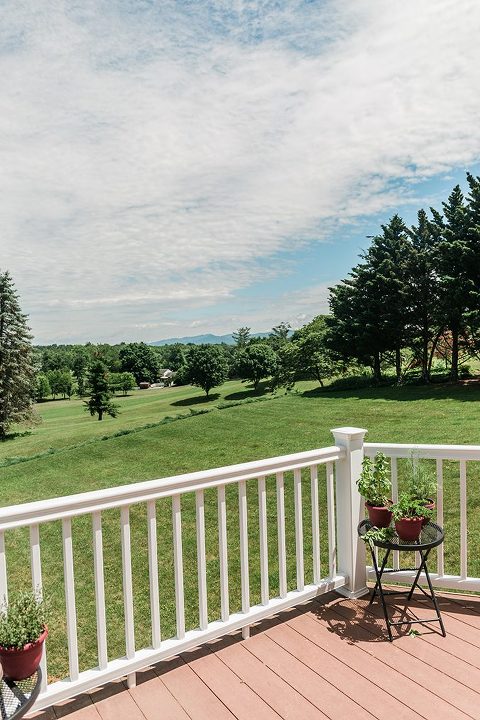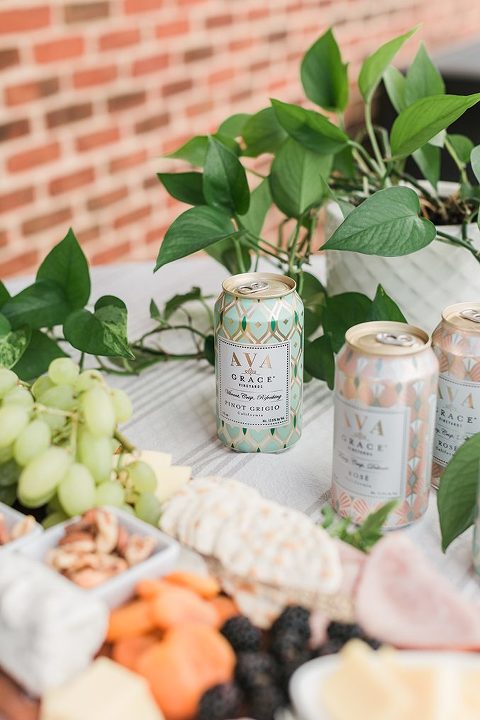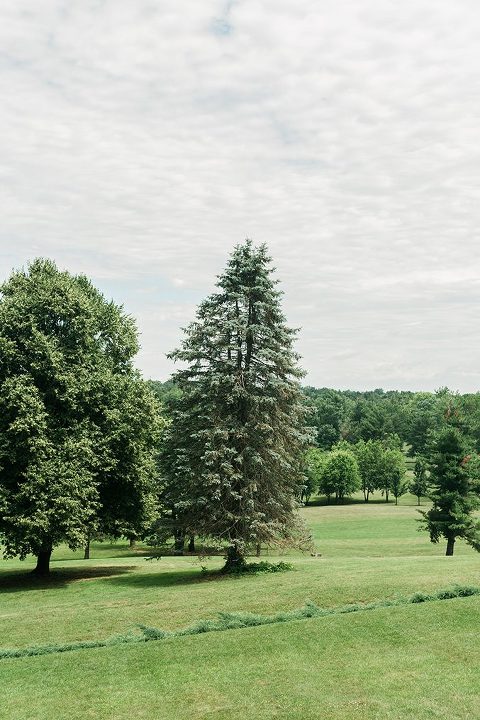 It was one of those perfect summer days (even though it was just a regular ol' Wednesday!) where we didn't have a care in the world, and we felt like royalty eating in the gardens at some place like Downton Abbey. In reality, this whole thing was super affordable to pull off, and took about 10 minutes to style and serve. Just goes to show that you don't need a ton of money or extra time to make this summer feel like a special one.
What are your favorite AVA Grace wine varietals to enjoy this time of year? And don't forget to tell me what's on your seasonal bucket list in the comments below, too!