Now, I know I recently declared that minimalism is just a little too far over my head to be achievable in real life, but that doesn't mean it's a concept I'm ruling out when it comes to physically shopping for a room makeover or refresh.
At this point, I'm the first to admit that my style of minimalism just isn't all that minimal. The thing is, though, as long as I keep the principals of this type of design in mind, I'm much more likely to keep my buying to a minimum.
That, to me, is really what it's all about anyway, so I've rounded up a list of 12 decorative accents that, when considered each on its own, could stand out on just about any tabletop in your home—be it a low dresser, the table by your couch, or even a simple bathroom shelf.
Minimalist Tabletop Décor Roundup:
1. White/Pine Digital Alarm Clock ($20)
2. Concrete Table Desk Lamp ($44)
3. Loop Candleholder ($50)
4. Coiled Rope Tapered Basket ($9)
5. Leather Round Serving Tray ($36)
6. Baies/Berries Scented Candle ($36)
7. Faux Marble Wedge Frame ($13)
8. Ula Table Lamp ($330)
9. 2 Brass Taper Candle Holders ($26)
10. Rilynn Statue ($161)
11. Terracotta Candle ($17)
12. Bluetooth Speaker with Clock ($50)
Which is your favorite item from the list? And do you think you could keep your shopping to just one item? I realize that it might seem counterintuitive to share a list of a dozen new things to buy, but if you look at the list as a whole, you might end up missing my point.
I love the concept of choosing just one extra special piece to bring into a home—something that can satisfy your love for good design, and inspire you to love what you already have, too. That's why I pulled together this curated list of simple, neutral pieces. Nothing is so bold that it can't work with the pieces you already have, but every single thing on that list above is special enough to elevate not just the look of your space—it will perk up the mood of your home, too! Now, to me, that's smart shopping…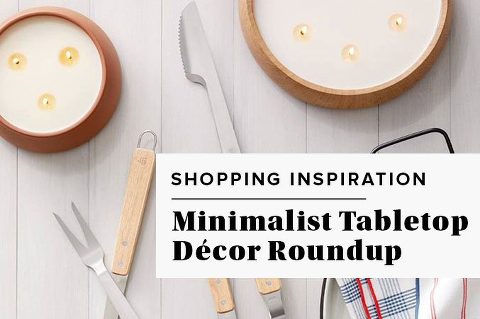 *I earn a small percentage from purchases made using the affiliate links above. Affiliate links are not sponsored. Rest assured that I never recommend products we wouldn't use or don't already love ourselves.