I know you may not want to hear it, but summer is starting its gradual wind-down right about now. Have you felt the transition yet? It's still blazing hot here in Virginia, but I've noticed that the nights, at least, are cooling down enough that I don't have to blast our extra A.C. unit to keep on top of the heat during the day.
As a big fan of fall, I can't help but be over-the-moon about the impending change, but one thing I do miss when the cooler months arrive is all that green life outside. I love full, leafy trees, so when fall and winter take over (taking those pretty leaves with them), I try to make up for it by filling our indoor spaces with as much plant décor as possible to compensate. Keep scrolling for a few of the green plant-themed things I'm considering.
Plant-Themed Home Decor Roundup
1. Wall Hanging Test Tube Planter ($16)
2. Unikko Reversible Comforter Set ($130)
3. Hand-Tufted Wool Blue/Brown Area Rug ($68)
4. Leaf Framed Wall Poster Print ($19)
5. Climbing Floral Light Filtering Window Curtain Panels ($25)
6. Floral Tapestry ($14)
7. Fiddle Leaf Fig Tree in Basket ($58)
8. Removable Wall Mural ($335)
9. Succulent Framed Wall Canvas ($50)
10. Hand-Woven Monstera Leaf Door Mat ($20)
11. Hanging Planter Vase ($21)
12. Batik Forest Removable Wall Mural ($305)
The cool thing about most of the goodies on that list is that you don't necessarily need to have a green thumb to make them work in your home. We have a pretty good mixture of faux plants and real ones in our own house, but I'm hoping to "branch out" (har, har) with some things that aren't literal at all—things like a floral rug, wallpaper with vines printed on it, and even petal-patterned bedding. What's your favorite item on the list? Do you have anything else to add? Leave a link in the comments below!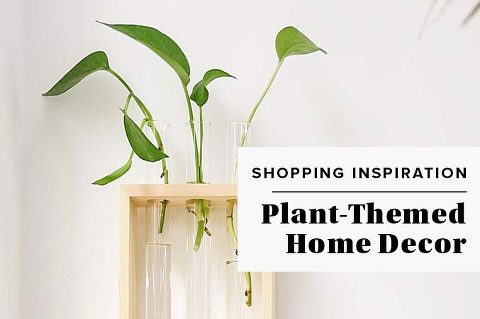 *I earn a small percentage from purchases made using the affiliate links above. Affiliate links are not sponsored. Rest assured that I never recommend products we wouldn't use or don't already love ourselves.