*This post has been sponsored by The Home Depot. All thoughts and opinions are my own.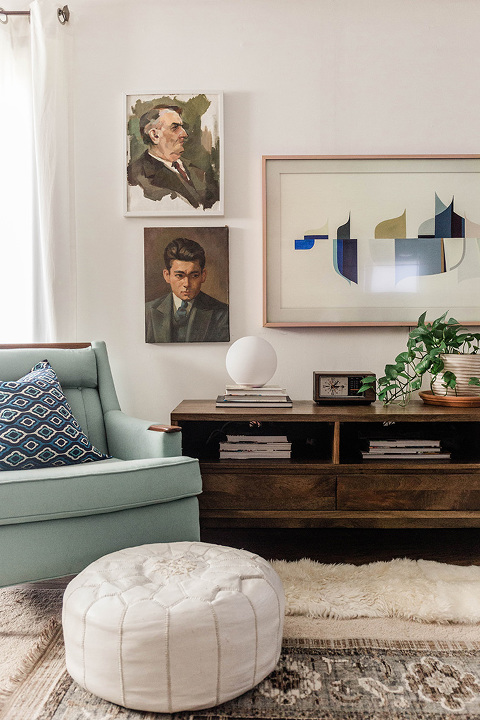 It might surprise you to know that not all of our mid-century furniture and accents are vintage. In fact, some of our very favorite pieces (like our Home Decorator's Collection media cabinet in the family room!) actually came brand new from The Home Depot.
I teamed up with them, again, this season to prove that you don't have to be a regular visitor at hole-in-the-wall antique stores to nail the retro look in your home. You just need an Internet connection and a smart phone to shop the design trend—a trend that I firmly believe is here to stay, by the way.
As an obviously passionate collector of mid-century décor, I really appreciate those brands that are making the design aesthetic more accessible. Of course, I'd love nothing more than to fill our home with authentic 50-year-old antiques, but I just don't have the budget or the time to source it all. So, I've learned to mix new reproduction pieces alongside my vintage items to get the look within my budget and timeframe.
Keep scrolling to see the small, affordable updates I made using goodies from The Home Depot. Plus, you'll learn some of my top winter décor tips in case you're looking to do something similar in your own space this month. Hint: Save up to 40% on select furniture & decor here!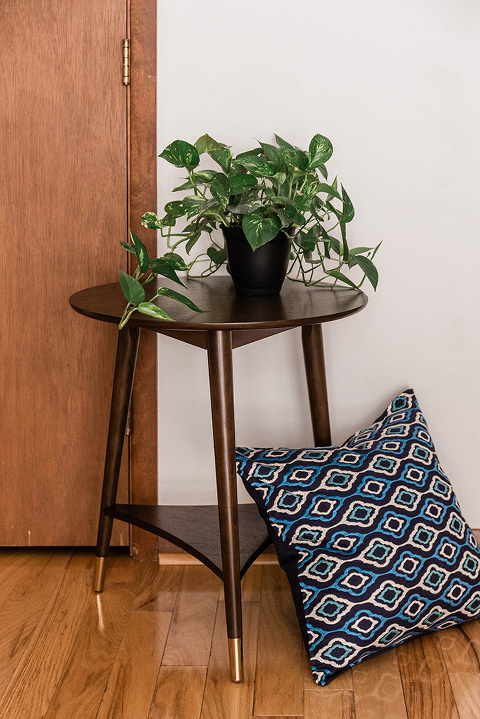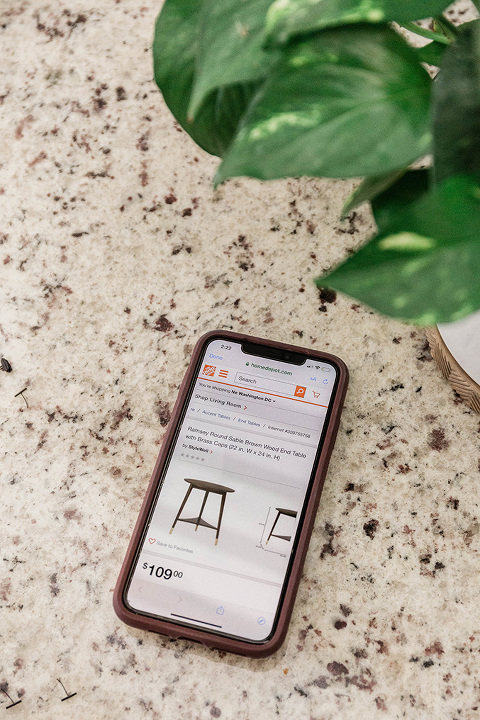 Whenever the weather gets colder, I tend to spend more time inside on the weekends getting lost in old movies and retro TV shows. So, not surprisingly, all that mid-century set design gets me anxious to make a few 1960's-inspired updates in our own home. This time, I decided to focus my energy on the family room—specifically, the area near the television—and I also wanted to put a focus on making it feel extra cozy and lounge-y for winter, too.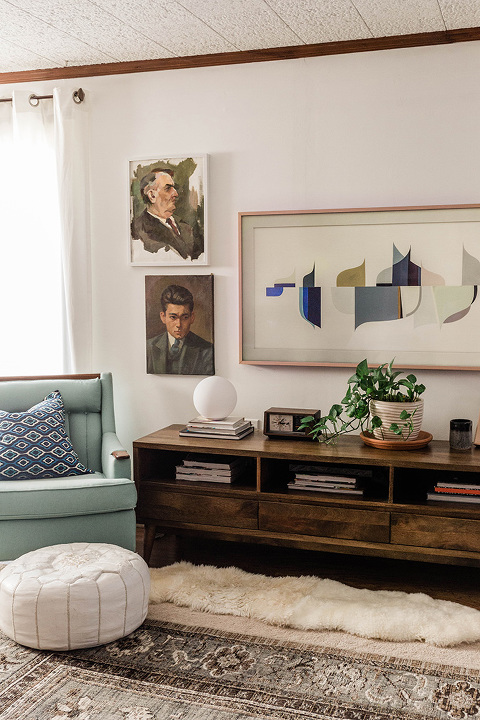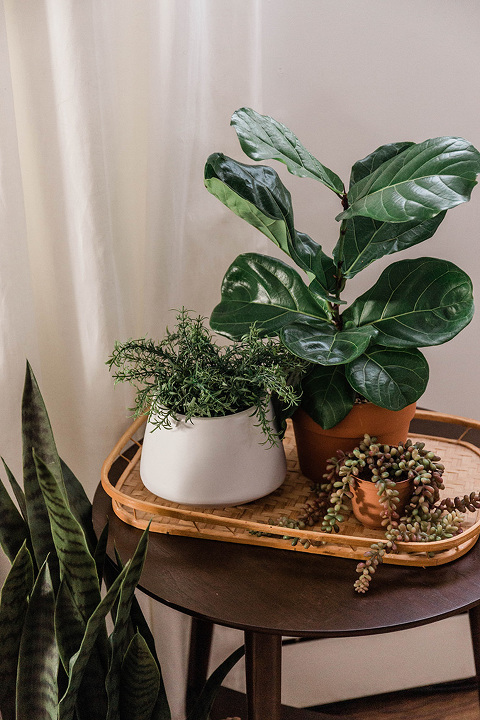 The first thing I did after deciding to tweak this room was hop online to gather inspiration and shopping ideas. I think a lot of folks might accidentally overlook The Home Depot as a destination for home décor, thinking that it's more of a resource for home remodeling supplies. Of course, the store is great for prepping ahead of reno projects, but their online collection of decorative accents is a treasure trove of goodies.
They curate and carry private décor brands, like Home Decorator's Collection and StyleWell, that you can't find anywhere else. Plus, they have plenty of options for fellow mid-century-lovers, like myself. Just type "mid-century" into the search box over here, and be prepared to get totally caught up in scrolling through the options.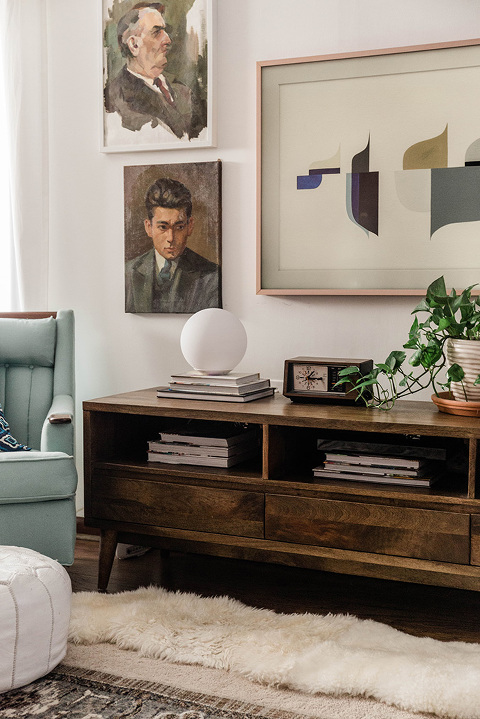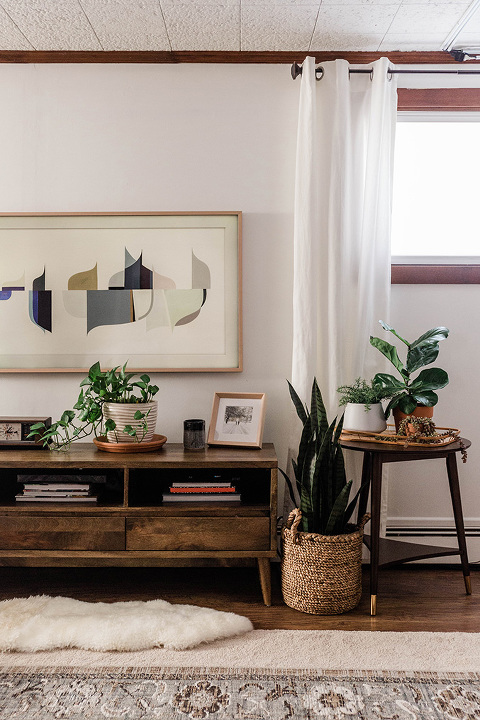 For our family room refresh, I ultimately chose the mid-century-inspired StyleWell Ramsey Round Sable Brown Wood End Table (get a load of those cool gold-capped tapered legs!) and the Embroidered Blue Ogee Decorative Throw Pillow Cover from The Company Store, a brand which The Home Depot has available exclusively online.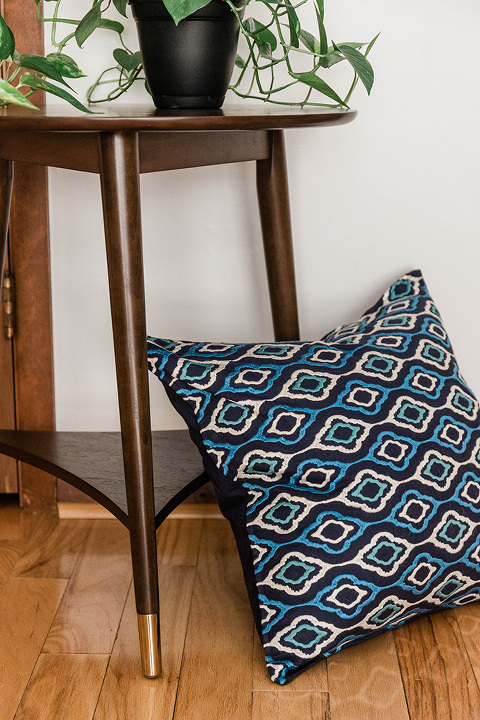 I thought those two accents felt like the perfect retro complement to the Conrad Antique Natural Entertainment Center that we already had. Finally, to finish off the collection, I picked out this fun Alsy Color-Changing LED Glow Ball Lamp. The 8-inch fixture is perfect for adding a soft glow to the room without blocking the TV—win, win!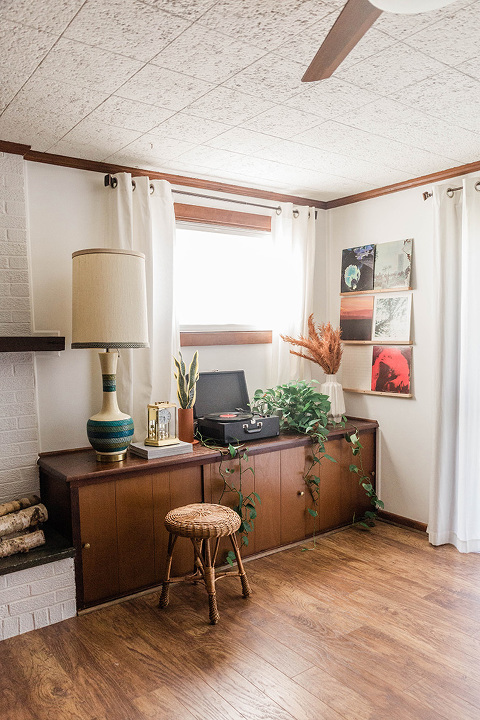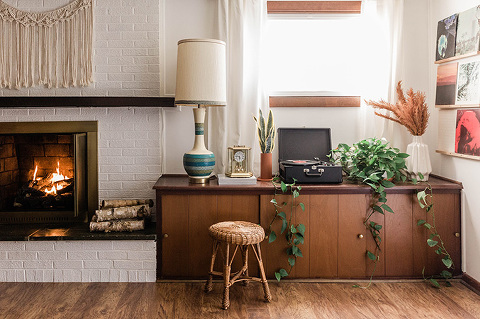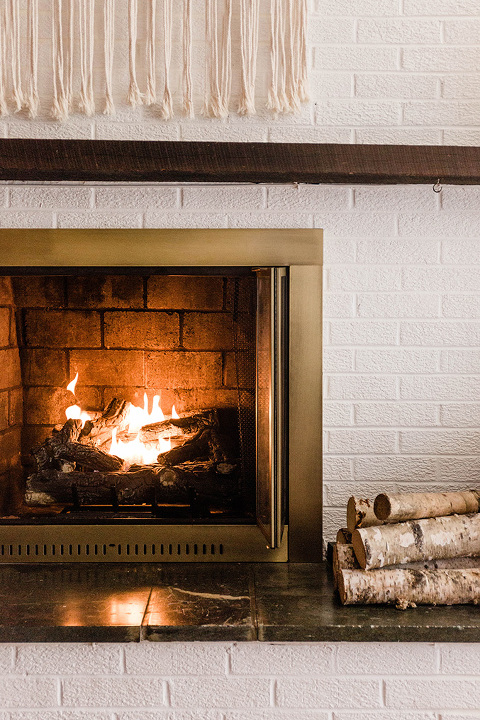 As for the rest of the room, I didn't go too crazy, but I wanted to make sure I shifted at least a couple of things around to make it feel new, even though I had only actually purchased three things for the space.
Since I was continuing my "winter" décor theme, I layered a few cool weather colors together (think: blues, whites, creams) and also some tell-tale wintery textures, like the raw cording of the knotted macramé I hung over the fireplace and a stack of birch logs by the fire. The logs are just for show since we have a gas fireplace, but I thought the logs would make the room look extra cozy, so I picked up a stack while at the store.
You'll probably notice the same earthy, cool color palette when you glance back over at the TV area, and that was definitely on purpose to help the room feel cohesive and extra cozy for the chilly months to come. To finish things off, I laid down a vintage sheepskin rug that I found downtown at a local secondhand shop. All of us love to sink our toes into it, especially on cold mornings.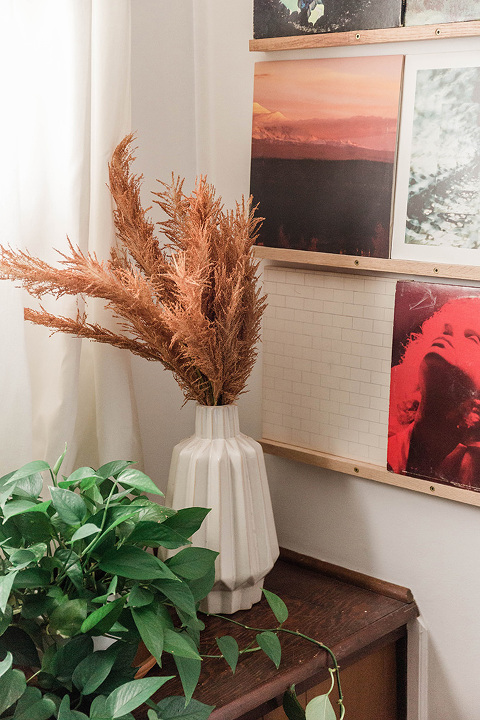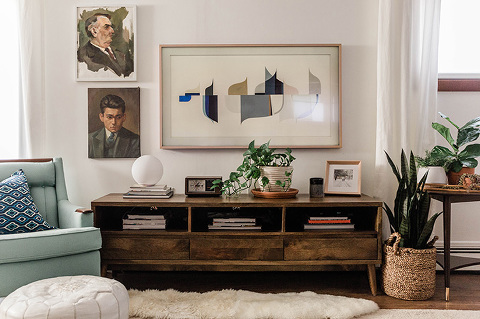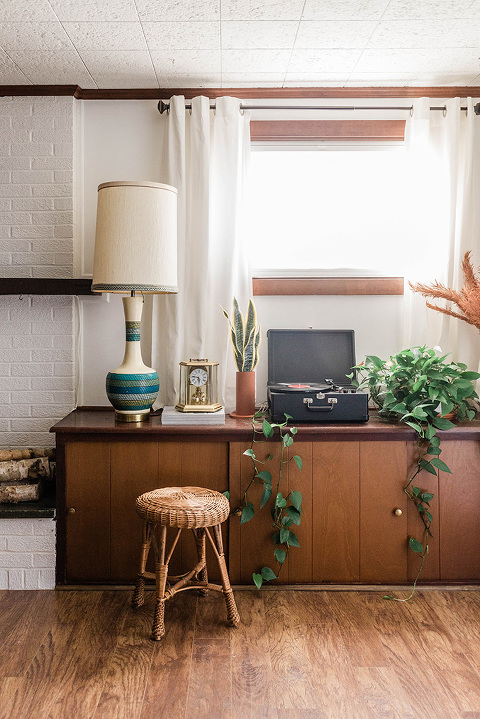 Although I love a good day trip to all the antique stores we have nearby, I have to admit…it was pretty nice not having to leave our house to update our family room. I was able to order the pillow cover and our new side-table-turned-plant-stand from The Home Depot website right from our couch. I even snagged free shipping, too, since my order was over $45 (I spent just under $150 total on both pieces, by the way!).
If you'd rather pick up your online order from the store, you can choose the free in-store pickup option. It's a great way to bundle your errands in case you were already planning a run to The Home Depot anyway. And even though I definitely don't plan on taking advantage of this perk, the brand offers easy and free online and in-store returns in case you change your mind on your purchase. My picks are definitely here to stay, though.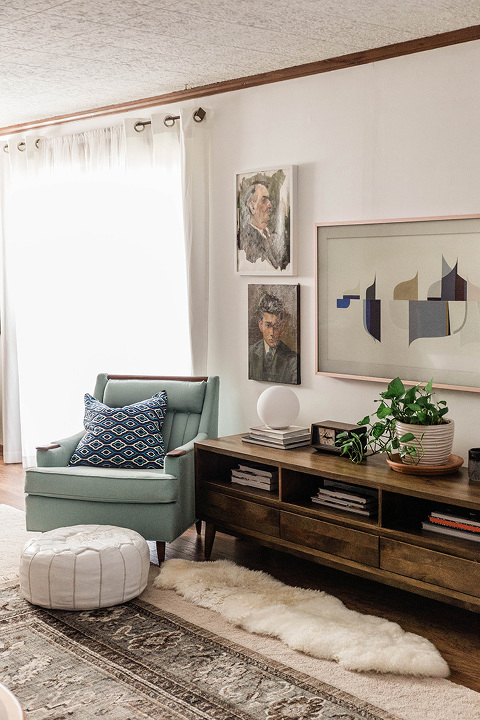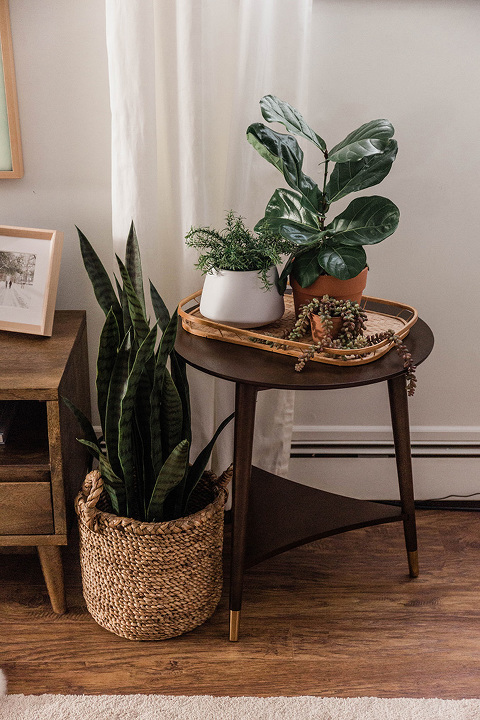 So, what do you think about our mini family room winter update? I spent less than $200 total on the project (including the side table, pillow, and lamp), but I feel like the area looks totally different. It was the perfect refresh I was craving for winter. Grab your own retro favorites online, only on The Home Depot website this way, and come back here to let me know what you picked! Shop now and save up to 40% off selected furniture and décor here!