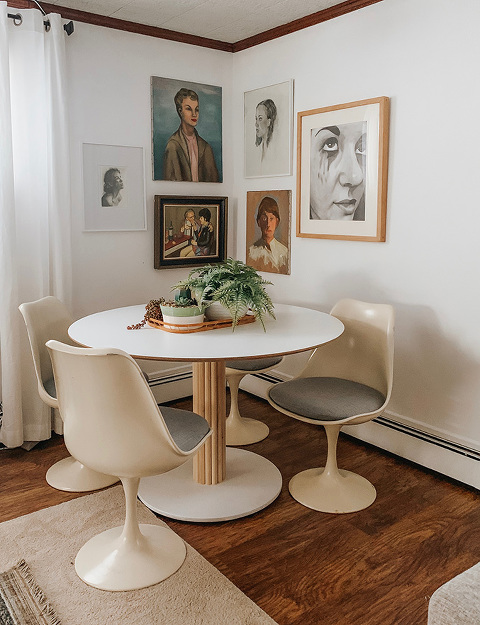 Happy New Year! I hope you all are enjoying a fabulous holiday season, and that you're feeling ready to tackle a brand new year. Now that 2020 is officially upon us, I'm excited to chat about the plans I have for the next 12 months.
I tend to really look forward to January 1 because it's my chance to take a time-out from my normal posting style here on the blog and instead talk through what I want to focus on in a much more "big picture" type of way. Luckily, it's almost like clockwork that I start to feel really focused and excited come December, and this year was no different. I never can predict where my mind will end up at the end of the year, but so far I've been able to count on my instincts sort of leading the way.
This time around, I'm feeling really called toward the concepts of saving money and living more sustainably, so I'm going to dive right into that in a big, big way throughout the entire new year.
It was actually my friend Cassie who got me thinking about all of this. Earlier in the season, she reached out to tell me about a secondhand/vintage clothing challenge she was going to do throughout January, and asked if I wanted to join up to help spread the word.
I honestly had to pause for a second before responding to make sure I could imagine myself actually following through on the challenge (which is to wear at least one piece of secondhand thrifted clothing every day for a month). Within minutes, though, I could feel my heart racing with the prospect of prioritizing recycled over new, and I told Cassie I'd love to be a part of it. More on that challenge is coming later in the month, but go give Cassie a follow if you haven't already so you can keep up with the challenge and, hopefully, join up yourself!
Anyway, Cassie's invitation was really the jumping-off point for a whole new way of thinking for me. I started daydreaming about the idea of buying nothing but secondhand, for both my wardrobe and our home, and (for lack of better phrasing) it just felt right.
So, I'm going to take that idea and run, jog, sprint with it! I think the only way that I'll be able to fully commit to prioritizing secondhand over new is with a full year challenge. I'm planning on allowing myself only thrifted, antique, or consigned purchases for our home throughout the entirety of 2020. No shopping at Target, no "fast" décor from online shops like Amazon—I'll only fill our spaces with secondhand pieces.
The reasons for doing this are plenty, but here's a quick rundown of the main three. (1) It's much more sustainable to repurpose what already exists in the world, (2) it'll keep me from impulse purchasing whenever I have a vision for a room makeover because the exact piece in my mind will be harder to find in a secondhand shop, and (3) this challenge will help me save money in the long run since I'm not paying full price for retail.
Of course, it's not exactly as simple as all that, though. I have a few room makeovers in the works that I had already bought new pieces for, and I'll be unveiling those throughout the next couple of months. I won't be buying anything new for those rooms now that the new year has launched, though.
My job also often requires (in the form of legally binding contracts) that I style and review new products. In those cases I will likely have to step out of my thrifted challenge in order to complete the requirements of the job. Luckily, all of the paid brand work I agree to comes from a very genuine place, so I'm more than happy to shout those new products from the rooftop, that way you guys can benefit from my "real life" reviews.
Which brings me to my next caveat: you! I want to make sure that I'm continuing to deliver all kinds of inspiration and variety with my content, and since I know not everyone is interested in purely secondhand home décor, I'll continue to mix it up. The DGD shop, for example, will continue to be hand-curated by me to include a range of new and artisan-made products for your home. I want to give you guys the full gamut of home décor inspiration, so you'll still see new products peppered throughout the blog—just in more of a link-up format rather than actually photographed inside our home.
It all comes back to the fact that, as two 30-somethings, John and I have accumulated a lot of things, and we've also been really intentional about investing in pieces we know we'll love for the long haul. We are so proud of the home we've made together, and I'm personally really pumped about the idea of working with the things we already own when it comes to décor rather than buying new.
I've spent most of the year sort of experimenting with this idea of "using what we have," and it was actually a lot easier than I expected it would be. I think I've managed to make entire rooms feel different using almost exclusively what we already had, and I want to help you guys learn how to do the same so you can save money and appreciate all the beautiful things you already have, too.
In thinking through this challenge of mine, I came up with one other exception that I'd love to incorporate whenever it feels right. I'd love to prioritize both secondhand and handmade. As a working artist myself, I love the idea of continuing to support those artisans who are making beautiful pieces for the home. This is something I am really passionate about, so it feels right to commit to these types of investments whenever I'm in a position to add something new to our home.
That last point might seem a little counterintuitive to a secondhand décor challenge, but, hey! It's my challenge and I'm just making this up as I go! Kidding aside, I want to stop shopping for new pieces from big conglomerate brands. I want to support the people who deserve to be supported, like artisans and secondhand shop owners, so that I can ultimately feel really good about the pieces I bring into our home.
The bottom line is that I've gotten way too comfortable shopping for décor from Big Box stores the moment I get the whim to change things up in a space. This challenge is my way of curbing that habit and, as cheesy as it might sound, also doing something that I feel is good for the environment, too.
I have so much more to say on this topic, but now that I've officially announced it and you guys can hold me accountable, I'm going to wrap it up for now to be revisited later on. I'll try to do monthly updates with my challenge so you can keep up, and of course I'd love to have you do the challenge with me. Thanks, as always, for your support, and I'm so excited to see what 2020 brings for all of us. Cheers!