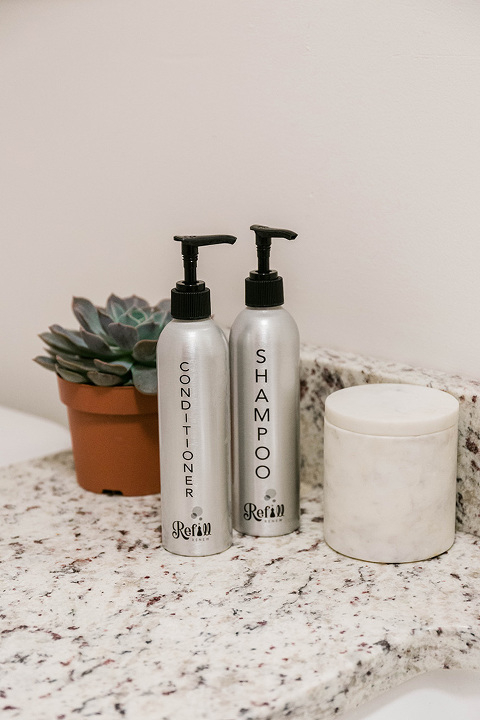 I used to think that the theme of sustainability was just trendy amongst bloggers, which is sort of why I resisted talking about it more regularly until last year. There's no way around it now, though—sustainability is absolutely a vital thing to commit to, and that's especially so at home.
I don't know about you, but I feel pretty yucky whenever I'm forced to throw out a piece of single-use plastic. Now that the material is no longer as recyclable as it used to be, John and I feel like there's often no other option but to chuck things like orange juice jugs and plastic food baggies. It feels incredible wasteful and I'm ashamed whenever I have to do it.
Because of that, we've made a few drastic changes around our house to help eliminate most single-use plastic from our routine. Of course, some things just can't be avoided, but there's a lot that can be, so I thought I'd share the few things we've done in case it might help inspire you.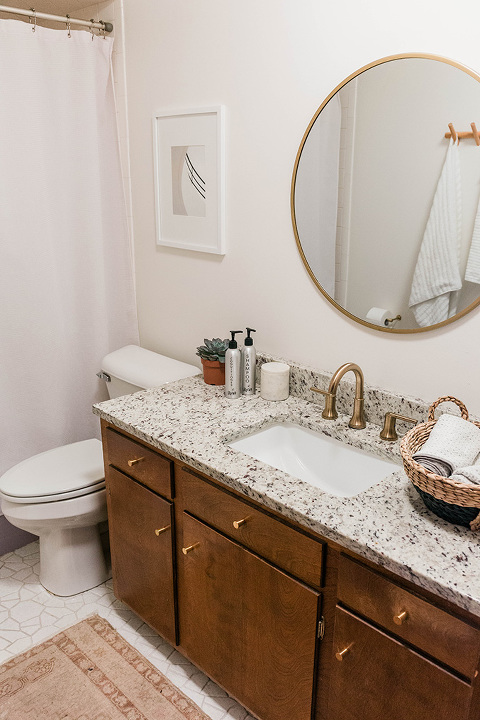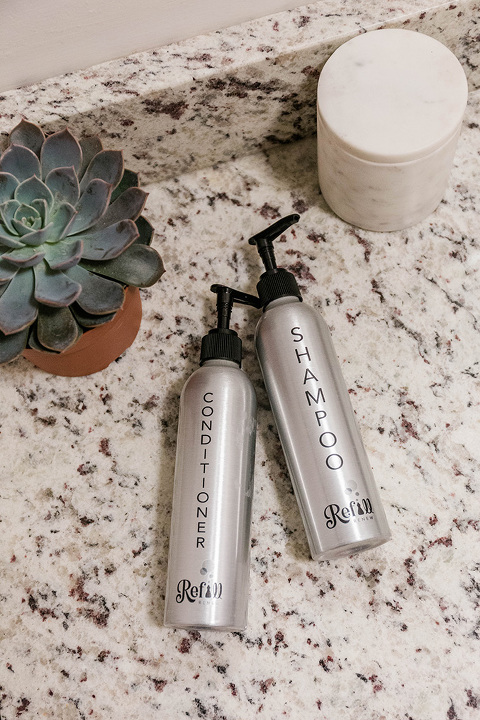 Quickly before I go any further, I just wanted to mention that there is zero shame in whatever you do at home. None of us is perfect, and no one can "do it all" when it comes to sustainability, so take everything that I'm about to explain here in today's post with a grain of salt. This is just what we're doing, and isn't the only way to go about creating an eco-friendly home. Whatever you're able to do is awesome, incredible, wonderful, so you do you and be proud of it!
Anyway, back to our house. So, the first thing we changed was our soap routine. I switched a long time ago to reusable stone and glass hand soap dispensers to keep by the three sinks in our house. I would buy a large bulk-size hand soap refill bottle at the grocery store every four months or so to refill the dispensers as needed, but I would still end up having to throw that giant plastic jug out.
My solution was to make good use of a new store that cropped up in nearby Staunton, Virginia, called Refill Renew. This place carries huge commercial amounts of soaps so that we can directly refill our stash of plastic bottles without ever having to throw them out. Genius, right?!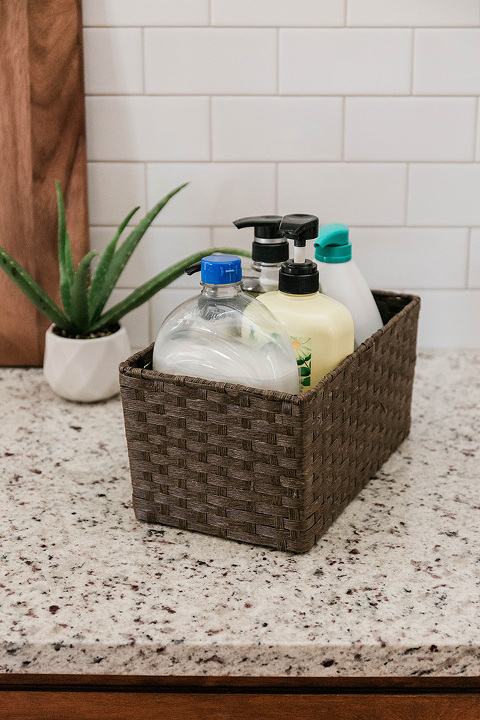 At first, not knowing if I'd be able to keep up the habit, I just bought three of their in-store metal pump bottles to keep in the shower for shampoo, conditioner, and body soap. I filled them up with soaps right there in the store, and then went home to try it out. My verdict? I loved it. I was hooked.
The problem was that the metal pump bottles were so small that I would have had to keep running to the refill store every few weeks whenever we ran out of soaps. Since it's a 25-minute drive to the store, I knew we couldn't keep that up. So I bought the biggest hand, shampoo, conditioner, and body soap bottles I could find at the grocery store, refilled my metal Refill Renew bottles from those until the soaps ran out, and now I take those same giant plastic bottles to Refill Renew to fill back up just every other two months or so.
I use that brown rectangular basket that you see pictured above to cart the bottles back and forth from the refill store, and keep it in our hall closet to grab from as we run out of any types of soap throughout the months in between. It's not pictured here, but the store also refills laundry detergent, so now I can quit throwing those giant plastic jugs away, too. This change has effectively cut our single-use plastic down by at least half.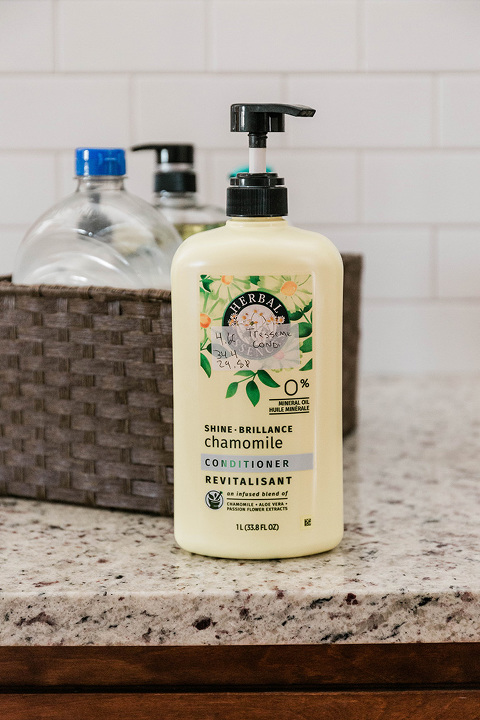 I know this tip hinges squarely on the fact that we just happen to have a refill store near us, and you're right…we are lucky. Do a quick Internet search, though, because you might be surprised to find a similar store at least somewhat nearby. A little drive out of town to access this type of shop (if out-of-town is your only option) might be worth it. Make sure you carpool with a buddy to cut down on fuel! The good news is that I've heard lots of rumors about national grocery stores moving to this type of refill system, so we might have even more options available to us in the near future.
The other good news is that this tip above isn't the only way to cut down on plastic in your house. There are a bunch of other ways to make it happen. For example, we used to marinate chicken in gallon-size plastic baggies and then throw those away when we went to cook the chicken. Now, instead, we use a washable glass pyrex dish to marinate the chicken in because, afterward, we can put the container straight in the dishwasher to reuse later. We also have been stocking up on reusable Stasher bags (available at Target!) and beeswax food wraps to cart around and keep food fresh.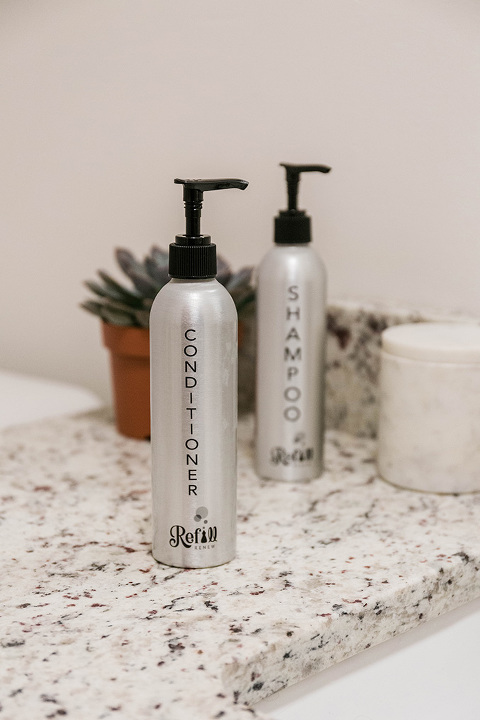 One last point I'll make before I go is specific to eliminating throw-away styrofoam, specifically from restaurants. We felt pretty guilty throwing away to-go food containers after a dinner out, so John and I started bringing our own reusable storage containers to the restaurant.
The first time I shared about this on Instagram, I was surprised by how many people remarked about how they'd be embarrassed to do that. I don't think it's anything to be ashamed of! I'm sure the restaurant owners love it because it cuts down on their container costs, and it allows you to bring your food home without the guilt of throwing away the styrofoam container later. Win, win! Here's a collection of collapsable containers I have on my wish list to help make this process a little more compact and discrete.
So there you have it! Our tips of reducing single-use plastic (and styrofoam!) from your everyday routine at home. Do you think you might be able to try these ideas? Again, these are just from our personal experience and are definitely not the only ways to prioritize sustainability. If you have ideas of your own, please share them in the comments so we can learn to be more eco-friendly together!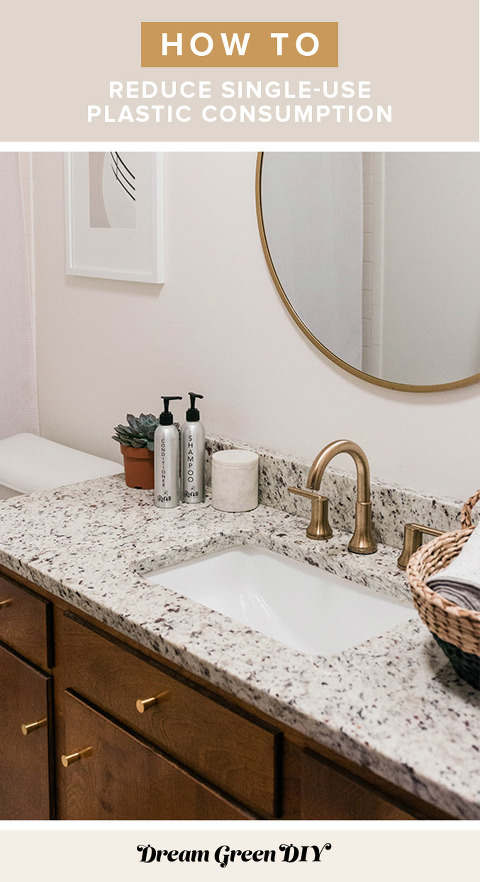 *I earn a small percentage from purchases made using the affiliate links above. Affiliate links are not sponsored. Rest assured that I never recommend products we wouldn't use or don't already love ourselves.