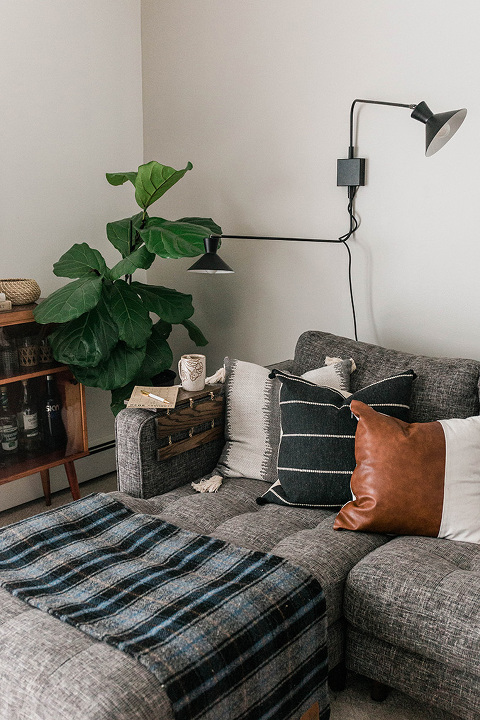 One of my favorite themes to focus my DIY brainstorming on is ways to simplify everyday life. I love pretty things, but I really love practical and pretty things. So, when I was dreaming up new projects to make with my editor at Hunker, one of the first things that came to mind was a Portable DIY Sofa Arm Tabletop.
You see, most evenings I enjoy either a glass of wine or a cup of tea as I settle in for the night. The only problem with that is that there's no room for a side table within reach when lounging in my favorite corner of our living room sofa. So, I decided to build a simple drape-able tabletop that I could throw right over the arm of our couch where I could place my drinks and other odds and ends.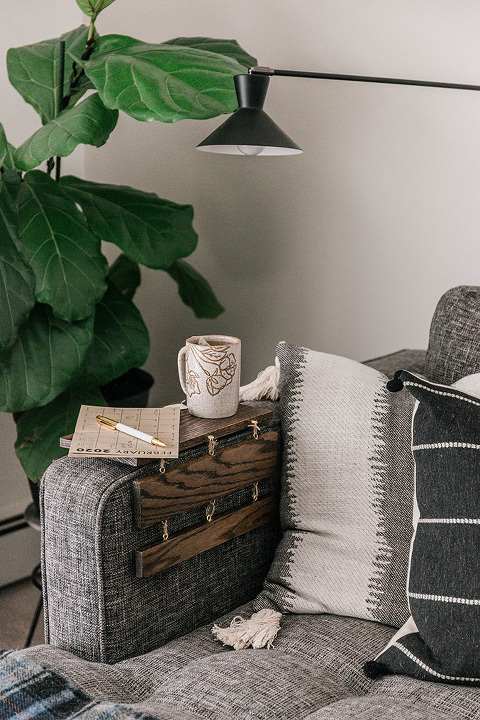 I put this DIY stand together right after New Years, and I think I've used it every single day since then! It stays put thanks to the weight of the wood side pieces, plus it looks nice when you take it in alongside the other furniture in our living room. I'm absolutely smitten, and couldn't recommend the project more if your sofa has squared arms like ours.
See the full tutorial on Hunker this way, and I also wanted to quickly thank you, once again, for reading my stories over there! Each and every time you make the leap to Hunker, my editor sees and makes note of that. In other words, it helps the team value my work more. My freelance writing jobs keep this little corner of the Internet running, so thank you very much for the support. It means more to me than you'll ever know. See the full list of my exclusive DIY projects for Hunker this way if you're ready to fall down a creative rabbit hole this afternoon!