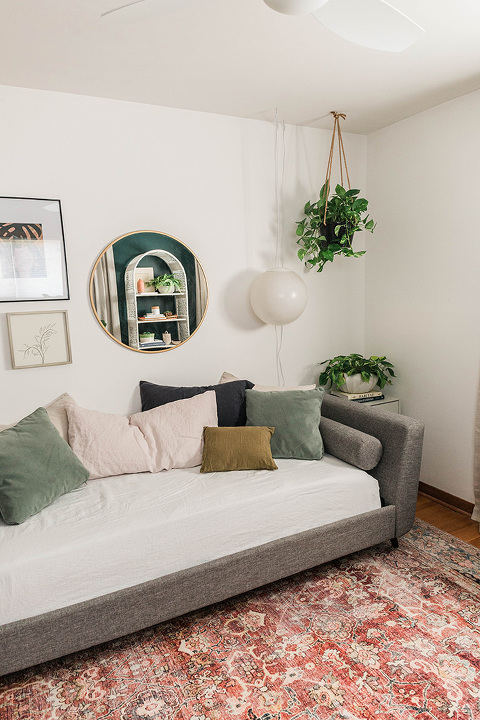 *This post was sponsored by AllModern. All opinions are my own.
First of all, I'm sure you're curious as to why the term "make-under." The explanation is surprisingly pretty simple, though! When we moved into our house almost five years ago, we didn't know a single soul in town. Our families lived over an hour away, so we knew we'd have lots of overnight visitors stopping by. We needed a full-size bed to accommodate those guests, so that's how we laid out the room.
Now that my parents live just two miles away, our real life needs for a guest room space have changed. Whenever my sister comes to visit, she just stays at my parents' house, which is much bigger than ours. Pretty much the only soul who actually used our cramped guest room before our little make-under was the cat, so it was time for a change.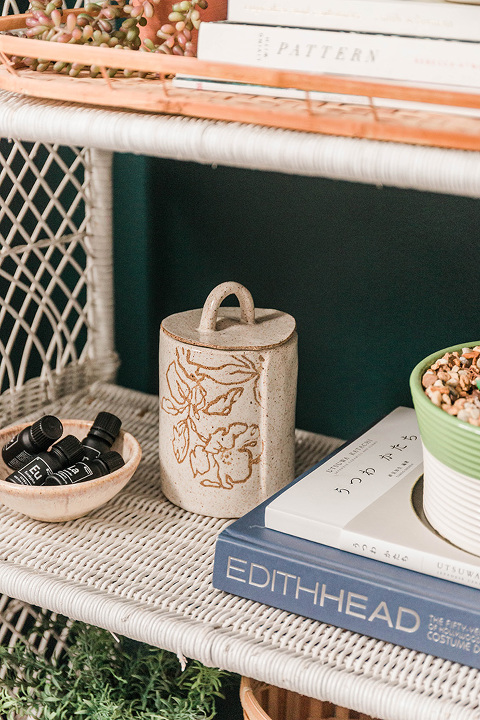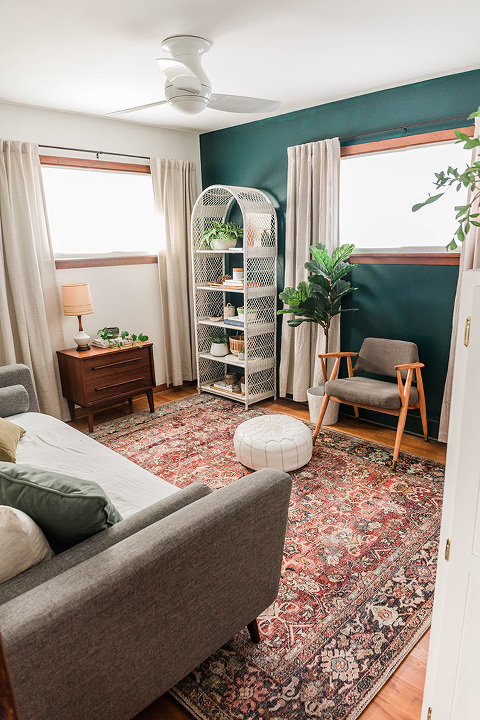 In the end, I decided to sell all of the furniture and downsize to smaller pieces that we could use for the occasional guest, but that we would mostly just enjoy ourselves whenever we felt like lounging on our own with a glass of wine or a good book.
Enter: our guest room make-under! We partnered with AllModern for this refresh, and worked with the team to design a space built around small-scale furniture to maximize the tight square footage of the space. That way we could enjoy the room more regularly. Keep scrolling to see how the new space looks today, and for all of the clickable product links so you can get the look of our boho lounge in your own homes.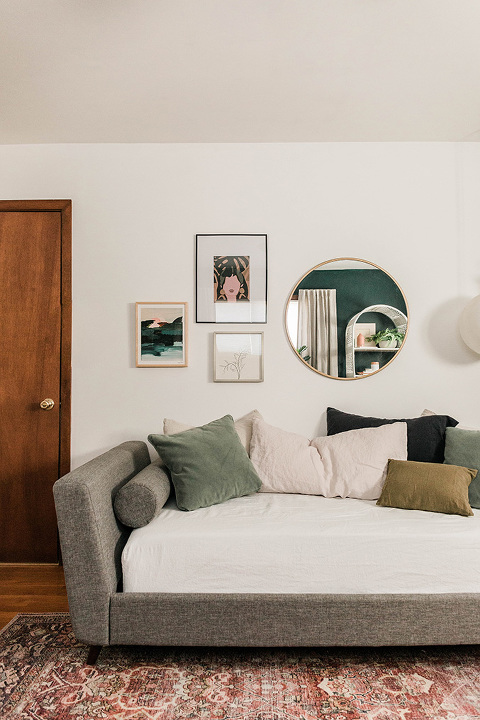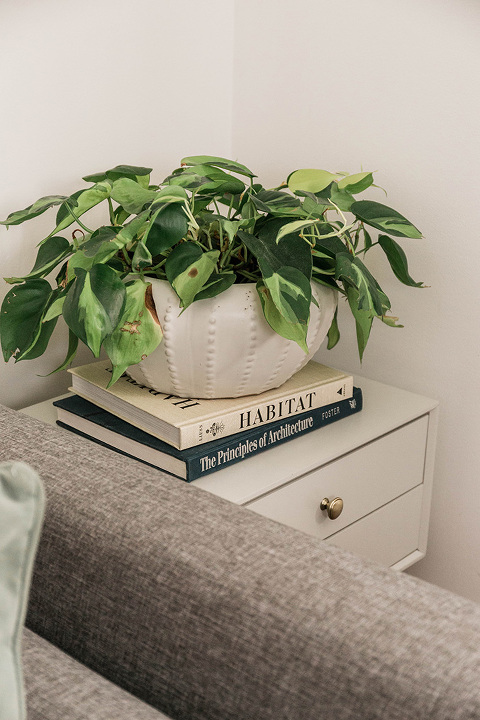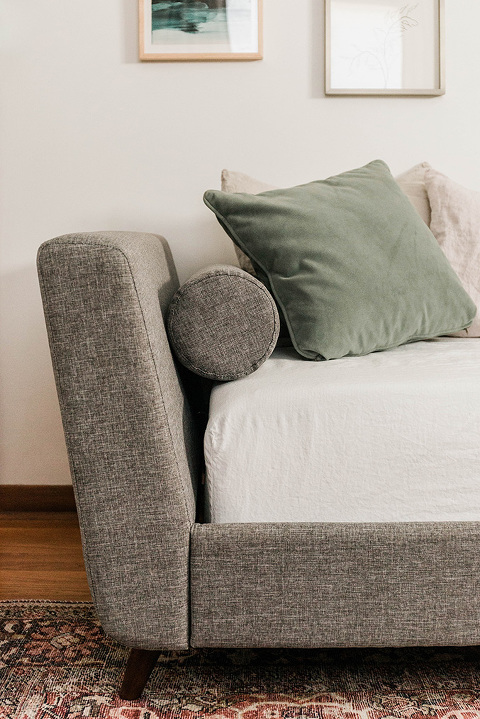 First order of business was the bed. After selling our old full-size mattress and frame (complete with both head- and footboard!), we chose a brand new twin-sized daybed for the space. The smaller piece of furniture can still sleep one person should we have anyone come to stay the night, but it can be styled as a couch the majority of the time and takes up half the space our old bed did. I decided on this one from AllModern because of its cool mid-century silhouette, which matched the vintage pieces we already had in other rooms of the house that I wanted to incorporate here.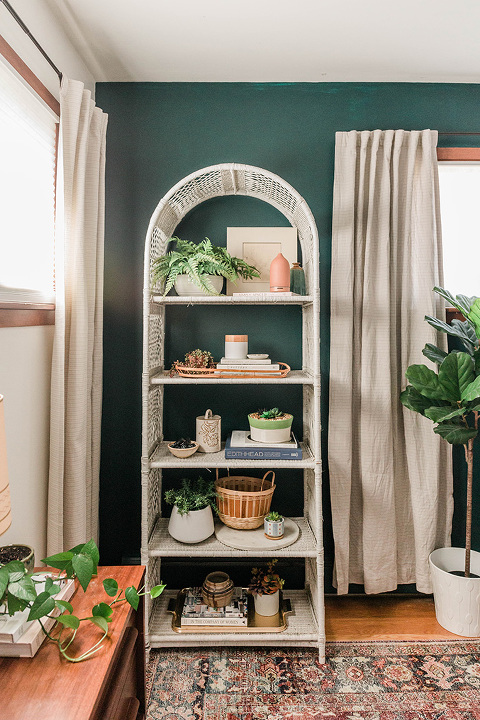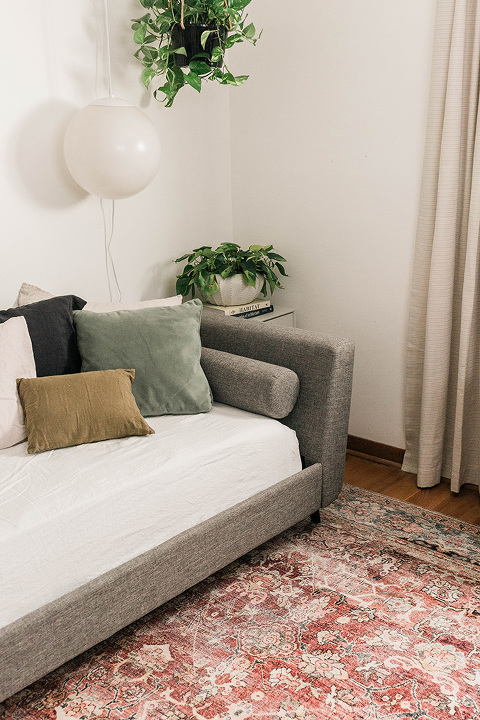 Since we were downsizing the bed, I also needed to get a new mattress for the room. This one from AllModern was a cinch to lay out. It arrived rolled up in a box, re-inflating after I removed the wrappings, and is quite possibly the most comfortable mattress I've ever laid on. Seriously! It's memory foam, and sleeps like a cumulus cloud. If you like soft mattresses, like I do, then I think you're going to love this one. The price can't be beat, either.
The majority of the time we have the daybed styled like a giant sofa, which has made afternoon or evening reading sessions a dream come true. I put new twin-sized sheets on the bed, and keep blankets handy in the closet, but, mostly, I just lounge for an hour or two at a time against all the throw pillows I tossed along the back and sides of the daybed. The new bed itself came with two bolster pillows that match the depth of the "couch" perfectly, so those were a great starting point.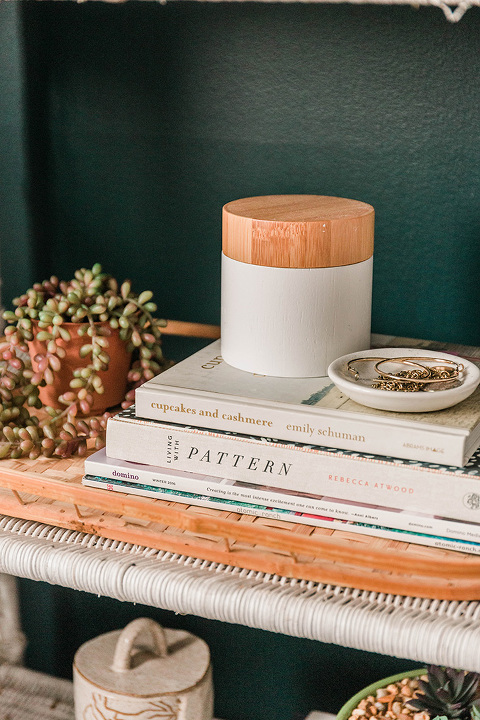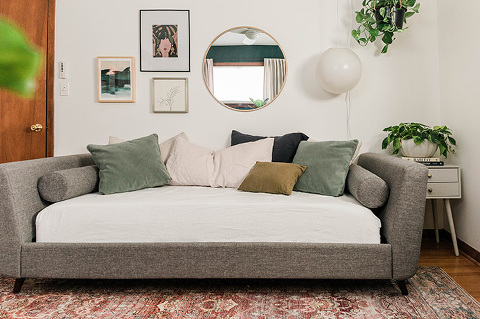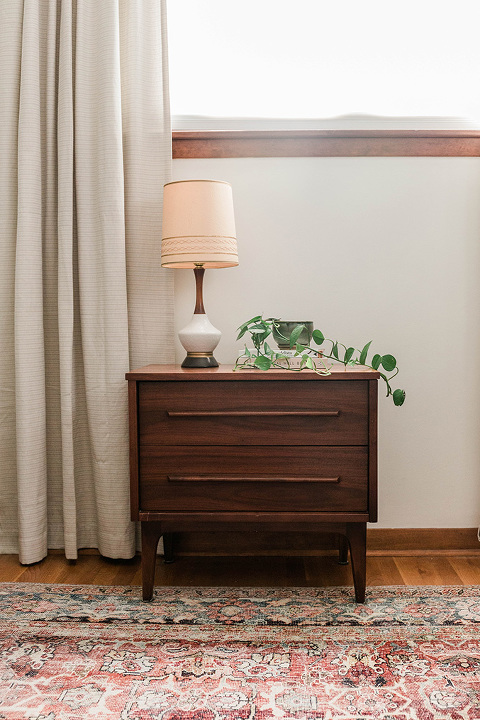 The rest of the room came together based around our new AllModern daybed. I wanted to carry that retro mid-century look throughout the space, so I layered in a vintage side chair that we already had, plus two modern side tables with drawers that we keep stocked with guest toiletries and extra chargers in case our visitors forget theirs. An antique rattan bookshelf was the perfect piece to add height to the corner of the room. Here's a similar option in case you want to get the same vibe in your own guest space.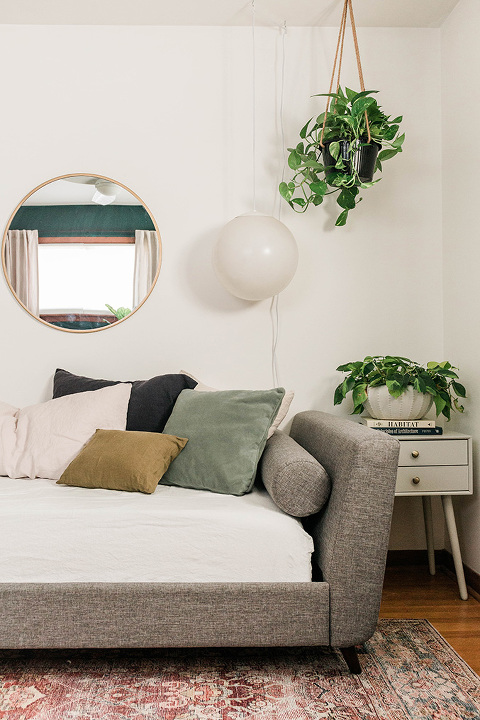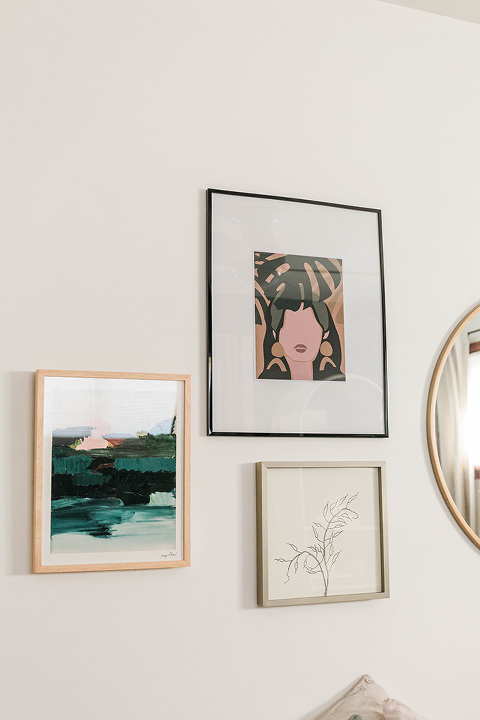 As for lighting, I used two vintage mid-century fixtures. The first is a globe pendant light that I turned into a plug-in fixture using a socket kit purchased from the hardware store to keep above the daybed, and an antique table lamp. Here's an almost exact replica of the latter from AllModern. A bold dark green/blue painted feature wall and boho rug (similar options here and here) were the perfect finishing touches for our room make-under.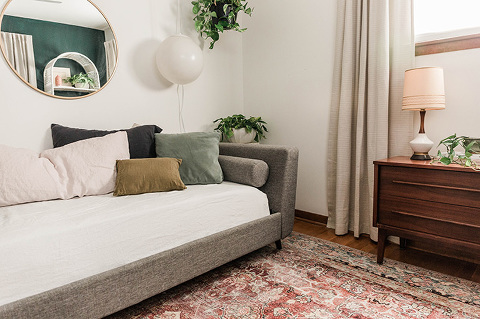 What do you think of the new space? I wish I could give you a tour in person and that you could have experienced the old cramped arrangement for yourselves, too. The updated layout and furniture choices have completely changed the look and feel of the room, and now it's one of our absolute favorites in the whole house. If you can't find John or me (or any of our four pets, for that matter), chances are good that we've snuck off to hang out in the guest room.
Big thanks to AllModern for helping bring my vision to life, and feel free to check out all of the linked products at the bottom of this post in case they help to turn your own visions for the perfect boho guest room lounge into a reality. Any questions? Leave them in the comments!