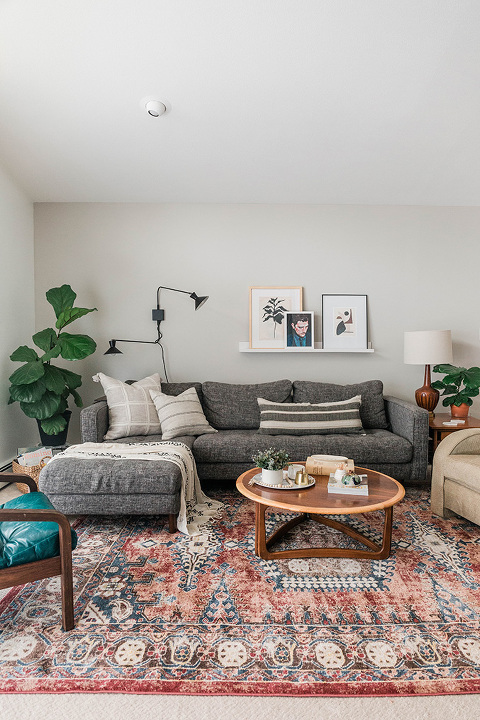 *This post was sponsored by Unique Loom. All opinions are my own.
Figure things out as you go. That has basically been my mentality as a DIY designer from the get-go because I'm not a professional. I have no fancy education when it comes to space planning and interior designing. Instead, I take things reaaaaallllllly slowly, and I layer pieces together until it feels right. And that's exactly how our living room has come together: over time! As budget has allowed, we've added special little touches and pops of character to make the space look like us, but also function well for our family.
Today, I'm working with the team over at Unique Loom, who offered to let us test out a rug from their Utopia Collection in case it inspires you guys to add that next extra special layer to your own spaces. We ended up choosing this rug in 'Terracotta' for our living room, and it has honestly been the game-changer we didn't know our space was missing.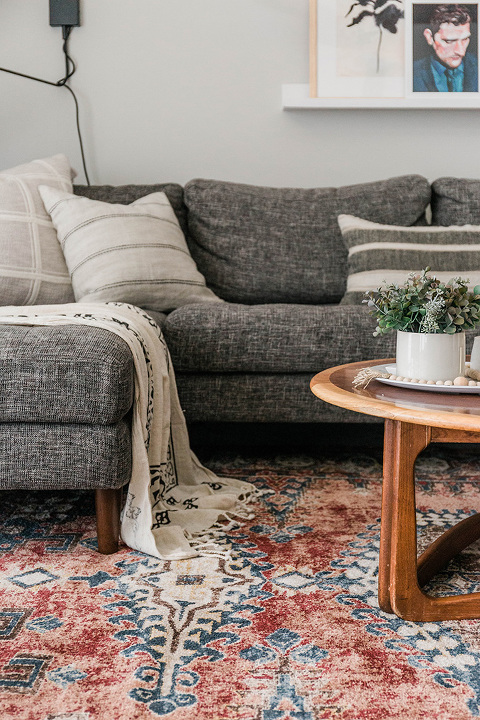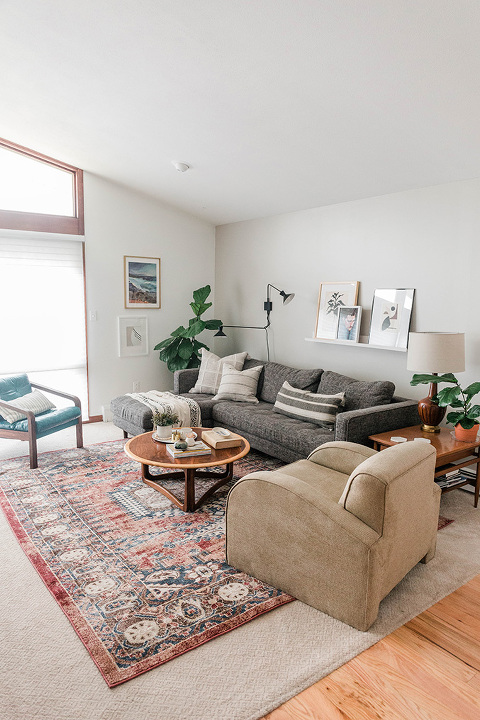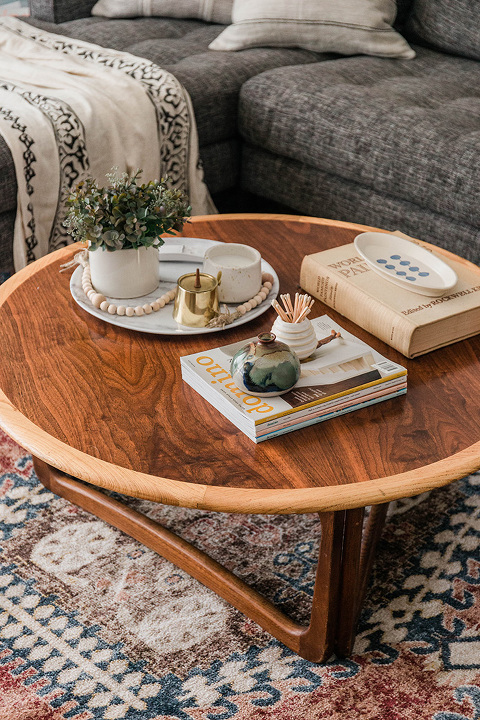 Up until this point, we were living with the wall-to-wall carpet we had installed a few years ago to replace the old discolored and stained carpet that came with the house. I get asked pretty often why we opted for carpet instead of hardwoods, and it's really all about comfort! We have four pets who love running around and wrestling on the floor, and we get right down there with them to play almost daily. The carpet is so much softer underfoot than hardwood would have been, so it's perfect for our family.
What I didn't realize, though, is that our plain beige wall-to-wall carpet was kind of sucking the life out of our living room furniture. Before, there was nothing to define the open concept space, which is right next to our dining room, so it felt a little bit like the furniture was floating there with nothing to ground the collection. Well, that's not the case anymore!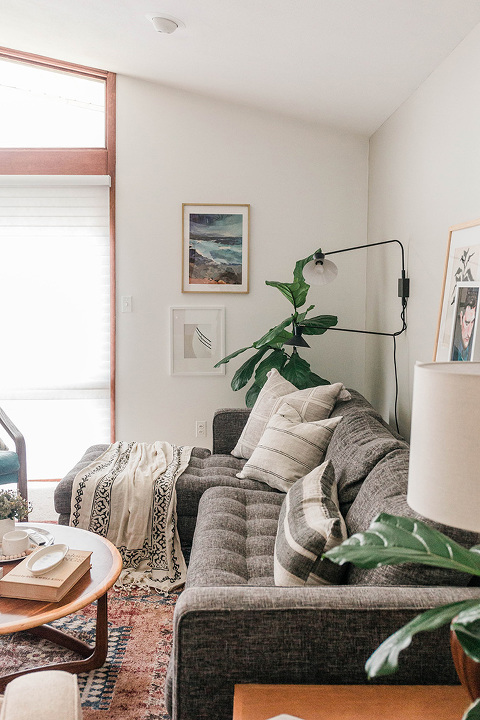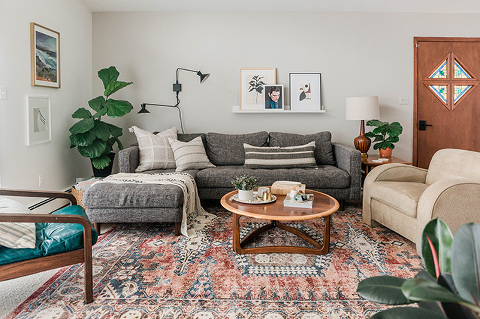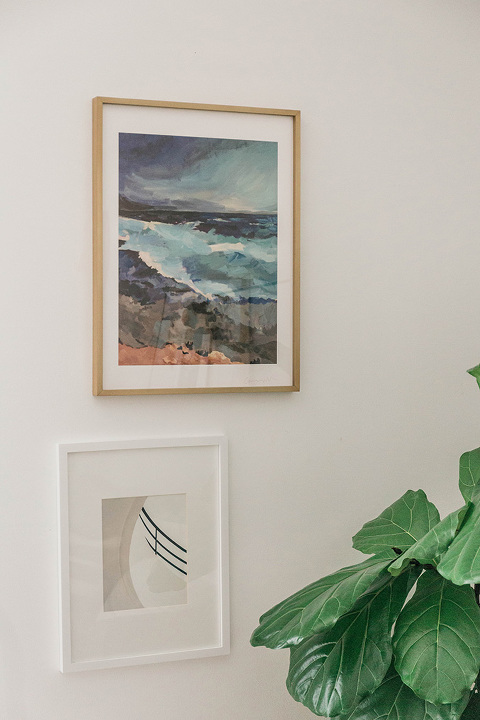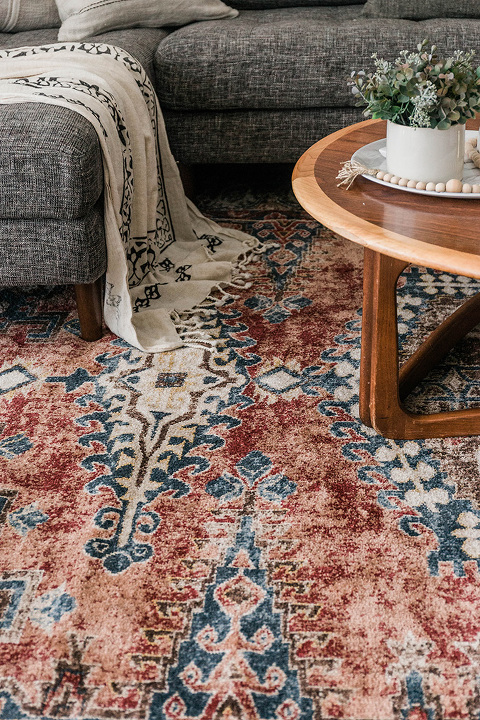 The new patterned Unique Loom rug that we chose now adds a visual center point to the living room arrangement, giving the space a purpose and, obviously, tons of character, too. I've loved playing with a rich red and jewel blue color palette throughout the house this past year, and our new 'Terracotta' Utopia Collection rug is the perfect extension of that whole house scheme I'm trying to take from room to room. Luckily, as you'll see pictured below, the colors of our new rug work well with what we have going on in the adjacent dining room, so everything feels nice and cohesive.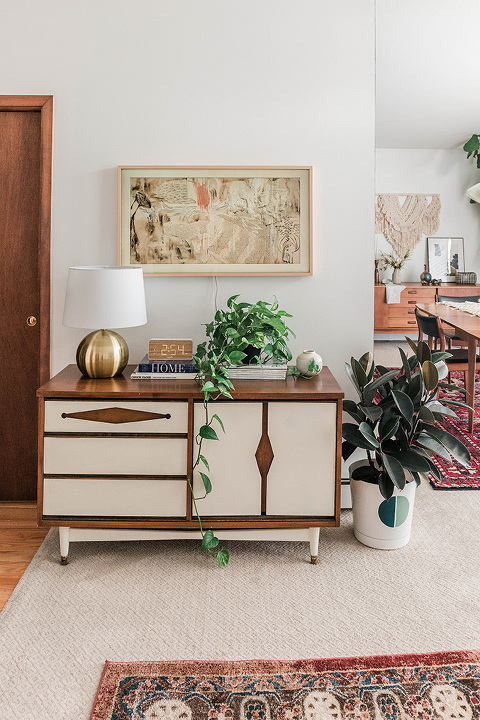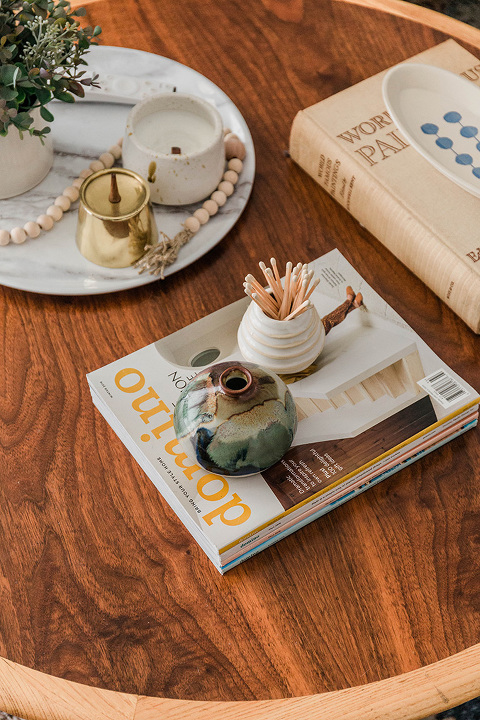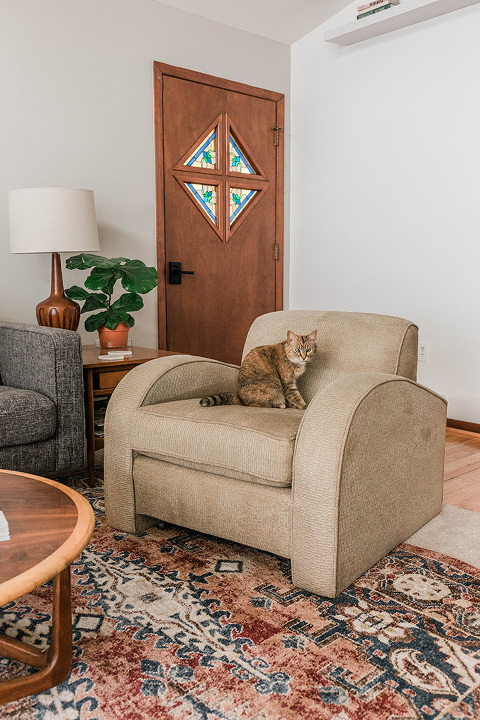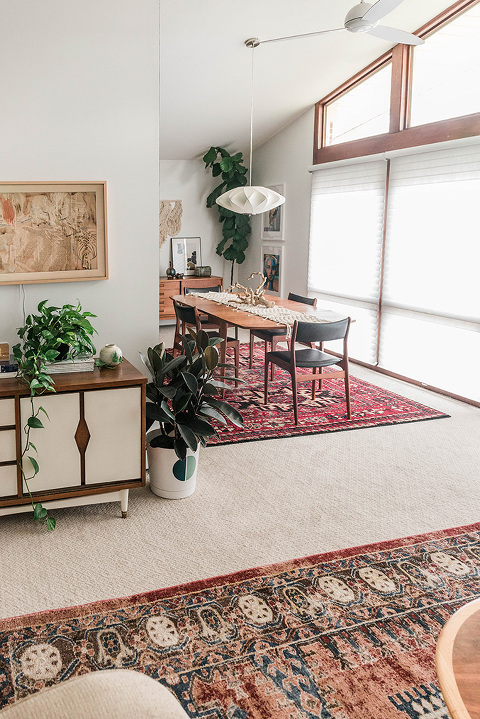 You might have noticed a new addition to the space as well! I gave my parents' leather recliner back to them now that they're settled into their new house here in town, and we replaced it with a cool vintage upholstered chair that I found at Habitat Restore for $94. I love the arched detail in the arms, and especially love that the oatmeal-colored upholstery is the perfect match to our Unique Loom rug.
One of my favorite ways to make a bold patterned rug work in a space is by pulling out one or two colors from the rug, and using those as my jumping-off point for the furnishings. By incorporating two solid-colored side chairs to the space (one in oatmeal and another in the same blue tone found in the rug), I'm able to keep things feeling light, airy, and consistent overall. The rust colors in the rug work well with our 1960s wood trim and doors, not to mention the vintage round coffee table I brought up from our family room that also helps bring a sense of flow to the arrangement.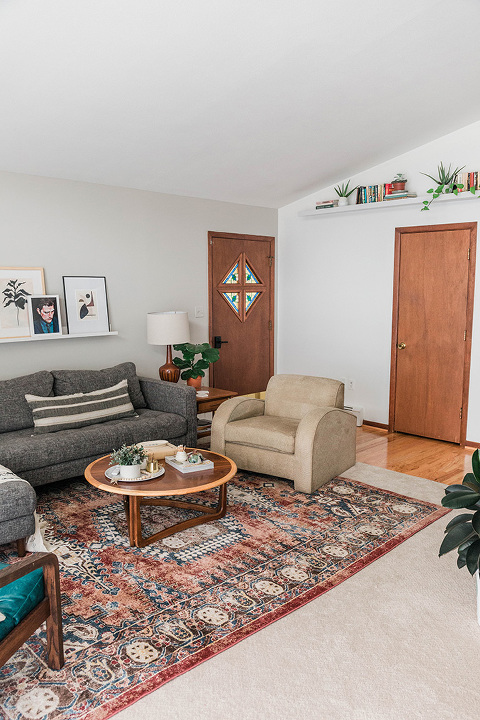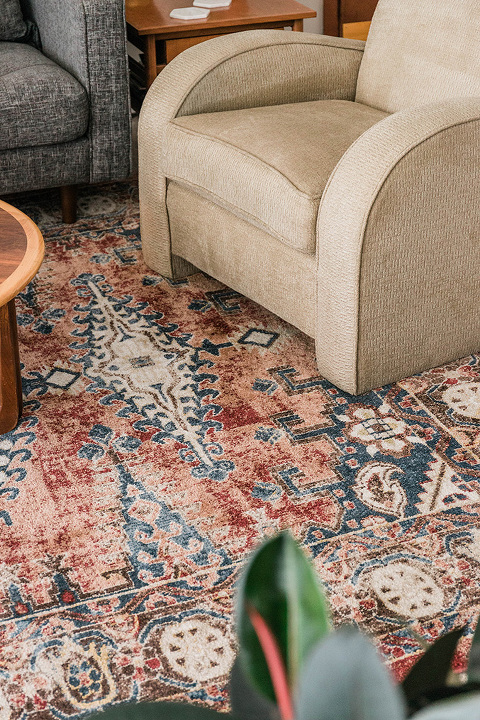 Our new Unique Loom rug is beautiful, for sure, and has seriously upped the ante in the space, but the function is what really sealed the deal for us. John and I love sitting cross-legged on the new rug surrounded by our pets in the afternoon and evenings. It's super soft, and provides the perfect spot for us to hang out together as a family.
What do you think? Could your space be missing a rug, too? To be honest, I wasn't even intending on putting the rug in this room, but when it arrived, I couldn't wait to unroll it, and laid it out in the living room just to see what the rug itself looked like. As soon as the rug was unfurled in the space, though, it was like it was meant to be. Let me know what room you'd like to add a rug to in the comments below!