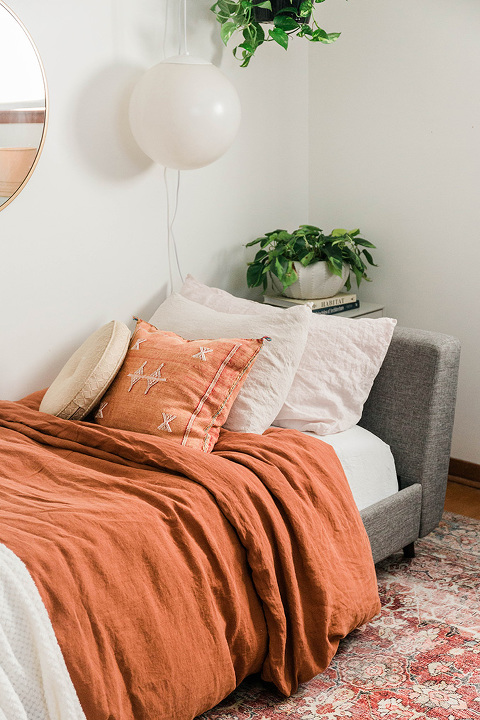 *This post was sponsored by Parachute
As you may remember from last week's guest room "make-under" reveal, we downsized from a full-size bed frame and mattress to a twin-sized setup. While the change ended up being an even better one than I anticipated, one very slight drawback was that I needed to invest in all new bedding for the smaller scale mattress.
I know most people are picky about their bedding, and I'm no exception. I've tried lots and lots of different types and brands of linens since having my own place as an adult, but there are just a handful that I trust without question, and one of my all-time favorites is Parachute. Their linen bedding is admittedly an investment, but it's a really good one to make. And I'm not just saying that. I've used their sheets, pillowcases, and duvet covers in our home for years, so their brand was the first one to pop into my head when it came time to purchase the right size bedding for our new guest bed.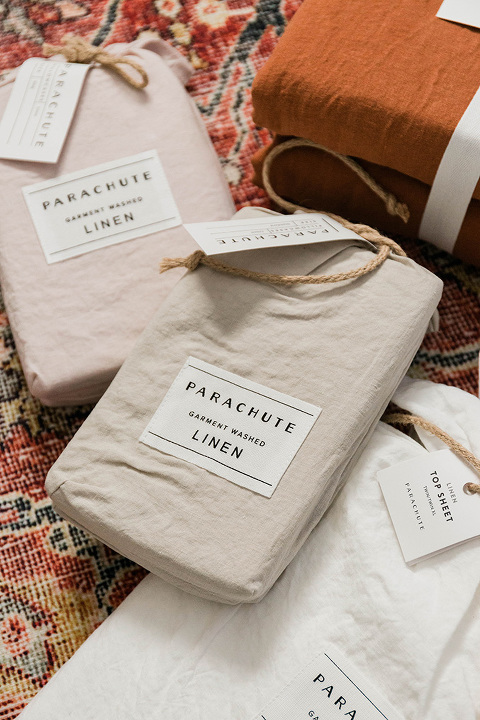 The teams' ears must have been burning around the time I was thinking about this last month because Parachute just happened to reach out about a new opportunity they were inviting a handful of loyal bloggers and homemakers to where we would have the chance to test out their bedding options for spring.
I responded immediately and told them that I'd love to team up so I could show you guys how to style your own twin daybeds a couple of different ways using mismatched Parachute bedding. With an official "go" from their team, I hit the ground running and pulled together a spring-inspired collection of linens to complement our new guest room design.
Keep scrolling to see the two ways I'm alternating between in our guest room these days, depending on our needs in the moment. Note that both looks use the same exact pieces from the custom mismatched set I ordered: two standard linen pillowcases in 'Bone,' two king linen pillowcases in 'Blush,' 'White' linen sheets (both flat and fitted), and their linen duvet cover in 'Terra.'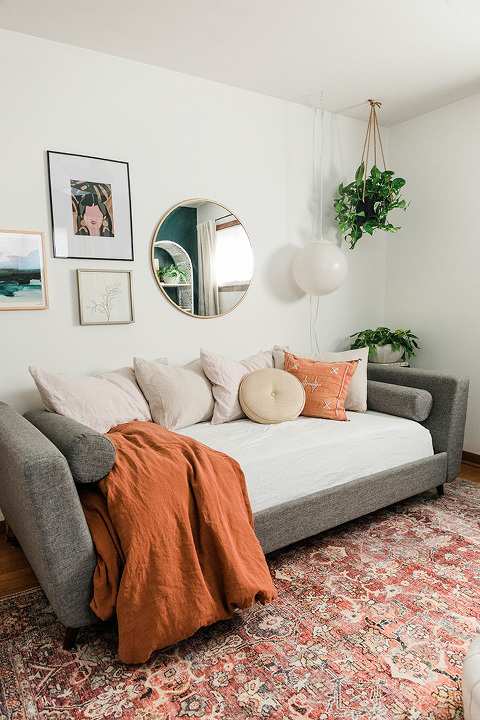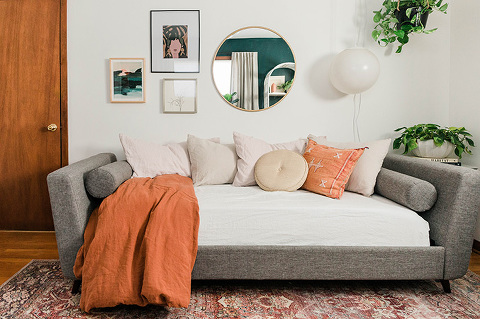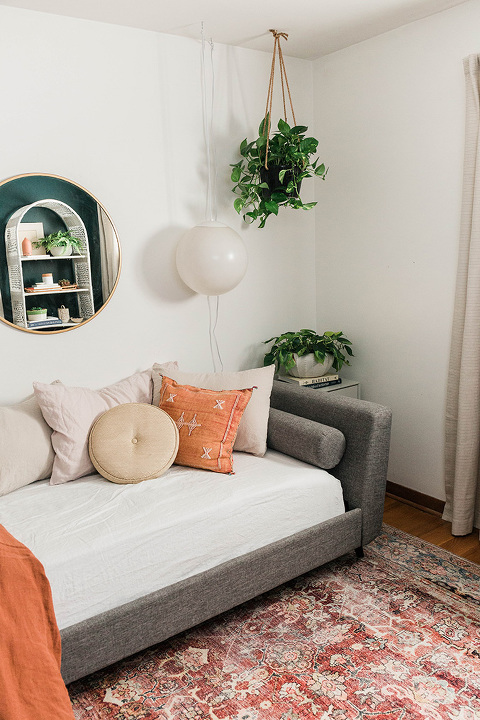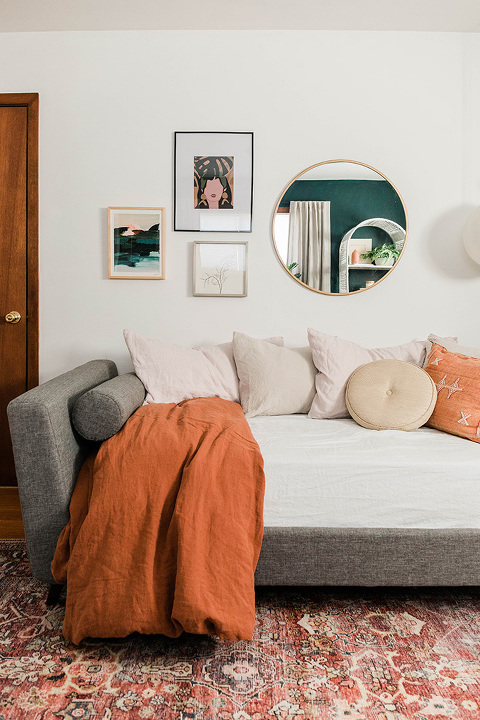 Way No. 1: As A Sofa
This first look is the one we keep together most often since we love to use the guest room as a lounge when we're not hosting guests. In terms of styling, I covered the bare mattress with our new white linen sheets, then I grabbed all the extra pillows we had in our stash and outfitted them with linen pillowcases to layer along the back of the bed. I decided on a mix of blush pink and off-white cases because of the area rug. I thought the soft pastel shades pulled nicely from our warm-toned rug, and that those were perfectly punctuated by the rich orange duvet cover I layered at the end of the bed.
I wanted to keep the comforter handy (as you'll see in Way No. 2), but to make it read less like a bed cover and more like a throw blanket, I folded it off to one side of the mattress. A pair of vintage throw pillows styled off to one side were the perfect finishing touches to make the bed look like a couch for everyday use by John and me—and our four pets, too, of course!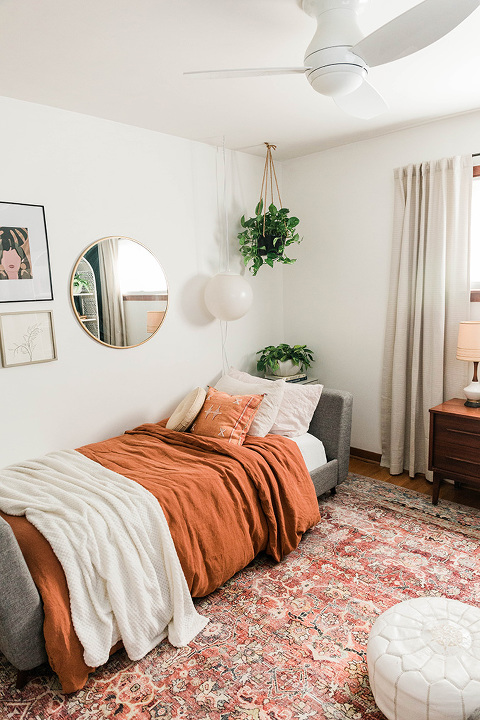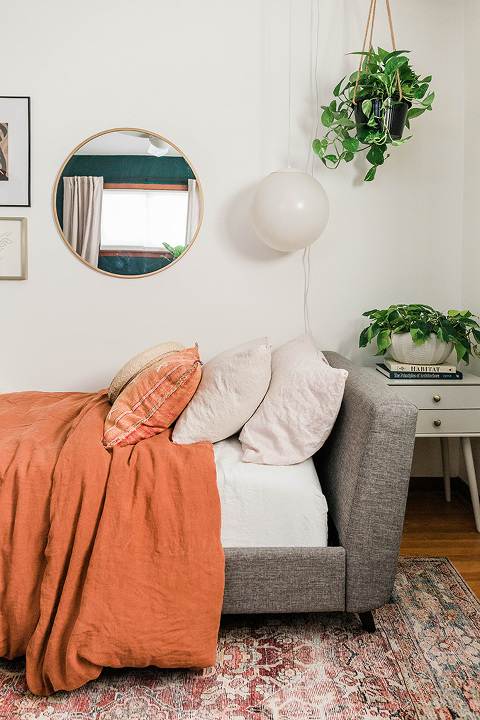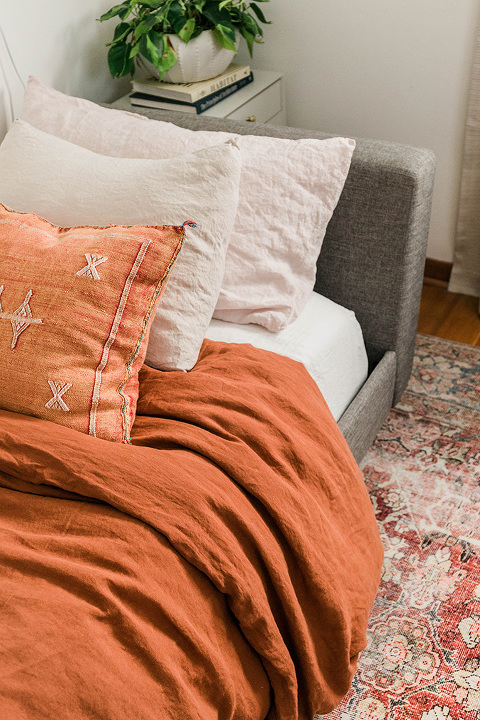 Way No. 2: As A Bed
The second look—styled as a traditional bed—is probably a no-brainer, but I wanted to show that you don't need to buy a whole different set of sheets and pillowcases to pull it off. I'm going to post a quick timelapse of me swapping the bed over from Way No. 1 (as a couch) to Way No. 2 (as a bed) on Instagram later this week, but the spoiler fact is that the entire process takes less than 20 seconds since I use everything I already have on the bed. No need to dig through your linen closet to make the swap!
To make it happen in real time, it goes a little something like this. I pull off all the pillows, pull up the duvet so that it covers the white sheets, and then I toss back on as many pillows as I think our guests might need—for this particular look, that meant one of the 'Blush' king-size pillows and one of the 'Bone' standard pillows. For good measure, I also layered back on the two vintage throw pillows. As for the extra two pillows from the couch styling, I tucked those safely away in the closet to throw back on the bed after our guests leave.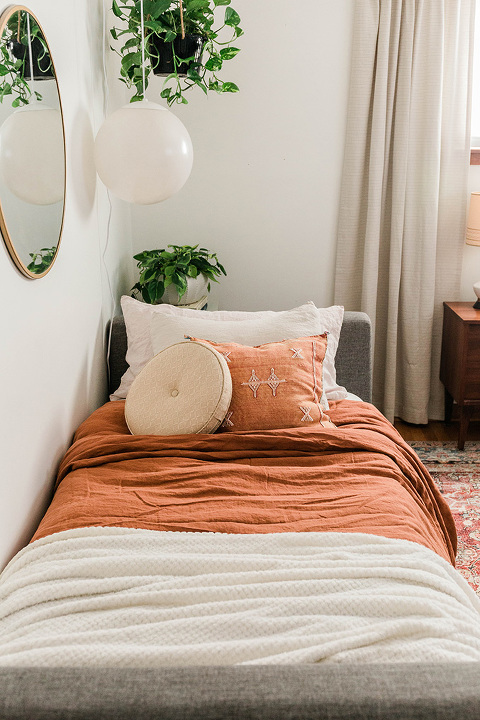 While we probably use Way No. 1 most often, I really am hard-pressed to choose a favorite look between the two. I assumed that I'd think the traditional bed styling would look awkward with the bed being in the middle of the wall, but I actually think it looks totally natural! Since I spent such a long time carefully choosing Parachute linens that complemented our room design overall, that made any of the looks we might try feel like natural additions to the space as a whole. Which of the ways is your favorite?