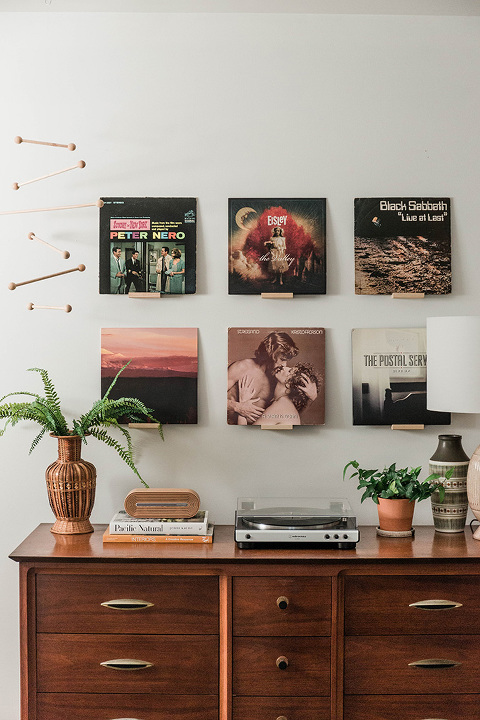 *This post was made possible by The Vinyl Wall.
Now that I'm spending a little extra time at home, I've been searching for things to do that will relax and calm me. I'm still doing my daily meditations and I've taken lots of long baths, but one of my favorite self-care habits lately has been centered around music.
John and I have always been big fans of music (he was in a band all throughout his teenage years and his twenties, and I was a wedding singer!), so we always have the speakers and TVs in our house rolling with different types of music. Our tastes run the gamut, so you never can predict what type of musical mood we'll be in—one minute it could be Willie Nelson, and the next it'll be the Garden State soundtrack, or show tunes from one of my favorite old movies. It all just depends on the day!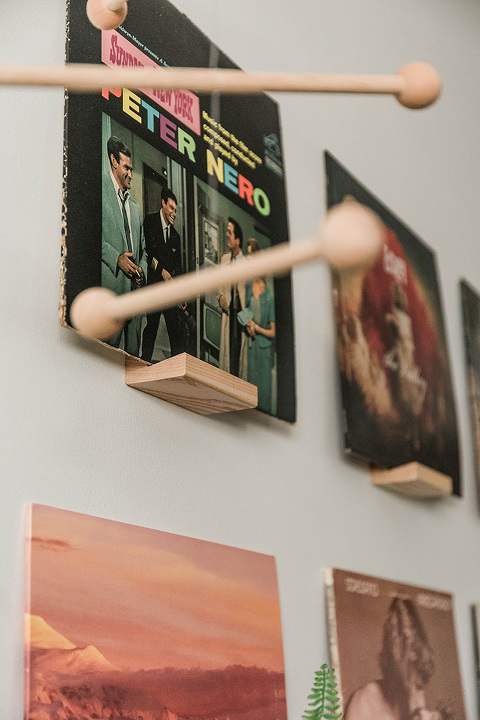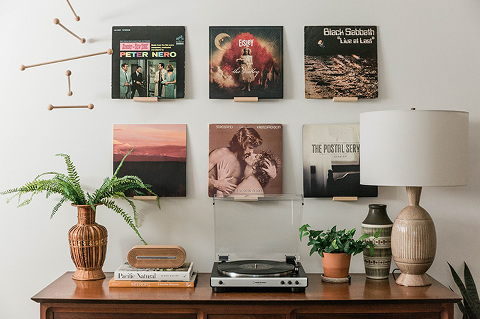 One room in our house that didn't have any way to play music (other than directly from our phones) was the master bedroom. So, I decided this big worldwide quarantine event was the perfect excuse to rectify that situation. The goal was to set up a sort of interactive area on top of John's dresser where we could display and play a rotating collection of our favorite albums of the moment. I figured the cool colorful album covers could act as art.
Up until now when it comes to record-playing, I've always made do with those budget-friendly suitcase players. They're great—don't get me wrong—but my vision for this wall was more of a turntable style setup. After a bit of online searching and comparing, I found a refurbished one on Amazon that cost roughly $130 in the black-and-white color scheme I was hoping for. It came just when Virginia's "Stay At Home" order was put into effect, so we've been finding lots of solace in this machine already.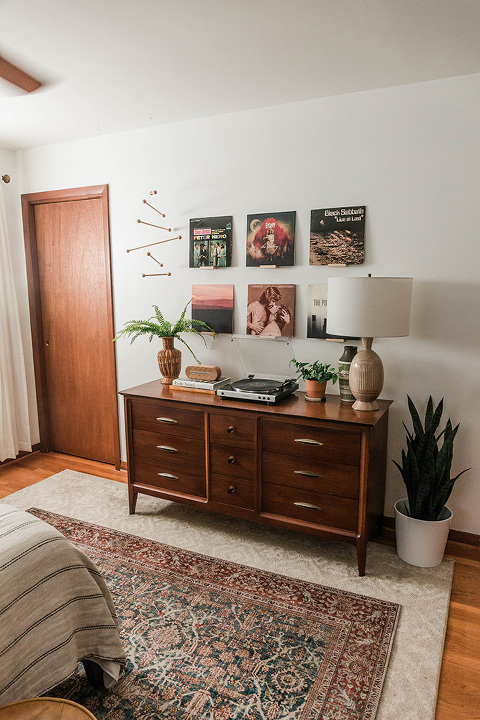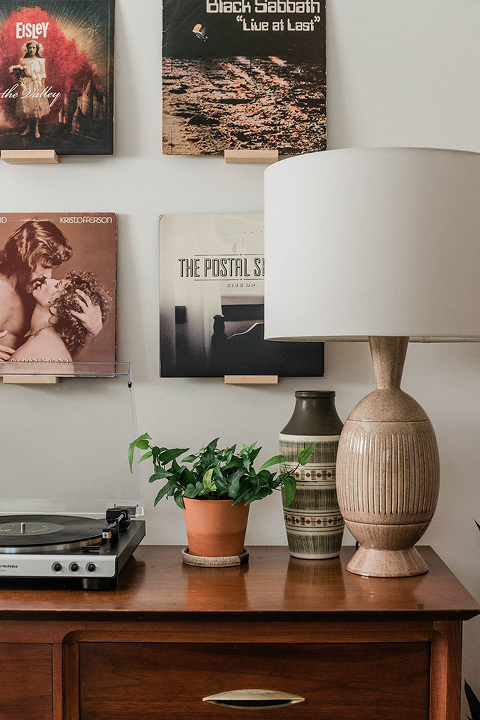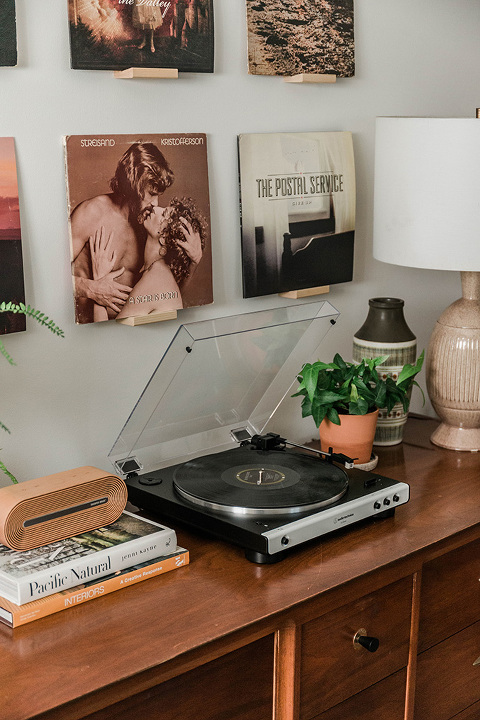 But I haven't mentioned the albums display yet! To bring this part of the setup to life, I hung six wooden shelves from The Vinyl Wall, which is a small business based out of the UK. They use sustainably sourced wood, which is a cause I love to support, and they come in two different styles: darker brown and natural. We went with the natural version, and they were so easy to install. Just one screw each, and the shelves even come with their own hardware.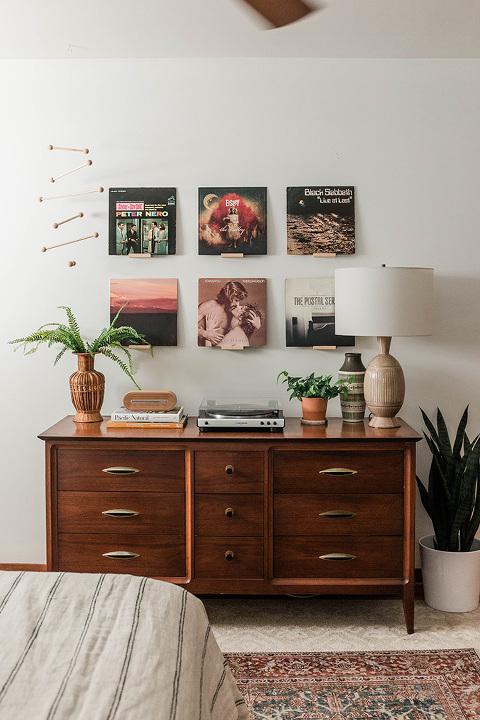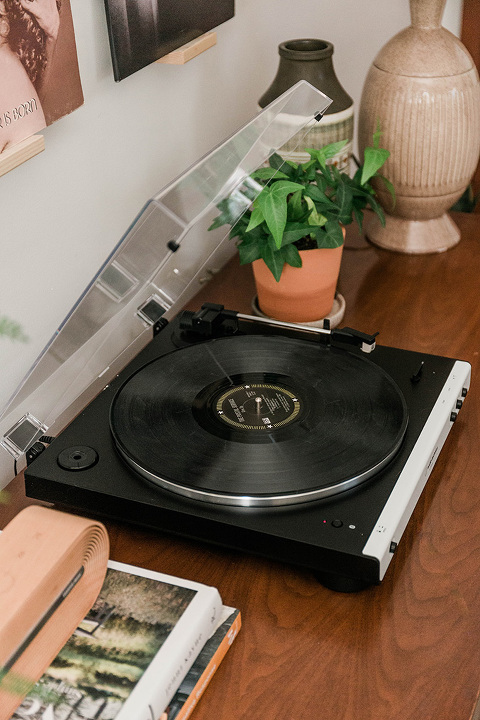 I'm absolutely in love with the bold, graphic look of the final tabletop and wall arrangement, and love even more the fact that I can switch on the music as soon as I get out of bed in the morning. While it would have been nice to splurge on a more professional turntable and speakers, this introductory option works just perfectly for us. The turntable we got is bluetooth-enabled, so I put one of our bluetooth speakers (similar one here) next to the player to direct the sound nicely into the room.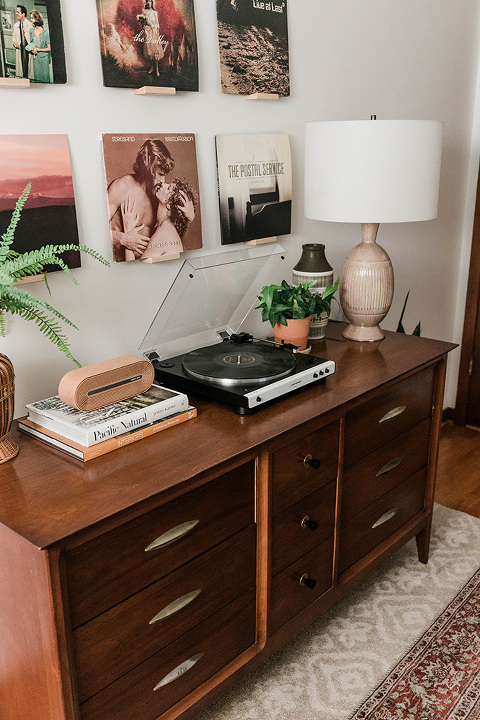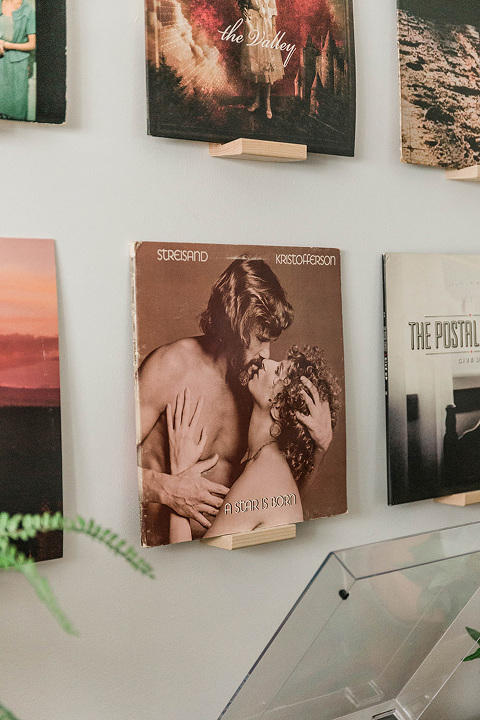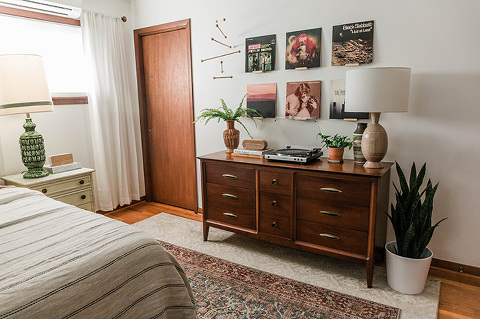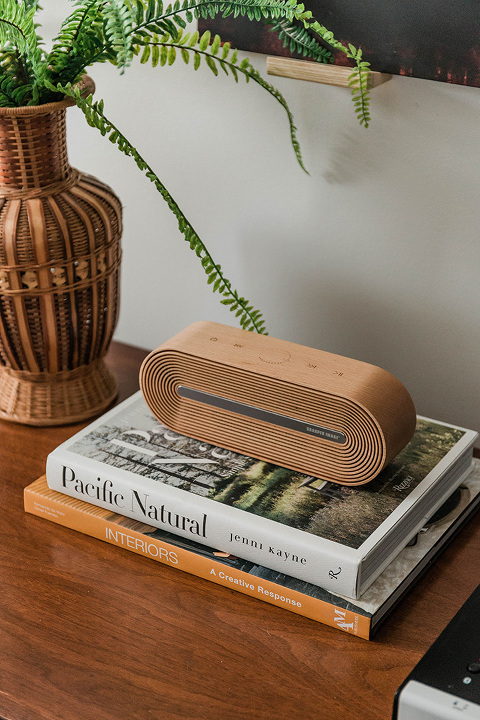 I've already changed around the records once since getting our turntable and hanging our new shelves, and I have a feeling we'll be swapping them around monthly (if not weekly). But that's what makes this setup so fun. It's interactive and easily changed depending on our mood. Now I'm on the hunt for new records to love…What are a few of your all-time favorites? Let me know in the comments below.
Before I go, I wanted to extend big thanks to The Vinyl Wall for making our vision for this mini update possible. Their team in the UK is still making and shipping shelves as of today, so throw some support their way if you want to be able to recreate this same look in your own space!
*I earn a small percentage from purchases made using the affiliate links above. Affiliate links are not sponsored. Rest assured that I never recommend products we wouldn't use or don't already love ourselves.