*This post was sponsored by Elementem. All opinions are my own.
The year 2020 has been a lot of things—I think that goes without saying for just about all of us. But this year has also been something else for me: the year of color! I've loved experimenting with bold new shades of blue, green, and even red in our décor, and I think I have all this extra time spent at home to thank for that transition. Since we're having to postpone all of our vacation plans this spring and summer, I'm satisfying our wanderlust by doing everything I can to make our space feel inspiring and energizing, which has unintentionally led to lots more color.
One of the best parts about all this new vibrant color in our house is that our art has felt practically brand new all over again. I'm learning that color has a way of really making framed prints and paintings pop, so today I'm going to show you how I did exactly that with a new canvas collection from Elementem. I chose a 5-piece panel collection featuring a black and white photograph of the Brooklyn Bridge for the latest colorful feature wall in our dining room, and I'm chatting all about how I turned the art into a true focal point using color. Don't miss the brand new YouTube video at the bottom of the post, and you can also score 20% off your order from Elementem using coupon code "DreamGreenDIY"! Now, let's get into it.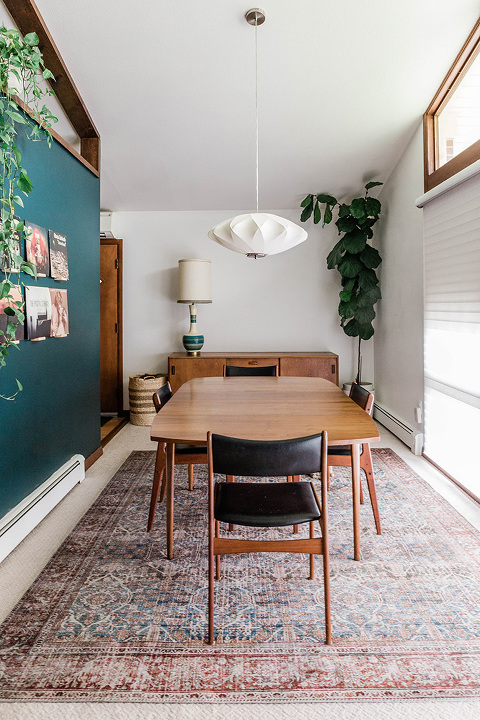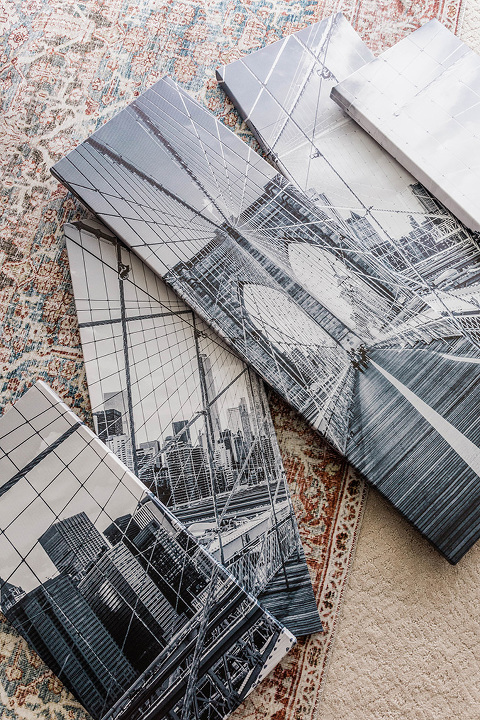 Honestly, our New York panorama canvases didn't need much to turn them into the star of the show in our dining room. The middle panel clocks in at 40 inches tall, and the entire collection as a whole is a whopping 60 inches wide once hung together on the wall. I knew they'd command attention on their own, but I felt like I could take it one step further.
Think of it sort of like a centerpiece on your dining room table. A big overflowing floral arrangement looks pretty on its own in the center of your table, but you could really set it off by styling it on a vintage gold tray flanked by ceramic candle holders, a wooden bowl of linen napkins off to the side. It's the same with art! It might look beautiful on its own, but you could give it true power just by changing the wall color behind it. Trust me—it sounds so simple, but has surprising impact.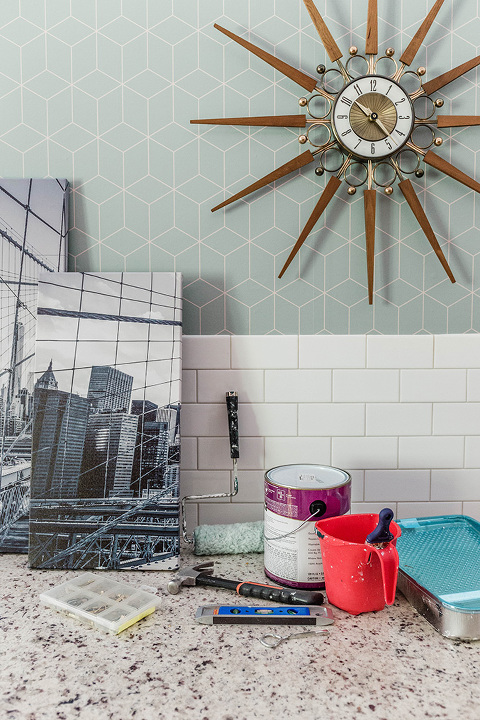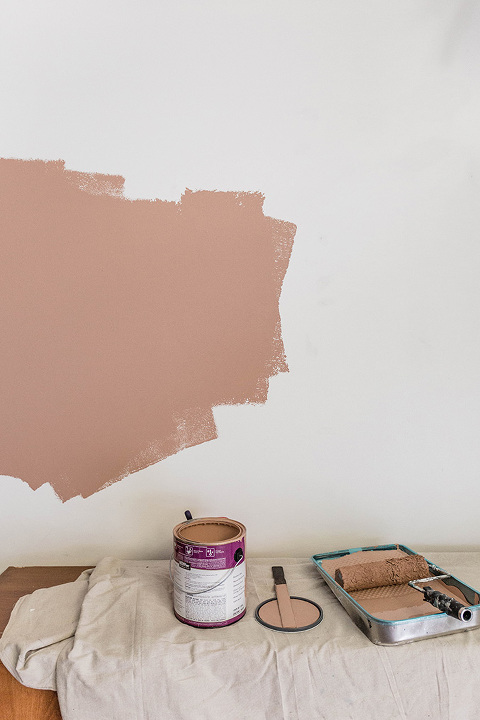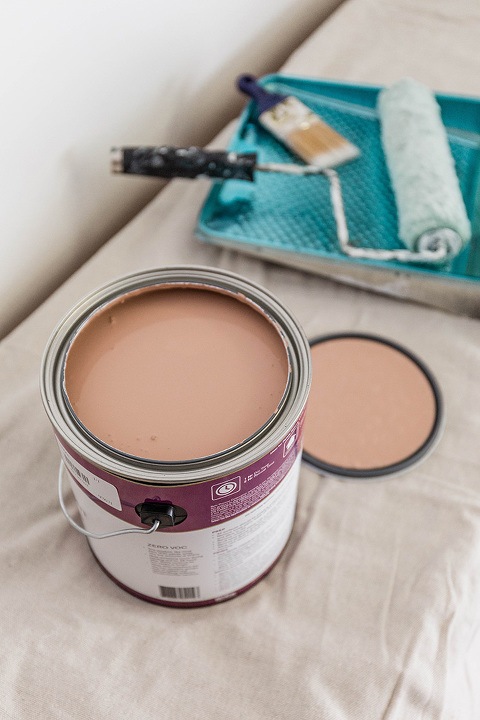 I had actually been thinking of painting a second feature wall in our dining room for a couple of weeks. I wanted to make the back wall feel a little cozier, and I figured the best way to do that would be to repaint the white wall a rich, earthy coral color to complement the dark blue/green wall next to it. I ordered this paint online, and then spent the time I waited on it to arrive planning out the space centered around our new Brooklyn Bridge art.
Luckily, it took just two coats to completely cover up the old white wall, and only a couple of hours total to completely transform the space. The new wall color ended up being the perfect shade of coral-y terracotta, and once the new art was hung in place, everything felt right with the world—well, at least in our little 1,900-square-foot world!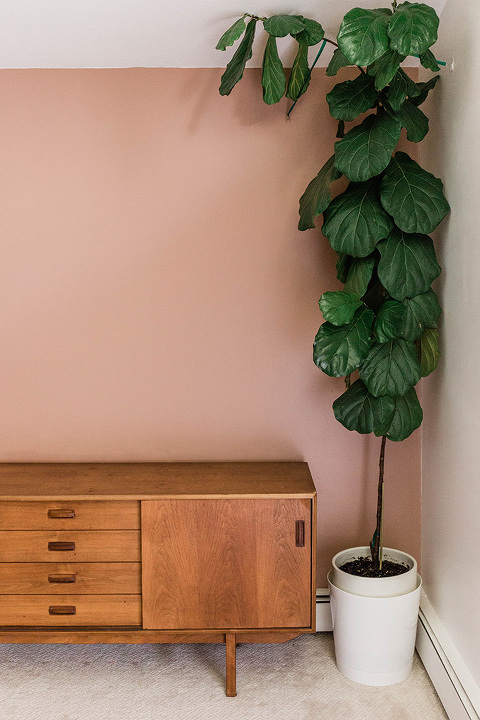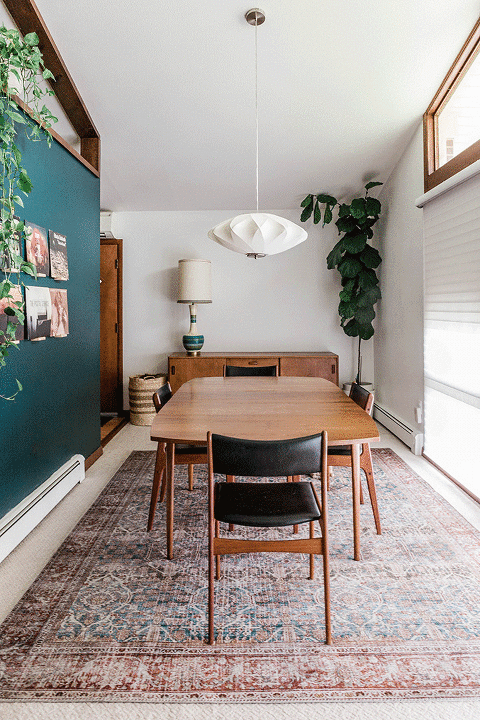 The new wall color helps draw your eye right to the canvases, and then the intricate detail in the photograph itself does the rest of the work. It's one of those types of art pieces that draws you in, and you can't help but wander over for a closer look. The lines of the bridge all connect in a way that makes the five panels feel seamless, and it's fun to let your eye bounce from the buildings in the background, to the American flag waving toward the top of the scene, then on down to the people wandering along the bridge's path.
My heart goes out to that city and all the struggles its residents are going through right now. As silly and trite as it might sound, I feel like having this art piece in the heart of our home is my tiny way of honoring and celebrating the city's strength. It makes me smile and feel reflective whenever I catch sight of the panels out of the corner of my eye throughout the day.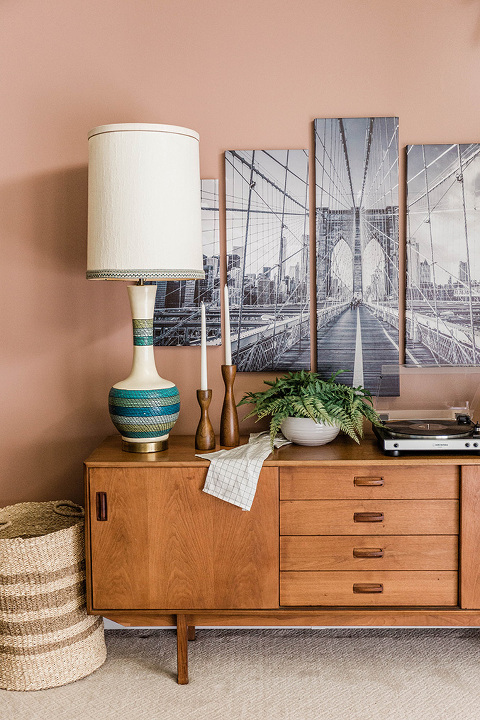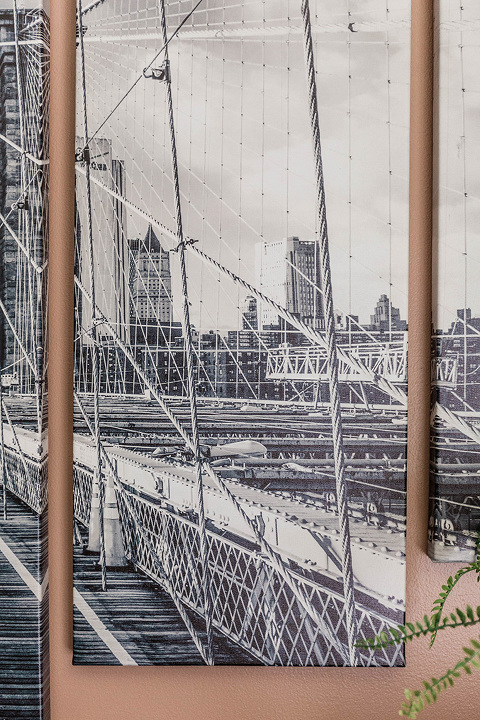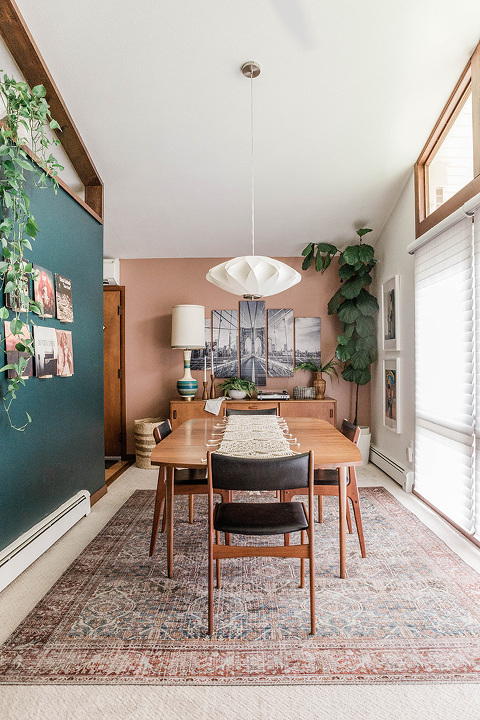 As for styling in the rest of the space, I think in your own homes you can go one of two ways: (1) style minimally to let the art do all the talking, or (2) layer around the art to create a cozy, integrated vibe. There's no wrong way to do it, but I decided to go with the second option, adding back in our vintage table lamp, greenery, our record player, candles, and a ceramic container for napkins.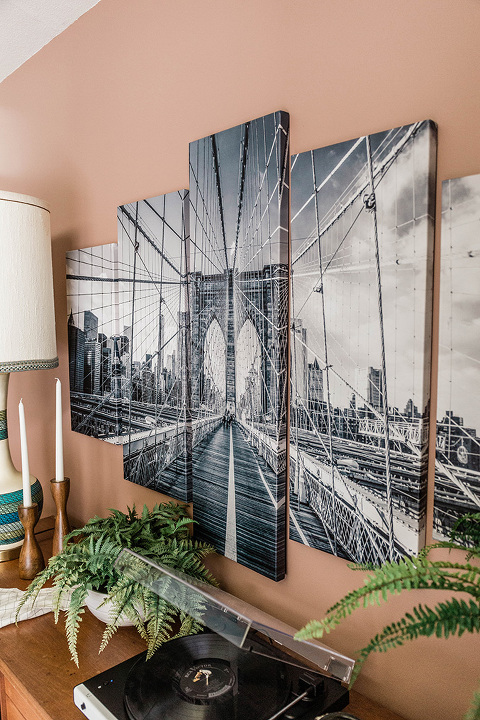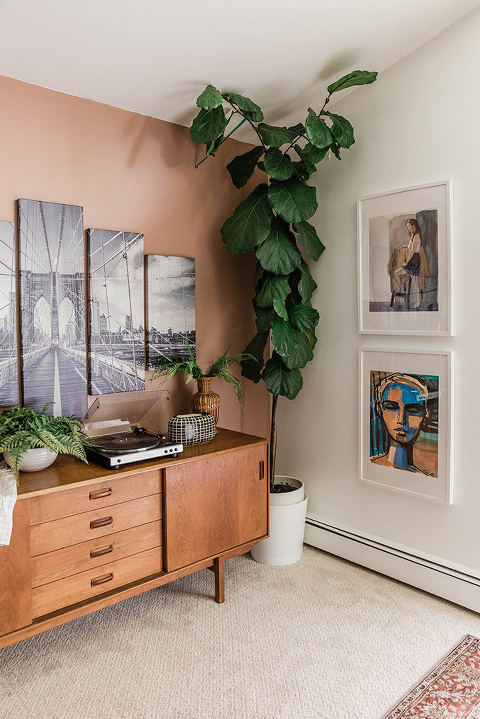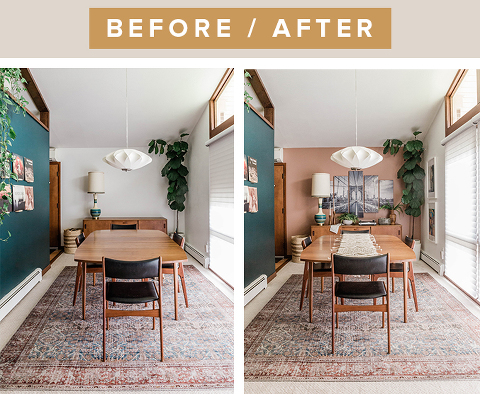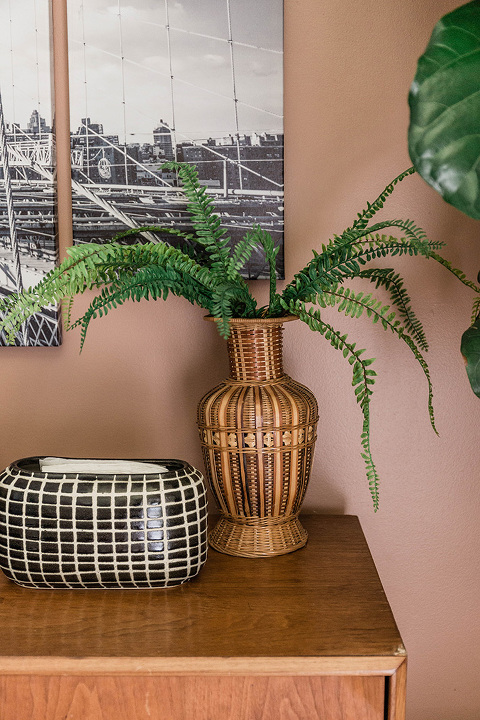 Since we're an "eat-dinner-at-the-table-as-a-family-every-night" type of couple, I still needed to keep certain things within easy reach, and I appreciate how the overlapping accents (some of which are placed right in front of the art) almost make the panels feel like a real life window looking out over the bridge.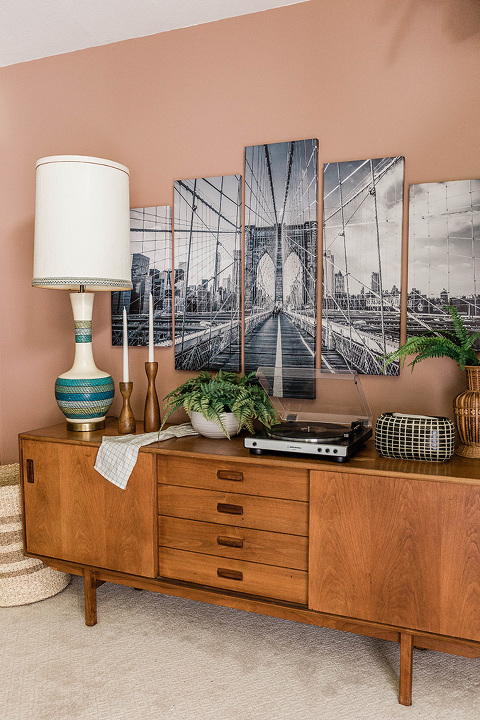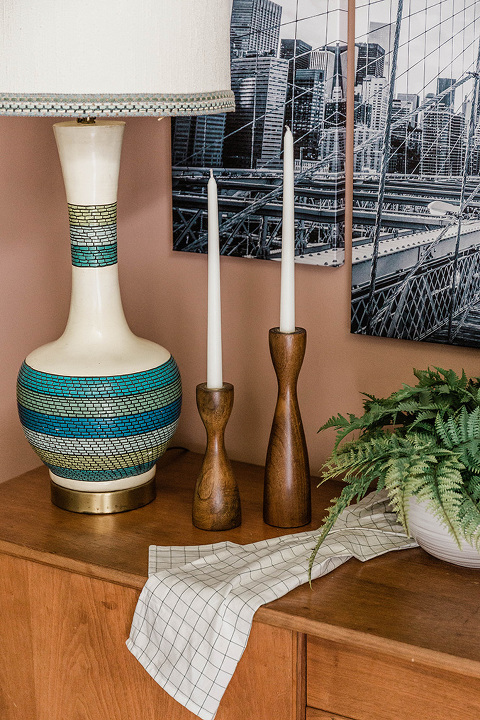 This might be one of those times when it's easier to appreciate the full effect in person, and because of that, I put together a new video so you can watch the changes unfold almost like you were there in the room with me!
Click "Play" on the video above, or hop through to my YouTube channel to watch it over there. In the video, you'll find out what's needed to pull this look off in your own space, and how it can all come together in the space of one afternoon spent at home! Which art prints would you choose for your space? See all the options at Elementem this way, and don't forget that you can get 20% off your order from Elementem using coupon code "DreamGreenDIY."