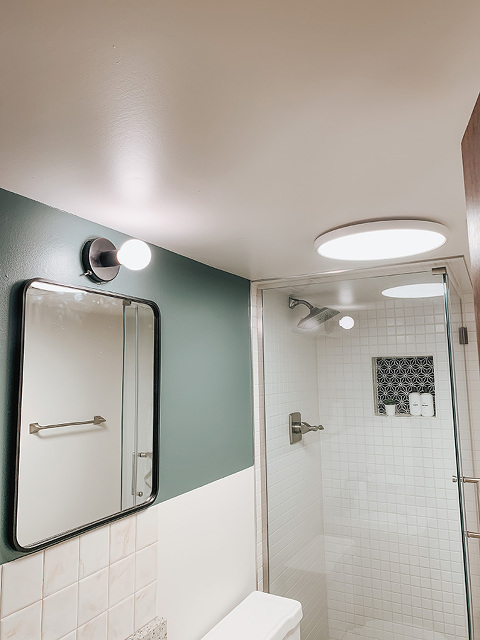 Week 1 | Week 2 | Week 3 | Week 4 | Weeks 5 & 6 | Week 7 | Week 8
(FYI that links will "go live" one at a time as the event progresses)
Thanks for following along with my role as a guest participant in this season's 8-week extended One Room Challenge event! If you're new to Dream Green DIY, hop over here to find out a little more about me. You can click those links above if you need to catch up with this year's progress as we refresh our downstairs hall bathroom, otherwise, keep scrolling to see what's next in this room renovation!
Hopefully you caught my explanation last week for deciding to combine weeks five and six, but if you didn't, no worries. I essentially decided to push pause on all scheduled content last week—both sponsored and not—out of respect for social justice activism. It was just plain wrong to act like nothing was different, so I muted my voice online in order to amplify the voices of #BIPOC leaders. It was more important for me to listen, learn, and share pertinent resources (which I compiled here if you're looking to learn more).
Even though today I'm deciding to talk through a few home projects we've been working on lately, please know that my work is not done when it comes to learning how to be actively anti-racist on top of my life-long commitment to inclusivity. I'm not perfect (never will be) and I've stumbled often these past couple of weeks, but I'm finding that I learn the most from those mistakes. I refuse to sit in silence.
At any rate, today feels like a good time to broach the topic of new projects in our house. Last week's planned ORC update had to do with new lighting, so I'll kick the discussion off with those updates, but the second half of the post will be all about updates we made to the plumbing fixtures in our hall bathroom makeover. Let's hop to it!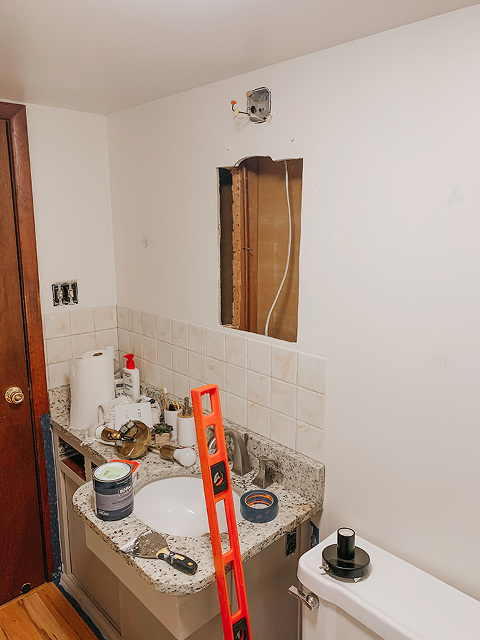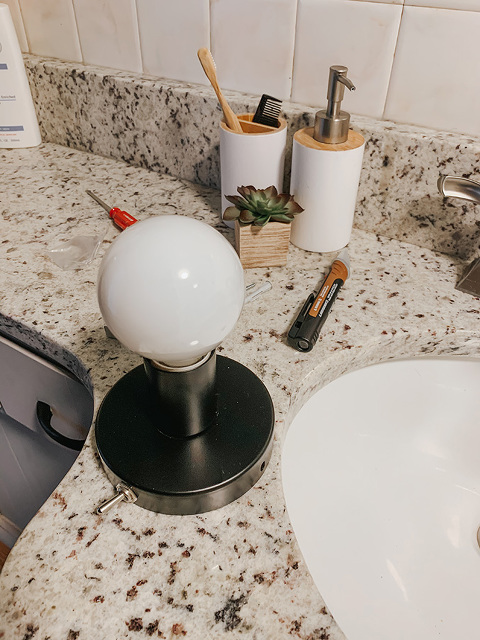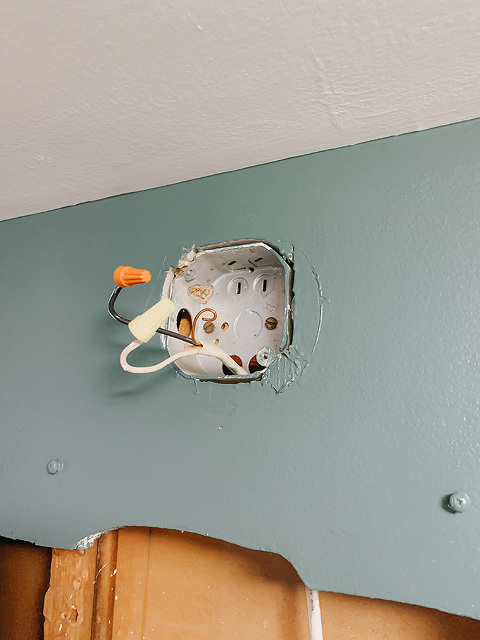 Despite having changed out all of the old original light fixtures years ago, the new ones we picked sort of missed the mark. The one we put over the mirror never worked correctly (even after asking for and receiving a replacement from the Etsy seller who made it), and the ceiling flush mount light we picked wasn't my favorite either but it was cheap. So, I ordered a new single bulb fixture from a different Etsy seller to go above the mirror, and splurged on a much more minimalist flush mount light for the ceiling.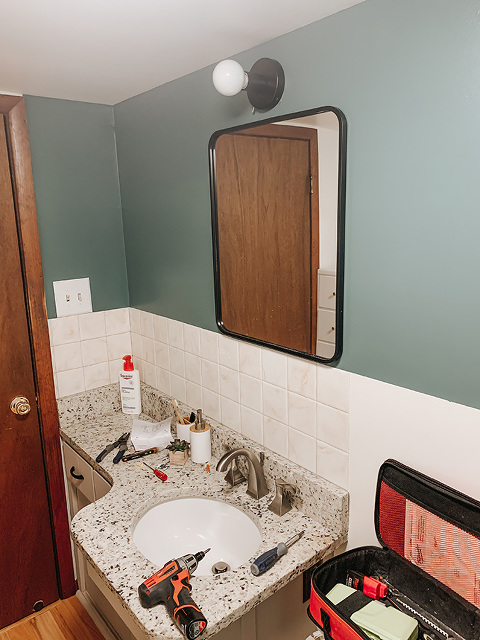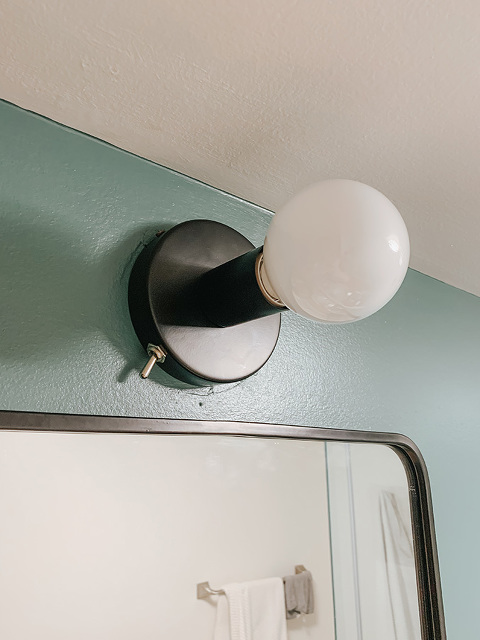 Aside from the fact that the new sconce is black to match the cohesive matte black finishes I've been working into the room this go-around, another bonus is that it offers the chance for more direct light. The old fixture had bulbs off to the side, whereas this one puts the light output front and center.
I also decided on an extra bright oversized bulb to maximize the light. You see a frosted bulb here because that's what I had on hand, but I actually ended up replacing that later on with a new clear bulb to keep it looking extra modern and vibrant.
One thing you probably noticed is the messy paint job around the sconce. I didn't realize the new fixture was a little smaller than the old one, exposing the uneven wall around it, so I'll eventually need to scrape that down, fill it in, sand it smooth, and repaint—but that'll just have to wait for another time since, to be frank, I'm a little burnt out on painting at this point.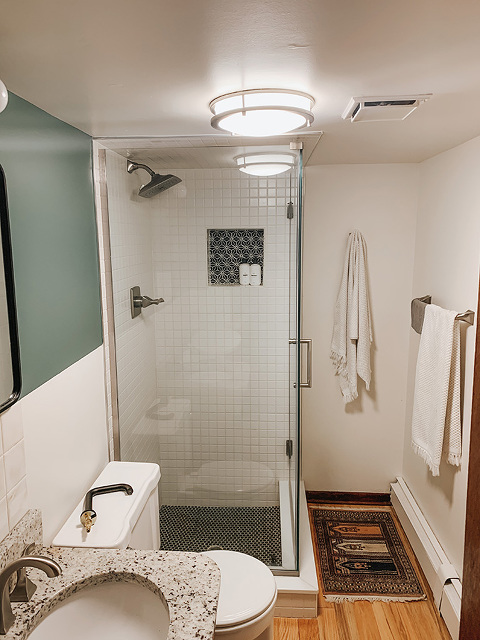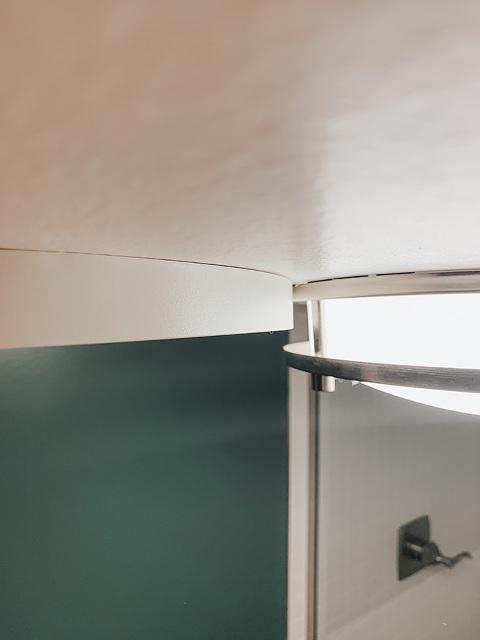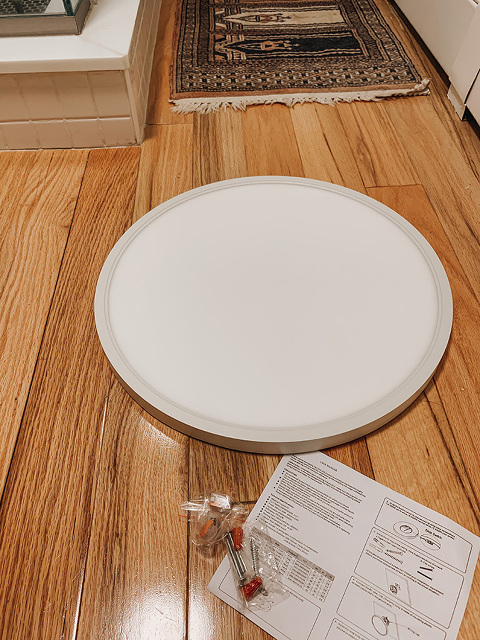 What you might not realize from pictures is the fact that this room is really, really small. And I don't just mean width- and length-wise—I mean height-wise. It's only 6 and a half feet high since it was a later add-on by the previous homeowners, and while that's okay for us since we're short, it makes just about anything that hangs from the ceiling feel right in our face. Including the light fixture.
So, I found an extra, extra thin flush mount option on Amazon to replace our old one, which hung down a little too far for my liking. You can see the difference in height a couple of photos up where I held the new light beside the old one. The new fixture is at least two inches shorter than the old one, and much wider, too, so it's a win-win. The other thing I appreciate is that our new light comes with three different light temperature settings, so you can choose the option that's best for your space. We went with "Warm White" in case you're curious.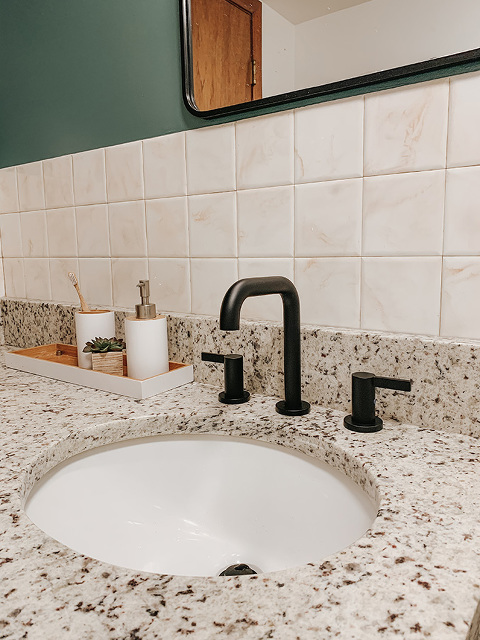 Okay, now on to plumbing. In case you're just tuning in, I had swapped out the old original faucet back in 2018, but the replacement faucet I picked was chosen on a whim and in a hurry to meet a deadline for a sponsored campaign I was a part of. It was a lesson learned not to compromise or settle, and to take my time choosing fixtures (especially more permanent bathroom fixtures), because it wasn't as easy as I was hoping it would be to upgrade to our new matte black faucet.
You can see the old one we had hired someone else to install back in 2018 below. It's lovely, and functioned beautifully, but it just wasn't the best fit for our personal style and aesthetic. After living with it for a couple of years, I felt strongly that we needed to go with something black to make our black niche tile in the shower feel more cohesive. Mismatched is fine—I do it all the time in home décor—but I learned that eclectic fixtures in a bathroom as small as this one just doesn't look great. So, out with the old, and in with the new, as they say!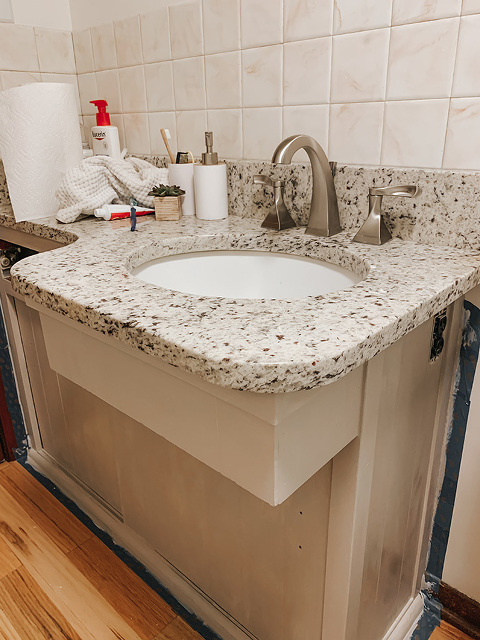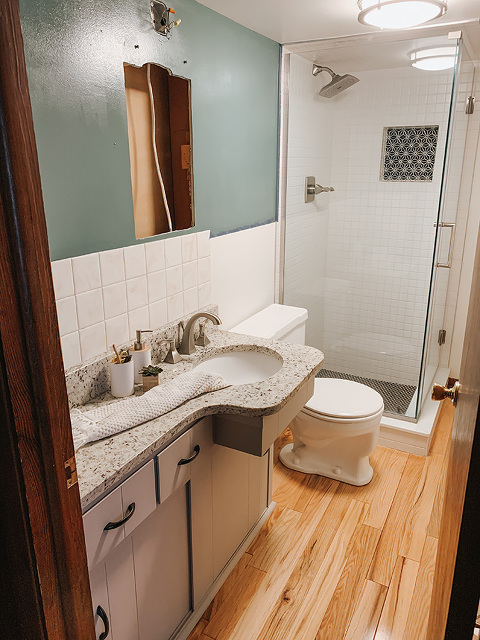 I had thought about installing this on my own because I've seen lots of other DIY bloggers and Instagrammers do it with ease, but my dad insisted on coming over that day to help me. In the end, all I did was sit there and hand him stuff, though, because installing a faucet is tough work!
There are some things I've learned over the years that I'm just not cut out doing on my own (tiling being one of them), and apparently I can add "installing a new faucet" to the list. It's not that it's all that difficult to do, but it's tedious and can require lots of troubleshooting, like this one did. I'm not patient enough for that, so thank goodness for my dad's help.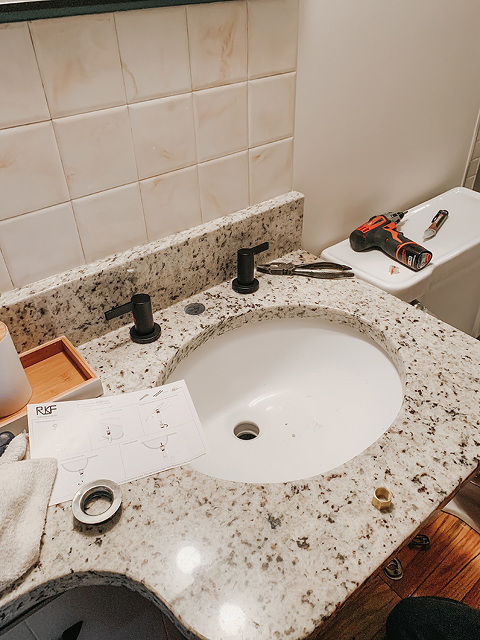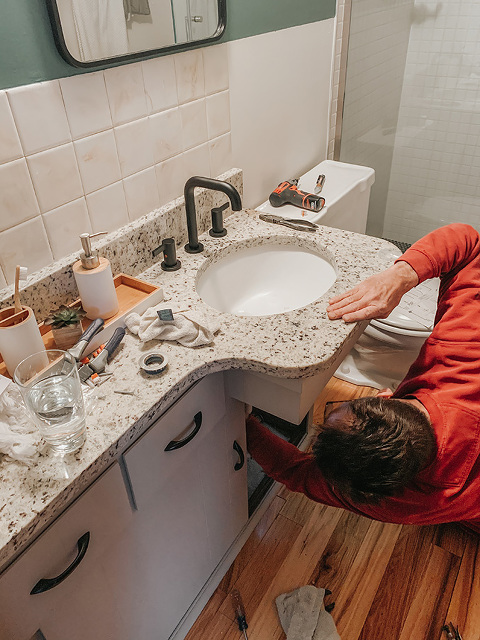 The new faucet is so much better than the old one, at least to my eyes, and really pops off our granite countertop, which we had installed in 2018, too, and don't plan to change any time soon—if ever. And, as we hoped, the new matte black faucet looks so nice within view of the black tile in the shower, not to mention how well it matches the new black sconce and our existing black framed mirror.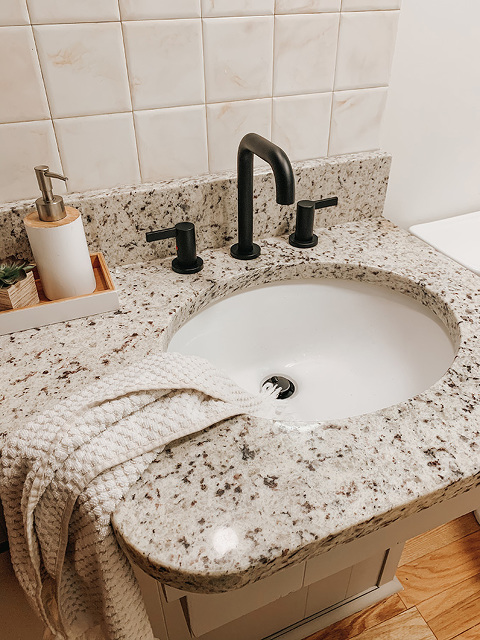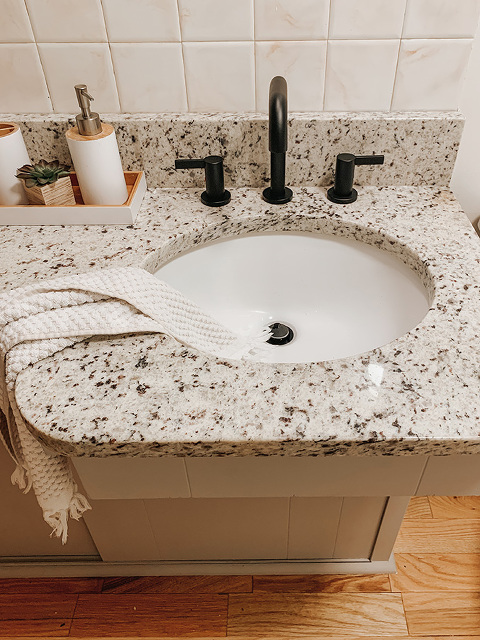 I'm dying to show you a pulled-back view so you can see how good it looks with all of the other black finishes in the room, but I don't want to give too much away, so you'll just have to wait a couple more weeks for the full reveal. As always, I hope you'll check back next week for more updates, and make sure you visit the One Room Challenge event website hosted by Linda, of Calling It Home, for even more design inspiration. Thanks for following along!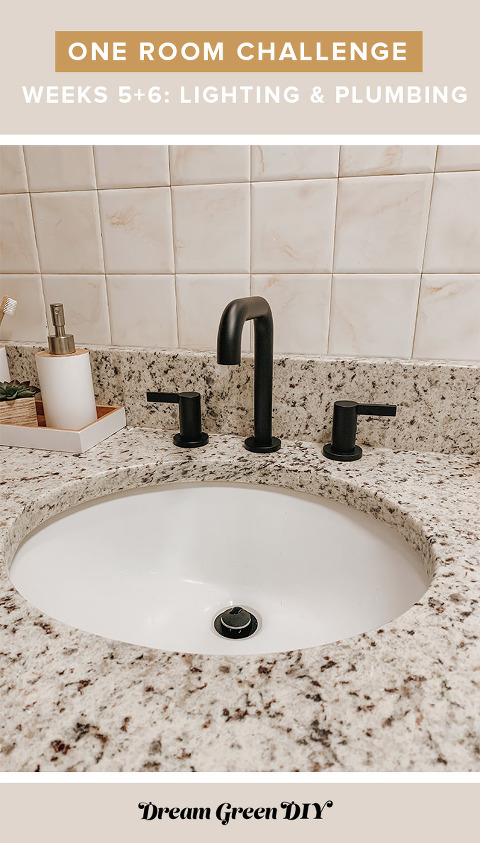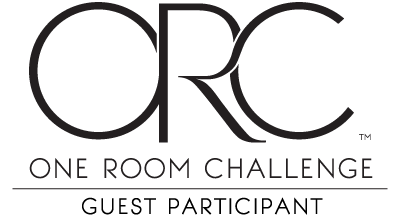 *I earn a small percentage from purchases made using the affiliate links above. Affiliate links are not sponsored. Rest assured that I never recommend products we wouldn't use or don't already love ourselves.