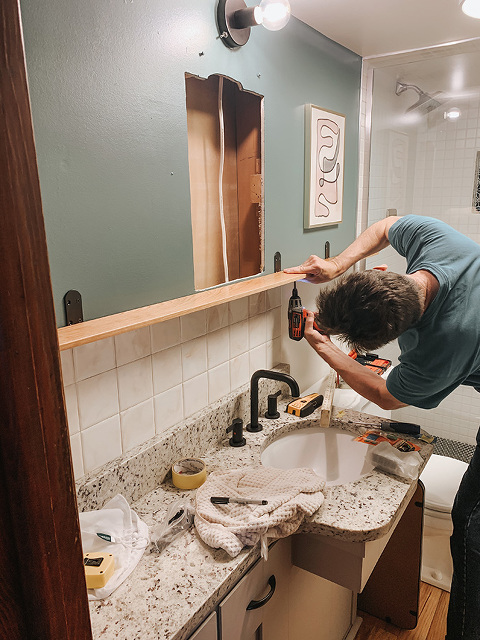 Week 1 | Week 2 | Week 3 | Week 4 | Weeks 5 & 6 | Week 7 | Week 8
(FYI that links will "go live" one at a time as the event progresses)
Thanks for following along with my role as a guest participant in this season's 8-week extended One Room Challenge event! If you're new to Dream Green DIY, hop over here to find out a little more about me. You can click those links above if you need to catch up with this year's progress as we refresh our downstairs hall bathroom, otherwise, keep scrolling to see what's next in this room renovation!
First of all…I can't believe that One Room Challenge is almost over! I started mentally preparing for this project back at the very beginning of the year, but after things with the pandemic started to pick up and we all were forced to hunker down at home, I lost absolutely every ounce of energy needed to actually follow through. Thankfully, the organizers of the challenge decided to postpone and extend the event, giving those of us who needed it a little more time to gather our energy and supplies safely.
It was actually during that mini hiatus that I came up with the idea for the project I'm going to talk about in today's post: a handmade wall shelf. I ended up with this vision of a semi-floating stained wood shelf that would extend the entire length of the wall—from the far corner, over to the glass wall of our shower—and today I'm excited to share that my vision has officially become a reality.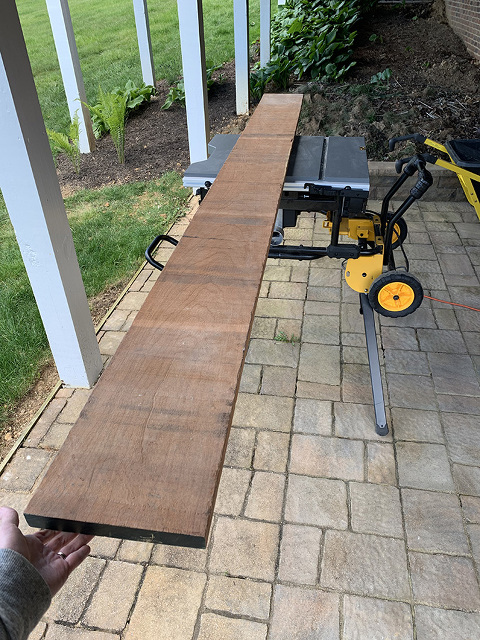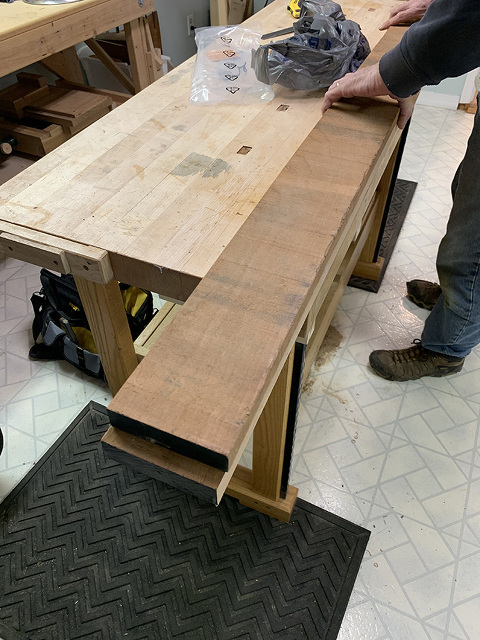 My original plan was to source a ready-made shelf from Etsy since I was limited by my ability to go to the hardware store in person, but it became apparent pretty quickly after searching around online that custom shelves are expensive! I absolutely understand why considering the care that goes into making these types of things (not to mention shipping them), but it just wasn't in my budget, so I had to pivot.
I thought I'd start by asking my dad for his thoughts since he's a professional wood-worker. It never really occurred to me that I could ask him to actually build the shelf because he's busy, but he very sweetly offered to help me build one anyway. Again (like last week's faucet install saga), I honestly didn't end up doing much to help because he's such a pro and could do it all in his workshop, but I did go over and help him saw down the piece of cherry wood we decided to use from his stash.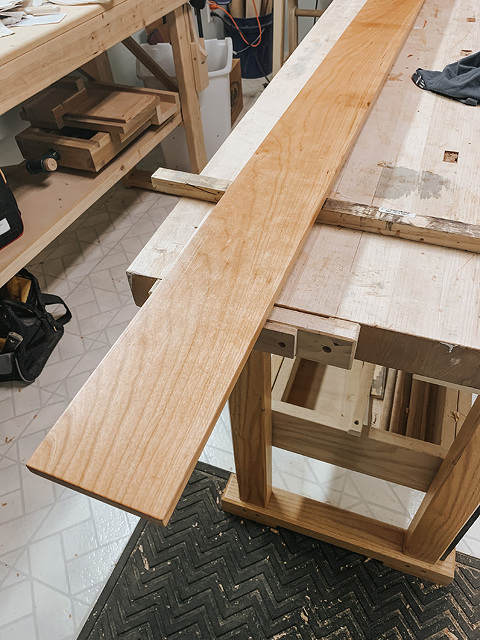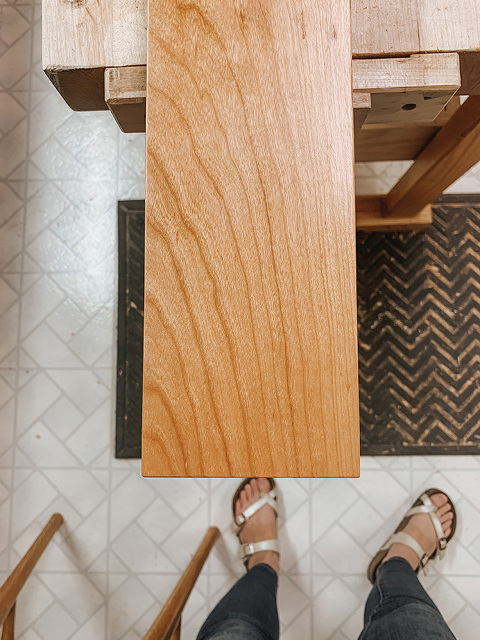 A couple of weeks later, and I came back to find the shelf looking like this above—planed down, stained a gorgeous natural tone that almost perfectly matches the hardwood floors in our bathroom, and waterproof-finished to perfection. Man, I have the best parents in the world! Not long afterward, Dad came over to our house to help me install the wood shelf using these black L-brackets I ordered off Amazon. We used three brackets to hold up the length of the shelf, and made sure to attach all of them into studs to ensure a sturdy hold.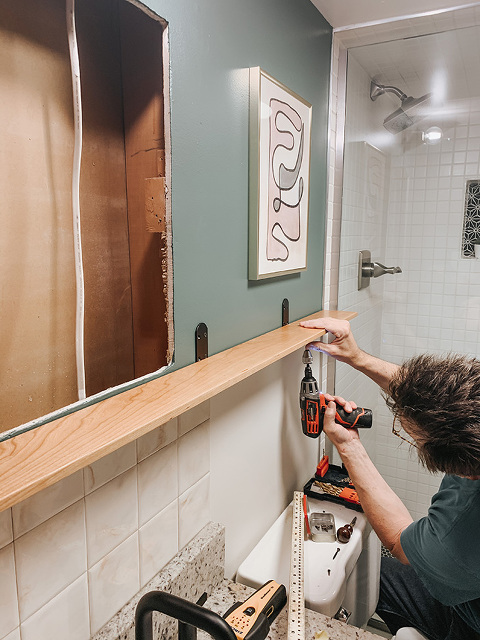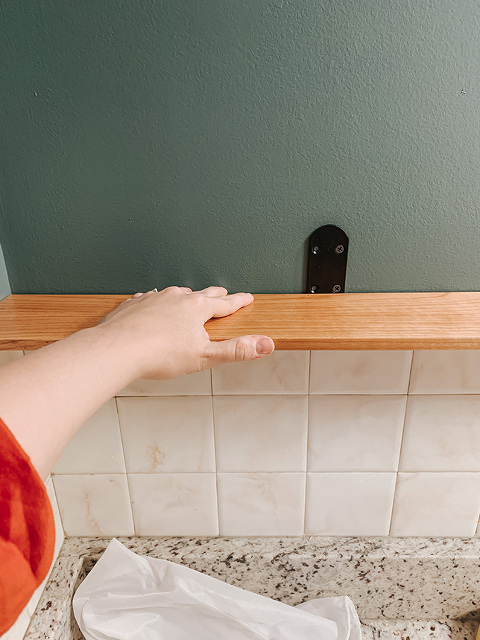 I can't wait to fill the shelf up with a few decorative items and little bathroom trinkets. Stay tuned for the final look next week! But before I go, I thought I'd share one other quick DIY project I tackled before calling the room officially "Done."
As you can see in the picture below, the original sink cabinet was outfitted with dated wallpaper and old linoleum tile (which we assume runs under the newer hardwood flooring the previous homeowners put in later on). I don't mind the wallpaper since it's kind of a fun retro nod to that mid-century California style that I love, but the speckled tile had seen better days, so I wanted to cover it up before putting all of our cleaning products and the trash can back under the sink.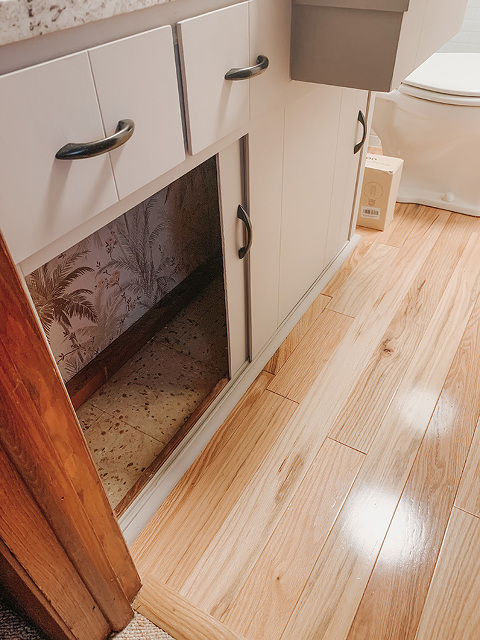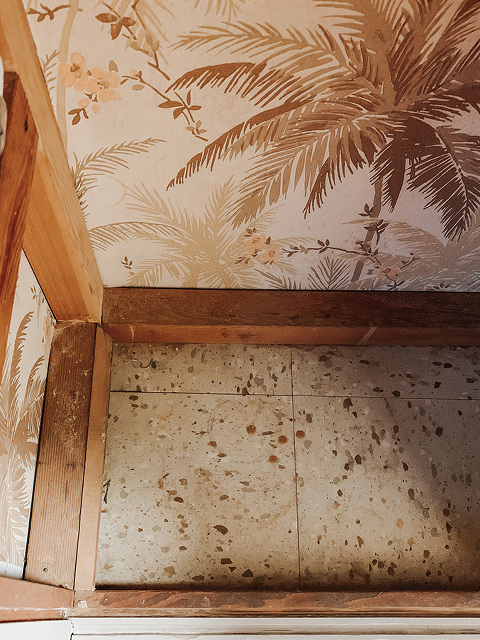 Apologies for the yucky bird's eye view of that tile! I promise I cleaned it really well, and it's going to look a lot better in a matter of seconds—at least from your point of view reading this in quick time online. The cool thing is that in real time, the project actually didn't take long at all. I think, from start to finish, I spent about 20 minutes on this transformation.
So, what did I use? Peel-and-stick tile, of course! You've seen me transform the closet under our basement stairs using this product, and I thought it would be fun to do it again using leftover tiles. To pull it off, I just held my tiles one by one over the old under-sink tiles, marked where to cut, and then snipped them to size using heavy-duty sheers. Then, I peeled the paper backing off, and pressed the tiles into place right over the old tiles.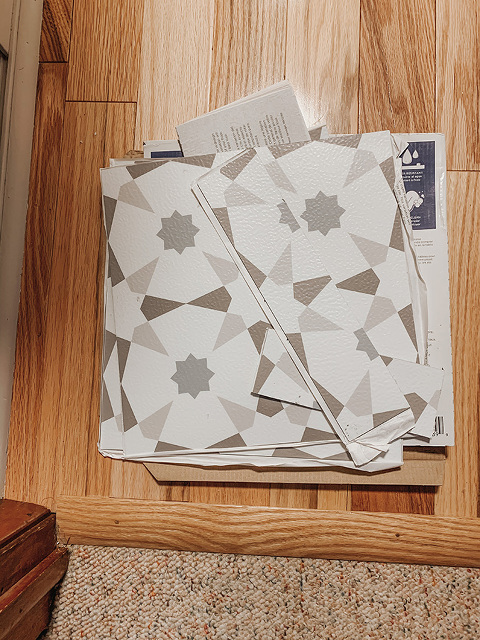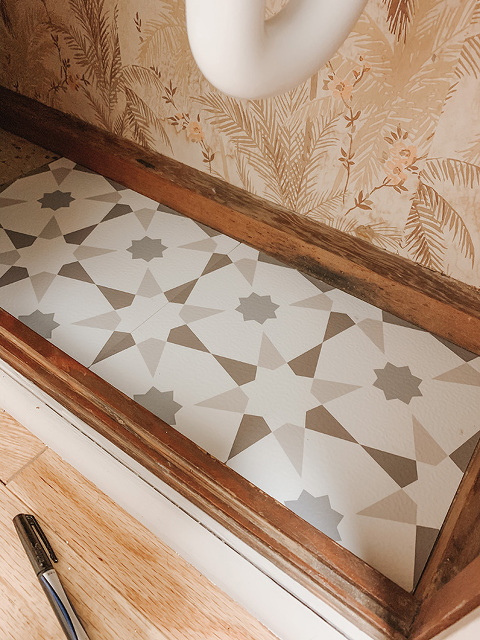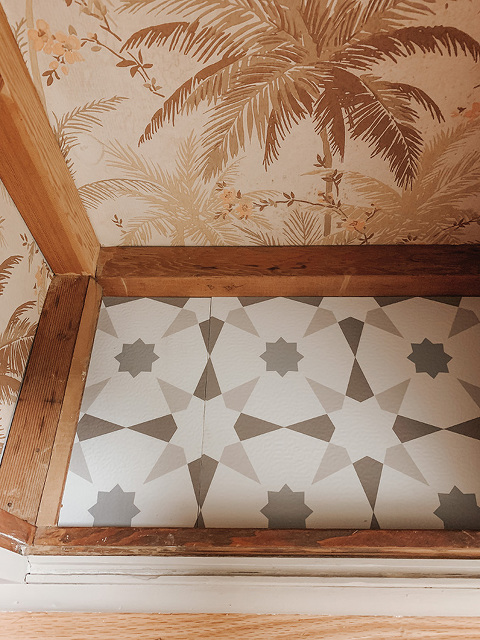 The refreshed cabinet feels so much cleaner now, and I don't mind digging around in there for various cleaning products as needed. Before, I hated sticking my hand under that cabinet. It just felt so dirty, but now it's all clean and I love the pop of mod colorful pattern in the tile. It's the perfect finishing touch to our bathroom makeover.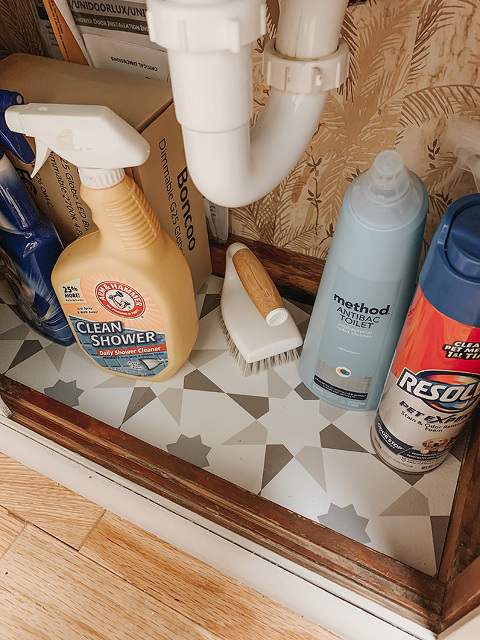 Stay tuned next week for the final reveal of our bathroom (complete with proper unfiltered DSLR photos so you can see all of the true colors in crystal clear focus), and make sure you visit the One Room Challenge event website hosted by Linda, of Calling It Home, for even more design inspiration. Thanks, as always, for following along!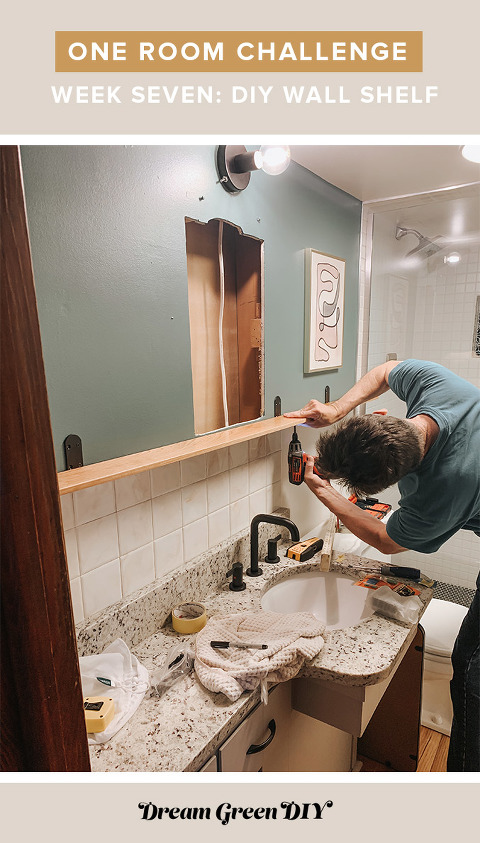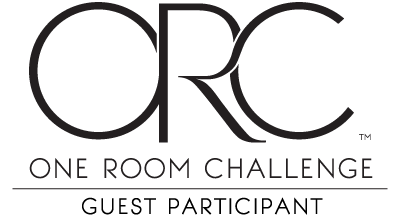 *I earn a small percentage from purchases made using the affiliate links above. Affiliate links are not sponsored. Rest assured that I never recommend products we wouldn't use or don't already love ourselves.