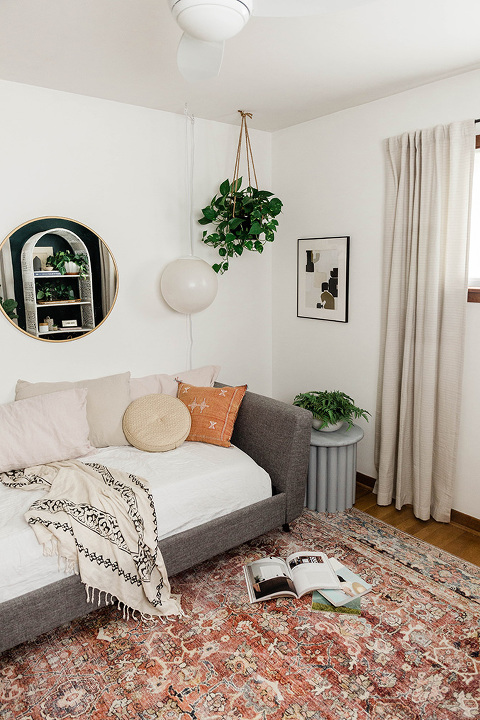 Like a lot of families these days thanks to the pandemic, we're trying to be as frugal as we possibly can. That goes for just about everything—from the wine we sip on (we're trying to limit ourselves to drinking just on the weekend!), to the home décor we bring into the house. I guess, in a funny roundabout way, I'm lucky in that my job as an interiors blogger gives me the excuse to continue investing in little pretty accents for our home, but I'm still trying my best to work with what we have.
Every now and then, though, I can't resist the urge to splurge just a tiny bit when it comes to home décor. Case in point, the latest DIY furniture piece I put together for Hunker.com. I happened to spot this gorgeous contemporary side table on one of my favorite designer's Instagram feeds, and it was one of those rare lightbulb moments when I said to myself, "Hey! I could make that!" So, make it I did, and today I'm sharing the full story.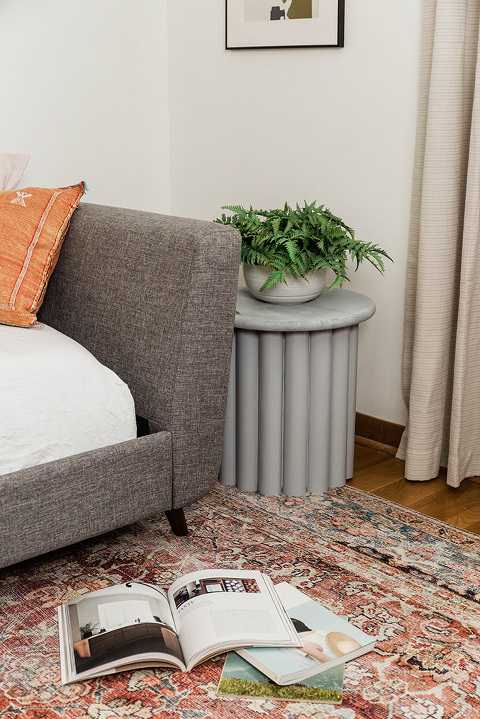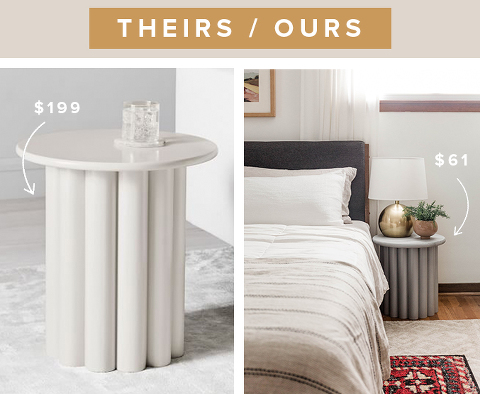 As I mentioned, the original inspiration table is available ready-made from West Elm here. The only problem is that price. I don't know about you, but I definitely don't have an extra couple of hundred dollars handy to be spending on side tables right now. I do have somewhere in the realm of fifty bucks, though!
To get the look of the high end West Elm version, all I did was combine an armload of PVC pipes, some construction adhesive, a can of spray paint, and an off-the-shelf wood tabletop. The final tally of my look-a-like DIY version came to $60 and change, but you might be able to do it for even less if you already have things like the adhesive, paint, or pipes on hand.
Another way to keep your budget lower is to check out places like your local Habitat Restore. Our area locations are slowly opening back up (with social distancing restrictions) here in Virginia, so maybe yours are, too, and you could source some of the building supplies there for less than you would at a traditional hardware store.
Honestly, I was a little skeptical that this project would work out when I got into the middle of it. I had to do a fair amount of troubleshooting to make sure I put together a simple enough tutorial that you guys would feel comfortable tackling on your own, but I'm so excited to share that the full totally doable tutorial is ready for you to look over right here on Hunker. Tell me—would you give this project a try, or would you skip the DIY and invest in the ready-made version?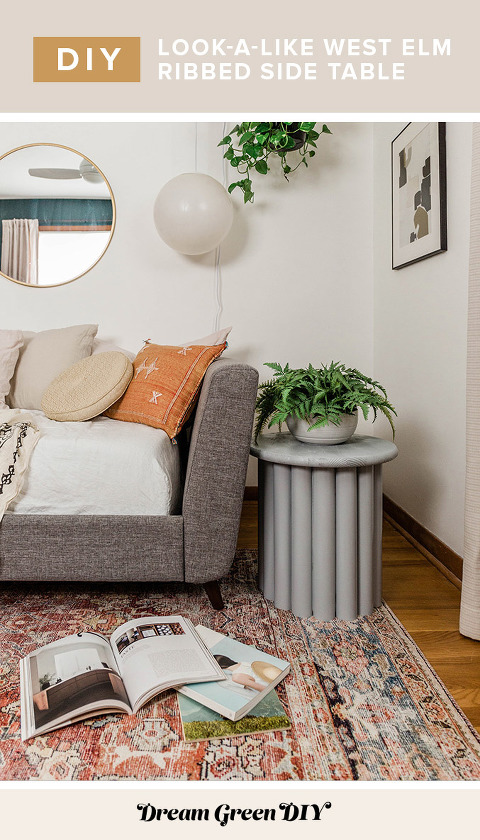 *I earn a small percentage from purchases made using the affiliate links above. Affiliate links are not sponsored. Rest assured that I never recommend products we wouldn't use or don't already love ourselves.