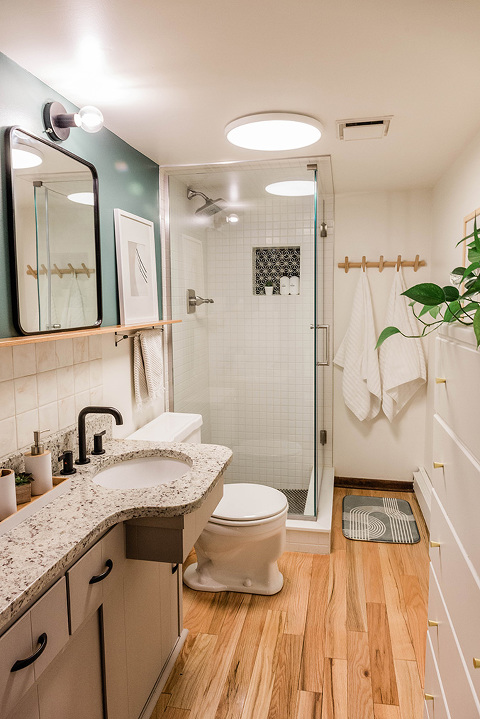 Week 1 | Week 2 | Week 3 | Week 4 | Weeks 5 & 6 | Week 7 | Week 8
(FYI that links will "go live" one at a time as the event progresses)
Thanks for following along with my role as a guest participant in this season's 8-week extended One Room Challenge event! If you're new to Dream Green DIY, hop over here to find out a little more about me. You can click those links above if you need to catch up on our downstairs hall bathroom makeover, otherwise, keep scrolling to see the reveal of our finished space!
Today's the day, and I'm pumped about it! Like, "gonna have a glass of Champagne at 3:00 this afternoon" kinda pumped! This was, hands down, the hardest One Room Challenge event I've ever been a part of. I'm sure I'm not alone in saying that. It wasn't because the makeover itself was difficult—it was more about the fact that it took every ounce of strength I had to get motivated to even tackle it.
We had a lot of things impact this season's ORC event (read: a global pandemic, multiple delays and cancellations, the struggle to even get supplies safely), and at times I thought about giving up. But I'm so glad I didn't because our hall bathroom finally feels done and I'm so, so, soooo proud of what we managed to accomplish.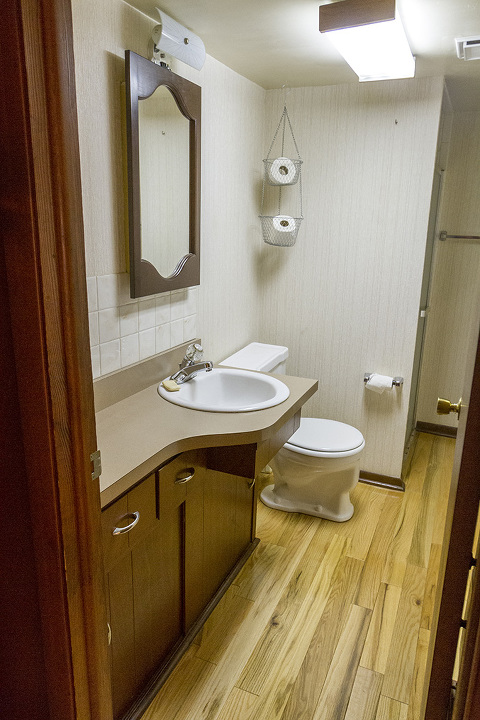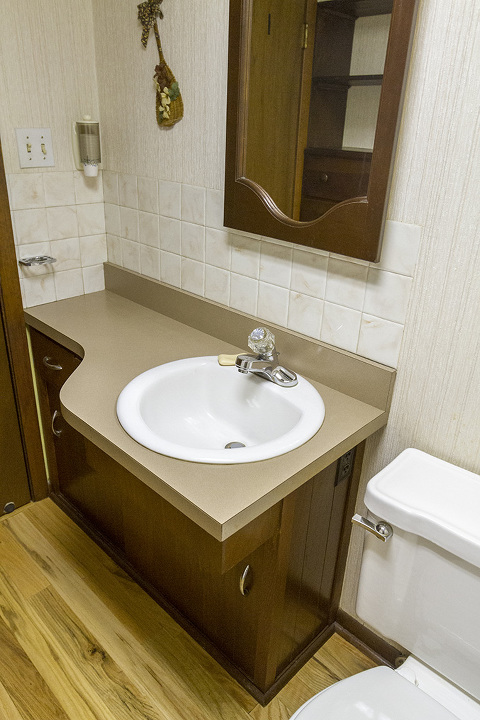 To appreciate the end result, we, of course, have to go back to the beginning. Those photos above show the space as it was before we moved in (I snapped the pictures during our inspection), and include things like the dusty grasscloth wallpaper, formica countertop, boxed-in shower, plus a whole slew of dated lighting and plumbing fixtures.
Before tackling this season's One Room Challenge, we had replaced most of the dated built-in finishes and fixtures, but, as I mentioned in the introduction to this project, the room never felt quite right. It didn't feel like "us." Over the years of renovating this bathroom, I've gotten more confident as a DIY designer, and I think I've learned from my mistakes. What you're about to see is the culmination of those lessons learned to end up with a space that I can actually be excited to see everyday!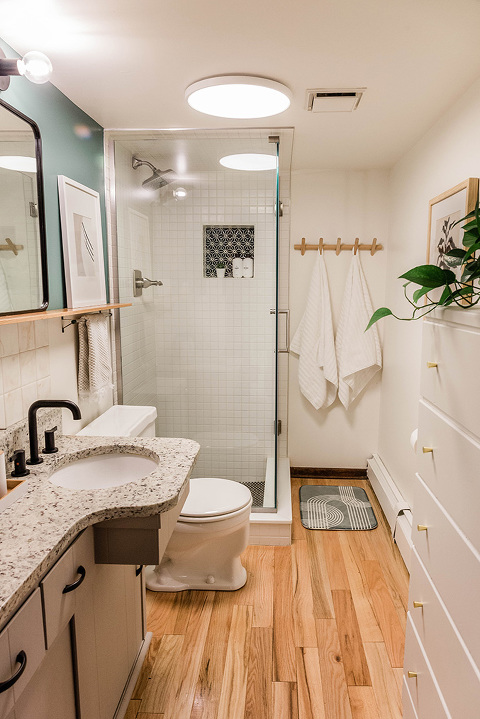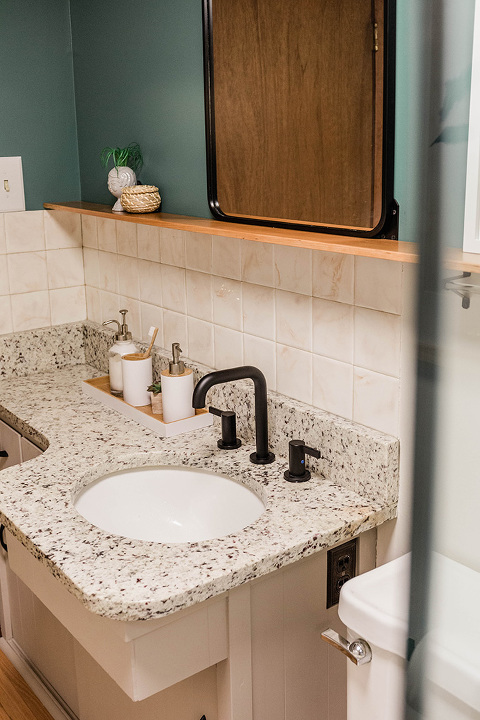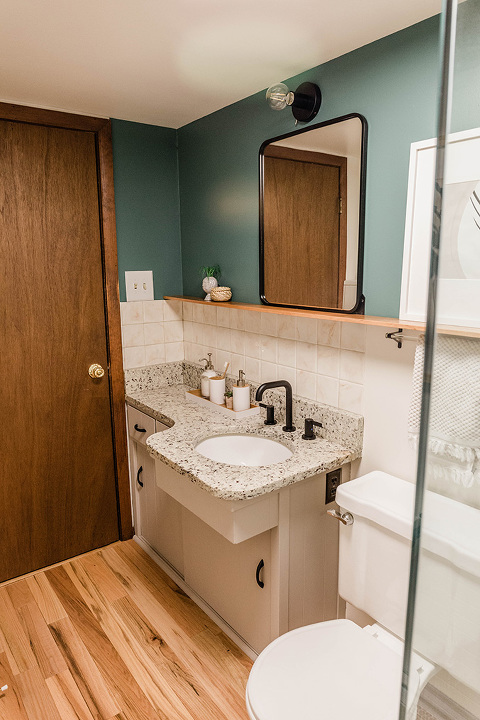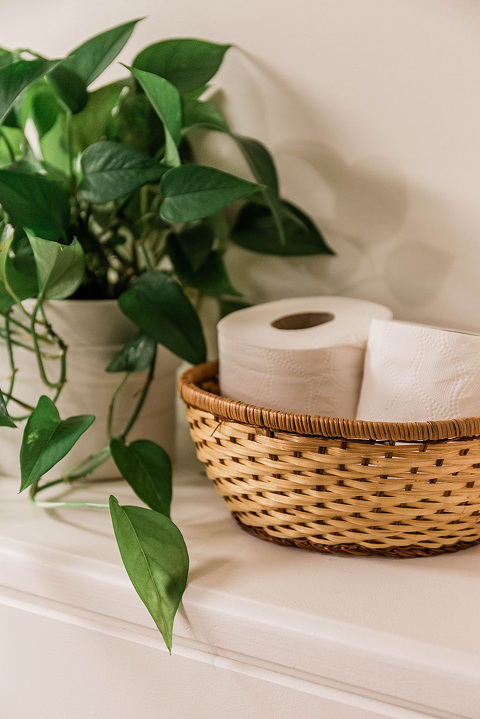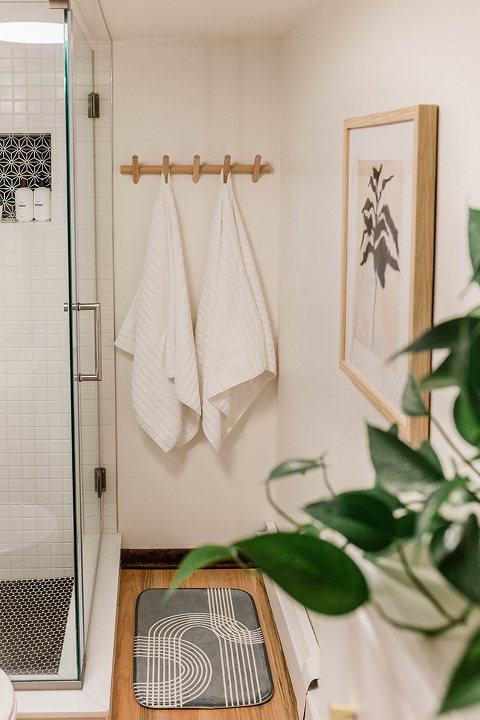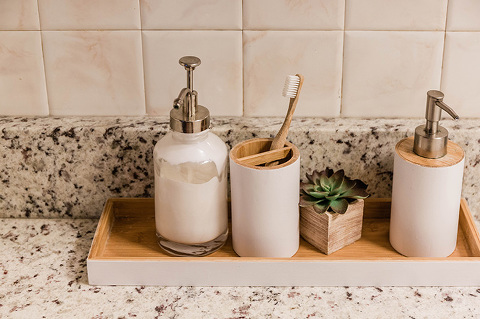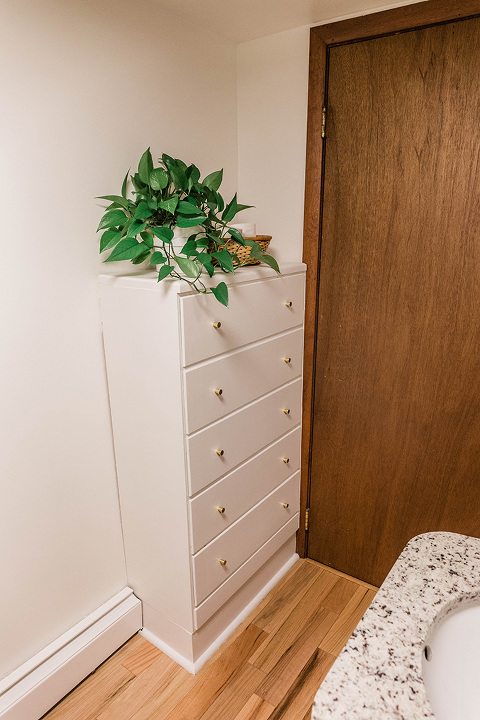 RESOURCES: gold drawer pulls, vanity accessories (similar), wood peg rail, towels, mirror (similar), teal paint color, vanity paint color
Even just scrolling quickly past those pictures to keep typing up this post makes me take an involuntary big deep breath of satisfaction. The insecure part of me wonders if you're thinking that I didn't even do that much to the room to make it over (we still have the existing vanity, old toilet, and baseboard heaters, after all), but what I see when I look at this room is just a huge amount of hard work and creative thinking.
The biggest thing I can say we accomplished in this space is adding more personality. The updates we had made to the room back in 2018 were more like a band aid. We made major progress by hiring someone to tear out and rebuild the shower, replaced dated fixtures, and updated the countertop, but it turns out that just refreshing things does not a good design make! I needed to think bigger and I needed to really concentrate hard on making things feel cohesive to truly "finish off" the space.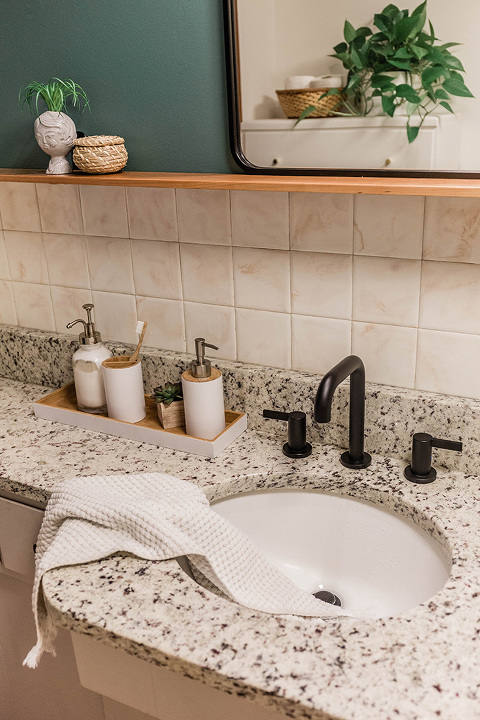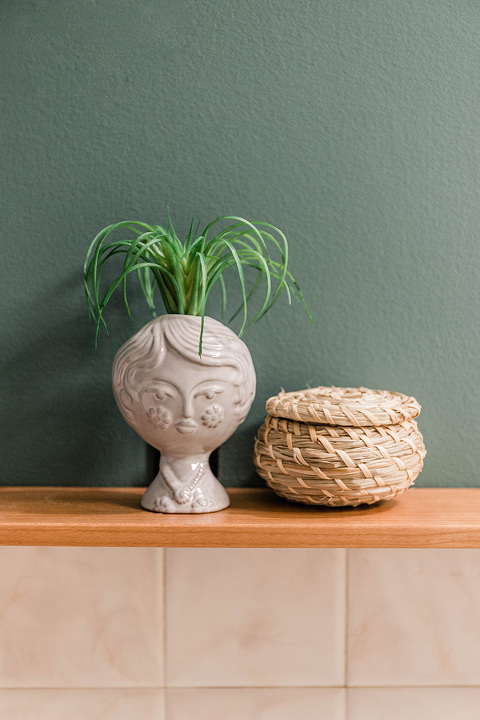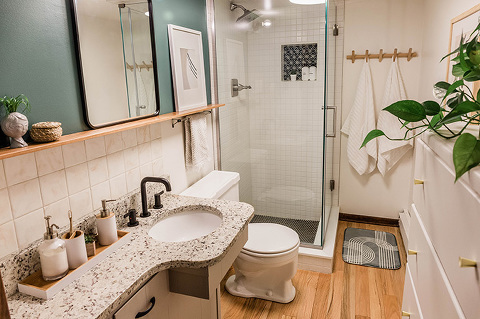 RESOURCES: bath mat, shampoo and conditioner (use this link and the code "WALLERPGA" for a discount!), black/white art print, shower fixtures
So, for this "Phase Three" of the bathroom makeover, I back-peddled on the fixtures I had chosen back in 2018, instead using cohesive black ones to match the permanent tile choices we made in the shower two years ago. That change alone made the bathroom feel so much more intentional and sophisticated. Before, I had a gold sconce, nickel faucet, black shower tile, and silver drawer pulls. Now, with everything being in that sleek black finish, the room looks so much more pulled together.
One thing I didn't change, if you noticed, was the shower plumbing fixtures. The reason I let that slide is the fact that the plumber installed the shower head so close to the ceiling that I would have had to either saw off the shower head, or tear out the tile and drywall above (you can't unscrew the curved portion of the pipe attachment because it would hit the ceiling when you twisted it). I'm hopeful that by changing the majority of the fixtures to black, we can all look past that. I know I can, so I'm considering it a win.
Another thing we left alone was the existing tile above the sink. I had actually planned to paint it bright white, but after I painted the vanity that muted purple-y gray, the marbled tile somehow looked like it fit the space so well! It was one less project to tackle, so I was happy to let it be. I love that, even though the tile doesn't extend behind the toilet and up the wall, it sort of looks like it does because of the way we hung the floating wood shelf. It creates this visual sight line along the top of the tile, and since we didn't paint the white wall behind the toilet, it looks almost like that area is an extension of the tile. I love how that unintentional effect turned out!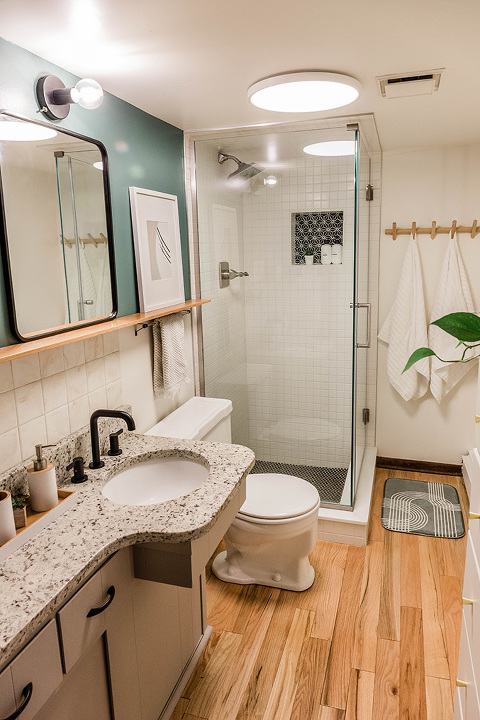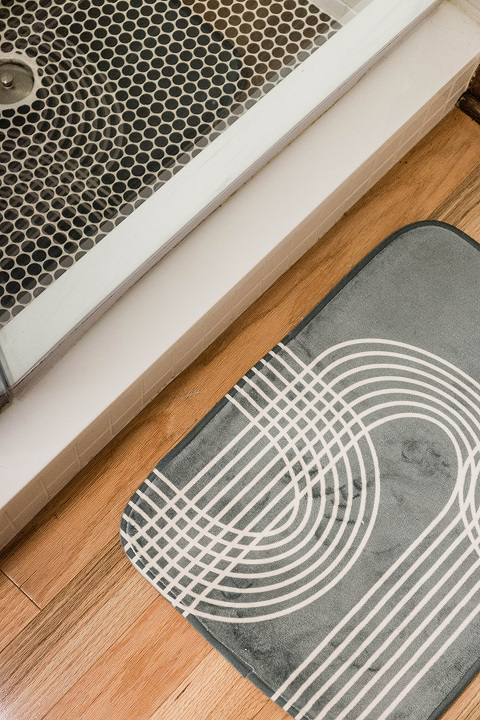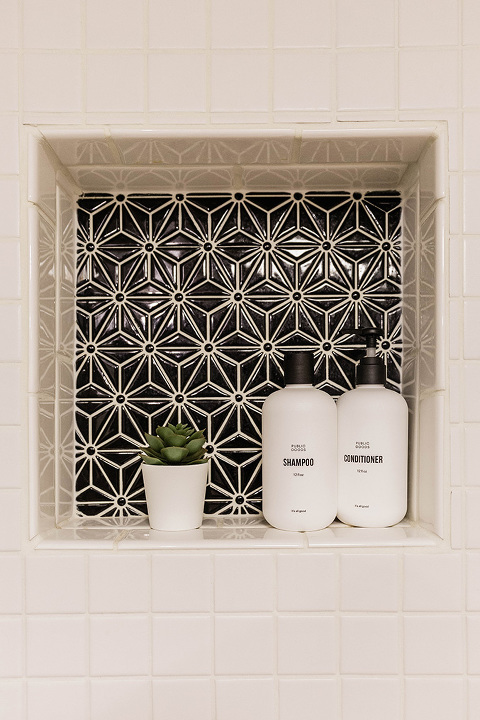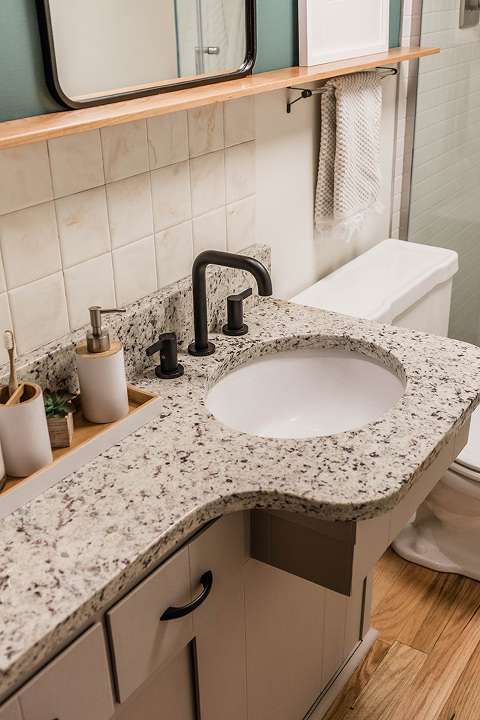 RESOURCES: botanical art print, black faucet, black sconce and light bulb, flush-mount light
Aside from unifying the fixtures, I also wanted to bring in a little more color. When we ripped out the wallpaper, my natural instinct was to paint the room white, and it was a big improvement. Even still, the room felt a little bland afterward. So, this spring was my moment to let color take center stage again.
I chose a few different accent colors for the space: a dark teal paint color called "Forest Edge" for the wall above the sink, a soft gray chalk finish paint called "Pale Sepia" to cover up the old wood vanity, and I'm also going to call out natural wood grain as a color since those accents pop in the space now, too.
You can really see what I mean by that last point in the photo below. Look at how much the new DIY wood shelf, wooden towel peg rail, and framed print stand out! Admittedly, it was just a happy accident that these accents so perfectly match our existing wood floors, because I definitely didn't set out to do that. The way all of those similar wood tones circle all the way around the room, though, makes all the difference in helping the design feel (here's that word again…) intentional.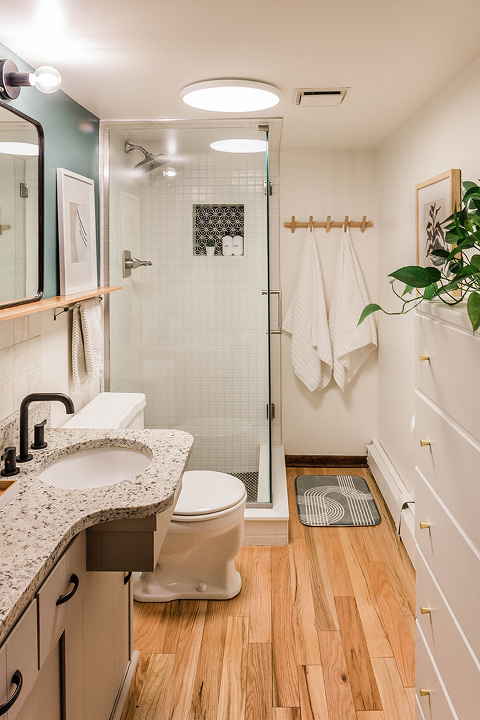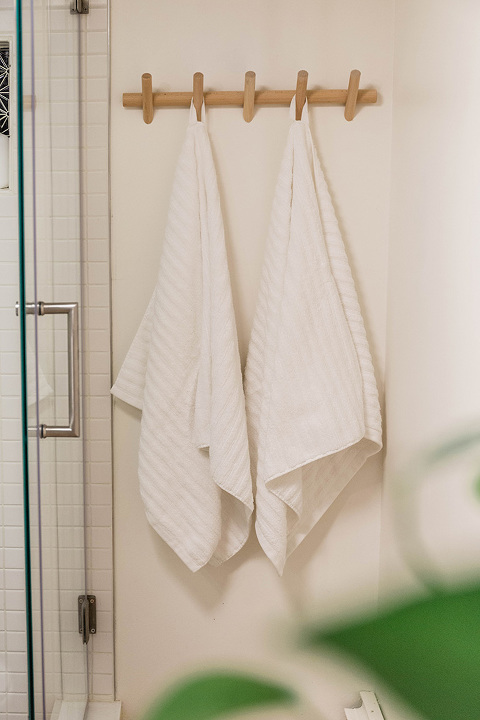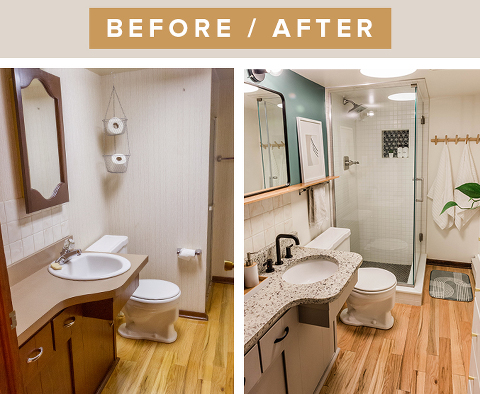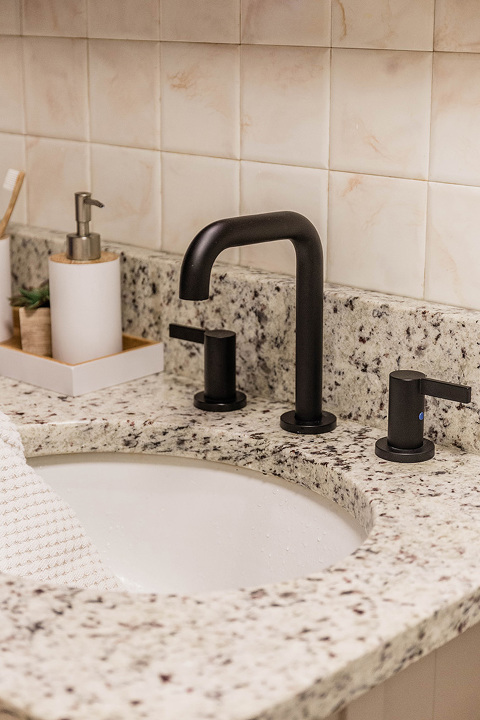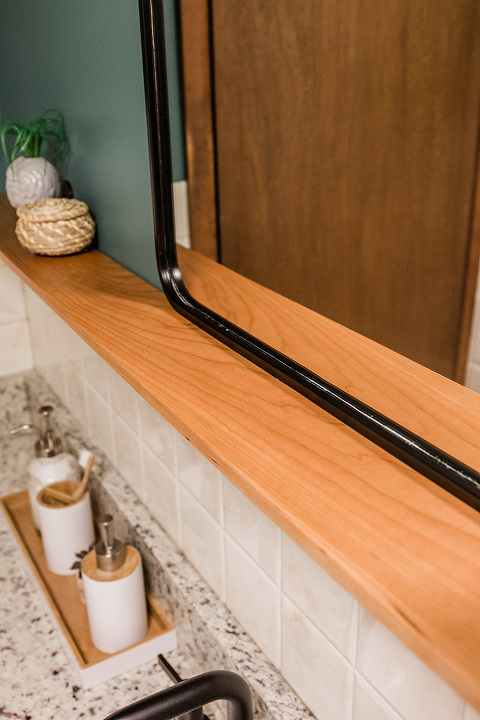 RESOURCES: black shelf brackets, DIY floating wood shelf, basket, black toilet paper holder
Now that this bathroom makeover is done, I can't help but crave more color in our upstairs bath! Here's a quick mock-up I proposed on Instagram several days ago. Do you think I should go for it? Let me know in the comments below, and thanks, as always, for following along on our latest design adventure. I hope you take a little something away from this story—namely, that making over any space in your house is possible, even if your budget is next to nothing, you have to do all of your supply shopping online, and if there's, ya know…a global pandemic raging just outside your door.
Joking aside, stay safe, everybody, and don't let anything stop you from trying to make your space and home feel like the oasis it deserves to be. Finally, make sure you visit the One Room Challenge event website hosted by Linda, of Calling It Home, for even more design inspiration and to see all of the incredible finished spaces from the other participants in this season's challenge!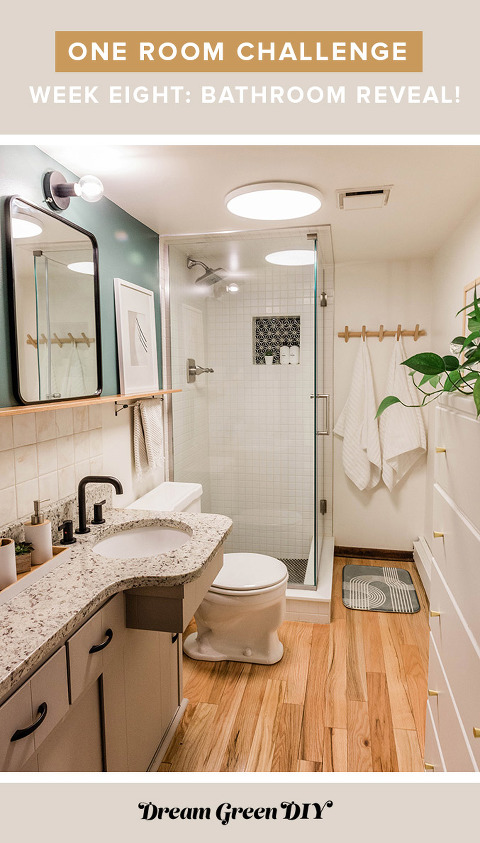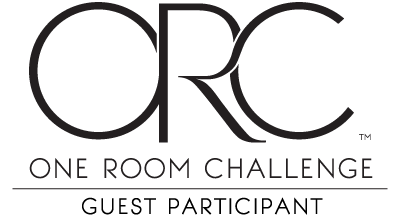 *I earn a small percentage from purchases made using the affiliate links above. Affiliate links are not sponsored. Rest assured that I never recommend products we wouldn't use or don't already love ourselves.