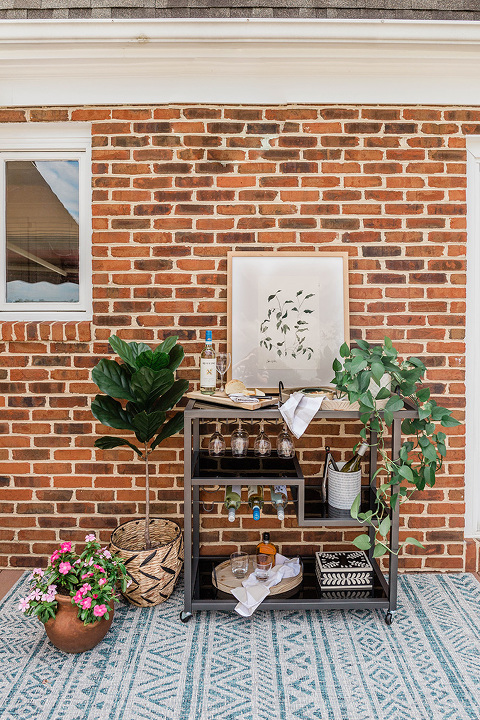 *This post was sponsored by AllModern. All opinions are my own.
To be completely honest, I'm an autumn lover at heart. I live for those cool, crisp days of fall, and all the cozy layers, steamy mugs of hot cocoa, and holidays that go along with it. That said, I'm still more than happy to embrace the heat of summer since we're officially knee-deep in the season. Bring on that alfresco living!
There's no question that my favorite thing about summer is the fact that we get to eat practically every single meal outdoors. Now that my parents live here in town and have a giant back deck, John and I have been spending most weekends over at their house enjoying the views of the golf course that's in their backyard. We'd probably be going over there every other day if it weren't for the pandemic.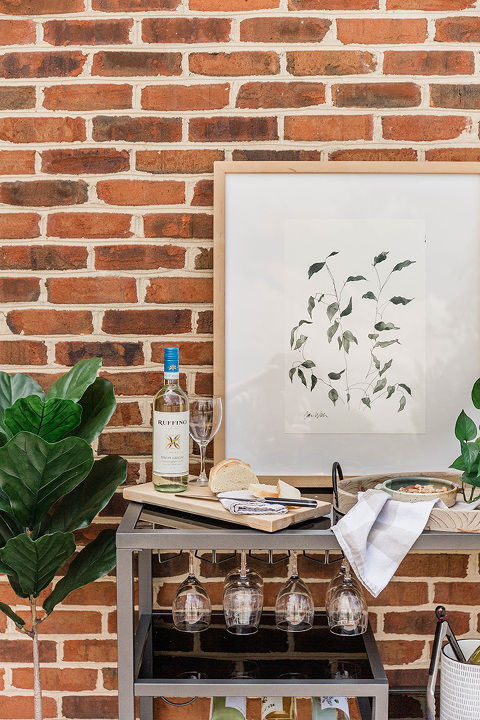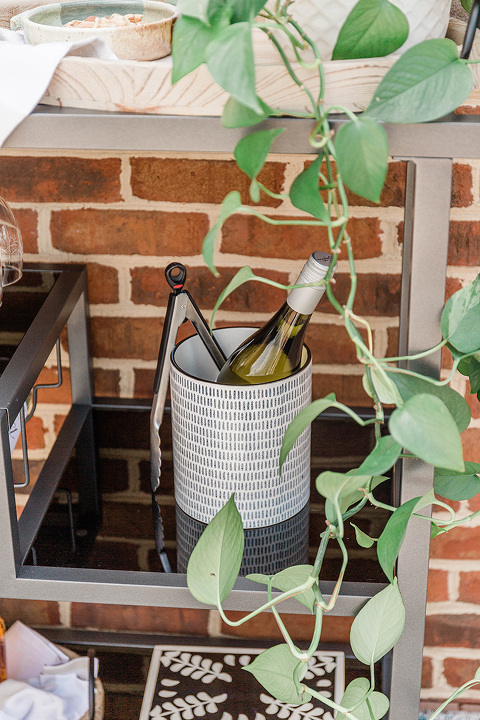 John and I don't entertain often because big crowds and raucous parties just aren't in our nature, but my parents entertain pretty often. They tend to only invite over one (carefully screened) couple at a time because of the current state of things, but I'd say they host friends at least once or twice a week.
Mom and Dad are currently keeping things almost exclusively outside and six feet apart on their back deck, so I decided to gift them some goodies from AllModern to help set their outdoor area up for all the self-serve, socially distant summer gatherings they could possibly throw at it. Keep scrolling to see the look come to life along with warm weather bar cart styling ideas.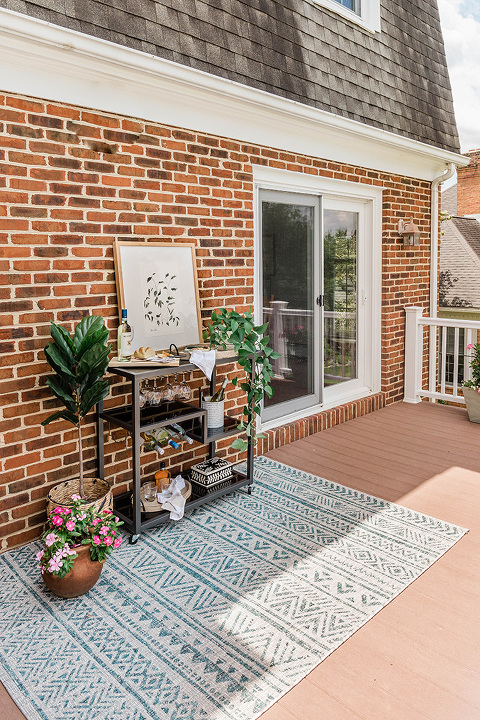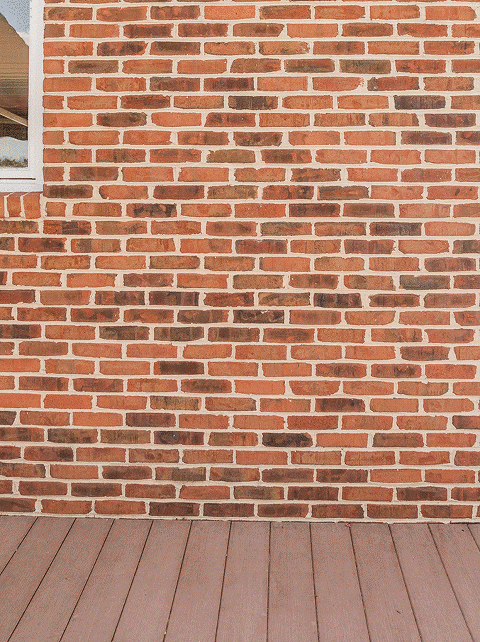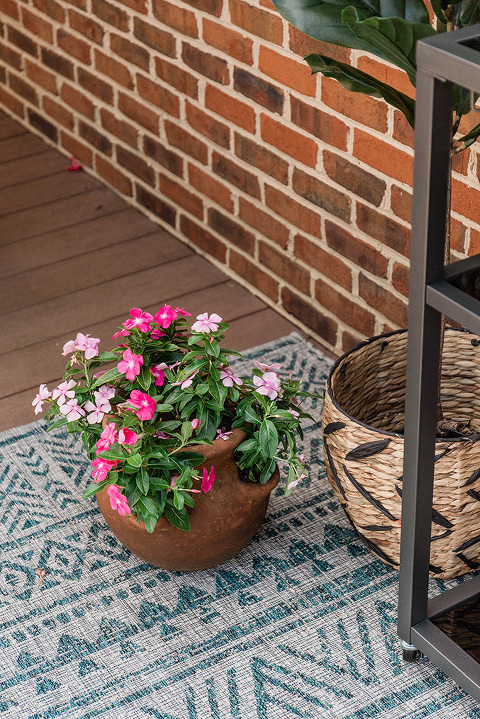 The first thing I chose for them to set the scene is an outdoor rug. The aqua and gray print is modern without feeling too contemporary for their transitional aesthetic, and can be left outside all season long. It's super lightweight, so it can also be easily moved based on where they want to localize things for company or when they're enjoying cups of coffee, just the two of them, outside in the morning.
Next came the bar cart. I know it can be tough to order things online since you're not able to tell whether the quality is there or not. I'm here to tell you that, in this case, you get so much bang for your buck! My mom and I were gawking at the price of this cart after we put it together because it feels like a $300-$400 piece but is half the price (and goes on sale regularly, too!).
The frame is a rich charcoal slate color, and the shelves are made of luxurious tempered black glass. It's also really big—like, "it comes up higher than your hips" high! As soon as I press publish on this post, I'm going to hop right over to AllModern and leave a five star review on this piece because it's really nice.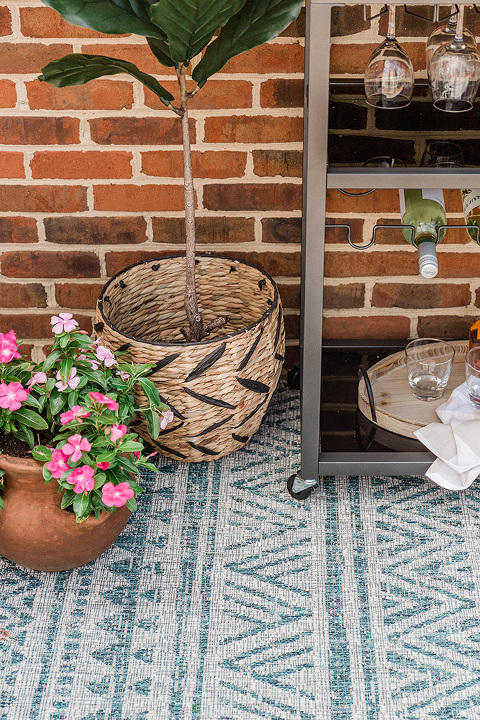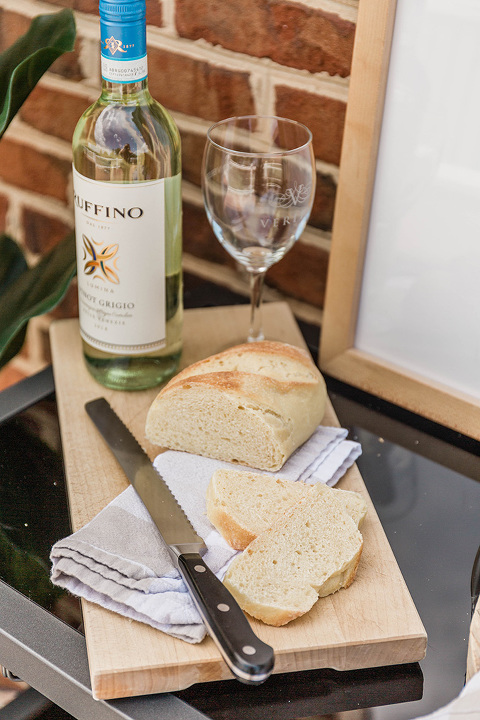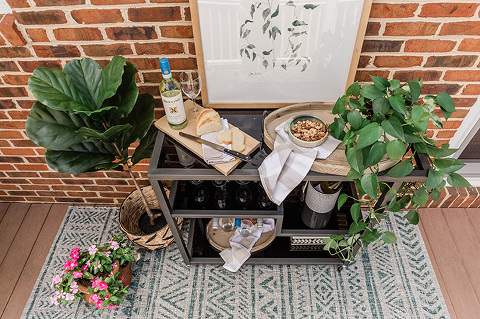 Since the shelves are made of glass, one thing we ran into was a hesitation to fill the shelves with glasses and wine bottles. Not because we were worried about how much weight the shelves could hold (they have a 40-pound weight limit that I don't think we'll ever exceed), but because there's just something a little cringe-worthy about glass hitting glass.
To fix that issue, we added a pair of handled wooden trays to the mix. That way we could load them up with accents for the bar cart without the loud clank of glass against glass. This might not be a problem for most of you, but that sound is like nails on a chalkboard to me, so the trays were an essential addition to the bar cart.
The trays serve a second purpose, too, because they make transport to and from the kitchen a breeze. The truth is that not all of these items are rated to live outside permanently (with the exception of the rug, of course!), so my parents will be regularly carting the setup to and from the living room that's just on the other side of the sliding doors. The trays make that process take about four minutes flat since we can carry the entire contents of one shelf in a single go. Bottom line: get yourself some trays if you're going to entertain outdoors this season!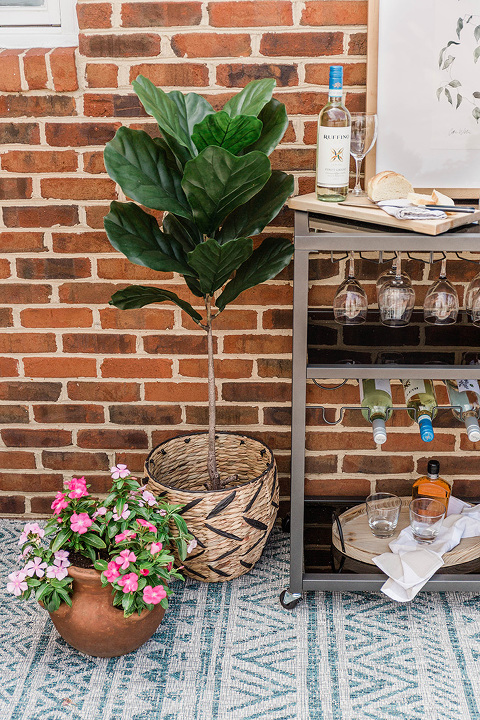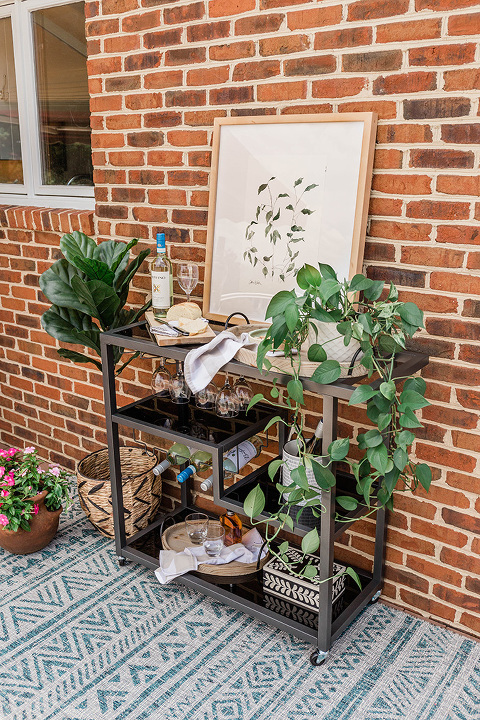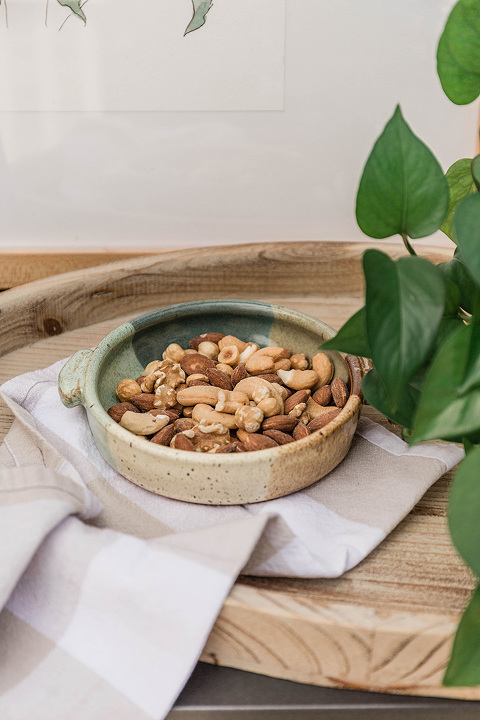 We can't mention smaller bar cart accents and not talk about glasses and other little foodie things. We filled up the hanging glass rail that came with the bar cart with shatterproof glasses that my parents won't have to worry over, and also a few heavy duty serving pieces, like a similar stoneware pot to serve as an ice bucket, and ceramic dishes for nuts and things. These are so easy to grab and use from inside, and are less likely to break if they fall on the deck by accident.
Flowers and greenery are the perfect finishing touch to just about any home décor "moment," in my opinion. So, for this little self-serve area, I grabbed a faux fiddle leaf fig tree and plopped in right down in a woven basket to serve as its "pot." It's easy to grab from inside as an accent for the bar cart when that's pulled outside, and looks just as great in their living room when Mom and Dad aren't entertaining.
The thing I like to do with faux plants is mix in at least one or two live ones to help disguise the fact that there's an imposter plant in the mix. I brought over this flowering pot from the other end of their deck to use beside the bar cart for a pop of color, and I also situated a trailing live pothos plant on the top shelf for an elegant organic finish. Now, instead of focusing on the fact that the fiddle leaf fig tree is fake, you see the plants as a whole, and the overall effect is lush and inviting.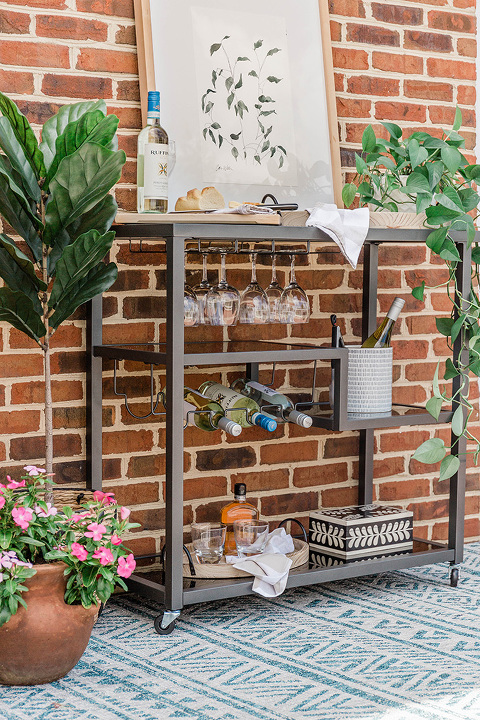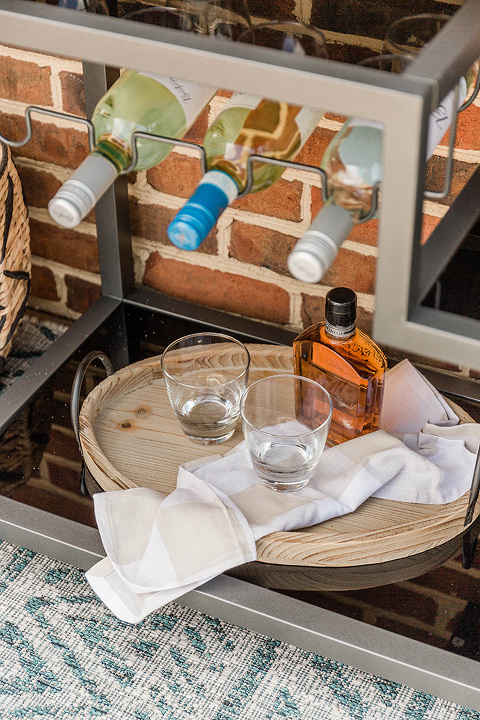 Of course, there are certain precautions that my parents will have to put into place for this type of bar cart setup to make sure everyone stays healthy. I didn't picture those here since I want to make sure these tips work for any occasion.
As an example, the little box you see pictured on the bottom shelf is perfect for stashing things like hand sanitizer and extra disposable cutlery, as needed. It could also be as simple as giving each guest their own spoon so he or she can serve themselves nuts from the dish, or pre-cut slices of bread that can be put onto plates or napkins using disposable forks. Feel free to customize this setup however you're comfortable with this summer as things evolve!
Big thanks, as always, to the AllModern team for continuing to support me this year as I work on getting creative with shippable home décor options to help inspire your own homes and (small) gatherings! You can keep scrolling for a list of links to all the goodies you see here, and let me know in the comments how you'd tweak this summertime bar cart setup for your own style of alfresco living.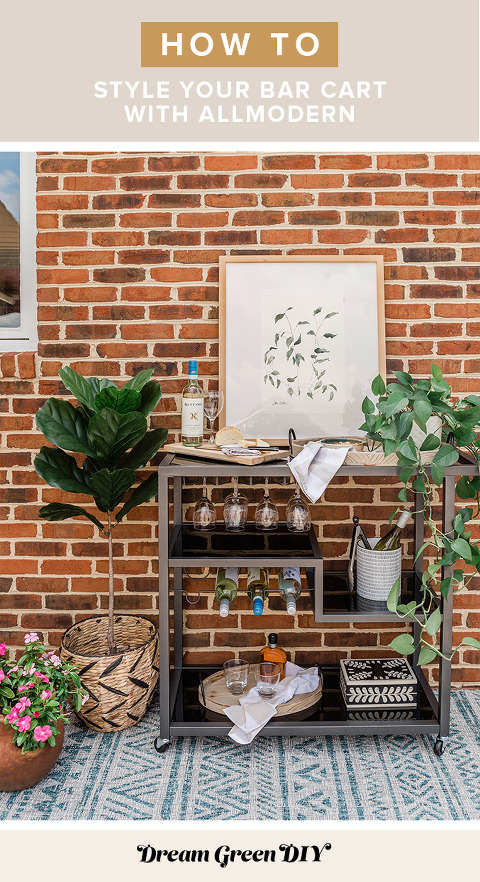 *I earn a small percentage from purchases made using the affiliate links above. Affiliate links are not sponsored. Rest assured that I never recommend products we wouldn't use or don't already love ourselves.