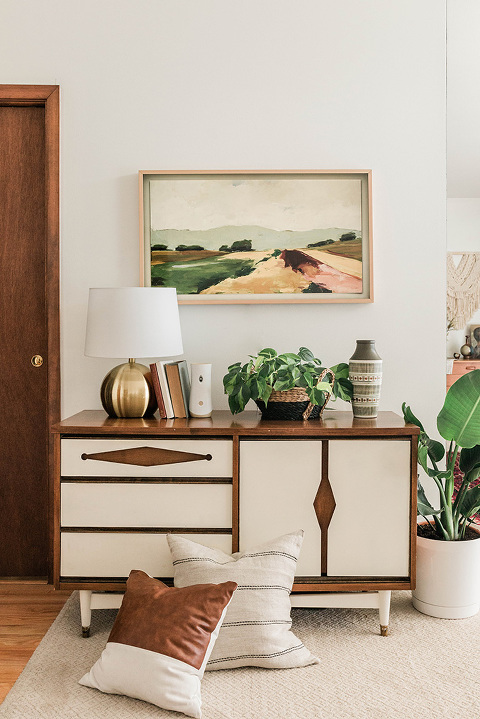 Well, it's my second favorite day of the week (Saturday being my favorite, of course), and I've got big plans! Mom and I are making the 40-minute drive out to Trader Joe's this morning for an extra special grocery shopping trip. I have been locked up in the house since March and haven't been to a single grocery store since lockdown started, so this is a pretty major deal. I have a feeling that I'll come home panicked from being in public and won't venture back out for weeks and weeks, but it'll be worth it to have those TJ favorites restocked in our cabinet.
Anyway, that's the biggest excitement on my to-do list this Friday morning! Keep scrolling to find out what else is inspiring us ahead of the weekend, and if you've got a cool project, home tour, or video of your own to share, do tell us all about it in the comments.
Weekend Inspiration: No.100
1. I just recently added this candle to my collection, and it's my new favorite scent. I love that my purchase goes toward supporting an amazing Black-owned small business on Etsy, too! (those are not an affiliate links, by the way)
2. Although I don't think we'll ever realistically be able to live in a tiny house, I've become completely enamored by the Living Big In A Tiny House YouTube channel. This particular tiny house tour blew me away, and left me feeling so inspired.
3. Did you see on Instagram that we just added this new rug to our dining room? I love, love, love it—especially since it cost less than $140. The full "official" reveal is coming to the blog next month, so stay tuned.
4. You might have noticed that the photos in today's post look a little "branded." They're from a collaboration I did with Glade and Target that was scheduled to just publish on social media, but I hated the idea of the photos that I worked so hard on going to waste here on the blog. I'm not being paid to say anything today, but I just wanted to reiterate that we really do love that handy little automatic scent sprayer!
5. Ashley's entryway makeover for One Room Challenge is so stunning. Can you even handle that gorgeous blue paint color and wallpaper?! Check out the before/after photos this way.
6. One of the most frequently asked questions I get here on the blog and over on Instagram is where we got the piece of art over our console (the one you see in today's post photos). It's actually our Samsung Frame TV, and currently we have this piece that we ordered digitally from Juniper Print Shop displayed on it. It's so much fun to switch the art up on the TV whenever we feel like it. Definitely couldn't recommend this television more!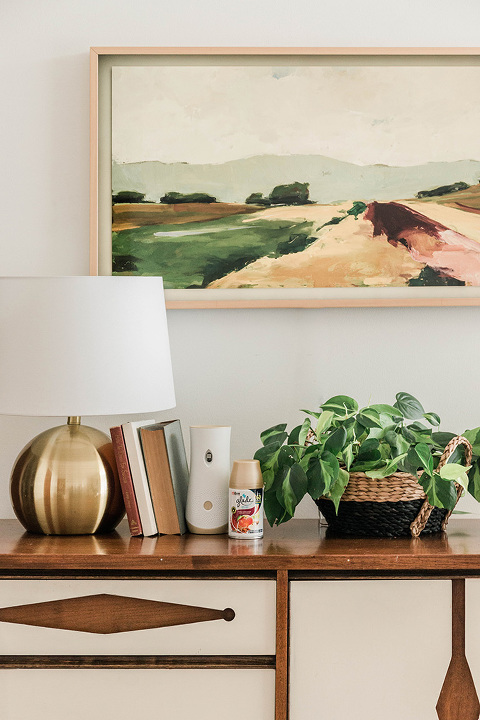 *I earn a small percentage from purchases made using the affiliate links above. Affiliate links are not sponsored. Rest assured that I never recommend products we wouldn't use or don't already love ourselves.