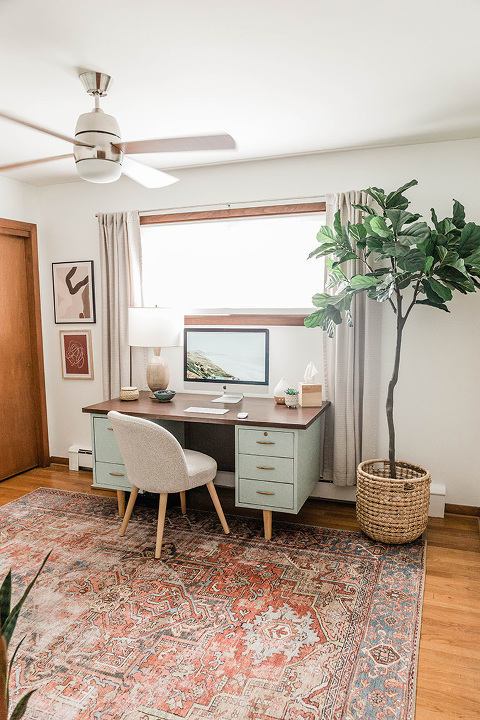 I've been working from home for the past seven years, so my life wasn't too disrupted from a professional standpoint when we were all forced to hunker down at home during the pandemic. That said, I did used to get out of the house for three hours three days a week when I worked at the pottery studio.
Temporarily losing that part of my schedule has meant that I spend a lot more time in my office, working on prepping future blog posts, answering emails, and catching up on techie updates that I've been meaning to cross off my list for a while now but just haven't had time.
All of these extra hours spent in my office (and wandering around our house in general) ultimately inspired me to do a mini makeover in the space. There were a couple of things I wanted to change, plus a few things I wanted to add, so I decided now was the perfect time to tackle it.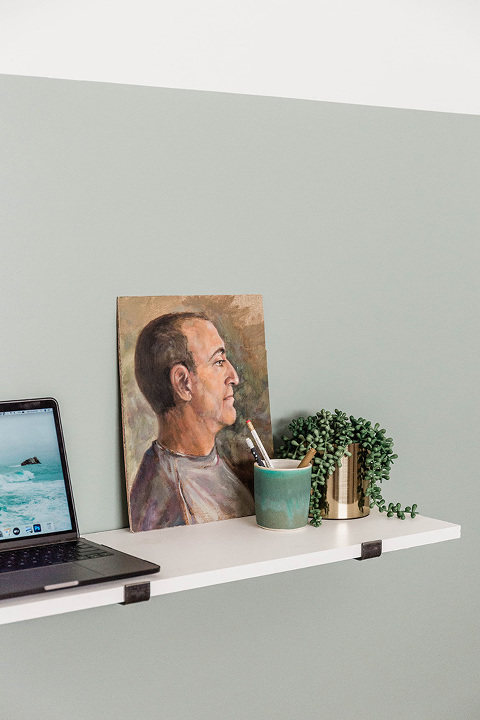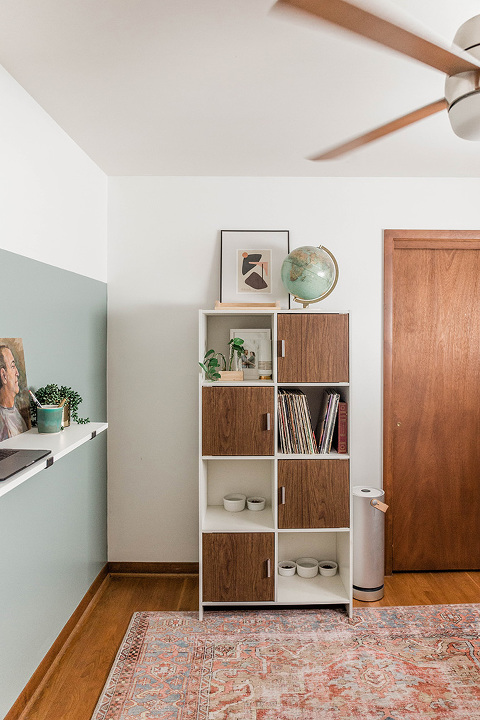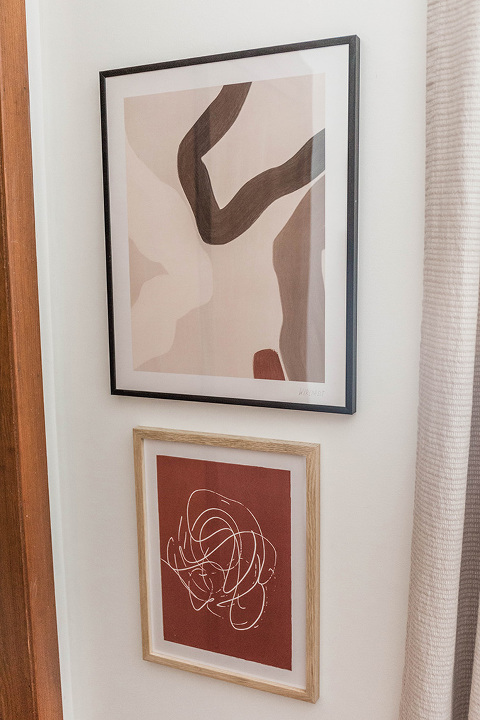 The biggest pain point in this room is lighting. You probably can't tell because I was able to edit these photos to make the room look light and bright, but in reality the room only gets good natural light right before sunset. Because of the roof line, the adjacent sunroom, and the way our house faces, there's only about a one-hour timespan when my office gets any sunshine at all, and it's at about 7 or 8 o'clock.
Since there's nothing I can do about the lack of natural light (John is very against skylights, so that option is out), I've had to find other ways to make the space feel bright. When I took a really critical look at the room back in March, it occurred to me that my large vintage tanker style desk was sucking a lot of light out of the room. It was originally a dark brown wood veneer that just felt really heavy and shadowy in the space.
The caveat (as always) was budget. Even though I considered replacing the desk, I didn't have the money for a new one, and I also still don't feel comfortable going out and shopping for furniture in person, so there was the struggle of figuring out how to even get a new desk in the room. I needed to DIY a solution.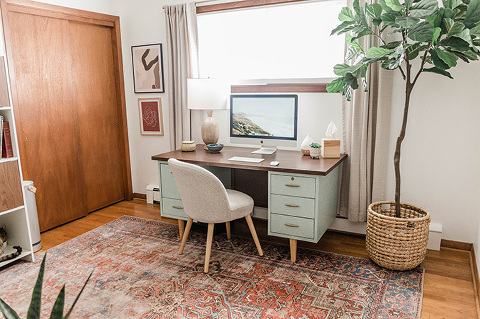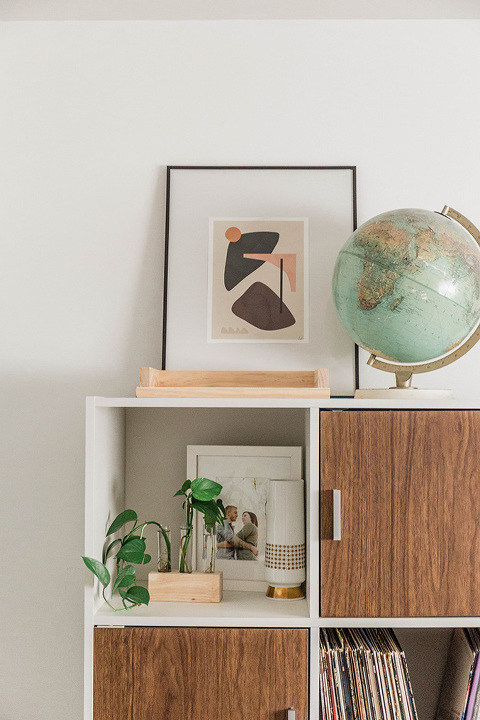 That's when I came up with the idea of wallpapering my existing desk. I really, really hate painting, and especially hate painting furniture. It's messy, takes forever, and I'm just too impatient to do a good job. Instead, I thought I might be able to give my desk the light, bright, and airy look I wanted by wrapping it with peel-and-stick wallpaper.
Thankfully, I have a pretty huge collection of leftover rolls of removable wallpaper from past DIY projects, so this phase of the room makeover didn't cost me a thing. I'm going to do an entire blog post all about how I did this project, so stay tuned for that in case you're curious.
The good news in the end is that I think I managed to completely change the look of my desk thanks to the wallpaper. The only thing I actually bought to makeover the desk was a set of replacement desk legs for $23. The new blonde colored wood legs help lighten the look visually, and also match the new desk chair I bought (which was the one splurge I made for this room makeover).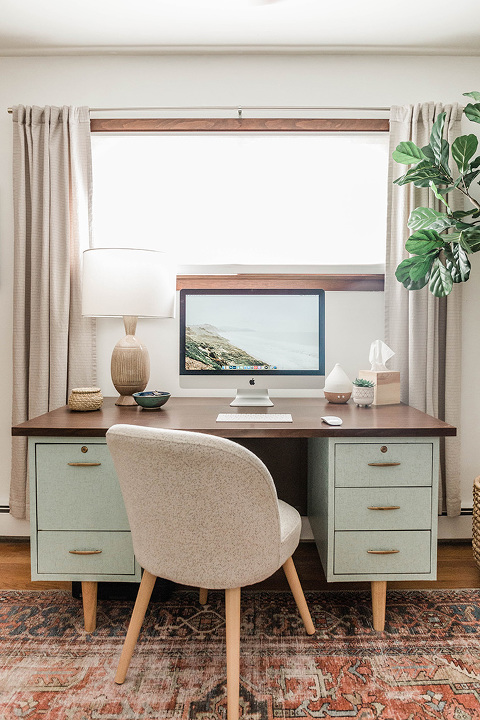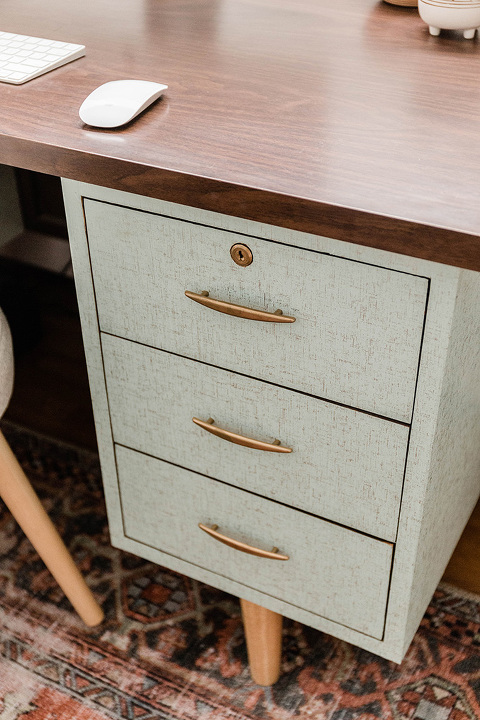 RESOURCES: wallpaper on desk, desk legs, area rug, abstract prints, desk chair, faux fiddle leaf fig tree, wood tissue box cover (similar), diffuser (similar), air purifier, Paris print, book shelf (similar), DIY propagation stand, faux snake plant, woven trash can, faux succulent in gold pot, shelf brackets, ceiling fan (similar)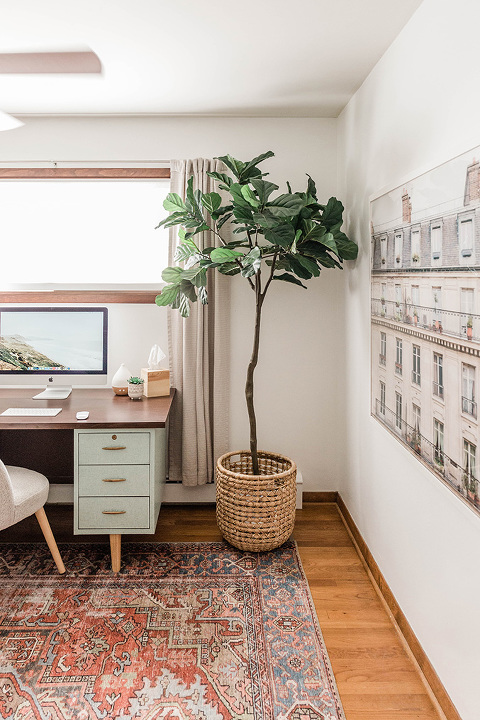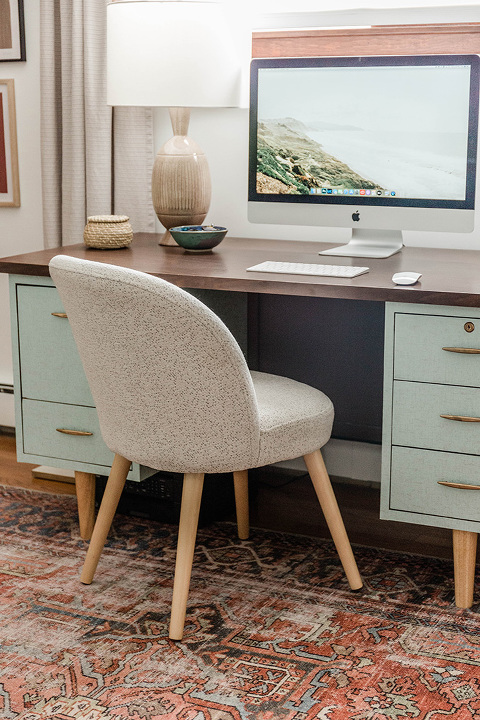 Okay, so what did I use that I already had? I pulled this brighter, more colorful rug into the space that I had used in a different project from earlier in the year, and I also used some art that I originally had in the living room and one oversized piece I had in storage.
The extra large print is probably my favorite addition to the room. You might remember when we had this framed Paris photograph in our dining room? I always thought that big vaulted wall was the only wall in our house that could handle the 54″x40″ art piece, but I think it looks great on the one blank white wall in my office. It almost feels like an extra window, which is so appreciated in this small dark room.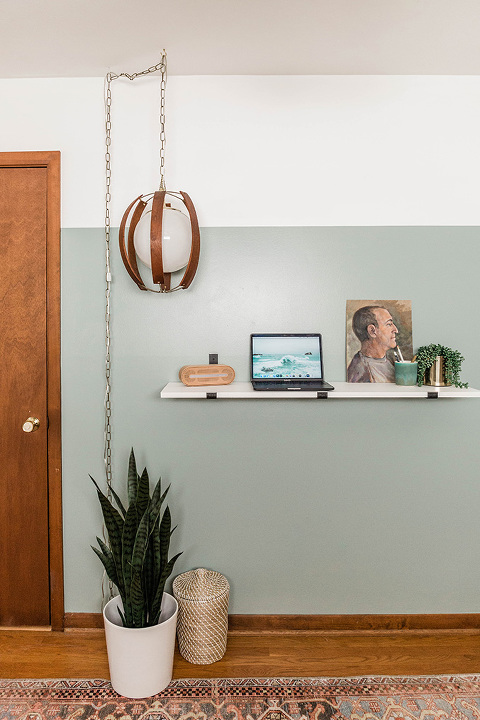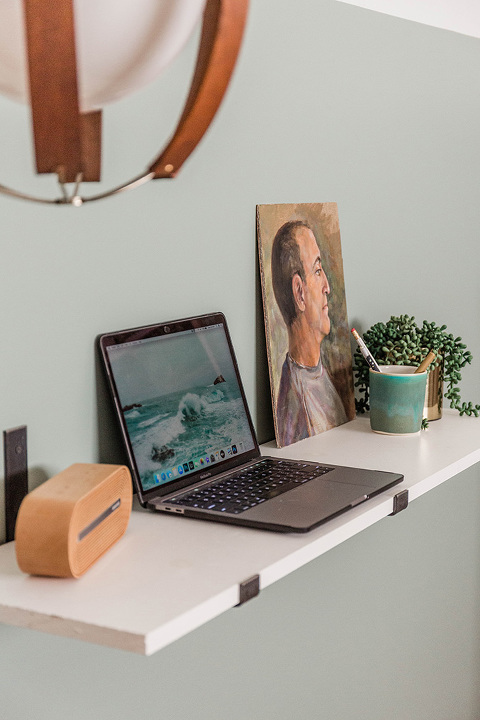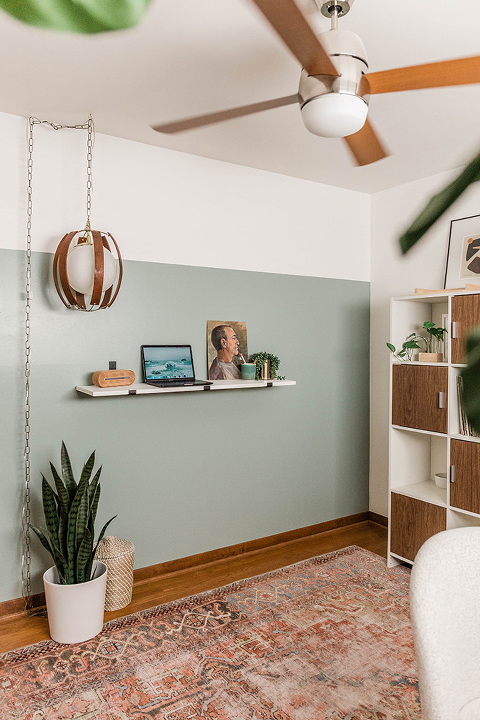 Speaking of white walls, I had another one right behind my desk that really needed something special. It's what everyone sees through my computer camera when I get on a conference call since it's right over my shoulder, so I wanted to give it a bit of extra flair without adding a ton of useless new furniture and art. After sitting on the decision for a few weeks and brainstorming some ideas, I had the lightbulb moment to build my own standing desk using a shelf and set of brackets that we already had.
Again, I'm going to do an entire blog post all about how to build your own standing desk, so for now I'll just show you the finished product as a sneak peek. It was the perfect way to add a little bit of interest to this blank white wall, and the new light blue color block I painted about 3/4 of the way up behind the standing desk finished it off to a T. I used leftover paint from this closet makeover, so my entire wall transformation project was entirely free! I haven't used the standing desk a ton just yet, but I will make sure to give it a thorough test before the full blog post goes live in a few weeks.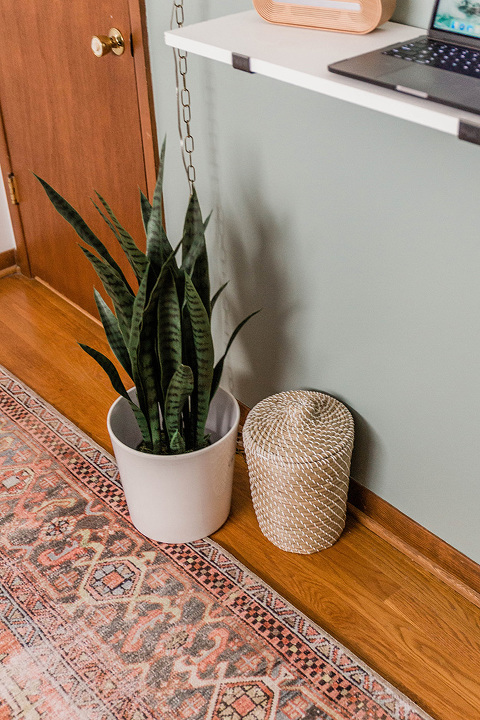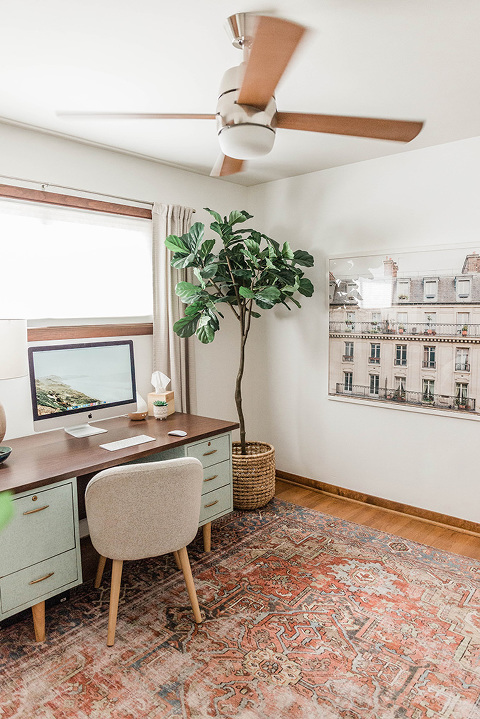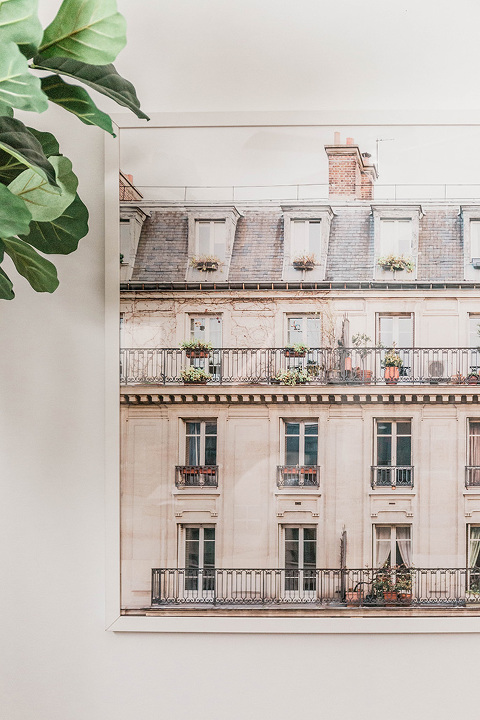 That's it! My practically free color-blocked office makeover! The only things I spent money on were the new desk legs for $23 and the new desk chair for $120. The chair was definitely a splurge, but the cushioned seat and back have been so cozy to use these past few weeks—way better than the extra dining room chair I had been using at my desk.
Let me know what you think of this makeover in the comments below, and tell me about your own home office if you have one. Has it been getting a lot more use lately, too? Could yours stand to have a mini makeover like mine? All I can say is this: never underestimate the power of paint and peel-and-stick wallpaper!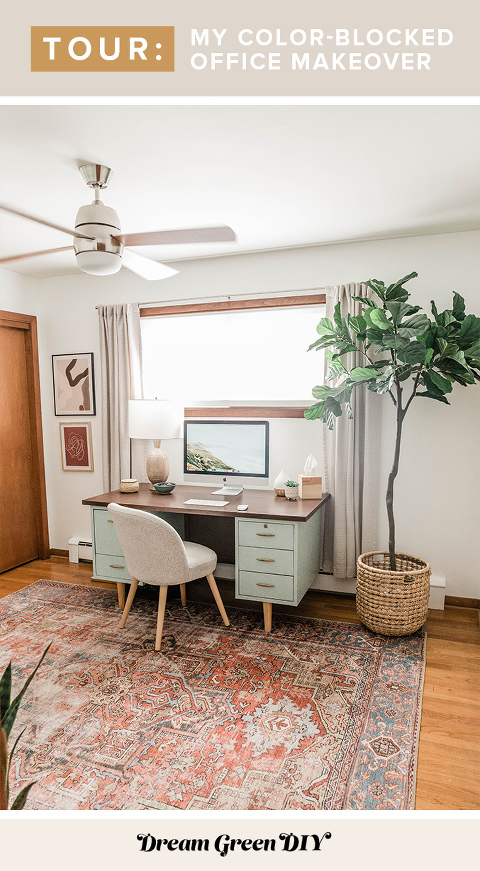 *I earn a small percentage from purchases made using the affiliate links above. Affiliate links are not sponsored. Rest assured that I never recommend products we wouldn't use or don't already love ourselves.