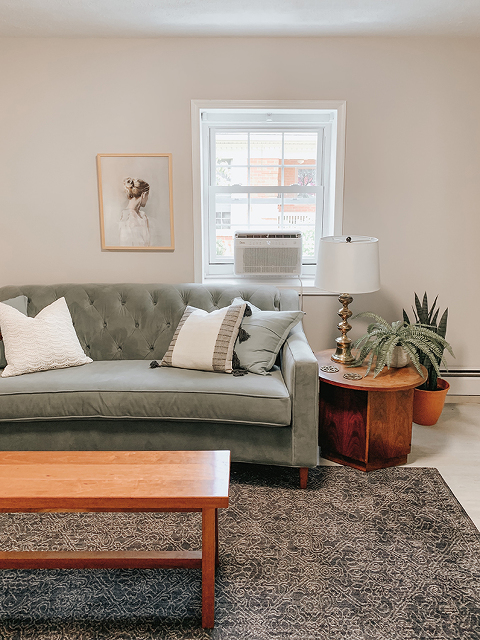 *This post is sponsored by BabbleBoxx on behalf of Midea.
The other day on Instagram I introduced a wild, crazy thought…What if we moved out of our 1960s ranch and into a new build? The concept was born purely out of the fact that our house doesn't have a modern central AC system, and it has been super uncomfortable in the summertime for the past couple of years.
We've gotten one quote so far from a local heating and cooling company to have an HVAC system installed, and it was just outrageous. The shallow pitch of our mid-century home looks awesome, but it makes the installation of an air handler almost impossible. So, instead, we're just stuck with relying on our 11-year-old split system and our one window AC unit.
Well, fast forward to July of this year, and we have Midea to thank for completely changing the game for us. We had a chance to test out the Midea U Inverter Conditioner, and have consequently dropped any and all thoughts of moving out of our little retro ranch. This ultra mod u-shaped unit is one of the coolest (literally) home inventions we've ever, ever tried—and you know we've tried a lot. Keep scrolling for the full scoop and our review!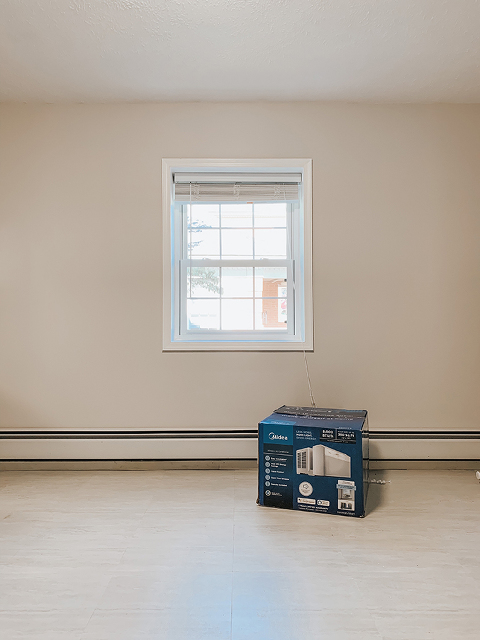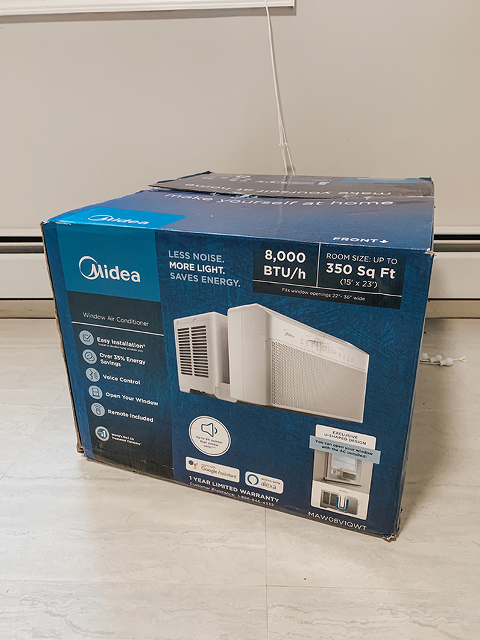 Okay, so if you're totally new to the concept of a u-shaped AC unit, you're not alone. We had never heard of anything like this before, but now that we know, we'll never go back to the old accordion style window units. We have one of those latter styles in our guest room out of a necessity, but we'll be replacing it with a second Midea U when it dies.
This sleek, smart (no, really…it syncs up with Alexa and everything!) AC installs easily and hardly blocks any natural window light at all because of that u shape. In case that's confusing, here's a quick breakdown of the concept in layman's terms. Basically the two halves of the unit (the compressor that usually sits outside the window, and the fan that runs inside your house) are separated by a small u-shaped cavity so that the window can slide down in between.
This design not only helps block out most of the noise that runs outside, which is now on the other side of the window, but it also allows you to enjoy so much more natural light because the window closes almost entirely in between. It operates at nearly the same quiet decibels of a library, too. I'm not kidding!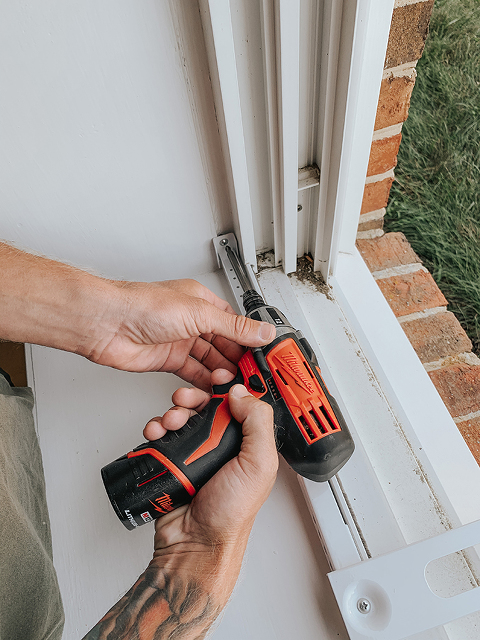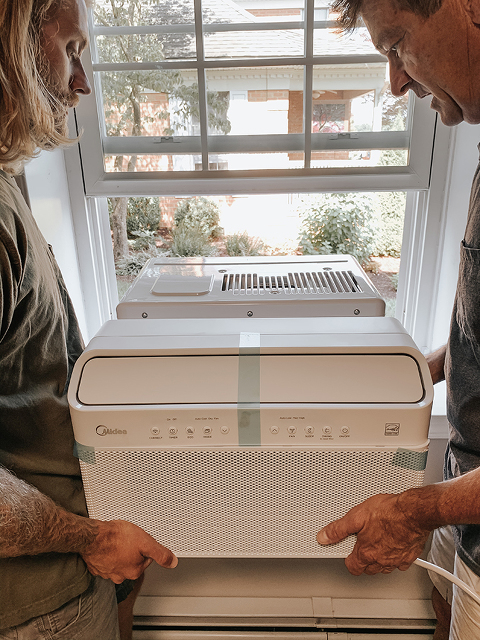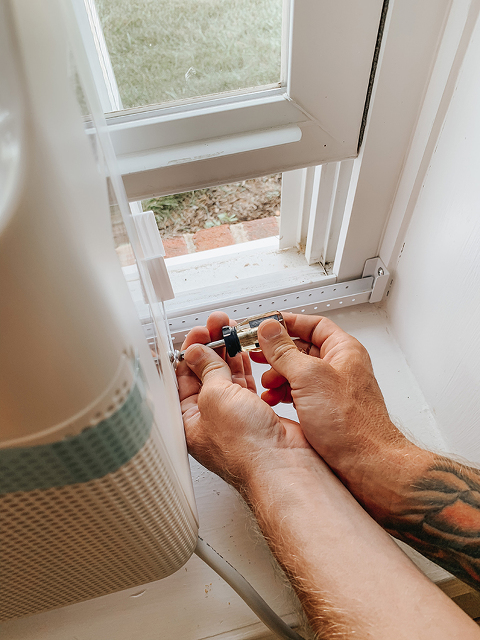 If you're wondering where the heck in our house I snapped these pictures, we actually installed it for a test run over at my parents' house. In addition to having zero central AC, our 60-year-old ranch also comes with old school side-to-side sliding windows. There's no way for us to install this type of unit without up-and-down sash windows, so we're getting quotes now to have at least one of our windows replaced with a modern style that will fit our new Midea U. In the meantime, we "borrowed" a window at my parents' house to try out the easy install that Midea boasts with this unit. I'll go ahead and jump the gun and tell you that it really was that simple to put in.
First, we installed the included quick-snap bracket using two discreet screws along the sides of the window. After that, John and my dad set the unit in place on the bracket while I documented their progress. To finish, we secured the adjustable sidearms and closed the window. Done! And if you're worried about security in case you're going to install one on the ground floor of your home, you don't have to because the window is secured by an anti-theft mechanism while closed.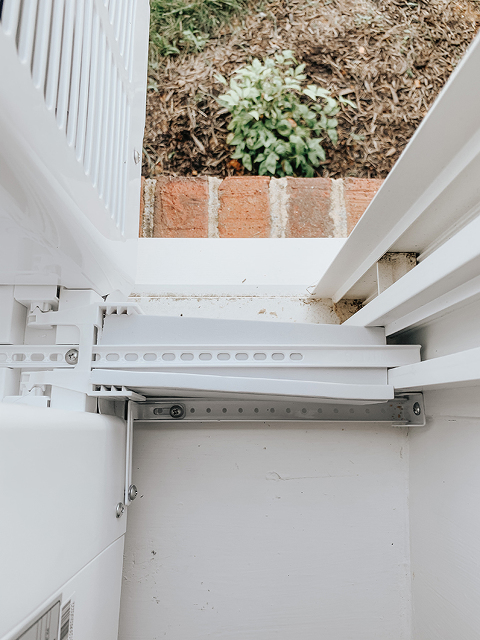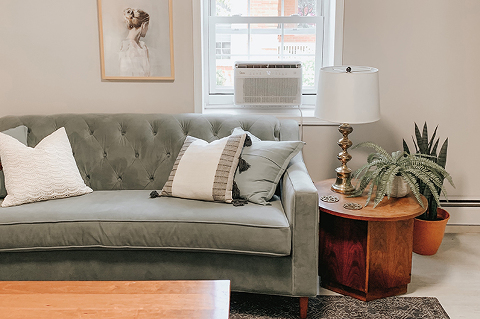 The last thing I'll say (by the way, never in my life did I think I'd ever talk for over 800 words about a window AC!) is that you can also still appreciate fresh air on those later-season balmy nights, or when you just feel like letting the summer breeze inside. Because of the way you install the unit, you can still open and close the window like normal. They literally thought of everything, and I can't wait to get a new window installed in my office so we can enjoy this thing at our house.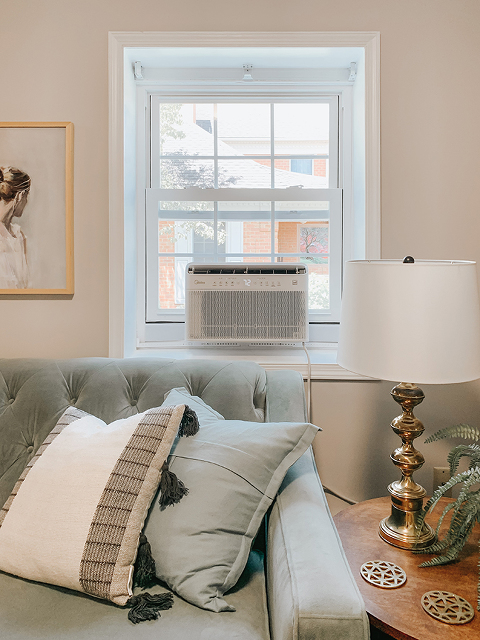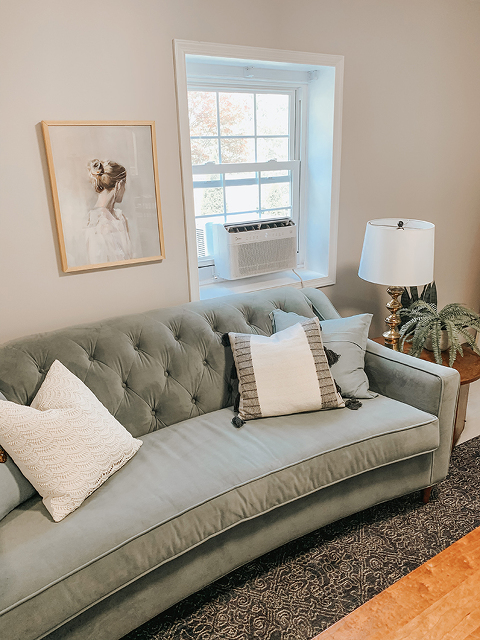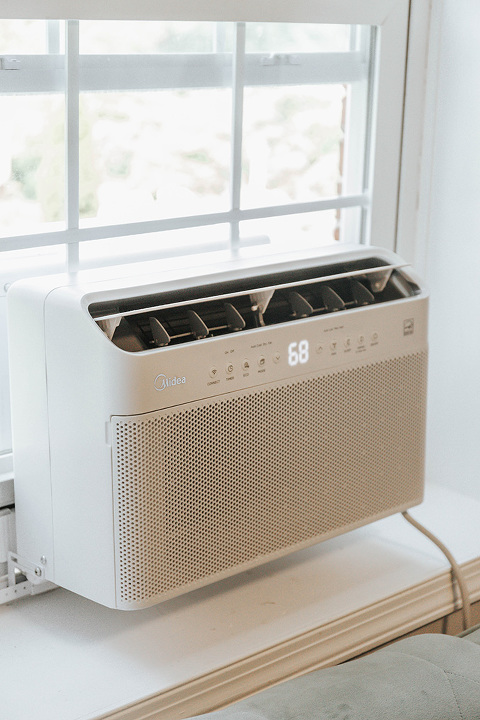 If you need to upgrade your window AC this summer, too, this is the only type I'd recommend. Hands down. It functions so well, looks great, is far more affordable than springing for a whole-house HVAC system, and helps us stay comfortable, even during the super high heat of summer. Now, I want to know because I'm super curious…Do you have central AC, or do you rely on portable units?