I know spring cleaning is just about as trendy a concept as they come, but I'm honestly pretty partial to the idea of fall cleaning instead! It's always around this time of year when I get the urge to organize every cabinet, drawer, and box in our house, and I've started the process of doing exactly that for the fall 2020 season, starting with the kitchen.
Since I've been spending lots of time carefully going through all of our cooking gadgets, appliances, and food containers, I thought it was the perfect opportunity to tell you about a few of my favorites. Like most homebodies, I care a lot about the design of pretty much everything that comes through our door, and kitchen supplies are no exception. It can be hard to find good-looking versions of things, though! Keep scrolling for modern options we already love and a few things that I'd like to add to our collection.
Mod Kitchen Gadgets We Love:
1. Dish Rack and Drain Board: We have and love this! It's the only drying rack I don't feel like I need to hide in the cabinet.
2. Chip Bag Clips: These are way nicer looking than plain old clothespins, or those gaudy neon clips your husband picked out at the grocery store (kidding…kidding…).
3. Wood Hanger with Pegs: This is perfect for holding reusable shopping bags and dried flowers in the kitchen!
4. Milk Frother: I've been on the hunt for something like this that I won't mind leaving on the countertop.
5. Outlet Charging Station: This is so handy to have in the kitchen! We installed one in ours last year.
6. CoffeeSock ColdBrew Filter: The perfect sustainable alternative to single-use coffee pods and filters.
7. Kitchen Cabinet Turntable: We have something similar in our kitchen that we use everyday!
8. Pour-Over Kettle: Here's another thing we have (ours is black) and use day after day.
9. Food Composter: We haven't gotten into this routine yet, but I'd like to. I think this nice white container will help inspire me.
10. Strainer Set: I'll take any kitchen gadget in gold.
11. Glass Food Storage Containers: Can't you just picture these full of dried foods in your cabinet, complete with nice vinyl labels?
12. Step Stool: Every kitchen needs a nice step stool like this one!
What caught your eye from that list? I'm personally pining after those mod gold Chip Clips and the cool white Milk Frother. I have a small milk frother that has gotten me pretty far, but I think it might be time for an upgrade to something a little more substantial now that I know my love for homemade chai lattes isn't going away any time soon. Let me know your top pick from the list in the comments below!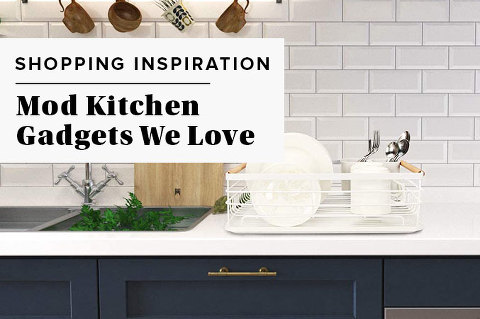 *I earn a small percentage from purchases made using the affiliate links above. Affiliate links are not sponsored. Rest assured that I never recommend products we wouldn't use or don't already love ourselves.