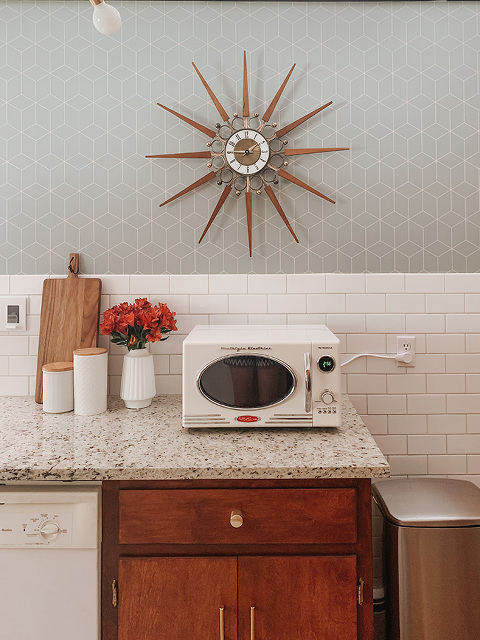 *This post was sponsored by Nostalgia.
We've got some pretty big changes coming to the kitchen in the next couple of months! The thing is…I'm not quite ready to spill all of the beans just yet. I thought I'd share a sneak peek today, though, and a little hint about what's to come in the form of an introduction to our brand new countertop microwave.
John and I have been on the hunt for a portable microwave for the past few weeks, and we finally found the perfect one for us from Nostalgia Products. Read on for at least part of our renovation story, and our full review of the RMO4IVY Retro Countertop Microwave Oven.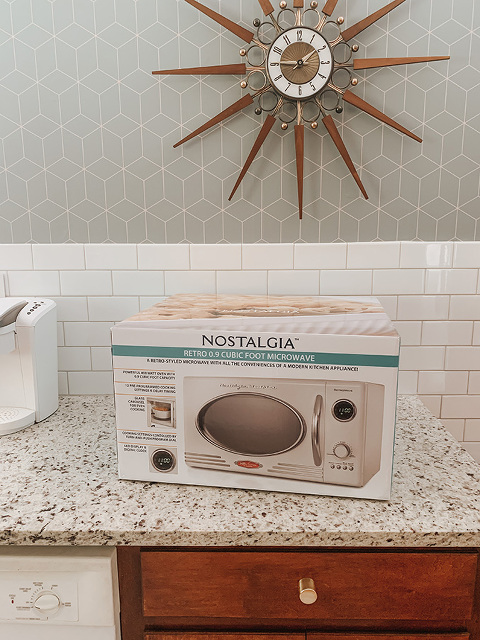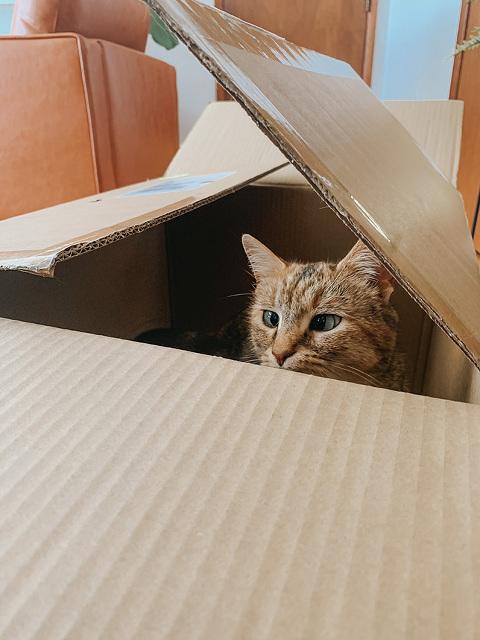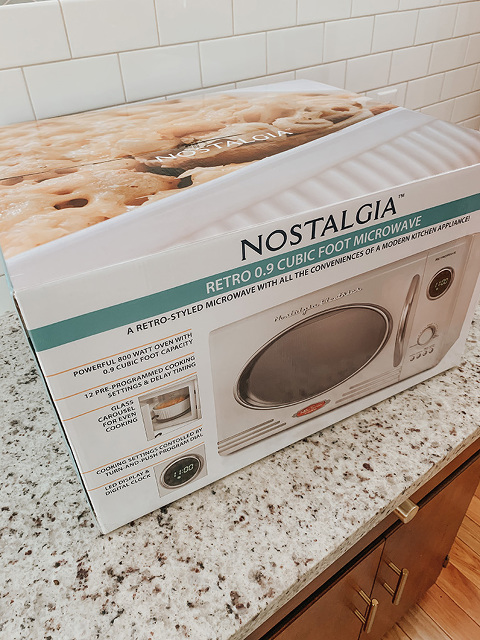 To be completely honest, I never thought I'd ever be in the market for a countertop microwave, but we're making over the area around our stove to make things more efficient and modern, which snowballed into the need for a microwave that could work on the counter as opposed to over the range.
I had broached this topic over on Instagram last month, and got more than a few recommendations for the RMO4IVY Retro Countertop Microwave from Nostalgia. I had actually never heard of it before, but you guys know me so well because it really is the ideal option for our retro kitchen. It has tons of 1950s-inspired details on it, like chrome accents, sleek lines, and a pop of retro red color, too. I even love the mid-century font of the logo on the face of the microwave!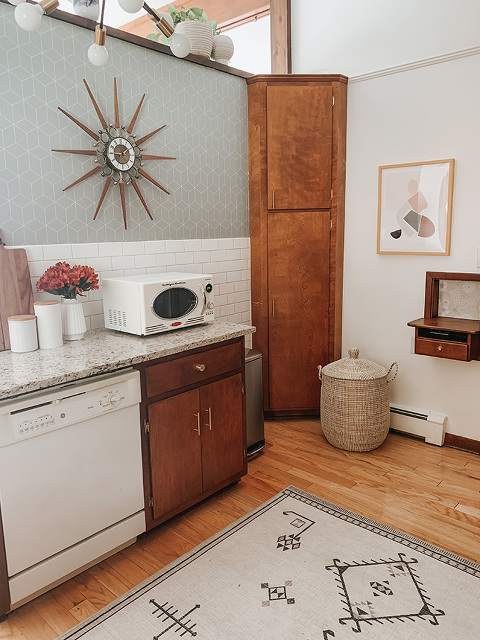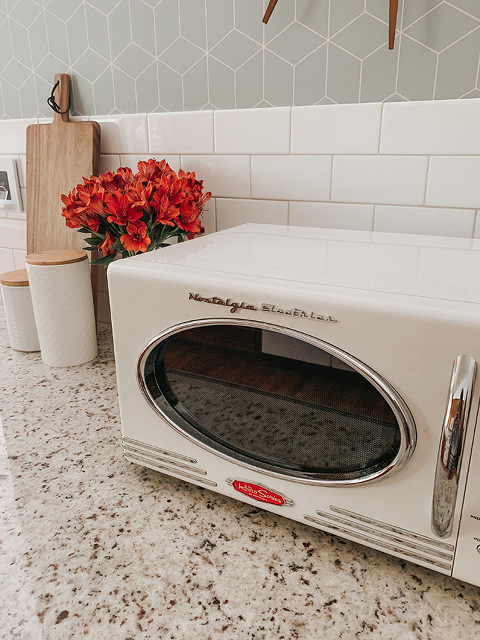 We've officially transitioned to the new appliance as of a few weeks ago, and it has been a dream. It's a good bit smaller than our old over-the-range microwave, but we haven't missed that extra space at all. Not one bit! In fact, downsizing to this smaller microwave made us realize just much of a colossal waste of space our old one was. We use a microwave everyday, so I was a little worried we'd feel limited by the 0.9 cubic feet of our new smaller one, but it just hasn't been an issue. It even still fits the plastic food cover we used with our old microwave!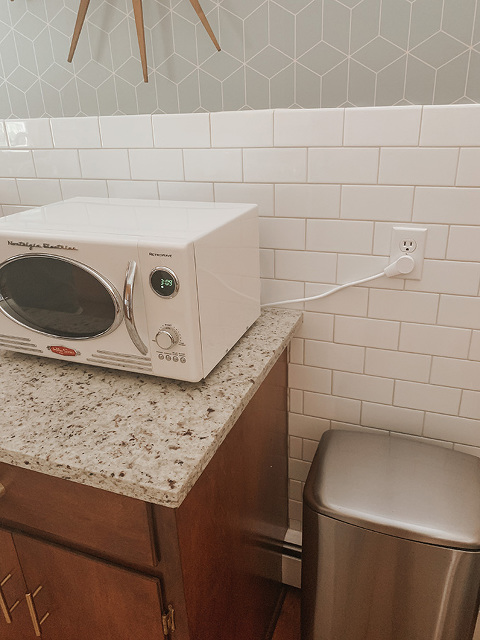 Those two candid "before/after" images above show how I managed to work around my only complaint with this microwave. It comes with a really heavy-duty black cord, which I really didn't like the look of. The way our outlets are laid out meant that the cord was going to be in full view all the time, and the black cord stuck out big time in a bad, bad way (at least for my OCD standards). It was an easy fix, though.
I just grabbed this white extension cord to help things fade away a little better against our white subway tile. You can twist the direction the cord runs in, so I was able to run it straight back behind the microwave. I just carefully zip-tied the existing black cord together behind the unit to keep it out of sight where it's plugged into the new white extension cord. All better!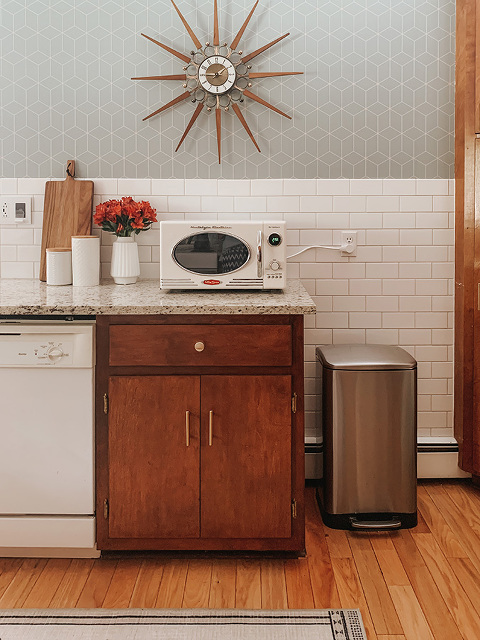 We considered lots and lots of options when it came to countertop microwaves, and even placed an order for a nondescript white one that we ended up canceling. This one is super affordable (just a little over $100!), comes in lots of other colors, and blends perfectly with our mid-century kitchen without exactly stealing the show—it's like it was meant to be.
Big thanks to those of you who recommended it to us, and to Nostalgia Products for agreeing that it was the perfect fit. We really loved working with their team, and are excited to look into other appliances from their range now that we know how awesome the products are.
Anyway, I can't wait to take you through the full story behind our mini kitchen renovation, but for now, I hope this sneak peek sort of satisfies your need for a round-a-bout update. Any guesses what we have planned? Leave your thoughts in the comments below.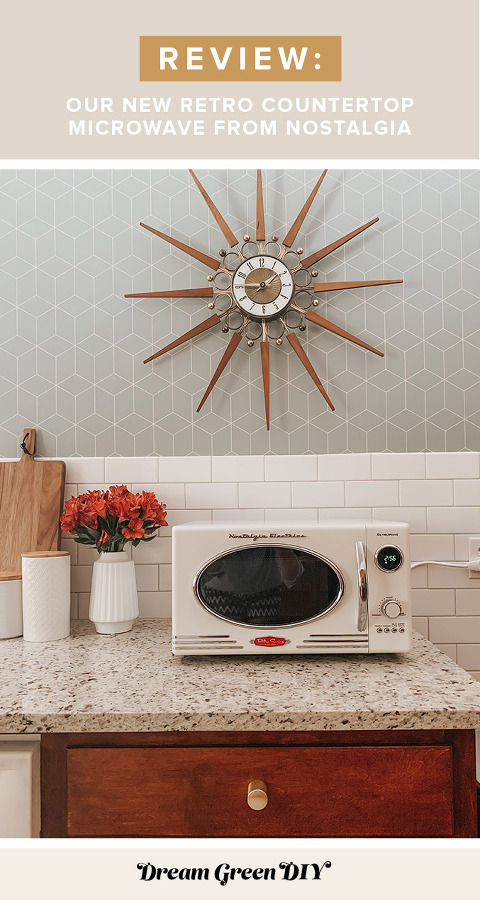 *I earn a small percentage from purchases made using the affiliate links above. Affiliate links are not sponsored. Rest assured that I never recommend products we wouldn't use or don't already love ourselves.