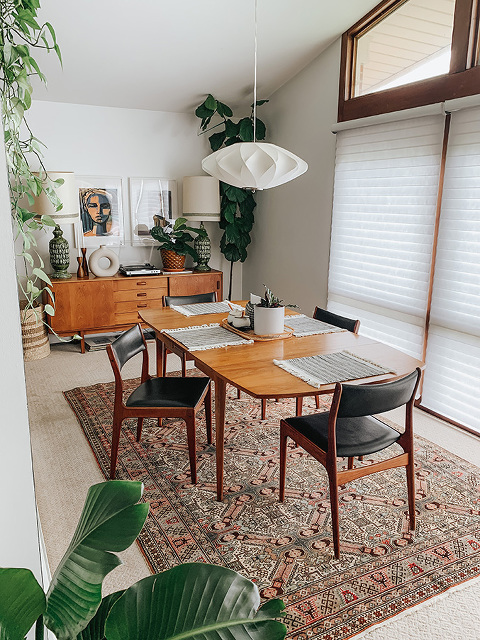 *This post was sponsored by Revival Rugs.
Don't worry! I didn't put a fifth new area rug in our dining room this year, despite what the photos in today's post might lead you to believe! Here's the deal: I teamed up with Revival Rugs to showcase their collection of incredible vintage rugs, but was having way too much trouble getting great photos of this one-of-a-kind rug in my dark and shady office, where I intend to put it. So, in order to guarantee full appreciation of the colors and design I laid it out in our amply lit dining room to take photos. I promise to reveal the rug in my office just as soon as these summertime storms give way to crisp fall sunshine.
Anyway, in honor of our new-to-us vintage rug, I thought I'd share a few of my best tips for sourcing these types of floor coverings for your home. There are admittedly lots of vintage rug shops out there and tons of options to order online, so I wanted to offer my advice for making the best decision you can. Keep scrolling for my tips, and make sure you use my code "DREAMGREEN10" to get 10% off your own Revival Rugs order.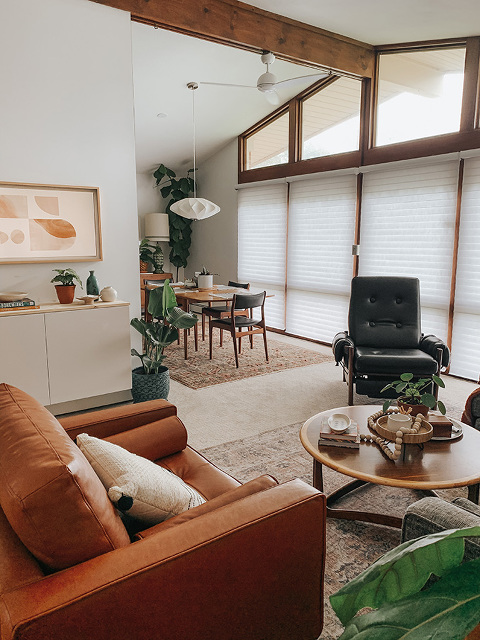 Check (and recheck!) individual sizing
One thing I've noticed when sourcing vintage rugs is that sizing is all over the place. These types of one-of-a-kind rugs come from all over and are made by any number of individual artisans across the globe. There doesn't seem to be such a thing as a "standard" when it comes to vintage rugs, so make sure you look carefully at those measurements before committing. Honestly, this is one of my favorite things about vintage rugs, though, because not all rooms are laid out well for the normal 5'x7′, 8'x10′, etc. sizes that most mass-produced rugs come in. I love that I was able to find the perfect rug (this one is 6'5″x9'8″) for our oddly-shaped small room.
Prioritize professionally cleaned rugs
I've ordered lots of vintage rugs online in my time as a DIY homemaker/designer, and I've definitely made the mistake of not looking carefully enough at the fine print when it comes to cleaning. There's nothing worse than opening a highly anticipated rug package only to be met with an absolutely foul stench! Vintage smells can be dealt with, but I've learned my lesson enough to source only professionally cleaned vintage rugs nowadays. That's why I appreciate knowing that all of the vintage rugs available from Revival Rugs have been hand-picked and all are properly cleaned. Get the full scoop on their rug cleaning process here.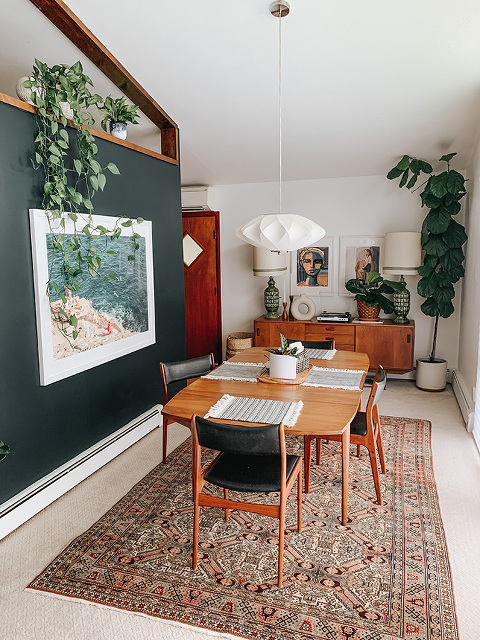 Be willing to embrace the color surprise
As far as computers have come, there's just no way to really translate the most accurate color of vintage rugs through a digital screen. You can absolutely get a good idea of the colors of your chosen vintage rug, but I encourage you to be willing to be a little surprised when it comes to that first "in person" meeting. One thing Revival Rugs encourages potential buyers to do is pay special attention to the close-up detail shots they post for each individual rug. That's often going to be your best bet in terms of understanding the accurate colors of the piece, whereas the wide angle overhead shot is best for seeing the overall design. Colors can look a little more muted in that wide shot since it's so pulled back and the colors tend to blend visually, but the close-up will give you a good idea of what to expect when you finally see the rug laid out in your space.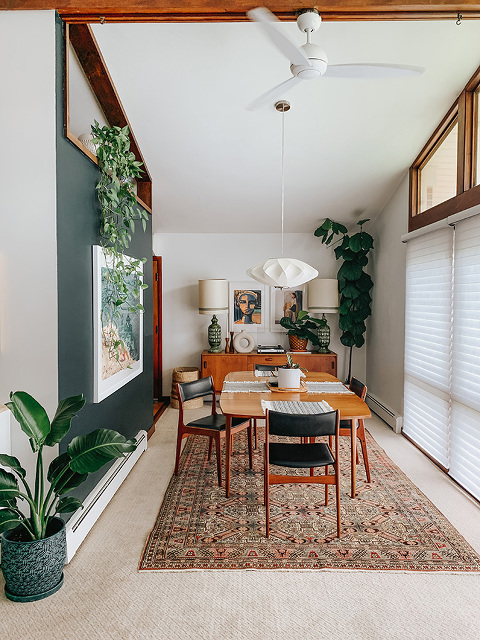 There's lots to consider when it comes to vintage rugs, and I've really only touched on the main points that I personally look out for when I'm shopping for a new-to-us area rug for our house. There's also things like synthetic and natural dyes, "vintage" versus "antique" (no, those terms aren't interchangeable), and learning the difference between handwoven, hand-knotted, hand-loomed, hand-tufted, and machine-made rugs. I just got lost down the rabbit hole that is the FAQ section over on the Revival Rugs website, and I encourage you to take a look if this is your first time considering a vintage rug for your space.
Let me know if you have any kind of specific question about vintage rugs in the comments below, and here's one last reminder to make sure you use my code "DREAMGREEN10" to get 10% off your Revival Rugs order. Vintage rugs are an investment, yes, but Revival is on a mission to make it an accessible one by eliminating steep markups and costs that don't add value. As a budget-driven homemaker, that means everything to me, and I thought it might mean something to you, too.