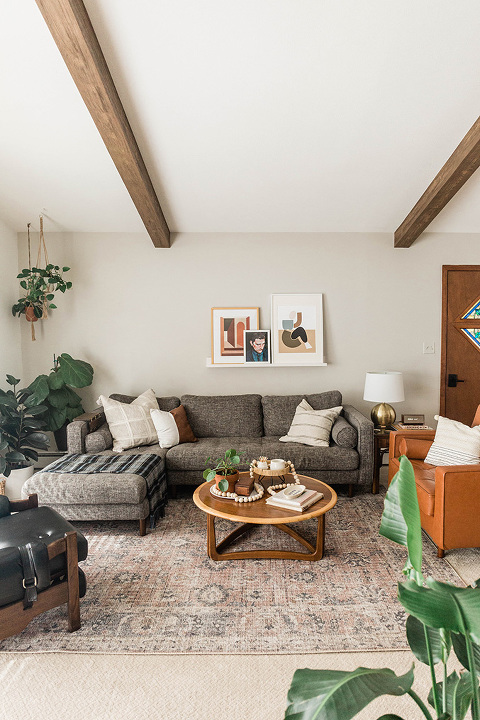 **This post was sponsored by Barron Designs.
When John and I started our house hunt, it became pretty clear that we were looking for one thing in particular: character! Up until that point, we had been living in a townhouse that was just about as "builder basic" as they come. It looked identical to the townhouse next to us, and just felt very safe in terms of design. We had high hopes of finding a home that looked unique, and was packed with one-of-a-kind architectural details.
Happily, we managed to find exactly that in our 1960s retro ranch. The front elevation of our home has a cool A-shaped silhouette that peaks in the middle, which means that the inside spaces feature the same vaulted profile. This feature was the reason we bought the house. It makes it feel so wide open and expansive, and now that we're mostly stuck at home, it's a feature that I appreciate these days more than ever before.
The only thing was that our white-painted ceiling and white-painted walls sort of made this cool architectural feature fade away. There are certain times in home design when you want to draw attention to something, and this was definitely one of those times. So, I teamed up with the folks over at Barron Designs to help emphasize our vaulted ceilings by installing two faux wood beams. I hate to spoil the end of today's story, but this has been the most game-changing design feature we have ever added to our house. Hands down. Keep scrolling for all the details!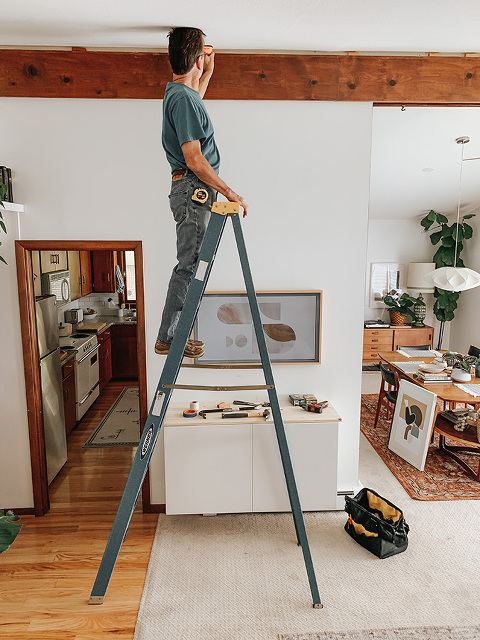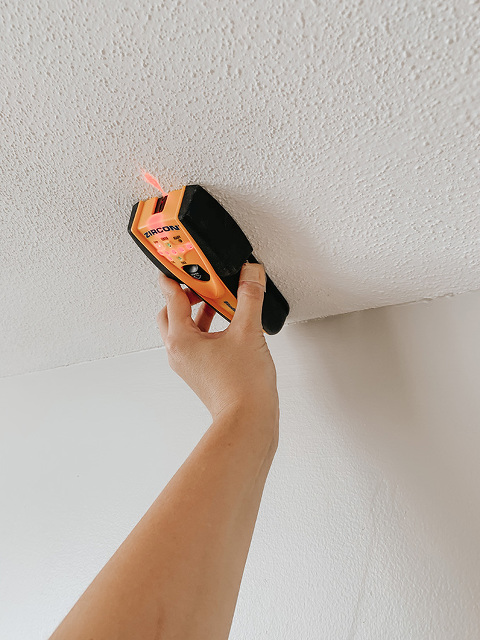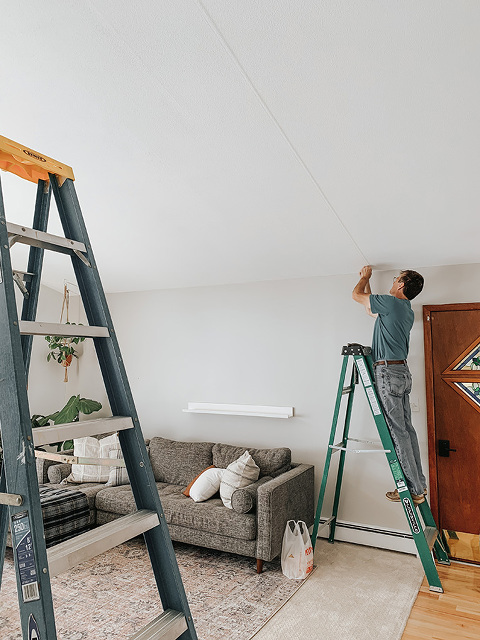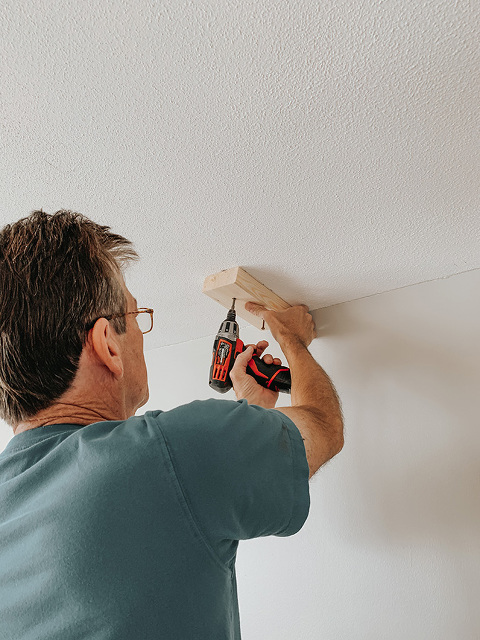 First, a little more backstory. I've made no secret of the fact that John and I have worked extra hard to respect the original architecture of our 1960s home. We haven't touched the existing stained wood trim, have left all of the original cabinetry alone, and have no plans to rip down walls or mess with the integrity of the quintessential mid-century floor plan. Whenever we needed to add something back to the house, we've tried our best to consider what would have been done 50-odd years ago when the house was built.
Which leads to the beams. When we were thinking through different ways to play up the vaulted ceiling in our house, we came up with lots of ideas—lighting, paint, etc.—but it all felt too contemporary for us. Then, the idea of beams came to mind and everything changed. If you look back at old photos of original 1950s and '60s homes, they often feature sleek wooden beams along the ceiling. After pouring over inspiration photos online, I knew we were onto something.
So, I worked with Barron Designs to choose the right era-specific beams for our project (their Driftwood Beams in the standard color "Walnut"), and then Dad and I got to work planning for the installation. Their engineer was a dream to communicate with when I was in the measuring phase, and we also put their customer service to the test when we ran into a small, easily-worked-around snag with the material itself (keep an eye out for those screws!).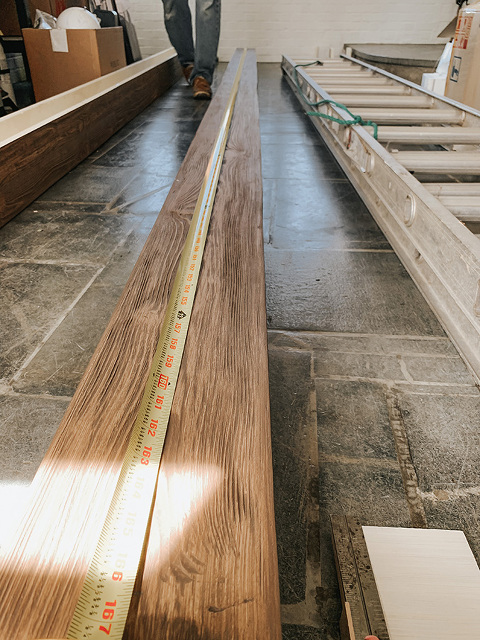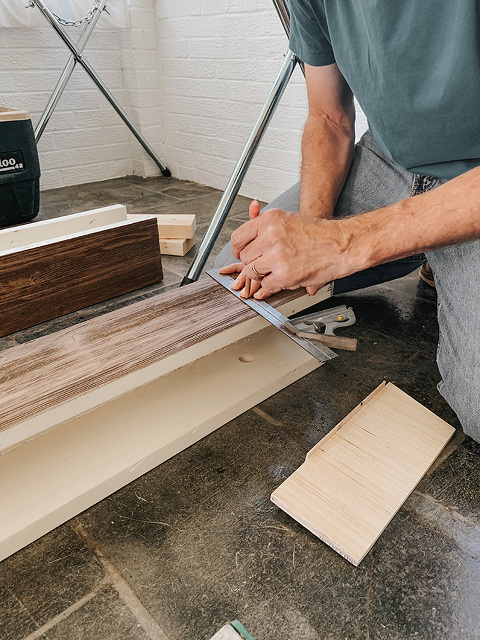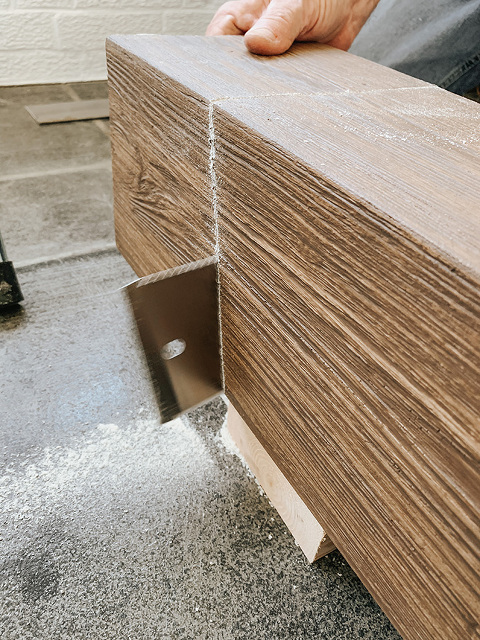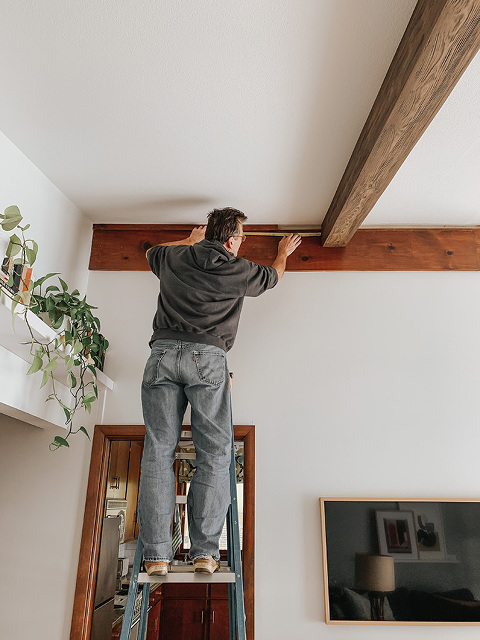 I won't go too in-depth with an installation how-to since every home is different and the Barron Design website has a thorough help section (I hear they're in the process of developing new installation videos, too!). That said, those photos above should give you a pretty clear idea.
We started by cutting small blocks of wood to fit the inside cavity of our faux wood beams, and attached those to the ceiling along the ceiling rafters, which we found with a stud finder and marked with string. Then, we carefully measured the exact distance from our outside living room wall up to the peak of the roof line, and cut the beam to the right angle to match. Finally, we pre-drilled our holes in the beam, slipped the beam over our blocks in the ceiling, and screwed the beams into the blocks. You can see the final install sequence happen here in this quick timelapse.
Dad and I intended to have John help us, but ("like father, like daughter") we got antsy and installed the beams just the two of us across one weekend. We had never worked with this type of thing before, but managed to get it done in under four hours with no major mistakes thanks to lots of slow, careful thinking and planning.
We broke the work up into two days: the first beam took two and a half hours to install on Saturday, and the second beam took just one hour to install, start to finish, on Sunday since we had gotten our system down pat the day before. I mention all of this because I want you to know that you can do this! It's absolutely a DIY project that anyone can do as long as you put the time and energy into planning your process, measurements, and cuts. Now for those gratuitous "after" shots…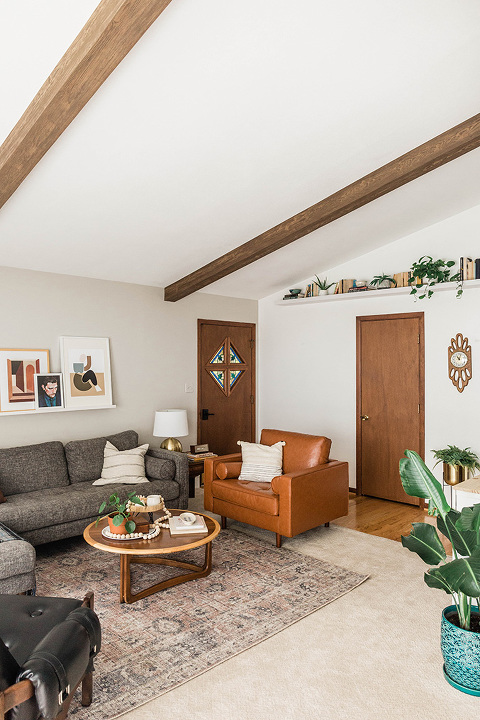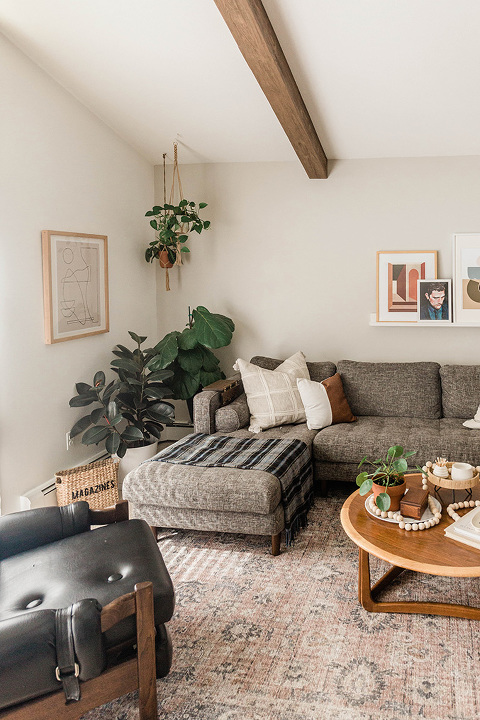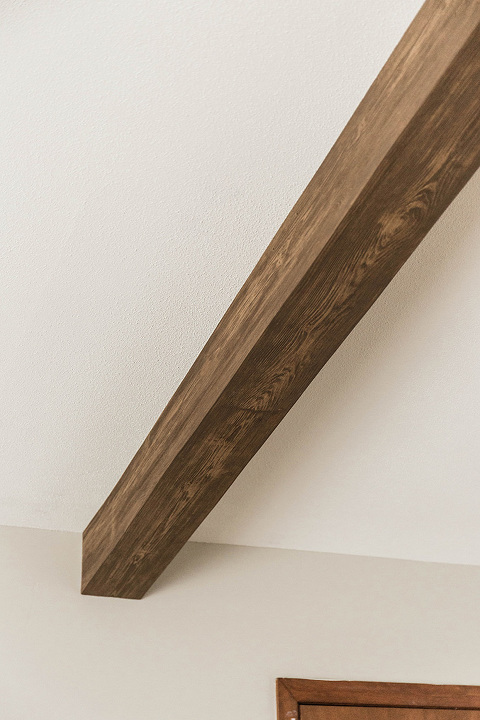 As you can see in the comparison graphic below, the white ceiling felt lofty before, but it also sort of disappeared. With the addition of those two new faux wood beams, though, the ceiling height jumps right out at you. I honestly was a little worried that it was going to make the ceiling feel lower with the beams, but I couldn't have been more wrong. I can't stop staring up at them now, and am convinced that they're the perfect mid-century-style addition to our retro home. It feels like they've always been there.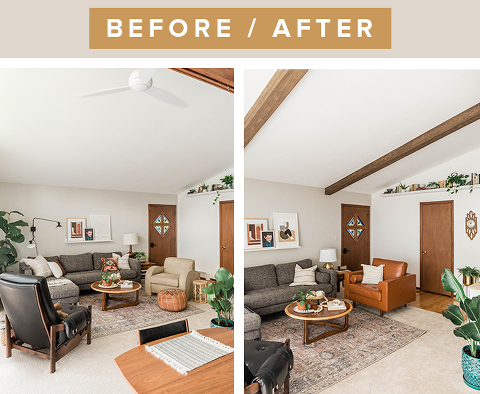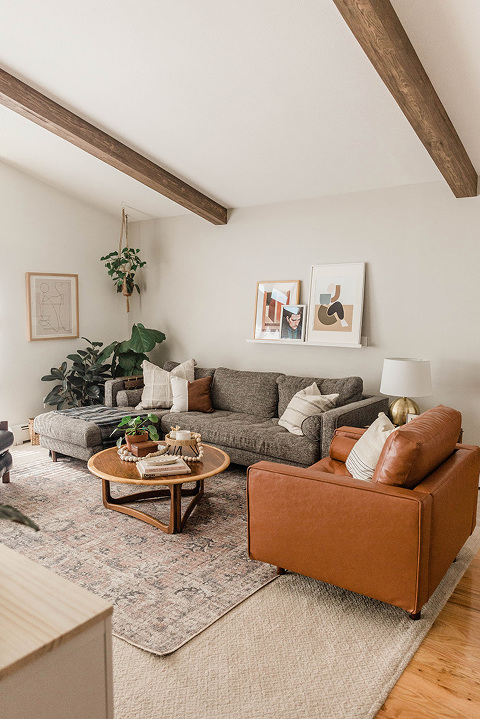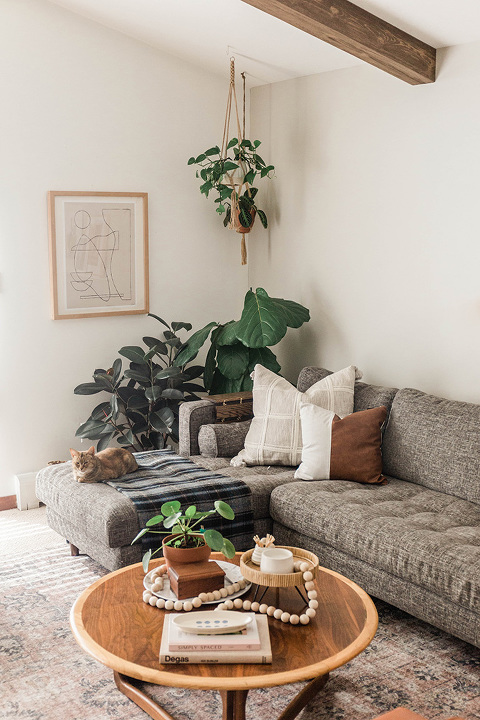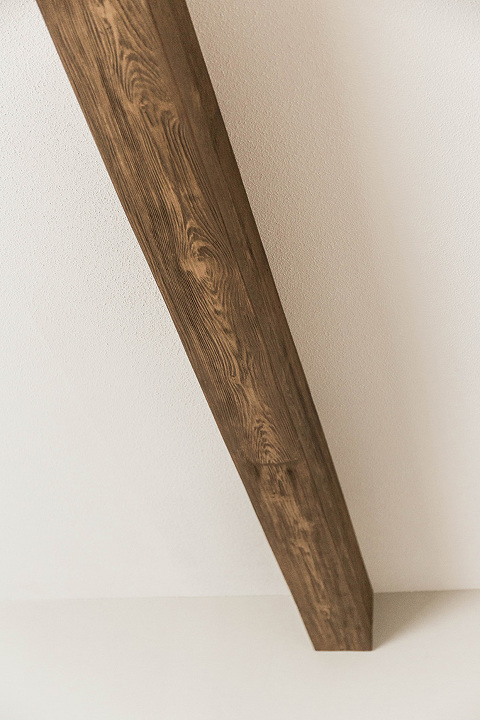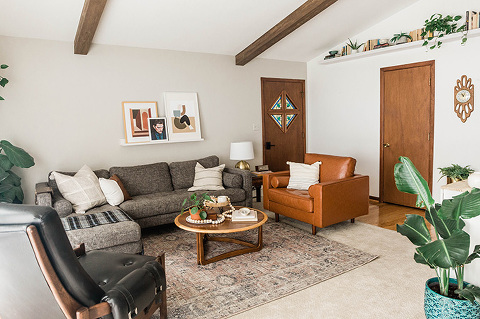 Have you ever thought about adding beams to your space? When I introduced this project over on Instagram, I was surprised to find out just how many of you were hoping to do the same in your own homes. I get the feeling that a lot of people think this project is out of budget and beyond a typical skill level, which is why they wait, but I've learned that that's not the case.
Our two beams each measure 6″x6″x15′ and cost $465.52 apiece. Combined you're looking at a materials cost of less than you might spend on a new couch or mattress, and beams will ultimately add lots of value to your home. Can you say that about a couch or mattress? Nope! It's absolutely an investment, but one worth saving up for.
Anyway, in real life I'm just as giddy as I'm coming off here in today's post. Our new beams have completely changed the look and feel of our house, and I so appreciate the style they add to our living room, too—just in time for an extra cozy fall and winter spent at home. Where would you put faux wood beams in your home? Maybe the bedroom? Your dining room? I'd love to know, so tell me all about it in the comments.