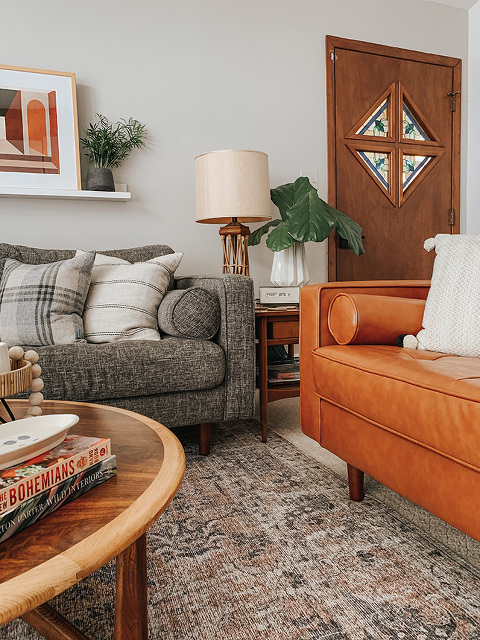 *This post was sponsored by InMod
There's no denying that buying furniture online that you've never seen, felt, or sat in can be nerve-wracking. I'm a pretty picky (actually, I should change that to "very picky") person, so it's probably surprising to know that about half, if not more, of our furniture, rugs, and lighting were all ordered online. I've come up with a list of my very best tips for ordering confidently off the Internet, and I'm sharing them below. Got tips of your own? Do tell in the comments because I'm sure we could all learn from each other!
Tips For Buying Furniture Online:
1. Read Product Reviews On The Website: I've gotten into the habit of always looking at the reviews for things I purchase sight-unseen online. They can be super helpful when trying to make the decision from afar, and just a little reminder to make sure you leave your own reviews online for things you've purchased to pay that helpful perspective forward. I actually just popped over to leave my review for our new InMod leather chair that I ordered for the living room. I really wanted something that was more substantial and that had clean lines. Thanks to photos they shared online and the reviews I read, I knew it was going to be the right fit, almost from the first moment I saw it! I'll be sharing lots more about the chair next week, so stay tuned.
2. Search For Reviews On Social Media: Another way to find candid, honest customer reviews is on social media! A lot of times people will utilize the hashtag for a particular item, so you can search out those who have the item and maybe have photographed it in their home so you can get a good sense of what it might look like in yours. Don't be afraid to send the person a direct message asking for a quick review! I get these questions all the time, and love being able to help people make informed decisions.
3. Tape Out The Dimensions: One of the most frequently occurring surprises for me when buying furniture online is sizing. If I don't carefully consider the dimensions given online for the item, it almost always ends up looking a lot smaller (or a lot larger) to me when I finally see it in person in our house. I've since gotten in the habit of taping out the measurements right on the floor of the room I plan to put the piece in, that way I can more accurately guess at the actual size. If you don't feel like using tape for this, just grab your tape measure and unroll it to get a sense of scale.
4. Put Together A Mood Board: Stylistically, it can be a gamble to order a piece of furniture online. There are often doubts as to whether or not it will be a good fit in your space. That's why I always, always, always put together a mock-up mood board (like the one pictured below) in Photoshop before placing my order. I can usually find decent stand-in photos of furniture and things that we already own to put in the mood board, and then the final touch is adding the furniture item I'm considering. If the aesthetic feels like a match, I can confidently click "Complete Order." This is my number one tip. I never order anything for our home without putting it in a mood board first—seriously!
5. Read The FAQ Section Carefully: I think the biggest hesitation most people have about ordering a piece of furniture sight-unseen off the Internet is the stress of having to face a potential return. Before buying from any website, make sure you check over the brand's FAQ section or return policy to get a good sense of the process. I find that knowing what to expect from the get-go helps me feel more confident in my purchase. It might be worth mentioning that I have never, ever (not even once!) sent back an item I've ordered from the Internet—just goes to show that my advice above really does work.
I'm sure there are lots of other tips I didn't cover here (like ordering samples before placing your full order, making the trek out of town to a brick-and-mortar store if the company has one so you can feel the furniture in person, etc.), but those five tips above are my personal go-to action items. Like I said, I'll be sharing much more about my experience buying furniture online from InMod next week, but in the meantime, you can get 10% off your order with code "DreamGreen10" now through the end of October!