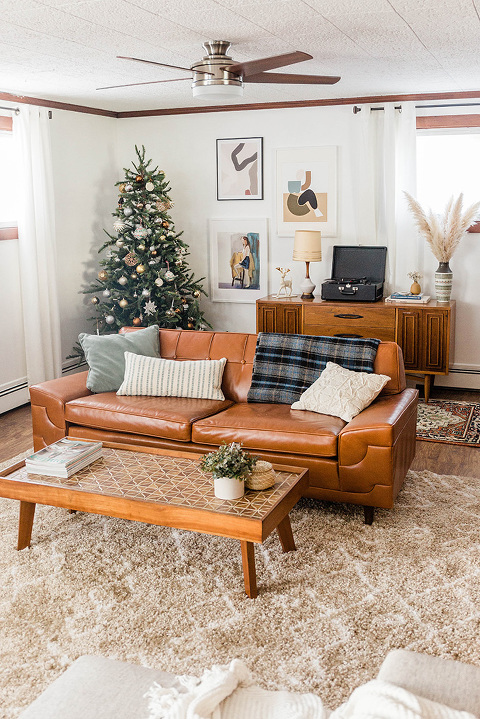 *This post was sponsored by Unique Loom. All opinions are my own.
Every Christmas I try to do things a little differently when it comes to décor. I like to reuse what I already have in storage because it makes things feel so nostalgic, but I do tend to incorporate one or two new things to help keep the final holiday look feeling fresh (and to push my creativity a little bit, too). This year I decided to focus most of my energy on our downstairs family room, which I made into a cozy lounge-inspired winter wonderland in honor of the holidays.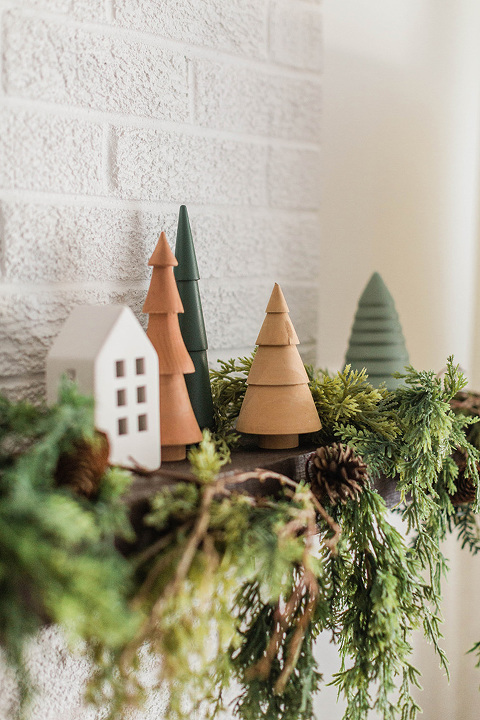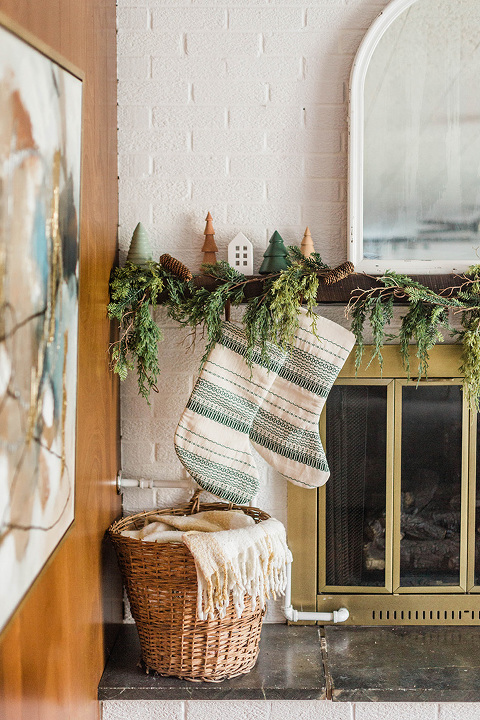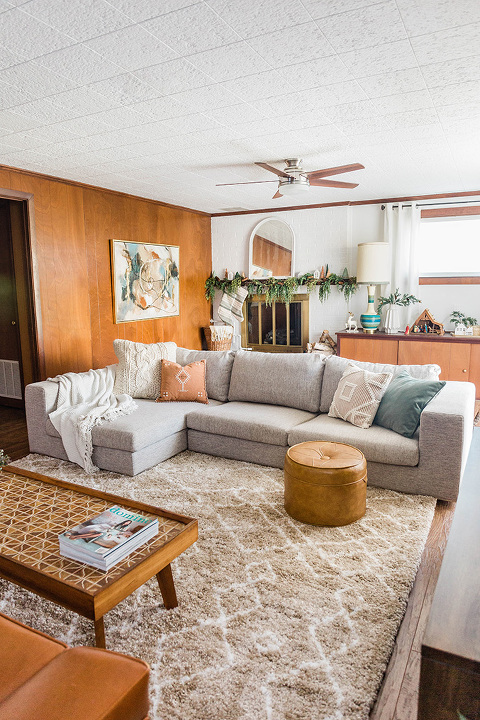 I'm teaming up with the folks over at Unique Loom again for this makeover since they have always been such a dream to work with, and because I have not once been let down by their products. The rugs they produce are always so soft and they also clean up like a dream. For a household that is overrun by pets, that last one is a must!
Anyway, the Unique Loom team offered to let us test out a rug from their Rabat Shag Collection, and we ended up choosing this rug in the 9'x12′ size and the 'Tan/Ivory' colorway for our family room. I couldn't possibly love it more! Even when surrounded by cozy upholstered furniture in the evening, John and I inevitably find ourselves plopped down on our new shag rug to enjoy that fluffy high pile texture. The soft fibers feel like heaven under bare feet, and I appreciate that the colors are neutral enough that we can easily move the rug to another room in our house when the mood strikes.
In fact, did you spot this same rug up in our living room in yesterday's blog post?! We've already played "musical rugs" since I shot this story because we were having trouble with our old rug not sitting flat on the carpet upstairs. It occurred to me that maybe the heavier weight of our new shag rug might sit better over our wall-to-wall living room carpet, and it worked like a charm. The neutral cream and white design of the shag rug we chose meant it was a cinch to move to a different room since we didn't have to redesign the entire space around it. I think this rug will fit immediately design-wise in any room we want.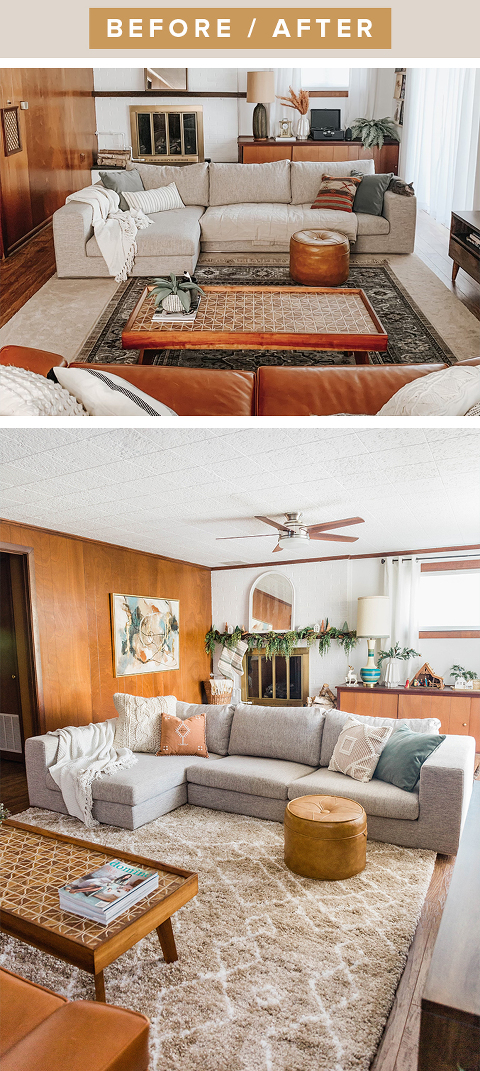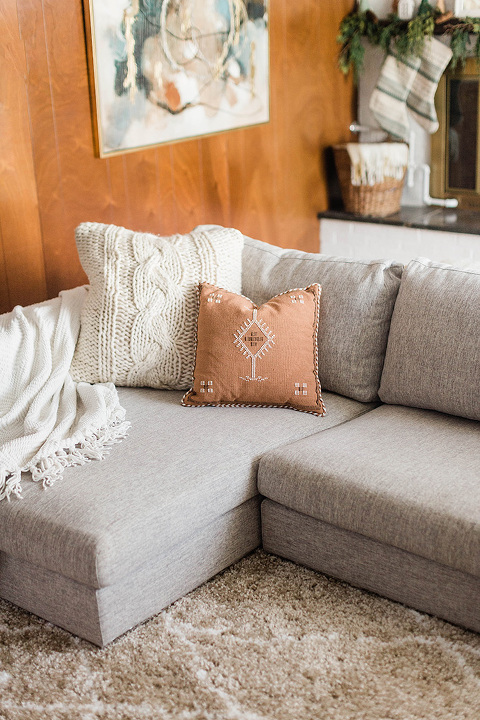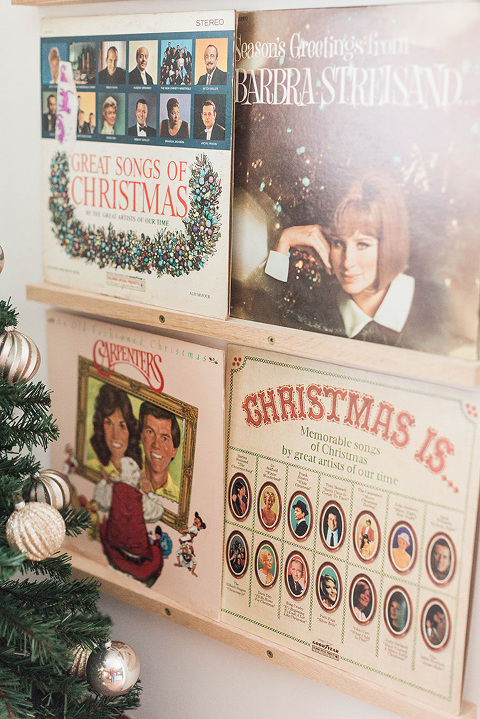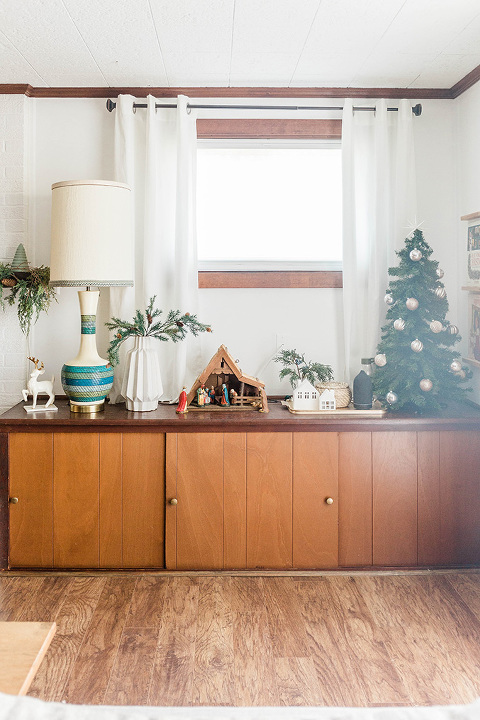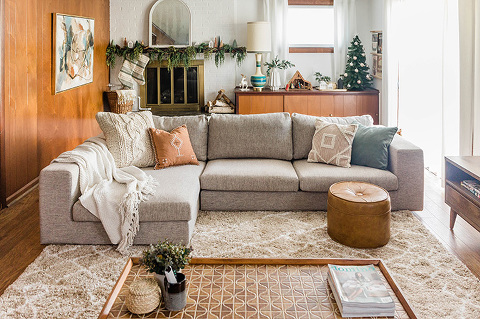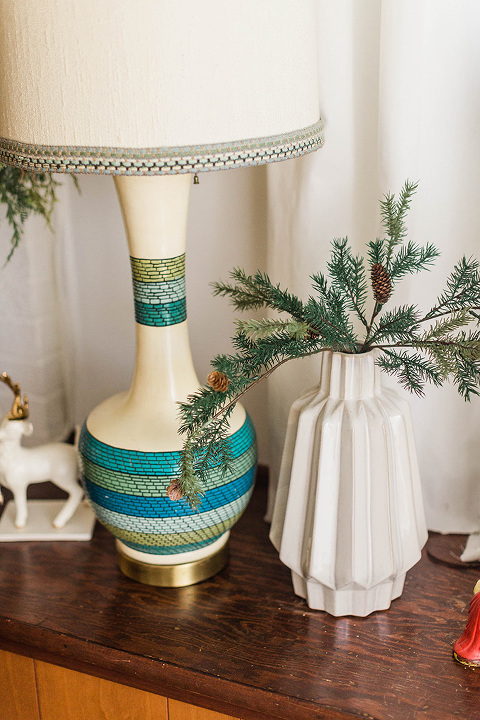 As for the rest of the family room, I tried my best to stick to our everyday color palette of rust reds, navy and dusty blue, cream, black, white, and evergreen. By keeping all of my holiday décor in that same collection of colors, the room feels cohesive and isn't too jarring for us to see when we walk in from other spaces in our house.
I love that everywhere I look I see little sentimental Christmas accents from both my childhood and John's—like the pair of ceramic reindeer his mom gave to us, all of our old ornaments, my mom's childhood nativity set, and even our faux Christmas tree that I love using year after year.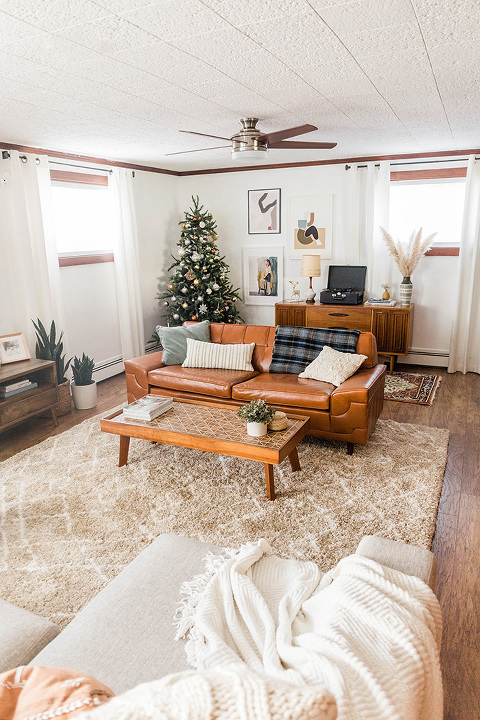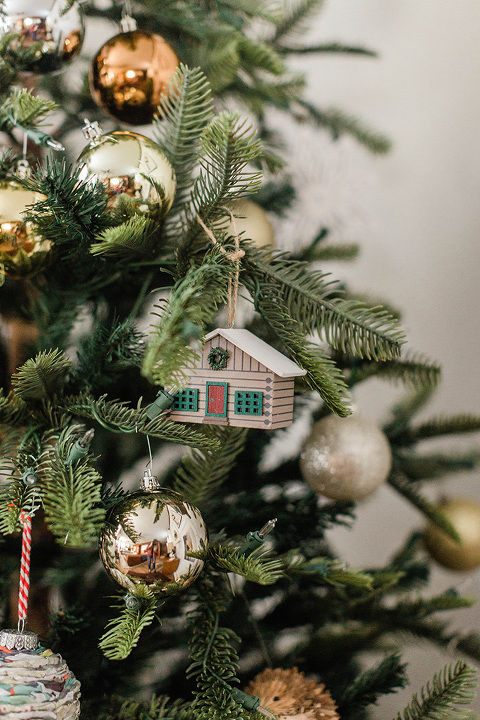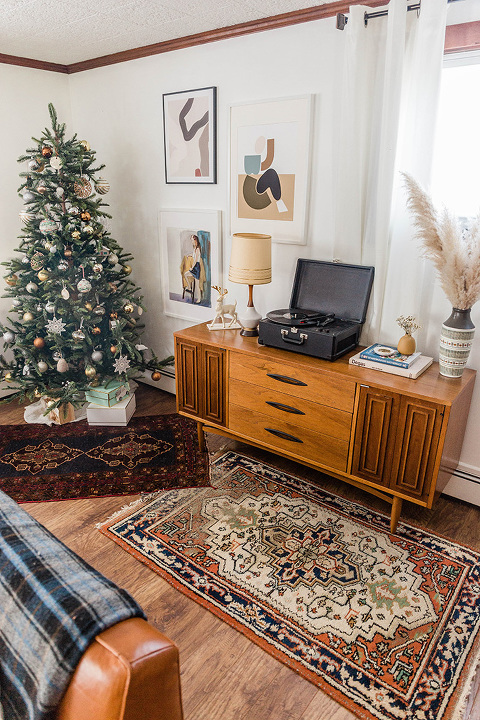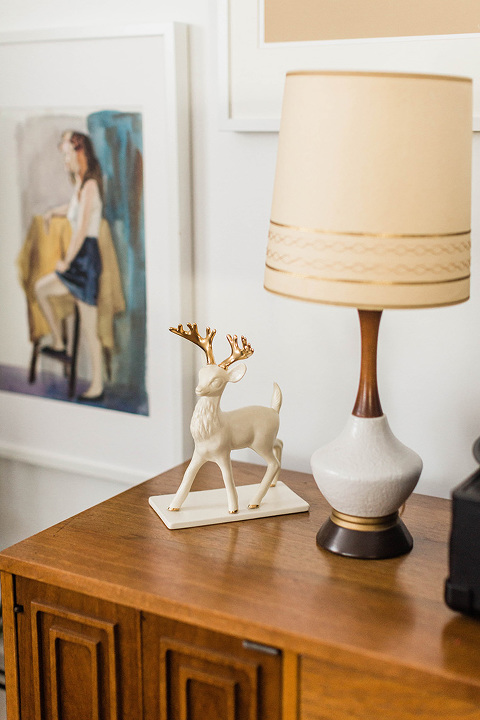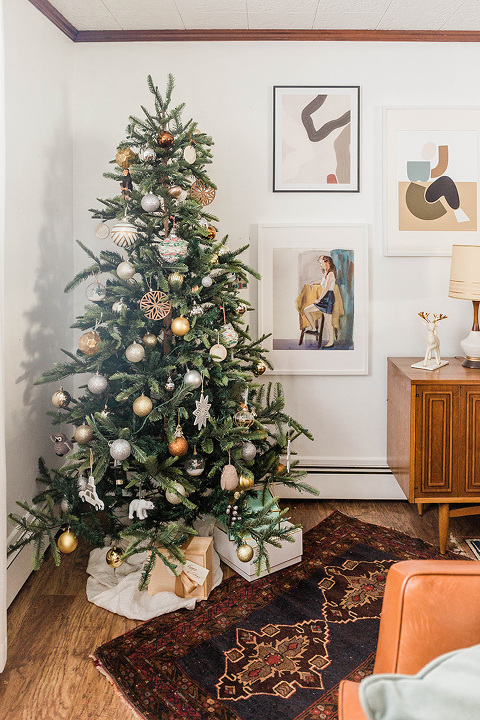 This space really is the type of room that we're drawn to over and over again throughout the day. It feels far away from work and other obligations, and has become the ideal little escape from it all. That fluffy texture underfoot in the rug made it especially irritable when we were looking to be as relaxed as possible in the middle of all the chaos of the holiday season.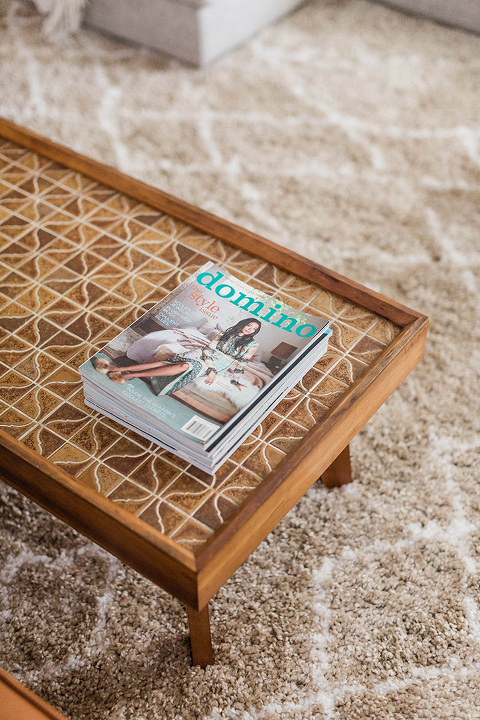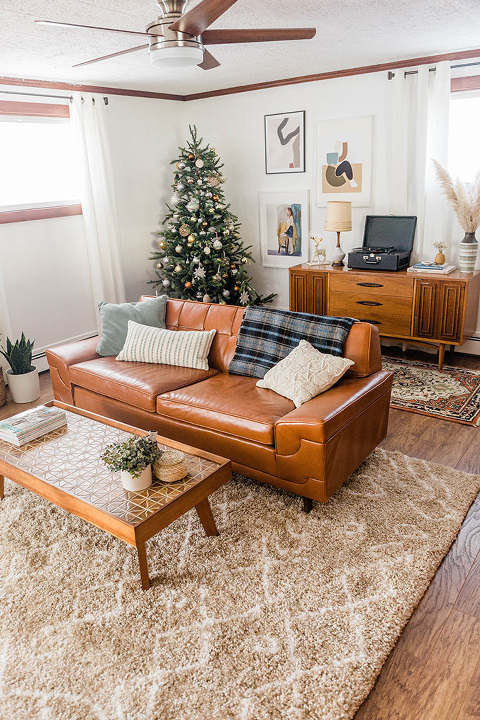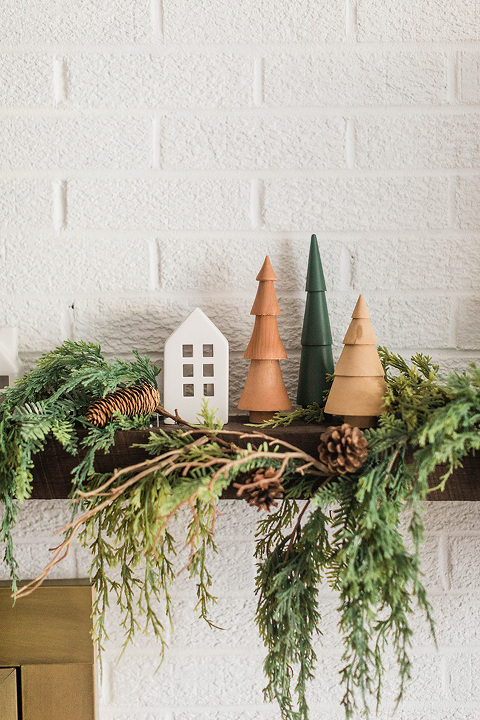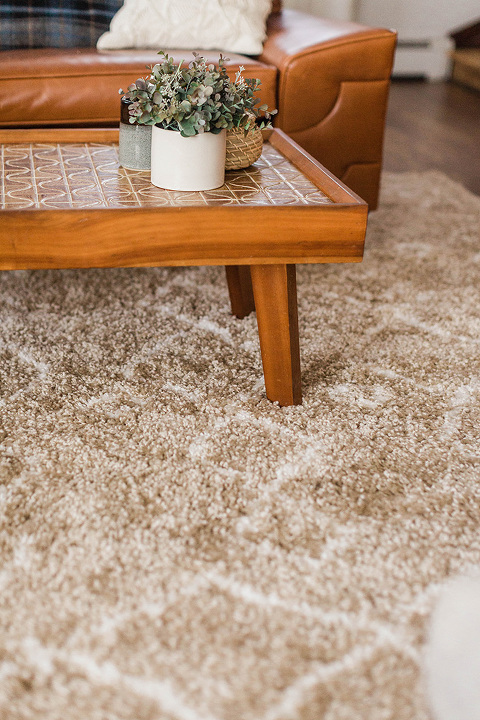 Have you finished decorating for Christmas yet? Or for whatever special holiday you're celebrating right now? I really took my time with it this year, doing a little bit each day over the course of a few weeks. There's actually still some more that I'd like to do as we finish the lead up to Christmas!
If you were a fly on my family room wall today, you'd see me wandering from surface to surface placing little baubles here and there while listening to Christmas music in my favorite pair of pajamas (likely being followed every step of the way by our three cats). The fact that we have a big snow storm coming up tomorrow makes that scenario even more likely to be happening later this afternoon.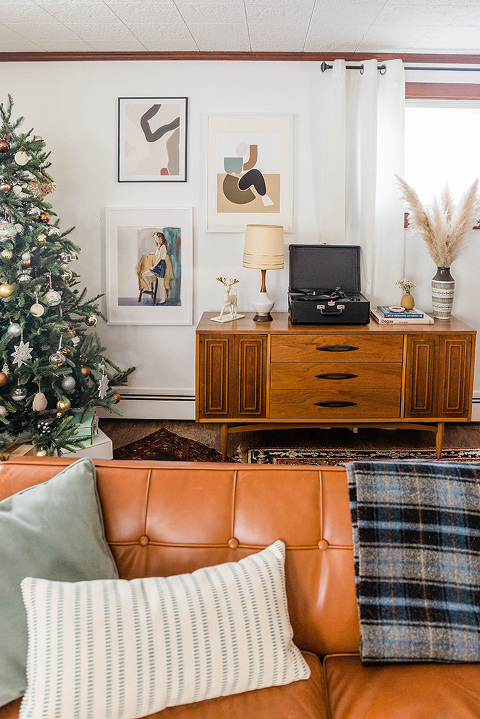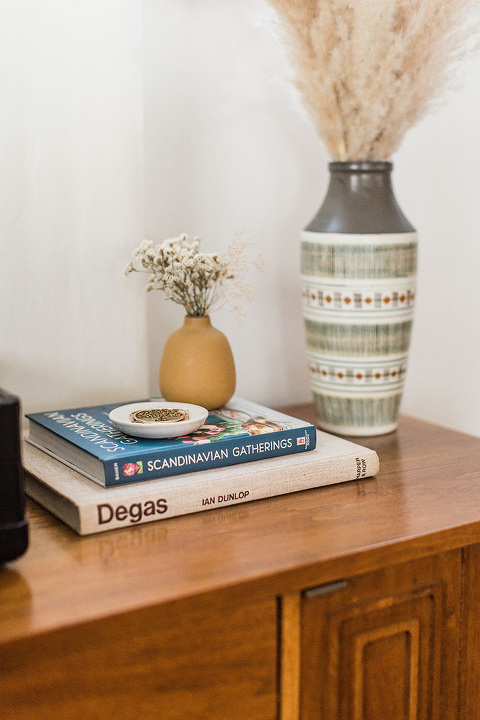 Big thanks to Unique Loom for sponsoring today's blog post and for giving us the chance to test out another of their fabulous rugs. We are genuinely big, big fans of this brand, and I'm an open book when it comes to recommendations. If you need help looking for a specific style or design, feel free to comment below or email me because I'm happy to help however I can.
Now, hop to Instagram because I'm giving a full walking tour of the space over there, and I'm also sending you along to check out three other holiday home tours from my friends, @styleitprettyhome, @blindseyj, and @simplygrove.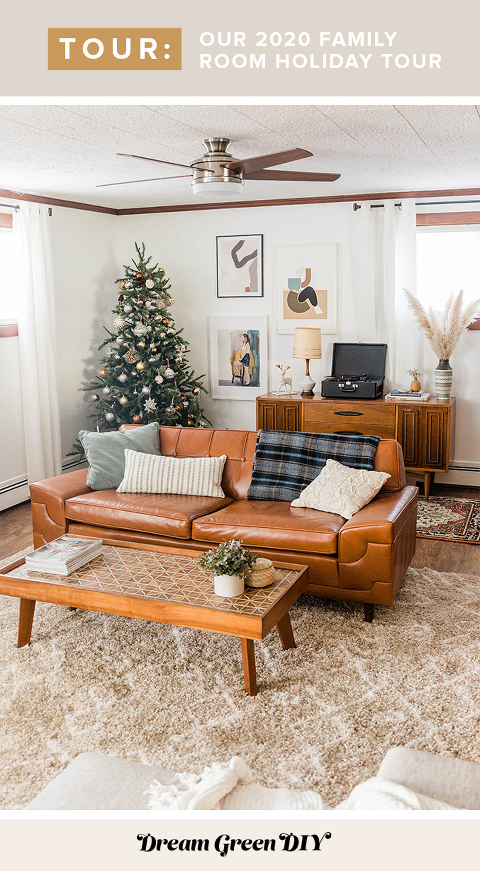 *I earn a small percentage from purchases made using the affiliate links above. Affiliate links are not sponsored. Rest assured that I never recommend products we wouldn't use or don't already love ourselves.