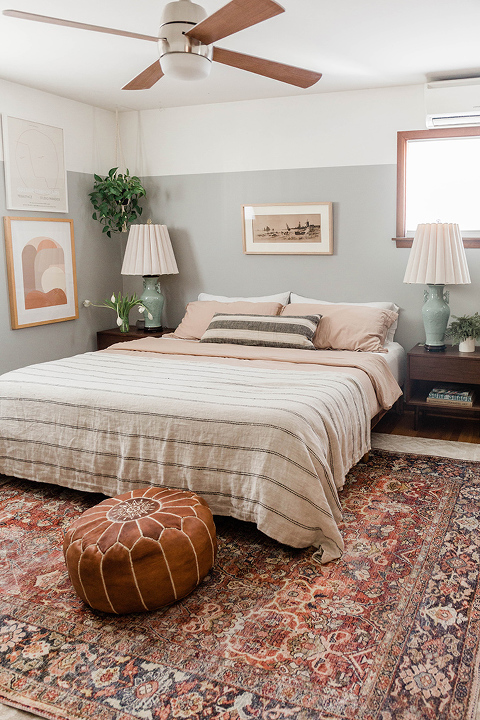 This post is sponsored by KILZ® Brand, but the content and opinions expressed here are my own.
Raise your hand if you remember my DIY painted arch headboard from last August…I loved that project so much, and still think it was a great way to use paint and color to add a fun touch to your bedroom. The only problem is that a headboard painted on the wall can't be easily scooted over a few inches to accommodate new furniture.
When we upgraded our single nightstand to a matching pair late last year, my beloved painted arch headboard suddenly didn't fit anymore. It needed to be moved over a handful of inches to be centered behind our low platform bed, and I figured the fact that I needed to repaint anyway was a good excuse to try something totally fresh and new—not to mention actually functional for our current bedroom furniture collection.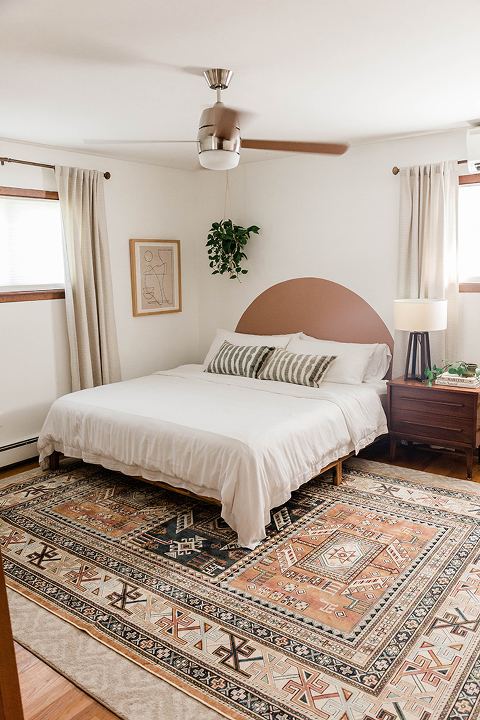 For the new look, I teamed up again with the folks behind KILZ. I've been using their paint for years and years (ever since my apartment-dwelling days, in fact) so it was an easy choice to go with their brand of primer and paint for this project. The main things on my to-do list were to use KILZ 2® All-Purpose Primer to cover up the old painted arch headboard, and then I wanted to give the wall a totally new look with a gray-green topcoat called "Day-To-Day" from the Magnolia Home by Joanna Gaines® paint collection.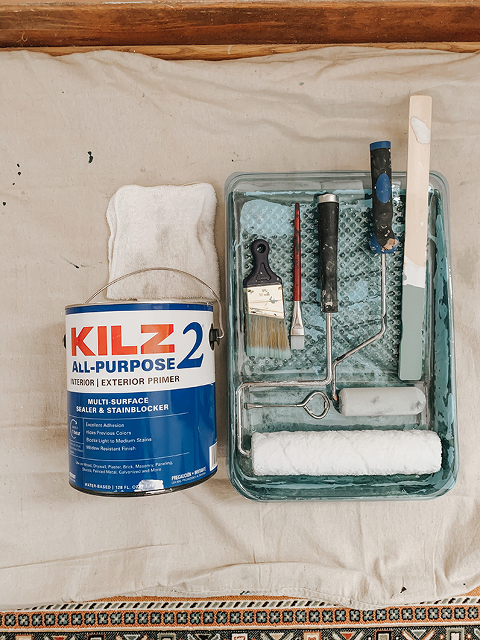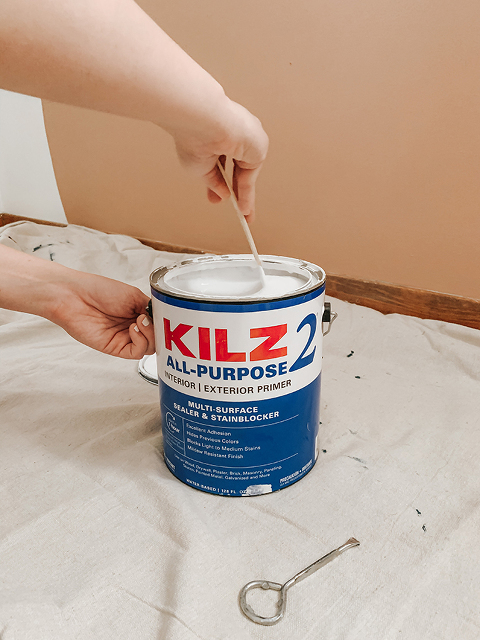 It might not look like it, but the terracotta blush-colored paint that I used for the arch is actually really dark and saturated. I remember when I used it on a feature wall in our dining room, then later changed my mind and decided to repaint it back to white, it took many, many coats of white to cover it up entirely. I was worried I was going to be faced with the same uphill battle here, but it only took three thin and even coats of the KILZ 2 All-Purpose Primer to make it fade away.

I didn't need to cover it up completely since I was going to paint a medium-tone color over top anyway, but I wanted to make it as invisible as possible. This primer did the job perfectly. By the way, I used a foam paint roller for this step since that type of roller leaves behind very little texture. It ultimately helped make both the primer and the arch completely disappear underneath the new color.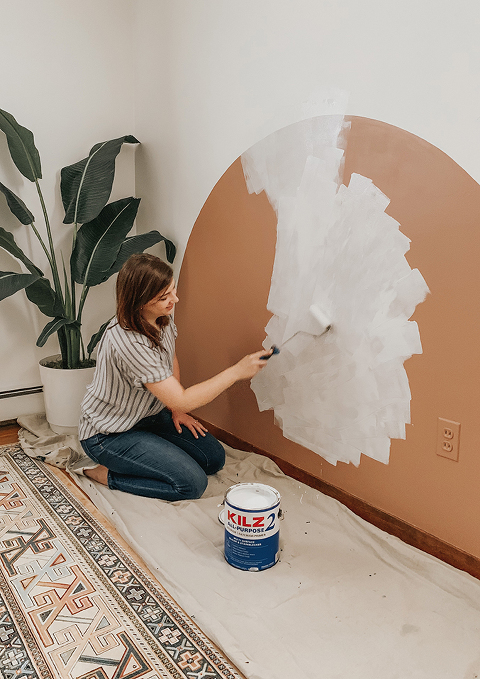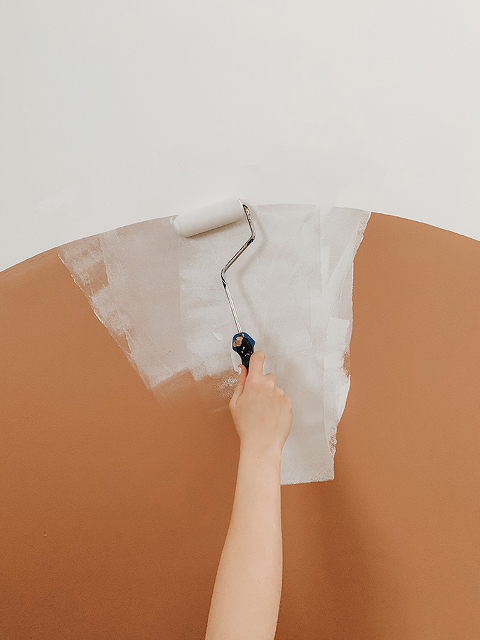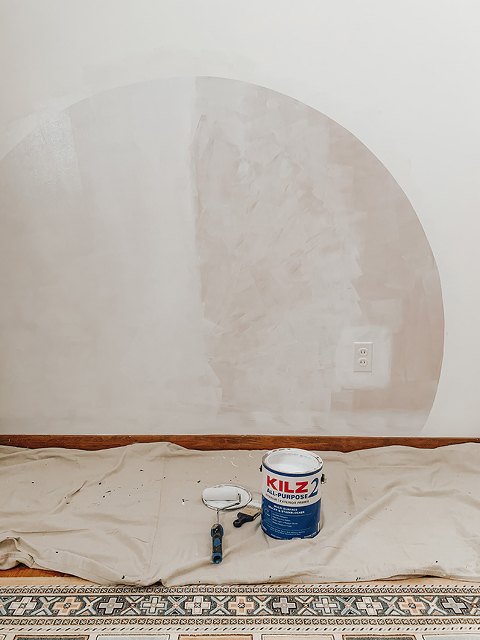 Now for the topcoat! As I mentioned before, I used a color called "Day-To-Day" from the Magnolia Home by Joanna Gaines paint collection from KILZ. This color is mostly gray, but has a really pretty greenish blue undertone to it. I wanted to give the room some color, but have it be neutral enough that it would work with any color palette I decided to pivot toward in the future (I'm notorious for changing my mind quickly these days when it comes to décor!).

Another design decision I made was to have the color stop about 3/4 of the way up the wall. First of all, this would save me lots of time during the painting phase since it meant I didn't need to use as much paint or get out the ladder to reach the ceiling edge. Second, leaving the original white wall color around the wall-mounted AC unit we have up above the window helped make that blend into the background. If I had painted the new gray color around the white AC unit, it would have been like putting a spotlight on it. Now you hardly notice the unit since it's surrounded by a similar white wall color.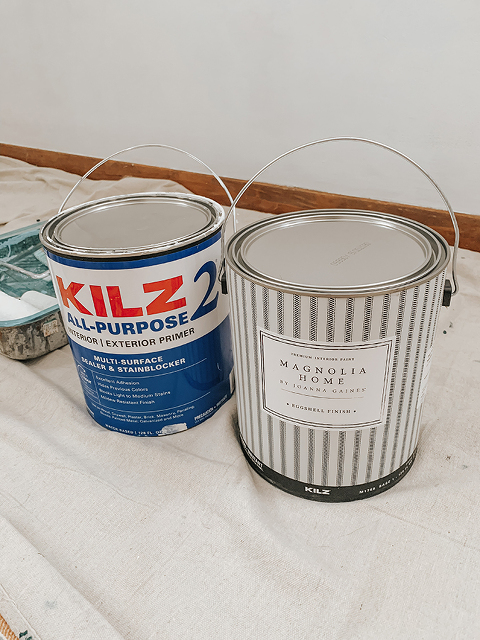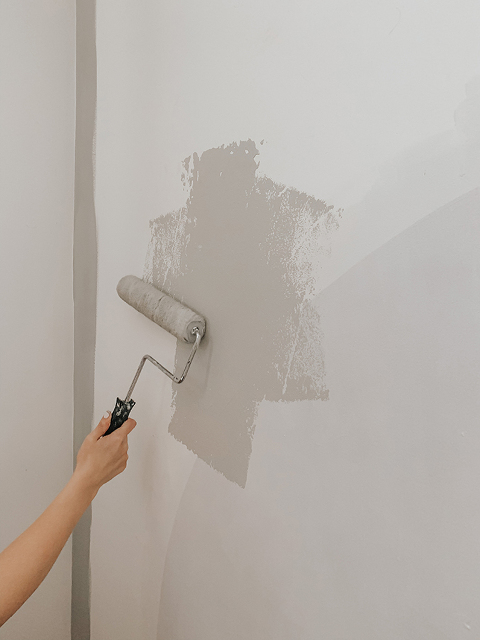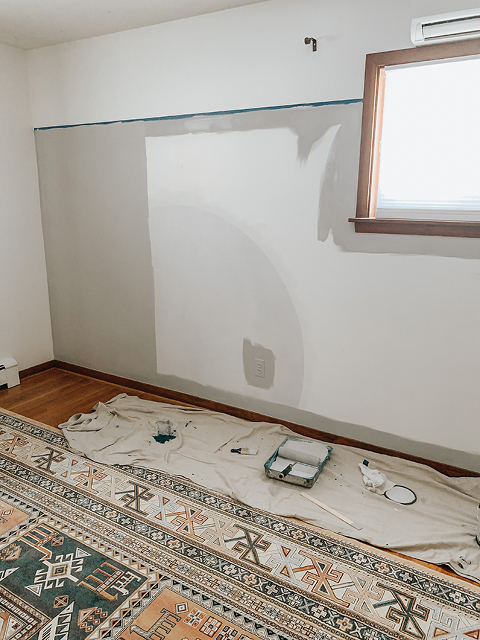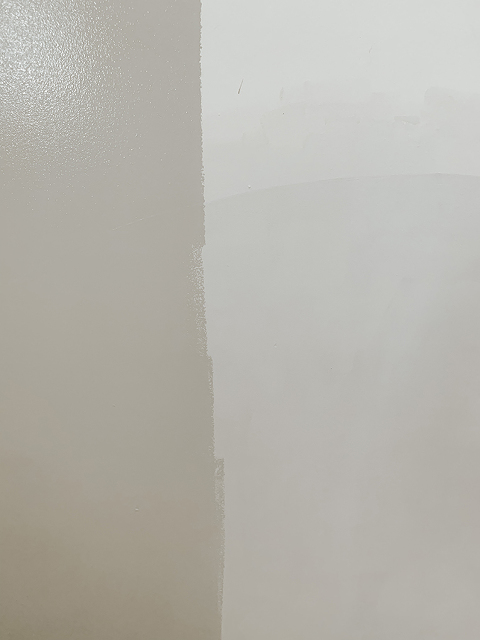 I had originally intended to just paint the wall where the painted arch used to be, but I loved the Day-To-Day Magnolia Home color so much that I took it over to the adjacent wall, too! I might end up taking the color all the way around the room, but for now, I'm loving the color-blocked feature wall look, especially since it nods back to the original painted arch, but in a fresh new way in honor of 2021.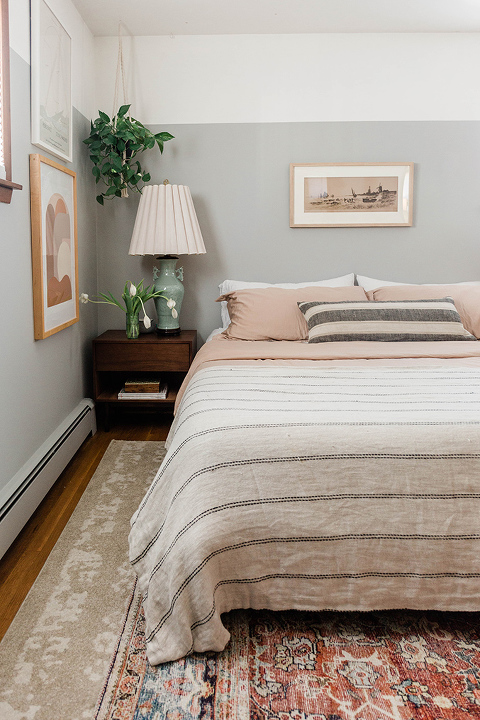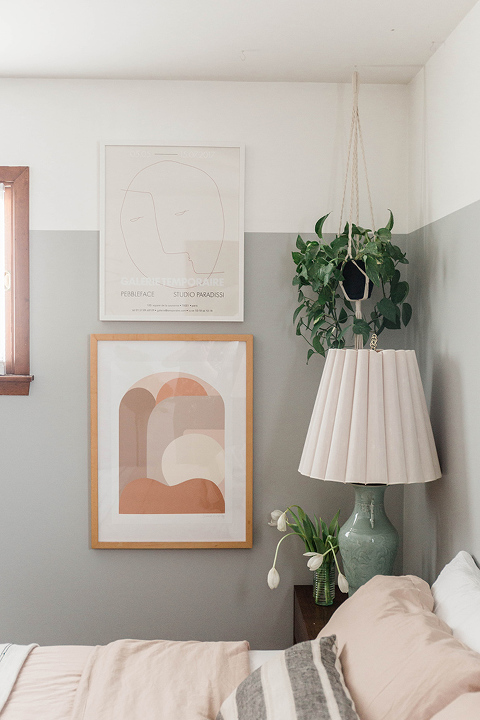 To finish, I hung all of my favorite art, and actually decided at the last minute to leave the window draperies off the wall. We never actually pulled the curtains closed (the ones around the AC unit were actually just there for decoration), and they made the room look smaller, I think. When I took them down to paint, I really loved how much brighter the room looked, and the fact that the wall color stops 3/4 of the way up the window frames gives them enough interest that I personally don't think the room looks empty without the curtains. I'm loving the new look!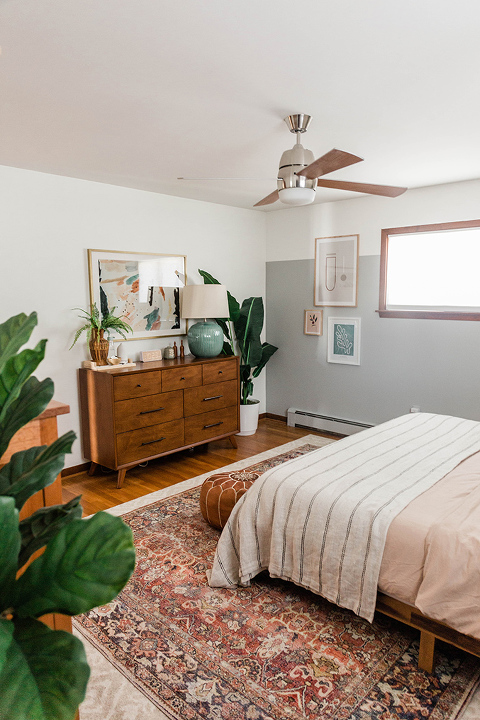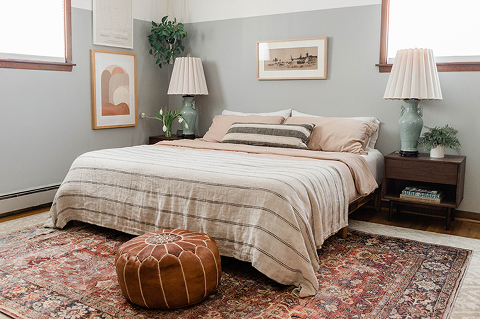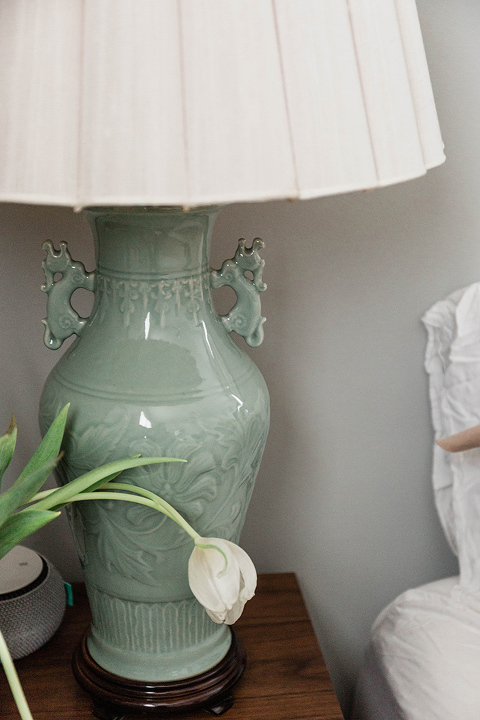 I know we're already a couple of months into the new year, but it still seems so fresh to me. I feel like I've got this clean slate to work with, and that I have the chance to hit "reset" on lots of areas in my life, including décor. Our new spa-inspired gray-green paint in the bedroom makes me feel good from the moment I wake up in the morning, so I feel ready to tackle everything on my goals list for 2021.
Don't get me wrong—the painted arch I created last year was really fun and I may try it again someday, but I knew in my gut that I was ready to try something new. As I said, I'm really excited to be working with KILZ again, this time to show you how to actually UN-do a past DIY project to create something even better. What's on your painting wish list for 2021? Let me know in the comments!